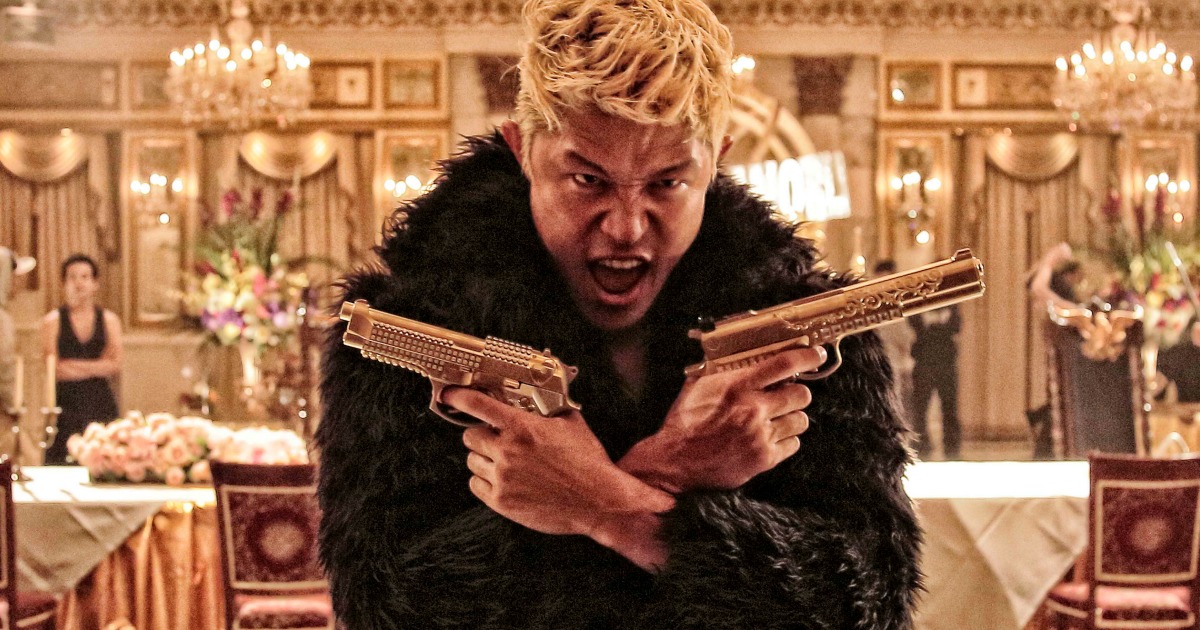 If only director Sion Sono can keep up the current pace he's working at, this universe may very well still be worth saving.
After a handful of gorgeous and criticially beloved features like Love Exposure, Sono blew the doors off of 2014's year of cinema with his brilliant and in many ways definitive Why Don't You Play In Hell?. Well, he's back once again with what may very well be his most anarchic and revelatory achievement to date.
Entitled Tokyo Tribe, Sono takes to the world of gangsters in what is ostensibly a Tokyo sometime in the near-ish future. For all intents and purposes an action film in the body of a musical, Sono's latest is based on the manga series Tokyo Tribe 2 from Santa Inoue, and melds Shaw Brothers-esque clan battles with a futuristic setting and rap music. Think The Kid With The Golden Arm dipped in ecstasy and set to a score of Gucci Mane mixtape B-sides.
Tokyo Tribe introduces us to a world run by Lord Bubba (Riki Takeuchi), an evil mobster who has seen his city fall into fractured chaos, with different parts being run by various gangs and mob bosses. Second in command is Ryohei Suzuki's Dragonball Z-esque head goon, and the film finds the population fed up with their control. As the film progresses, with a narrative told entirely through rap lyrics, we see the fractured gangs team up culminating in one of the year's greatest action set pieces and action achievements.
Much more driven by narrative but less thematically resonant than his last effort, Sono doesn't skimp on the artistic experimentation. Gloriously composed in neon hues and swirling camera moves, that seem as influenced by '80s synth-pop music videos as they do '90s hip hop music. Delightfully boundary pushing, the film does have some shoddy effects work here and there, but with such gorgeous photography, it doesn't take anything away from the sheer beauty of the film. The narratively is very much your basic take on the gangster film, with tinges of classic martial arts B-pictures, but the real experimentation comes in film's use of music. Stylized as much after an action film as it is a musical, it uses these musical sequences in such a lively and kinetic manner, that it really helps the film breath new life into a genre that seems slightly dead in modern American cinema.
Performance-wise, the film is solid. The aforementioned Takeuchi and Suzuki are brooding, sleazy and absolutely engaging, while Nana Seino is the film's real star here. She plays the film's leading lady, as close as the picture really gets to a lead in general. It's less character-driven than a film like Play In Hell, but it isn't without its fantastic turns. Fans of rap music will find much to delight in here, and the action sequences, particularly the finale, are stunning pieces of work. Choreographed by the great Tak Sakaguchi, action is at a premium here, with the energy high and violence even more so. Gleefully anarchic and full of vitality, Sono's latest film is yet another charming piece of perversely enjoyable B-movie artistry.
---
https://www.youtube.com/watch?v=XZuKpZwrEL8