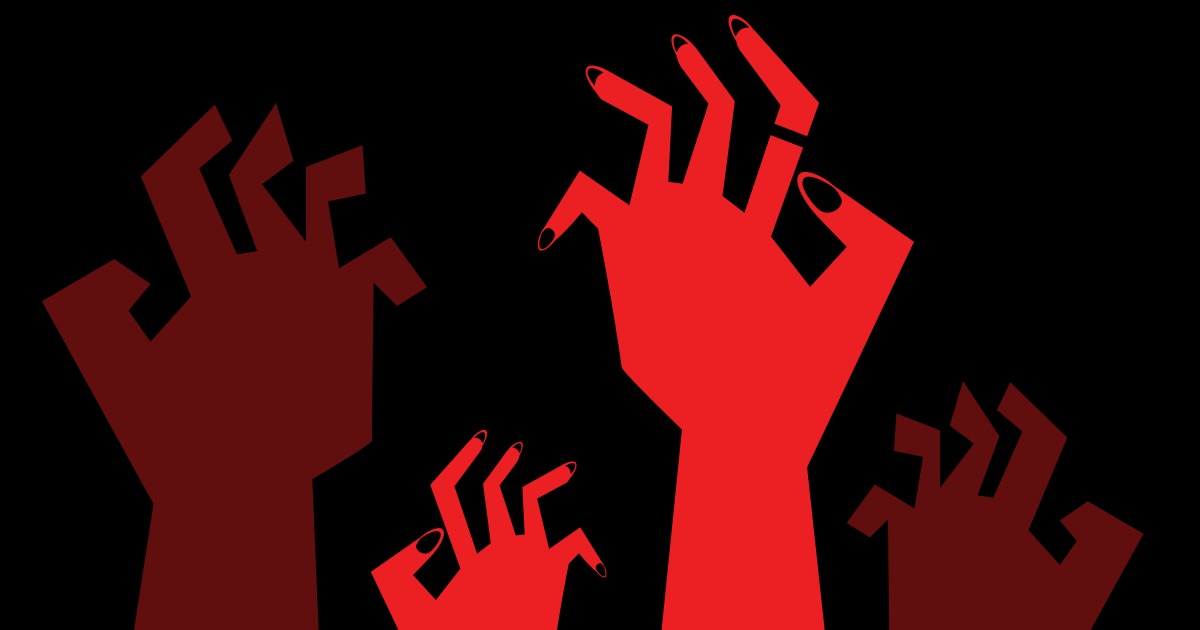 It's not everyday that we get a film like Spike Lee's Da Sweet Blood Of Jesus. Sure, the filmmaker has been working at a rather remarkable clip on both the fiction and non-fiction fronts, and this film being one of the trillion remakes American cinemas see each and every year should make it seem like a rather standard bit of Lee filmmaking. However, fresh off the heels of his lackluster, but remarkably assured, remake of Chan-wook Park's Oldboy, the director not only takes to the world of '70s cult cinema for his latest picture, but appears to be revitalized in a way we haven't seen in some time.
Lee's take on Bill Gunn's legendary indie horror film Ganja and Hess, Da Sweet Blood of Jesus follows that picture's narrative rather closely, introducing us to an intellectual by the name of Dr. Hess Greene. A rather normal, albeit intensely brainy, man, he is attacked one night by an associate named Lafayette Hightower, with an ancient Ashanti dagger, which instills in him a lust for human blood. Things get all the more unhinged when the man's estranged wife, the seductive and mysterious Ganja, a woman he ultimately falls in love with and weds. Toss in an ex-girlfriend of Ganja's who comes to see her and an overall sense of dread that falls over the proceedings, and you have a film that takes the Kickstarter backing that it so controversially garnered and turns it into the perfect outlet for Lee to take as much creative liberty his mind can come up with.
This is an immensely intriguing film when taken on its own, but even more so when looking at Lee as a singular filmmaker. Opening with a dance sequence that hearkens back to his earliest works, the film takes a decided turn from the angry theatricality of a film like Red Hook Summer, or the grittiness of an Oldboy, instead coming off far more surreal and almost nightmarish. With Bruce Hornsby giving Lee one of his moodier compositions and some beautiful photography playing to the film's almost Jean Rollin-esque mixture of eroticism and horror, Lee's picture has a vitality and aesthetic to it that feels like Lee truly spreading his legs. A film about big, heady themes ranging from addiction to African history, Jesus is a heady journey into the mind of Lee, distilling a lot of the core themes found throughout his canon, and thrusting them into the world of horror cinema, something Lee doesn't often venture into. A beautifully evocative, if narratively slight, piece of philosophy, Lee is at the very top of his game here, proving him to be one of the world's most versatile auteurs.
It's just too damn bad the performances here do nothing to elevate the material to even greater heights. Starring relatively unknown thespian Stephen Tyrone, the film is led by a performance that never gets to any emotional heights greater than a slight annoyance. Tyrone's performance is a monotone one, turning the deeply engaging musings on race and sex into nothing more than a series of stilted dissertations left for anyone who willing to go along for this bizarre ride. Even worse is Zaraah Abrahams as Ganja, and their interchanges, of which make up the film's final two acts, are lifeless and devoid of any emotional resonance.
However, one would be hard pressed to argue that that in any way is the film's intent. A beautiful retelling of Gunn's original cult masterpiece, Lee's picture is intimate and has an undercurrent of anger to it that is delicious to anyone willing to gnaw on it for a moment. Impressionistic and brazenly surreal, this is Spike Lee as we have rarely seen him. Including a film like Red Hook Summer, it appears as though Lee, in this age of crowd sourcing and shoe string budgets, has found a new life, one of experimentation and breathless looks at the minority experience. An acquired taste, this is a film that will be as polarizing as they come. Stuffy and structured at a snail's pace, this is an erotic horror picture that will have Jean Rollin fans buzzing, and Spike Lee acolytes aching to see what the filmmaker has up his sleeve next.
---