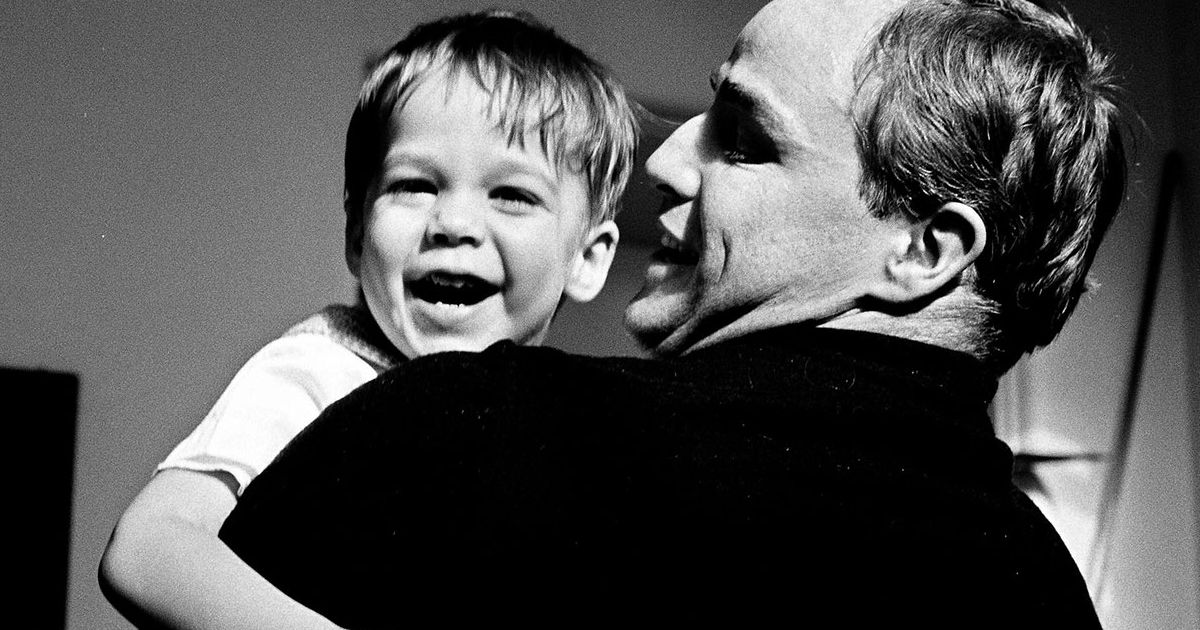 It sure has been a hell of a year for the artist biography in the world of documentary cinema. With films like Montage of Heck, Amy and What Happened, Miss Simone, giving us a view of their central focus in their very own words, 2015 has been the year not only of boundary pushing documentaries like The Look Of Silence, but form challenging and introspective meditations on fame like the three mentioned above. Be it the audio recordings in Montage of Heck or the video founds in the Amy Winehouse picture Amy, we are becoming more and more privy to insights into our artists that one could never have thought of gaining.
And now the greatest film of the bunch is finally seeing a release.
Following very much in the mold of recent from-the-horse's-mouth style documentaries like the ones above, Listen To Me Marlon is arguably the crowning achievement of this new movement of sorts. Directed by Stevan Riley, this deeply intimate look into the life of one Marlon Brando is like no documentary you've seen previously. After stealing the show at this year's Sundance Film Festival, the film is now available in theaters via Showtime Documentary Films, and uses audio recordings saved by Brando himself, to give us the story of his life, from his own mouth. Using this audio and some archival footage, the film is a gorgeous, intimate and almost impressionistic look into the life and work of one of cinema's greatest actors.
When delving into the life and work of one of cinema's greatest names, if not brands, it takes a certain voice to truly bring that legacy to vital, propulsive, life. Structurally, that voice is Brando himself. The recordings here are powerful and intimate, giving us insight into a man who has become almost a caricature now over a decade after his death. A master thespian and a leader in the method acting movement, Brando went from era defining turns in films like On The Waterfront to late masterpieces like Last Tango In Paris, all while becoming a voice outside the film world, on a myriad of social issues. All of this is discussed in great, and in many ways completely esoteric, detail via Brando's recordings, a window into the mind of arguably the screen's greatest actor.
---
---
Aesthetics, however, is this film's strongest aspect.
Opening via a mixture of archival footage and a startling digital recreation of Brando's legendary face as he speaks ostensibly from the afterlife, the film carries with it a decidedly singular tone and mood. Not a single talking head is seen here, just a man telling us the story of his life as remembered by him. We get discussions of his youth, his life after he broke onto the scene, and all the moments in between, however, it is his discussion of his craft that is the reason many will flock to this film. It's startlingly lucid and gives the viewer a vibrant idea as to just how deep seeded he was into his craft and the real study of it. Much like the legendary Orson Welles, Brando has since become fodder for jokes as much as pure admiration, but this film is proof that he was as intense a student of his craft as he was a presence in front of the camera. It also doesn't shy away from Brando's eccentric side. We hear Brando as he muses about his first Oscar for On The Waterfront and how he felt as though it was undeserved and even the fact that he never truly settled down fathering roughly a dozen children. It's a typical "warts and all" look at a life where those come as often as the sun rises, but goes about painting this narrative in ways we've truly never seen before.
Overall, Listen To Me Marlon is one of the year's great cultural touchstones. Where a similar film like Montage Of Heck tells a story we've all become relatively well versed in, Riley's picture gives us rare insight into an enigmatic icon. And it does so in one of the most resonant and powerfully crafted documentaries yet seen this  year.