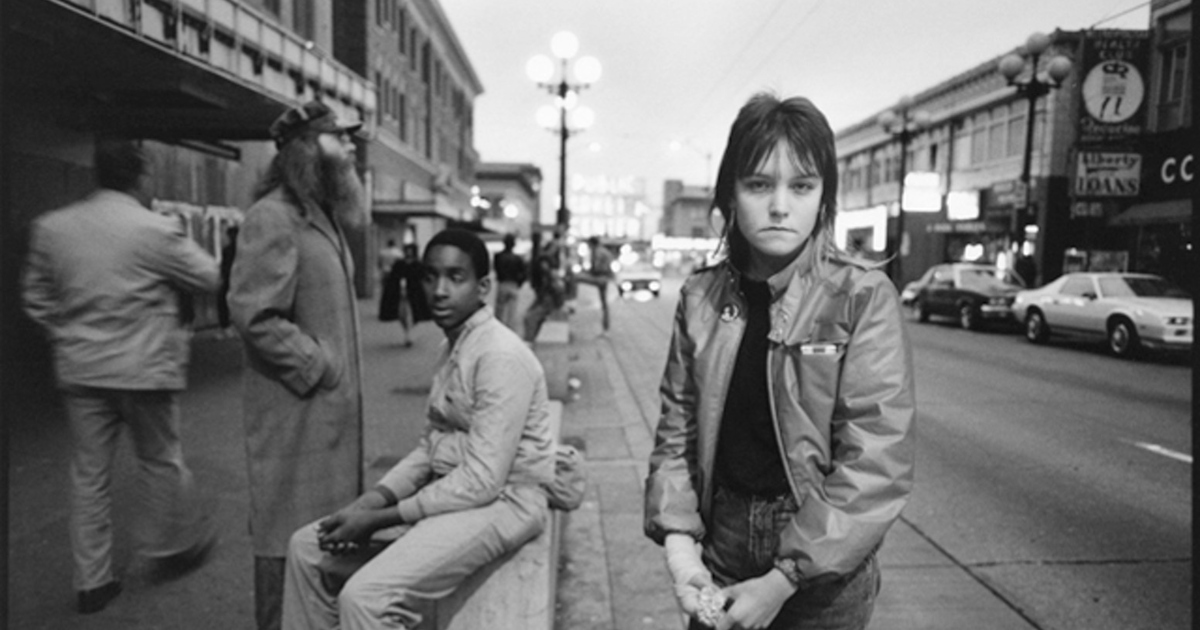 Earlier this summer, Janus Films announced that not only had they nabbed up the theatrical rights to the legendary documentary Streetwise, but that at long (Kickstarter-backed) last the film's follow-up, Tiny: The Life Of Erin Blackwell, would be arriving in theaters as well. Well, that day has finally come and it couldn't have come any sooner, as these are two films desperately in need of some good old-fashioned re-appraisal.
The main focus here is Streetwise. Directed by Martin Bell, photographer Mary Ellen Mark and journalist Cheryl McCall, the film has a relatively simple premise. Over the span of 91 minutes the trio attempt to introduce viewers to a collection of teenagers living on the absolute periphery of society circa 1983. A group of "at risk children," these youths are volatile, more or less abandoned and left to fend for themselves, mainly focusing on the experience of one Tiny, a fourteen-year-old young girl whose experience on the streets of Seattle as seen in this film are some of the most harrowing images of youth in crisis one may ever see. Without an ounce of judgement, the creative team behind the film document Tiny's experience, along with those of others like the unforgettable Rat and engrossing DeWayne, attempting to shine a light on what life is like when the world and everyone in it turns their back on you.
Coming some 32 years later, Tiny: The Life Of Erin Blackwell has been awaiting release since completion in 2016, and reintroduces viewers to Erin Blackwell, the woman who was better known as Tiny in the previous Mary Ellen Mark and Martin Bell collaboration. Now aged 44 and a mother of 10, Erin attempts to not just take a look back at the life she once lived as seen through the iconic documentary, but use that knowledge to help her children who she sees appear to be going down similar trajectories. Mark and Bell turn the camera then on the children, turning what could be a relatively one-note documentary into a film of profound emotion and empathy, a film so lacking of judgement and full of humanity that it plays as almost unwatchably intimate.
With a theatrical run beginning on Friday, July 19 and thus a Criterion Collection home video release pending, there comes a certain level of expectations or of preconceived notions of grandeur with regards to both films. Thankfully, these are expectations that are more than lived up to. Superficially quite different, the two films feel incredibly similar in actuality. Besides finding a similar focus in the life and experiences of Erin Blackwell as both a youth and an adult, the pair of films share common threads pertaining to youth in crisis and particularly the role of adults in the lives of these children. We watch as Streetwise gives a black and white view of these children and the lives they lead with both empathy and intimacy, with Tiny bringing us back to those moments with somewhat more clear eyes, at least some distance, as well as added conxtext of the main character attempting to give her children what she so dearly missed. Both films are impeccably crafted, particularly Streetwise, whose direction and photography only amplifies the grittiness of the narrative. There are some truly haunting, unshakable images throughout this groundbreaking film, feeling in conversation with films like the Decline of Western Civilization films or even the film Kids, which plays in retrospect like some sort of fictionalized remake.
And now for speculation. Best seen in close distance to one another, Janus and (likely) Criterion releasing these films together will hopefully shine some eyes on what are two of the most captivating documentaries you'll see all year. For the pending Criterion release, supplements feel relatively hard to come by. The beauty of both of these films is the lack of varnish, making commentary tracks seem silly and almost offensively misguided, and the release of Tiny makes a Streetwise retrospective feel equally as reductive. The creative team here is a trio of incredibly important artists, so numerous pieces about their work outside the films and in connection to them could be fruitful, as could be updates on the various other members of the Streetwise "cast." Well, anyways, we'll know more likely very soon so in the meantime two incredible documentaries are now available in theaters, so the wait shouldn't be too difficult.