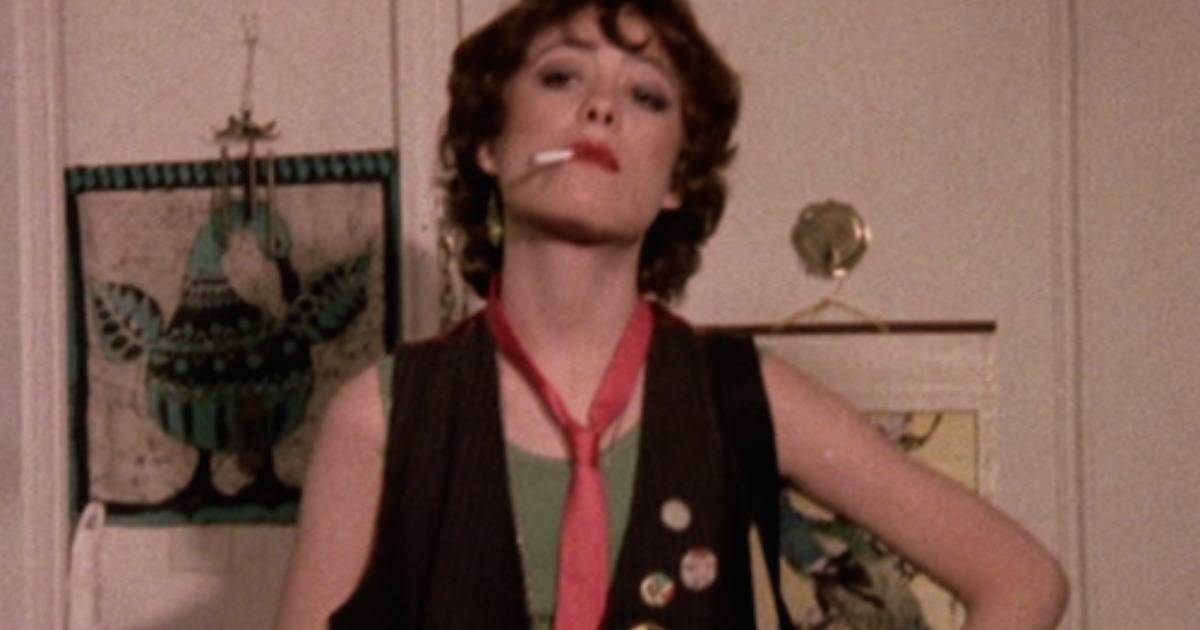 Starting Friday at The Metrograph in New York City, one of the truly great American independent features from the early 1980s is getting a much overdue reevaluation, thanks to a new restoration from an equally great, and underrated, boutique film distributor.
Best known for their horror and genre releases under their Scream Factory banner, Shout Factory is making a heavy push into the repertory world, with a new restoration of Susan Seidelman's masterful 1982 feature, Smithereens. Seidelman's directing debut, Smithereens is an odyssey into early '80s New York, a world of punk rock, pimps and lost dreams. The first ever American indie to play in competition at the Cannes Film Festival, the film tells the story of Wren, a streetwise woman living in a New York City that at once feels like a dystopian wasteland akin to an urban Mad Max and yet has an alluring energy and vitality that feels all but lost. Trying to find fame any way that she can, Wren hops in and out of the lives of various people, trading in her life in suburban New Jersey to try and become something in the last stages of the underground punk scene. She meets a man named Paul (Brad Rinn), who is ultimately a touch too milktoast for her liking, only to fall into the arms of Eric (Richard Hell, more on him in a moment), a guy with equally high ambitions and possibly the outlet to make those dreams happen.
At first glance, the film's aesthetics are utterly startling. Shot for $40,000 and on 16mm, this is a New York that is never truly seen. Feeling both utterly naturalistic and like the vision of a apocalyptic science fiction film, the streets of Seidelman's New York are dangerous and menacing, yet also exciting and full of the type of vitality unheard of in today's sanitized and gentrified NYC. The 16mm photography is utterly breathtaking, particularly with this new 35mm restoration from Shout Factory. One can only imagine the type of DVD and Blu-ray the company will be releasing for this. The direction here owes a lot to the works of Italian neorealists (particularly the way the film frames its exteriors) as well as the later works of French New Wave filmmakers (Rivette is often mentioned in conversation around this film, his influence clear in the film's interior sequences), and yet the setting allows Seidelman to make this entirely her own vision. From the opening Pickpocket-esque grifting of a pair of checkered sunglasses, the viewer realizes that this is decidedly a film, but one of never-ending energy.
The performances here are also quite great. Wren is played by Susan Berman, and she's superb. She takes on a role that could be tuned up to levels of camp, instead finding Berman embed a sense of humanity and truth to each of her decisions. A film about uncertainty in an uncertain time, Berman is an absolute revelation. Opposite her are the above mentioned paramores, particularly Hell. His performance as the pretentious Eric is as vital to the film as the music he and his band Richard Hell and The Voidoids is. Featuring a score by The Feelies, punk music flows throughout the film and only adds to the film's overall sense of anachronism, giving the viewer a glimpse into world of plastic houndstooth skirts, smoke filled clubs and barely lit streets.
With the film now getting a week long run at The Metrograph with a new 35mm print, a home video release should be expected relatively soon. Gorgeously shot and with a collection of naturalistic performances, this is one of the truly great American independent films of the 1980s.