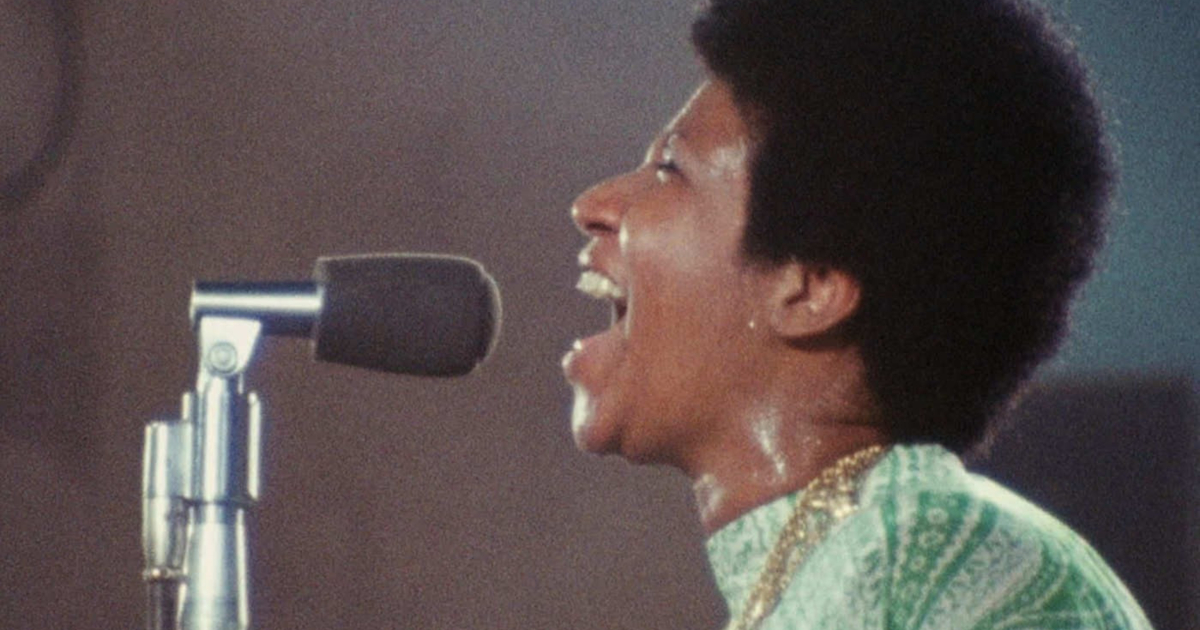 With the rare exception, the "concert film" has been little more than the hour-long filler you find in between episodes of Antiques Roadshow on PBS or as you wait for the next wrestling program on AXS TV (no? Just me? Okay). Shot with a handful of cameras and about as much artistry as a petting zoo, they are fine for die-hard fans looking for a sixth-hand concert experience but rarely do they ever burst off-screen for those with anything less than an obsessive connection with the men and/or women on stage.
However, with Amazing Grace comes not just a burst of energy, but a 90 minute bolt of lightning right to the heart.
Some 47 years in the making, Amazing Grace focuses on a youthful, endlessly energetic Aretha Franklin as, in January 1972, the performer attempts to record what would become (and still stands as) the most important and influential gospel album in music history. Shot by director Sydney Pollack and taking place in the Watts, Los Angeles-based New Bethel Baptist Church, Amazing Grace is a thrilling, captivating historical document that stands as both a cultural artifact and something seemingly heaven sent. Originally intended to play opposite Super Fly on a double bill, Amazing Grace has long been relatively impossible to see as Franklin, for no known reason, blocked the film from release until her untimely death. That's worth pointing out for not only contextual reasons but as something to marvel at after seeing what is maybe one of the greatest concert films ever made.
Somewhere in between documentaries like The Last Waltz and Stop Making Sense, Amazing Grace is a film unlike any other. Formally, the film is very much in conversation with documentaries of this time period. With a film like Original Cast Album: Company on the mind as of late, the films of D. A. Pennebaker seem to be a proper comparison point, particularly in both parties interest in the moments in between the performances. Living in this world for roughly 90 minutes is a thrilling experience. Pollack's camera is unwavering, capturing even the smallest of gestures or glances, or in the case of Franklin's performance, every drop of sweat. There's an intimacy to the film that comes primarily from the setting, which sees the New Temple Church offering up the perfect landscape for Franklin to explode onto vinyl and celluloid. It's a smaller venue than most of the documentaries from this time period would focus on, giving it a decidedly rebellious energy that's relatively shocking given the gospel focus.
It's also an astonishing time capsule. A youthful Franklin is not an image we see very often on screen, and here she's at her most vital and almost punk-ish. There's a lack of self-importance to each second of her performance, a raw vitality that turns her gospel singing into something that comes alive through time and space. Watching her in rehearsal is quite telling and often hilarious, as her reputation as a shy, self-assured performer comes across in almost abrasive ways during some scenes, and seeing her in her element is a document of indescribable import. Single performances like that of "Mary, Don't You Weep" or the bewilderingly transcendental 11-minute epic rendition of the title classic stand out as well, not just for Pollack's charismatic filmmaking but the sheer artistry behind Franklin's singing. It's this performance, Franklin's youthful energy and brazen sonic experimentation, that turns this film into something more than just a documentary or a concert film. And more so, this fact isn't lost on those who lived in this moment. The crowd is often front and center here and watching as people are pushed to the point where they need to be restrained for fear of physical harm happening upon them, it's this rapture that is truly one in a million. There will never be another Aretha and there will never be Amazing Grace.