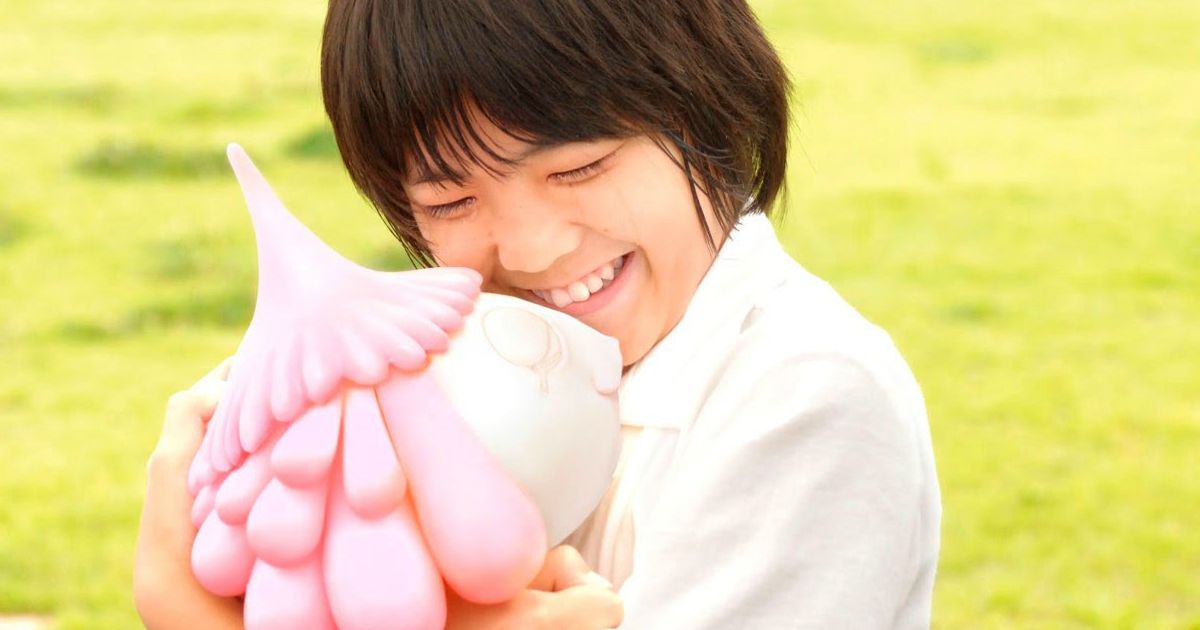 The Criterion Collection, as a brand, puts as much love and effort into their design work and artistic choices as they do the restoration of any given seemingly-lost classic they've decided to drop on the film world in their DVD/Blu-ray releases. Giving rise to artists like the man behind any of your favorite posters, Neil Kellerhouse, or giving shine to beloved classical artists like Yuko Shimizu, the almighty C has given the world gorgeous posters and lavishly designed home video releases since their inception.
And then they met acclaimed artist Takashi Murakami.
One of today's most imaginative and singular graphic artists, Murakami has gone from the art world and entered the film world with his debut picture, entitled Jellyfish Eyes. With a narrative that has its roots in issues facing his native Japan today, it is a film that not only brings with it a great deal of anticipation, but the expectations that come with having Janus Films as a distributor, and ultimately The Criterion Collection as the home video label that will be bringing it to homes domestically.
There are truly few artists quite as prolific today as Murakami. Launching his career as a self-described "superflat" artist (ostensibly art inspired heavily by the works of anime artists that both mixes the hyper-cartoonish energy of anime within the framework of classic art), he has become not only a groundbreaking voice in the Japanese art scene, but has made waves here stateside, even getting his own line of Vans tennis shoes. He's a very popular and well respected artist, but this film is something entirely new from Murakami, something even more vital, and arguably even more bizarre.
---
---
Jellyfish Eyes is a tough nut to crack. In many ways a post-Fukushima take on a narrative like the one found in various video games including, but not limited to, Pokemon, Jellyfish Eyes introduces us to a boy by the name of Masashi, who is having a rough time with this whole growing up thing. Following the death of his father, he moves to the country with his mother, only to meet a creature that is a flying jellyfish that he goes on to name Kurage-bo. However, as he begins to share his time with Kurage-bo, he discovers that he's not the only one with this special friend, finding out that various children at his school have also made friends with different creatures of varied sizes and shapes. What follows is a story about childhood, that touches on things ranging from bullying to the state of Japan following the devastating Fukushima disaster.
Ultimately, the star of the film is Murakami, the stylist. Aesthetically, the film is a blend of live action and animation, using CGI to bring to life a myriad of characters ranging from a flying octopus to a Sailor Moon-esque fighter all as the best friends of its child leads. Murakami's camera is relatively assured for a first time filmmaker, and his handle of tone is quite superb. The action set pieces here are absolutely superb, be it a beating our lead suffers at the hands of a group of bullies (the only time the film ever reaches for anything resembling a real emotion) or the grand final fight that concludes the picture, there is some really great action direction here. For an artist who deals in classic, static art, Murakami has a great hand when it comes to action, something one wouldn't expect. That being said, its in support of a film that doesn't have any real interest delving below the surface level it sets for the viewer.
Jellyfish Eyes is a film with grand themes behind its eyes, or at least it seems that way. Dealing in the same realm as any great film about childhood, the film gives us a surrealist look at a child's search for a place in the world, and someone to share it with. More Where The Wild Things Are than Godzilla, this is where the film begins to unravel.
---
---
Using the Fukushima disaster as nothing more than window dressing, the film doesn't lack the thematic power of great Japanese cinema of this ilk, and the sci-fi tilt the film takes doesn't allow for much emotional connection to the actual narrative. At times bewilderingly pretentious and at others decidedly superficial, the film is a wonderful time for children the same age as its characters, but will leave many viewers scratching their heads, looking for something to grasp to. For a visual artist as singular as Murakami, the film gets cartoonishly sterile photography from Yasutaka Nagano that makes the proceedings feel as weighty as a glorified episode of any Nickelodeon TV series and Murakami's character design feels far too grounded. We find our lead character in the midst of what should be genuine crisis. His father has passed on, and moving to a new city and ultimately a new school is a concept that is not only genuinely frightening, but carries with it such deep existential angst that it deeply troubles many children. However, what follows is a slight and in many ways haphazardly put together look at youth and the experience of growing up that wants to carry with it greater weight with the use of a horrific disaster as a launching point.
Overall, die hard fans of Japanese cinema and coming-of-age pictures will find a few nuggets to like here and there. The action here is solid, and the fight sequences are few and far between but are really well paced and shot. That being said, Murakami's debut film lacks weight despite having a great disaster at its very core. It will be quite interesting to see what type of release this is given from The Criterion Collection, when it ultimately arrives.