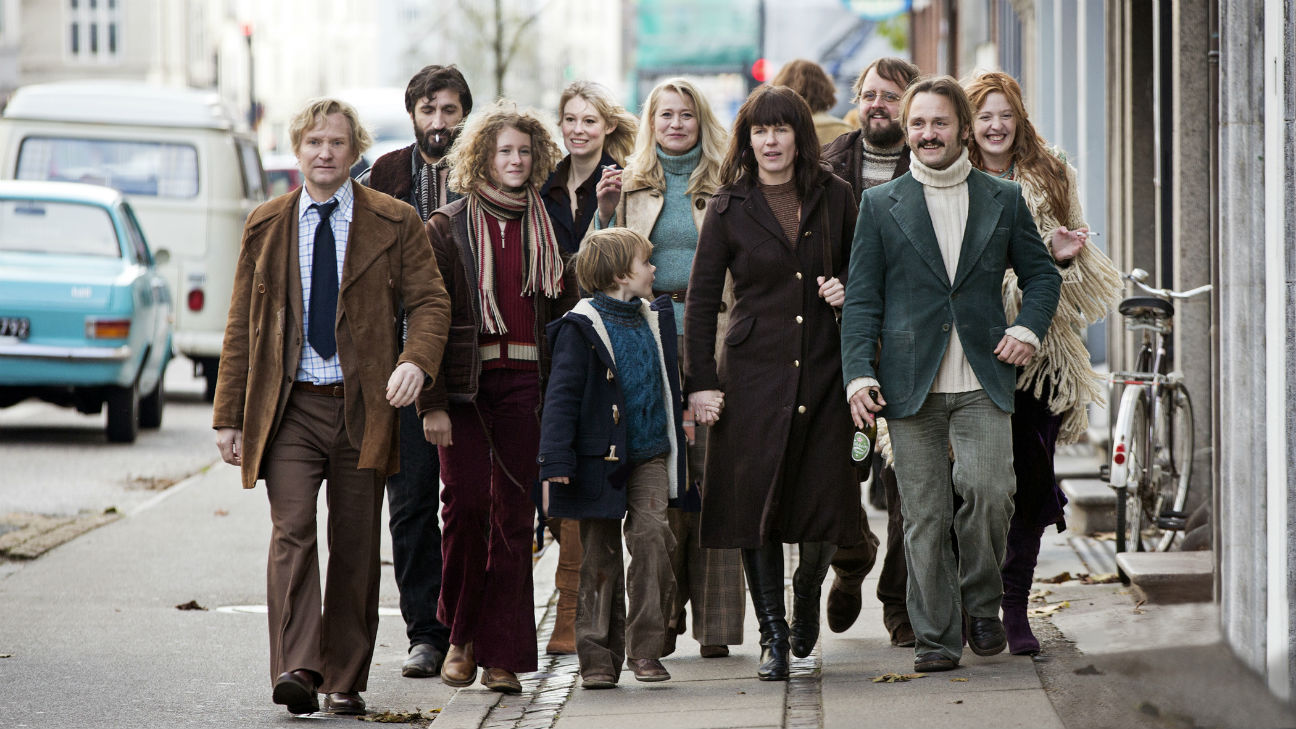 The Commune is a profoundly intriguing venture. Seeing Thomas Vinterberg jettison the Hollywood trappings of his last film, the middling Far From The Madding Crowd, this new picture finds the filmmaker teaming with a distinctly talented co-writer for a film that sees him take on similar themes of love, loss and interpersonal relationships that has been a mainstay throughout his career.
The above-mentioned co-writer is none other than A War writer/director Tobias Lindholm, a name that may not mean much to those new to Vinterberg's work after being introduced through his stateside debut, but one adds profound intrigue to an already interesting picture. Set in the 1970s, the film introduces us to Anna, a well-respected newswoman, and her husband Erik, an architecture teacher at a nearby university. Married and living a seemingly rewarding life in Copenhagen, the couple have their squabbles, but outside of the usual boredom one feels as they further along in their career, their lives seem to be going swell. However, when Erik's father passes away suddenly, they're left with endless grief and a gigantic house with not enough to fill the space.
Erik is clear in his belief that the house should be sold and the family moved into a smaller abode, however, Anna (herself unhappy with Erik's increasingly pessimistic nature) decides to go out on a limb and suggest a shocking option. Seeing a trend of communal living that was on the rise throughout the area at the time, Anna suggests they try their hand at it, subsequently teaming up with a group of friends both old and new. Itself an interesting look at the blending of cultures, this would be enough to make a rewarding piece of socio-political filmmaking at a time when nationalism is rising across the planet. However, Vinterberg and Lindholm's minds are set on a different narrative thread.
Through his teaching, Erik falls for a beautiful young student of his, a relationship that Anna accepts at the beginning, even going as far as to invite the young woman to move into the commune with them. Seeing this affair as a way for Erik to get over his hump of apathy (if you will), Anna is understanding and even invites his new beau out shopping when they are introduced. However, what follows is a gorgeously crafted, if slight, meditation on middle-age malaise, cultural understanding and the interplay between sudden change and time tested connections.
As a piece of writing, Lindholm and Vinterberg's screenplay is quite good. Seemingly relegating the interplay of the wide array of cultures living under the sole roof of this commune to a secondary or tertiary focus is a problem, or at least something one desperately craves as they view the film. Set during the '70s and all of the social upheaval that came along with that, the film touches upon that throughout the film, but only in service of questioning the couple at the core of the picture. The screenplay, however, is tight despite the 111 minute runtime, giving the viewer a deep insight into the central characters and the interplay between each of them in their various pairings. Of particular intrigue is the character of Freja, the couple's daughter. Played by Martha Sofie Wallstrom Hansen, this is not only an entrancing performance, but it's also a beautifully quiet turn in a film that shines in its smallest moments. Be it the utterance of the simple line "I'm bored" that sets the film off or the discovery by Freja of her father's affair that itself sets Freja off on her own journey of self discovery, the film is full of these type of minor moments that elevate the proceedings.
A tender, if cold, picture, The Commune sees Vinterberg at the top of his directorial game. While some of his films over his career have been less than stellar in comparison to his masterpiece, The Celebration, they're routinely some of their given year's most beautiful pieces of work. His latest is no different, as it's a richly textured film, at its very best when it allows each performance to truly breath. High on intimacy, Vinterberg's latest effort sees him leave the literary grandiosity of Far From The Madding Crowd and get back to ground level, portraying the dissolution of a family and a marriage with nuance and deep empathy. Driven by gorgeous photography and some superlative production design, this is a real return to form for one of world cinema's most interesting filmmakers.