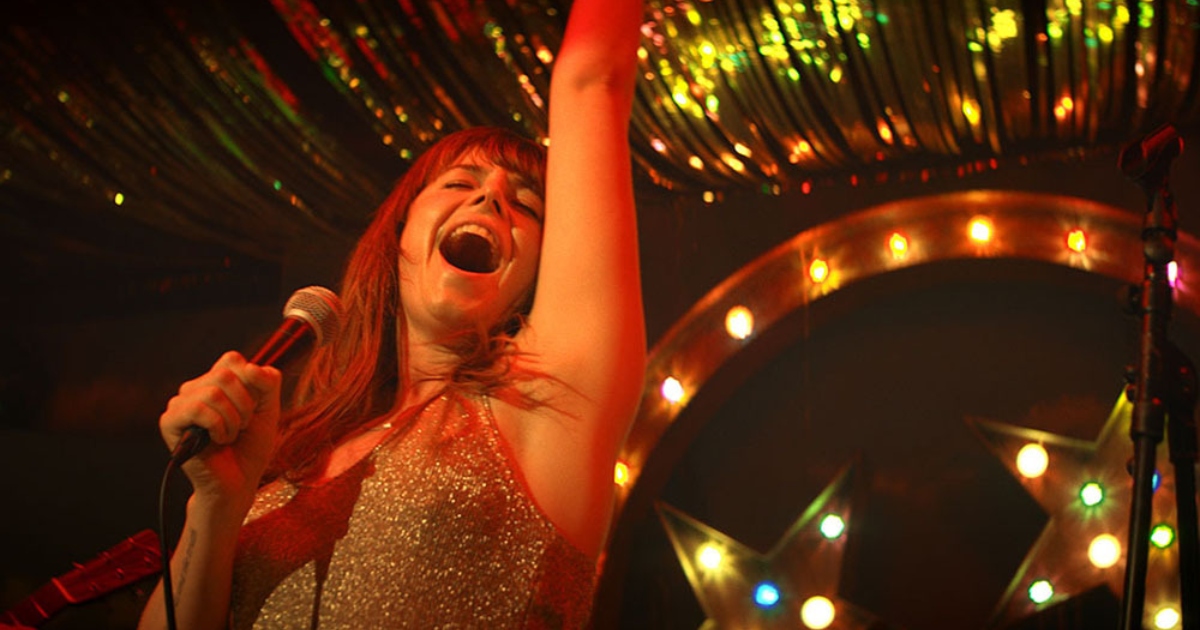 It takes a whole hell of a lot for a story about a young person making it out of dire situations only to become something of a hot ticket in the world of music. Think of films like 2018's A Star Is Born and, to a more strange extent, the fellow 2018 release Vox Lux, and just in the last calendar year it seems like these type of films have come at a relatively regular clip.
That's what makes Wild Rose such an absolute wonder.
Directed by Tom Harper from a script penned by Nicole Taylor, Wild Rose is finally arriving in theaters after an extensive festival run beginning at last year's Toronto International Film Festival, and is maybe this year's summer film season's great crowd-pleasing saving grace.
The film stars Jessie Buckley as Rose-Lynn Harlan, a young woman fresh out of prison in blue-collar Glasgow with aspirations that would lead her to the stage of Nashville's Grand Ole Opry. An aspiring country singer with talent that truly transcends her working-class background, Rose-Lynn is a firebrand all her own, unwilling to bend one single inch when it comes to her dreams of fame, no matter the distance that seems to be between her and her goals.
At first glance, Wild Rose seems like just another type of middle-brow crowd-pleaser that fills up smaller theaters during the dog days of summer. However, there's very little middle-brow about this captivating character study. Handsomely made by director Tom Harper, the greatest aspect of this compelling comedy is his willingness to give the entire picture over to the lead performance. Buckley is an utter revelation here, pairing a nuanced portrait of a driven woman with the world on her shoulders with a series of rousing, thrilling musical performances, in what is as close to a lightning bolt to the soul as we've seen on screen in some time. It's rare to see a star burst off the screen in a way that's genuinely shocking, and each and every scene is consumed by the Buckley supernova. She takes on the role of Rose-Lynn with absolute conviction, breathing into the stock character of a single mother down on her luck a genuine sense of humanity and an interior life, making the character feel entirely of flesh and blood. The character's arc also feels strangely subversive, taking minor twists and turns that feel fitting of this rambunctious picture.
The supporting cast is also quite good. One should know exactly what type of film this is when it's revealed that legendary BBC broadcaster Bob Harris makes a cameo, playing heavily into the film's tenderness towards the music that it draws its inspiration from. The biggest secondary role is taken up by the incredible Sophie Okonedo as Susannah, a woman who Rose comes into the employ of after getting out of prison. Her performance is a bit more one-note than Buckley's, yet their chemistry is a real shot in the arm to the second act of the film, propelling the narrative forward in a manner that feels true to both characters and also narratively compelling. The overall structure of the film feels a bit rooted too heavily into the tropes of this broader narrative, yet within it, the two major performances help elevate the material. Julie Walters is also quite good, if maybe the film's weakest link, as Rose's distant mother. It's a fine performance, just feels a bit thin in comparison.
George Steel is arguably the film's next biggest star, as his photography is rather superlative. An experienced director of photography in his own right, Steel gives the film an impressively naturalistic feel, fitting for this type of film. The performances are shot, rightly, in close up with crowd reaction shots expertly spliced in, giving them almost melodramatic levels of emotional reaction (trust me, as cliche as that sounds, this "on the nose" staging leads to some truly rapturous moments). This is the type of film where the mantra that country music is "three chords and the truth" is not just on the mind, but very much in the style of it, with Steel's photography and the design work of Lucy Spink blending together perfectly the blue-collar world that gave birth to Rose-Lynn and the gauzy, line-dancing world she feels so closely connected to. There's a looseness to the film that's rare for this type of story, turning what could be a slight rise-to-stardom film into something that pops off the screen and demands your attention. Like a good country song. "Three chords and the truth" may be more true than one realizes.