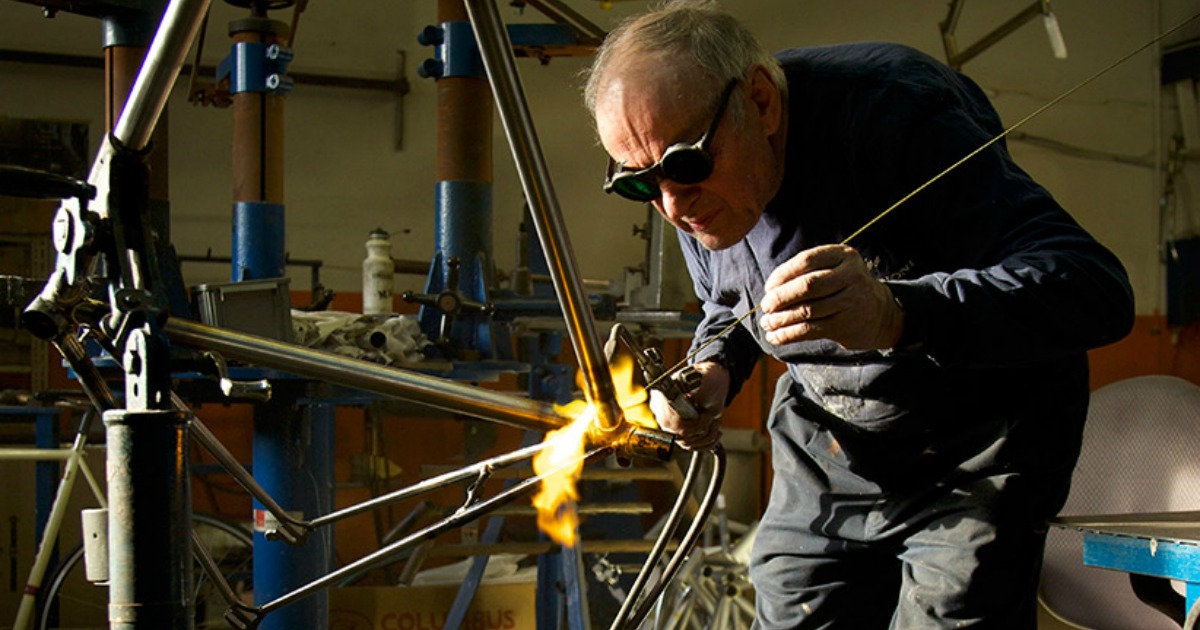 Everyone should be so lucky to be able to have a second act in life as influential as Giuseppe Marinoni has. Born in Italy in the late 1930s, Marinoni took to the world of professional cycling, only to become one of the world's greatest bicycle racers. This would, itself, be enough for just about anyone. What more could one want than to be world-renowned in the career they are most passionate about? How about finding a second passion and hitting even greater heights?
That's the case with Marinoni, who himself is the subject of a new documentary entitled Marinoni: The Fire In The Frame. After retiring from racing, Marinoni (who had not only found wealth and worldwide respect through racing but also a wife and a new home in Canada) began toying around with building and fine tuning bicycles, ultimately leading him to a career in bike-making that would last for more than 40 years. An icon in the world of bike racing, Marinoni's name not only means excellence on the bike but when his name is literally seen on a frame it means the highest of quality.
This new documentary comes to us from director Tony Girardin, and it's easy to see why this became a rather beloved entry on the festival circuit, even garnering praise at arguably the biggest documentary festival running, Hot Docs. Girardin plays a central role in the film, as Fire In The Frame is ostensibly part talking head documentary about the life and career of Marinoni and part two-hander, watching as Girardin documents Marinoni's attempt to break the world record for distance traveled over one continuous, hour-long ride. Structured as a relatively standard documentary of this ilk (begins with a broad introduction to our central character, backtracks for biographical information and then thrusts forward with a ticking clock to the final goal), Marinoni is such a charismatic figure that it truly elevates this material.
Stylistically, the film is at best described as "low budget" and at worst "amateurish." In a world where documentary filmmakers are beginning to not only further expand what makes a documentary narratively interesting but even more so aesthetically groundbreaking, this has little in the way of intriguing style. Girardin blends the diary-like footage of he and Marinoni spending time together with talking head interviews and brief spots of archival footage, all in what feels like a very classically styled independent documentary. It's charming and while it may seem like ultimately would make the entire picture feel empty of any real depth thematically or narratively, it actually allows for Girardin to catch some genuinely charming and ultimately moving moments.
That all being said, while one may not find much aesthetically to dig into here, thematically the film is quite rich. Ostensibly a film about one man's battle against the ticking clock that is life, this is a rich meditation on the power of the human spirit. It's a simply made piece of work, but one that is both effective and oddly engaging. Hopefully, it will become a hit when it arrives on various streaming services, but it begins its theatrical run April 1st.