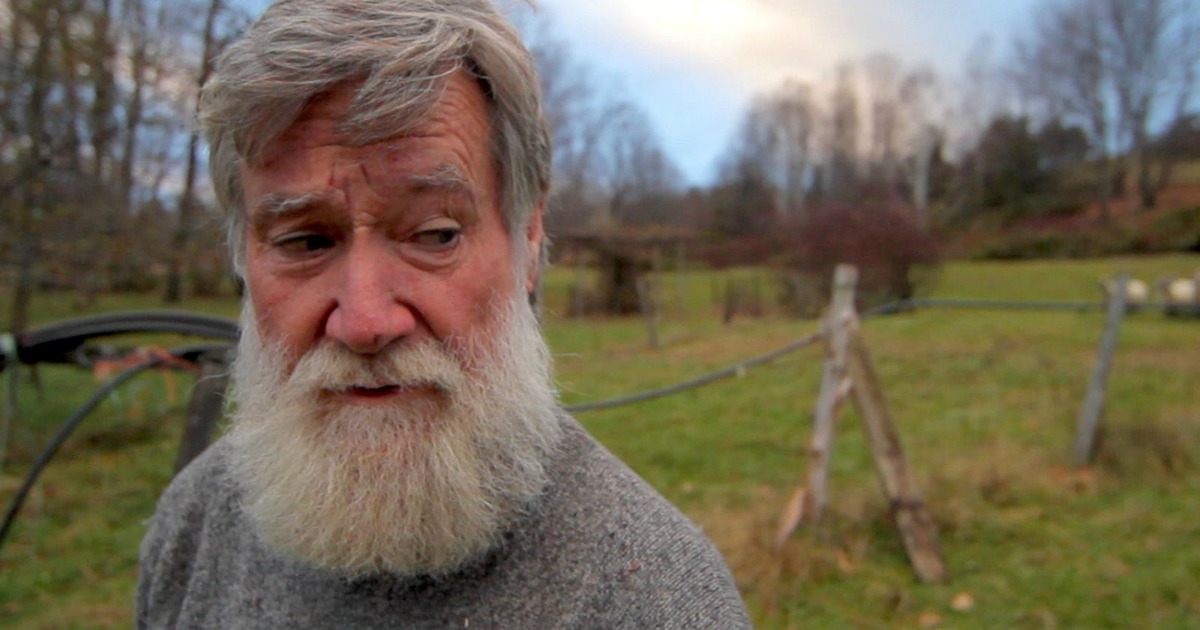 New York City is a city of numerous festivals and film series be it new or of a more repertory bent. However, few festivals worldwide are as intriguing as The Big Apple's New Directors/New Films series. Playing home to some of today's greatest and most avant garde motion pictures, New Directors/New Films is a superb portrait of filmmakers early in their career as they toy not only with the medium of film but the tropes of specific genres and film making styles.
Take the new Tony Stone-directed documentary Peter And The Farm for example. Not Stone's first film, it is his most entrancing work and easily one of this year's most interesting documentaries. And that's due to both the blunt nature of its aesthetic as well as the singular focus at its center.
There are few characters quite like Peter Dunning. A name that will mean nothing to a vast majority of readers of this review, the nearly 70-year-old farmer located deep in rural Vermont is a man of great depth. An artist turned heavy-drinking farmer, Dunning began working as an independent organic farmer in the 1960s, only to shun his family and friends leading to a life of relative solitude and individualism. Patriarch of a roughly 190-acre farm, Dunning is a self-prescribed alcoholic who we watch attempt to battle everything from pregnant animals to life threatening depression as his farm continues its relative downward spiral.
At its very best, Peter and the Farm is a film of beautiful bluntness and awe-inspiring naturalism. Very much rooted in the idea of "slow cinema," Stone's film finds a majority of its energy out of its volatile lead, particularly when he battles back and forth with the director himself. It's an entrancing extension of the verite style, with Stone never truly getting involved outside of the occasional verbal sparring. That said, his direction is wonderfully evocative in its naturalism. The photography here lacks superficiality, and Stone's framing is more or less static, never flinching from some of the more unsettling aspects of the farming process. It's also deeply touching in many ways. Be it watching a cow defecate (and the subsequent repositioning of a calf still within that very cow) or watching Dunning try to kill an ewe only to fail on his first attempt and having to shoot it a second time, there is a great deal of unsettling moments but there is also a breathtaking beauty within the blunt portrayal of these acts.
---
---
But again, Dunning is the greatest aspect of the film. As we learn more about the man's life, he becomes an almost mythic figure, an adopted son on the Lower East side of NYC turned artist turned cantankerous drunk, Dunning has a cadence entirely his own, and his individualism is worn brightly on his sleeve. He's blunt in his discussion of his life, and the lack of vanity within his reflections is refreshing and utterly rapturous. This is an often funny, often sad, often unsettling documentary, and yet each frame feels impossible to turn away from. And that's primarily due to the man who makes up many of them.
Rooted in the same tradition as many of the great character-focused documentaries, Peter and the Farm is a beautifully evocative meditation on the connectedness of all things. A breathless look at one man's rough individualism, Stone's latest film is part haunting examination of the death of a way of life, and part gorgeously composed look at a solitary life in a connected world.