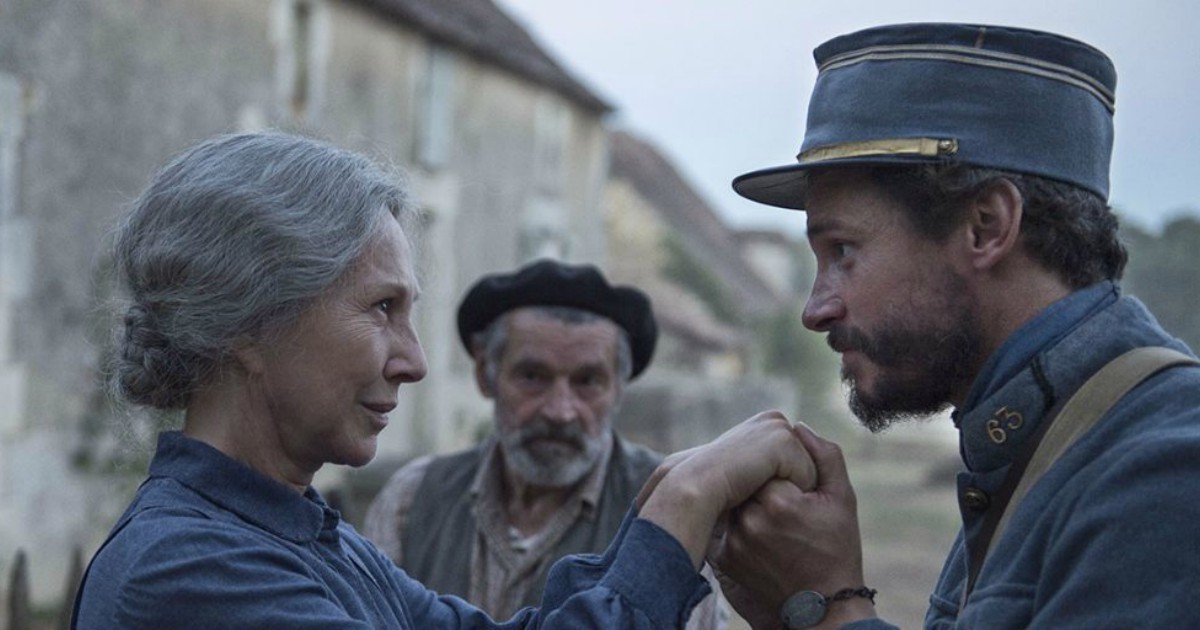 With Marvel's The Avengers: Infinity War nearing the one billion dollar mark (it's probably already there by the time you're reading this), there are few films that are really making much of a dent in cinemas across the country. I mean, when a film makes Titanic-sized box office returns just a week into its theatrical run, everything else is ostensibly counter programming. However, there's one film not featuring super-powered men and women trying to save all of existence that's actually worth your time.
From Of Gods and Men director Xavier Beauvois comes The Guardians, a film that truly couldn't be further from the world's mightiest blockbuster if that had been its expressed purpose. A quiet and stayed drama, The Guardians stars Nathalie Baye as Hortense, a family matriarch, who as World War 1 commences must join other women on her family farm as they attempt to keep things afloat while the men are on the front lines. In order to do so she brings in a local orphan, Francine (played wonderfully by Iris Bry), to help them keep their heads above water. Intimate and entrancing, Beauvois' film is a deeply nuanced look at the impact of war on those back home, and a particularly moving meditation on the female experience as their role in society doesn't just change but does so in what amounts to nothing more than a blink of an eye.
A filmmaker very much influenced by the classical style, Beauvois has proven himself to be one of French cinema's most exciting voices, a director of incredible nuance and without falling into a trap of flashy camera moves and flights of fancy, makes stylish pictures that are as intimate as they are genuinely gorgeous. The Guardians is no different, playing wonderfully to the director's painterly eye for tableau frames and natural lighting. The photography here is rich and textured, as the period design work feels of a whole and rarely feels like window dressing. From the opening pair of sequences (one of a battlefield covered in expired bodies cut with our lead plowing a field with her daughter), the film sets its tone and atmosphere, and while there is the occasional burst of energy, Beauvois' tone here is decidedly muted. Almost similar to that of film Westerns, the picture's interest in the ever growing influence of modern touches on the lives of these characters is a compelling throughline as well, turning what could have been a rather torturous experience into one of great humanism and profound sensitivity, Iris Bry's Francine becoming the picture's heart and soul.
And therein lies the film's greatest attribute. From top to bottom The Guardians is chock a block with superlative performances, particularly that of Bry. Taking on a rather difficult role, Bry turns Francine into so very much more than simply another set of hands needed to help our lead complete her task, bringing a sense of life to the role that gives the role a sense of truth and a lived in quality. It's an incredibly quiet film, a film as muted in its photography as it is in its performative "volume" if you will, and yet Bry is able to give her sequences a real energy that makes them quite compelling. Nathalie Baye is, of course, superlative, as she has always been throughout her decades-spanning career, and her actual daughter, Laura Smet, is following in her footsteps, giving a great and nuanced performance her as her on screen daughter as well. A melodrama in many ways, this film relies heavily on the performances of each of these women, and thankfully theirs are shoulders strong enough to carry this load. There is a romance story line that is compelling enough, but when the film's at its very best it is when Beauvois both trusts his actresses enough to focus squarely on their plight in this world, and in turn dissects their changing societal roles as The Great War wages on.
It may be a pinch too long (this type of pastoral piece can wear one down at just a pinch over 135 minutes), few dramas this year have been able to balance a classical style with real panache quite like Beauvois' latest achievement. Hopefully able to find a home on the art house circuit (Music Box Films knows what they're doing, after all), The Guardians is a quiet and nuanced meditation on war, love, loss, gender roles and modernity, all rolled up into one genuinely moving tale of a group of women on the brink of change. A real discovery, this film.