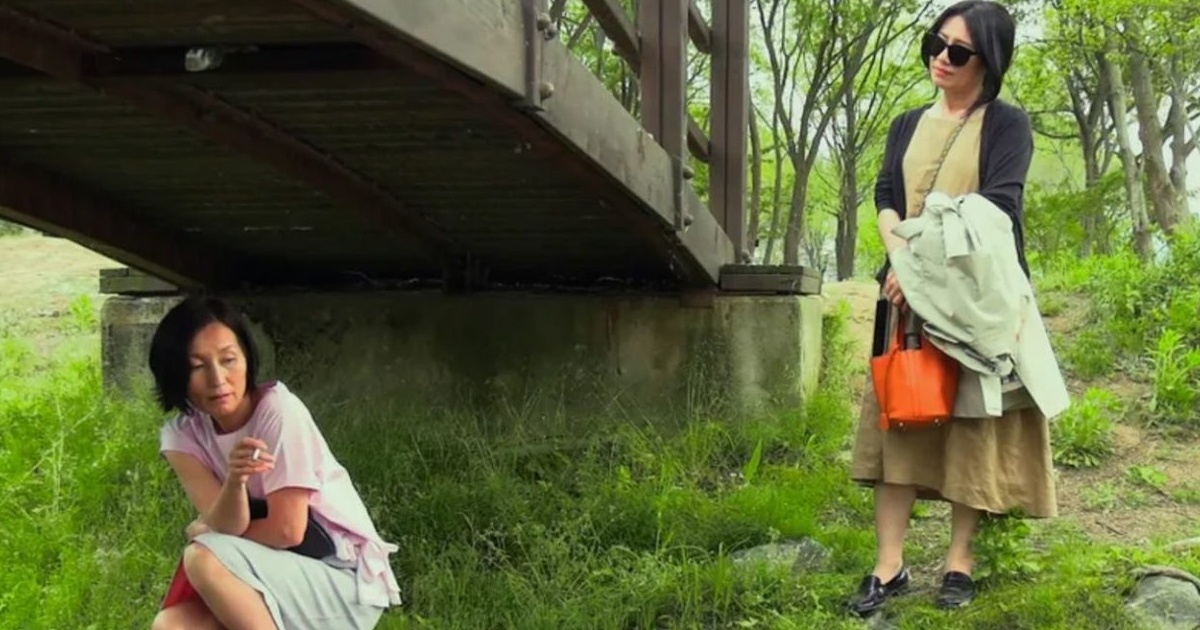 With NYFF 2021 coming to a close, we also close out our coverage of this year's solid entry in the festival's history, with five more of the most fascinating and in many ways polarizing works from the main slate.
Leading the way in this concluding dispatch is maybe the festival's biggest discovery, What Do We See When We Look At The Sky?. From Georgian director Alexandre Koberidze, What Do We See is a rightly elusive picture, telling the story of Lisa and Giorgi who meet one random afternoon in the Georgian city of Kutaisi, only to have the fates act against their instant connection at every turn. Very much a film about fate, destiny and the beauty of the mundane, Koberidze's second feature film is one of 2021's most hopelessly romantic films, and it's also one of its most impressively constructed.
Truly a love letter to the country of Georgia, What Do We See is a meditation on the importance of companionship in an age where that still feels strangely dangerous. It carries with it the energy of a fable or a fairy tale, wherein an evil spirit casts a pox on both of our star-crossed lovers houses, making their reconnection feel of the absolute utmost importance to each and every viewer. The main performances are utterly superb, turning even the seemingly most mundane of moments like choosing to walk with a girl around a city rather than stay and watch a soccer game feel akin to a life or death choice. It's this blurring of the magic realism of the overarching narrative and the keen understanding of the human experience that turns what could be a run of the mill romance picture into something of a humanistic epic. Magical romanticism? Truly unlike anything playing elsewhere in the festival.
From something romantic to something almost brazenly not. France is the latest skewering of French society from iconoclastic filmmaker Bruno Dumont, who has been on a tear as of recent with his Joan of Arc films. France jettisons the period of films like Jeannette and the absurdism of his longer form works like Lil Quinquin for something truly mind-boggling. A satire, and a bleak one at that, about modern French society, his latest stars Lea Seydoux as the titular TV news broadcaster who has her seemingly perfect life completely upended by one car accident.
Closer in form to the films of David Lynch than anything decidedly Dumontian, France is a satire in the body of a melodrama, with Seydoux's performance one of startling bombast. Truly unlike much of what the actress has been tasked with in recent memory (heaven knows it couldn't be further from the slog that is her turn in No Time To Die), Seydoux's performance is one of uneasy vitality, particularly using her face to bring about an incredibly vibrant physicality to an otherwise startlingly stoic affair. David Chambille's cinematography is textured and vibrant, with Dumont's script giving the film a bleak sense of near-nihilistic sense of humor, deconstructing modern French society in a way only he truly can. Toss in a score from the late Christophe that feels almost comically connected to the works of Angelo Badalamenti and you have a film so strongly leaning into the realm of melodrama that it almost circles back around into something more closely resembling surrealism. A real knockout, if one that may have a bit of a long follow-through.
From one of world cinema's great enfant terrible to one of its great romance poets. Director Hong Sang-soo has two films in this year's main slate, and both of which continue the director's recent trend of releasing nothing but genuine bangers. First up is the brilliant Introduction, a brisk family drama following the story of various young men and women on the brink of adulthood as they deal with the expectations of their parents. A film about battles between generations, Introduction is spearheaded by a performance from Shin Seok-ho as a young near-adult who must deal with everything from romantic relationships to expectations in the professional world. A collection of three episodes of sorts, this 66 minute long film is an absolute breeze to watch, but packs no less of an emotional punch than any of Hong Sang-soo's previous pictures, itself culminating with maybe the director's most devastating sequences of mutual drunkery yet.
Speaking of great soju-sequences, one of the director's best comes in his second film found here at NYFF, In Front Of Your Face. Epic in comparison at a massive 85 minutes, In Front Of Your Face tells the story of a middle-aged actress played breathtakingly by Lee Hye-young, who upon her return to South Korea decides to make amends with those from her past. Very much a film about regret, remorse and resentment, Hong Sang-soo's most recent film is maybe his most cynical, and yet finds beauty in its periphery. Finding power in gestures, in silences, In Front Of Your Face concludes on what may go down as one of the definitive jokes in all of the director's filmography. It's one of the very best films from one of the very best filmmakers working today.
Finally, we take a look at the return of one of the most exciting directing teams working today. Ramon and Silvan Zurcher launched onto the world scene with the brilliant The Strange Little Cat, and return with the equally alluring The Girl and the Spider. Telling the story of Lisa and Mara as they near a split as roommates, The Girl and The Spider is part of an alleged trilogy about human connection that started with the duo's aforementioned debut, and fits that bill perfectly. More so about the relationships each of these women have to the various entities around them, this is a melancholic rumination on loneliness that's as beautifully quiet as it is thrillingly surreal. The Zurchers have an uncanny understanding about the pressures of existing as a human in this moment in time, and how even finding one brief moment of real connection feels almost impossible. Maybe a bit *too* meticulously made, The Girl And The Spider is a breathlessly composed and wonderfully acted rumination on the longings and desires that make up human existence.