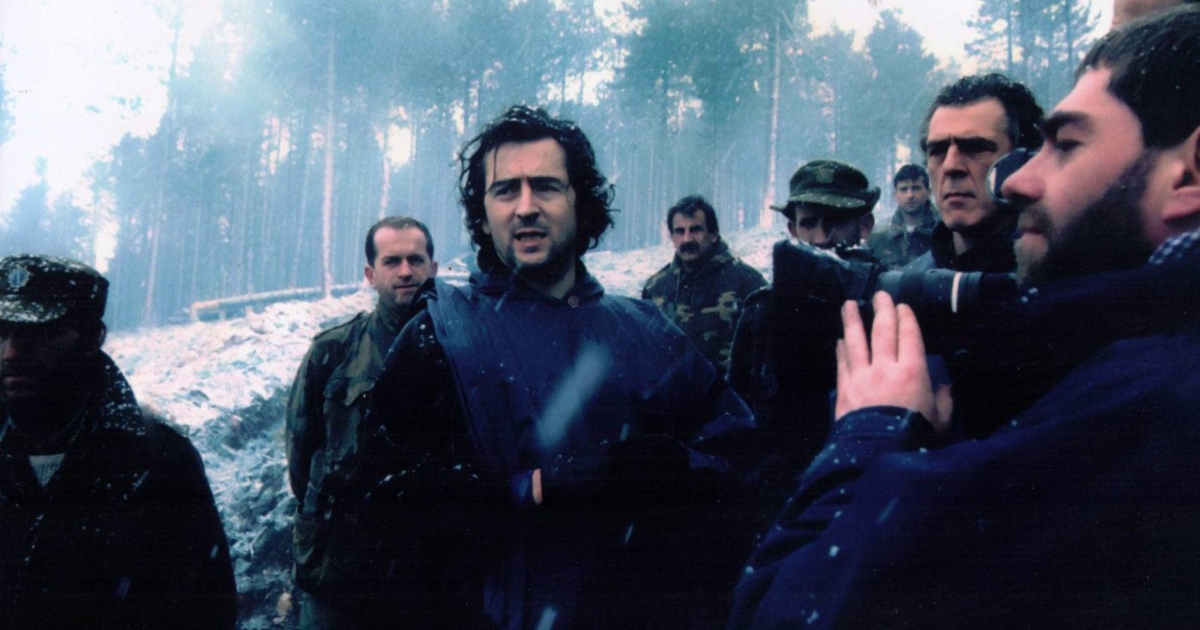 We may only be a week or so into the new year, but the 2020 retrospective scene is already beginning to kick into high gear.
With a career-spanning look at the films of Hal Hartley set to open in New York at the end of January opposite smaller journeys through the filmography of someone like Makoto Shinkai that will also be debuting this month, January appears to be the launching pad for a number of fascinating deep dives into the works of artists varying in popularity.
One of the lesser-known filmmakers getting the retrospective treatment to start this new decade is Bernard-Henri Levy (BHL as he's known to fans and critics alike). A true multi-hyphenate, BHL is arguably best known as a philosopher and political activist, and considered by some to be the "most prominent intellectual in France today." Not incredibly well known here stateside outside of a very niche group of globally minded public intellectuals, BHL began his career in the mid '70s, and has since ventured into the world of documentary cinema (as well as the occasional, infuriatingly bad fiction film), crafting some of the most harrowing and gripping stories to be found within the medium.
Included within this series at New York City's Quad Cinema are four films, hence the title Bernard-Henri Levy x4, all of which show BHL's keen eye for documenting not only the horrors of war but also the lives of those living quite literally on the front lines of violent battles ranging from Iraq to Bosnia. Of these four films, two are returning to theaters, with Bosna! and The Oath of Tobruk playing as some sort of relative backbone for this entrancing retrospective. Released in 1994 and 2012 respectively, both films introduce viewers to BHL's intellectual and aesthetic ideals. Almost shot like news reports, neither of these films have much visual style to them, instead opting for an eye that's less style and more substance. Genuinely unflinching even in the face of horrors like Bosnian War (Bosna!) and the Libyan uprising (The Oath of Tobruk), these films are first hand accounts of these wars that are at once completely unsettling in their intimacy and immediacy, and yet compelling statements about the power of art to give a voice to the voiceless.
Even more interesting are the back half of this quartet, both of which are making their US theatrical debut as part of this series. Peshmerga (2016) and The Battle of Mosul (2017) are a diptych, if you will. Ostensibly two halves of one larger project, the films send BHL to the front lines of Iraqi Kurdistan, where soldiers try and beat back the oncoming ISIS forces that threaten to bring destruction to the region. These Kurdish fighters known as Peshmergas play as the ostensible leads of the titular 2016 feature, which continues BHL's fascination not just with the ongoing threat of terrorism and the horrors it brings to a region, but also of forgoing anything resembling typical documentary style. Very few title cards appear and the only interviews featured in either of these films come naturally and feel as though they're truly caught within a natural moment, with ostensibly all of the exposition coming from BHL's engrossing, if slightly monotone, narration. Peshmerga is a film that begins with a genuine moment of awe-inspiring horror, and its because BHL's camera is both completely unwavering and also uninterested in making a stylistic statement, that these types of violent outbursts pack intense emotional power.
A year later BHL would arrive with The Battle of Mosul, another stark and enthralling work, this time of a more medium length. At just 55 minutes the film feels like something of a glorified epilogue (despite itself having one all its own), this time focusing on one specific battle and the importance of it therein. Starting in October of 2017, the film finds the Kurdish fighters and Iraqi Golden Division on the brink of seizing Mosul, considered the capital of ISIS and a Holy city of great importance to the major religions of the region. Feeling like an extension of BHL's larger project as well as his prior film more specifically, Mosul is a gorgeously rendered work that while being the director's most recent work, may honestly be a fascinating launch point for those just discovering the documentary work of BHL. It's a thoughtful film that clearly comes from a public thinker's point of view, an intellectual rumination on a specific moment in history that, through this retrospective's lense, doesn't seem all that different from conflicts in our very recent past.
The films will also be screening in LA at the Nuart on January 17-18, with BHL in attendance.