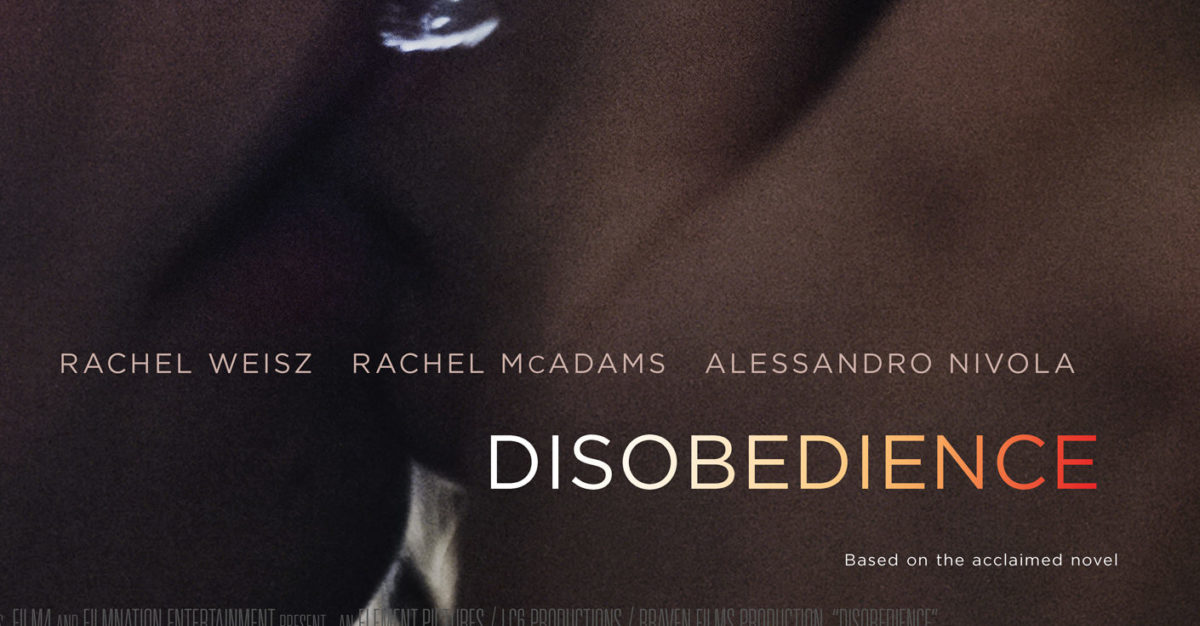 What is free will, really, and what is freedom? We say we live in a free country, a free society, and every year that society grows more and more accepting of freedoms that would have been heavily, legally punished only a few decades ago. Yet have we granted ourselves the same freedom, not only to express but to pointedly not blindly pursue? How often do we think of ourselves truly apart from our upbringing, our family, our friends, and perhaps more importantly, the self-perception we carry? From its opening scene to its finale, Sebastián Lelio's Disobedience is completely absorbed with these questions, and the uncertainty to which they lead. It wraps them up in a narrative beautifully attuned to the rhythms of melodrama, with performers who gracefully tend to its needs that are often just outside our preconception.
Rachel Weisz stars as Ronit, a New York-based photographer called back home to London following the death of her father (Anton Lesser), an Orthodox Jewish rabbi beloved by his community but so cut off from his daughter that most everyone she encounters is surprised to see her. That includes Dovid (Alessandro Nivola), Ronit's childhood friend who studied under her father and is generally assumed to be the successor to now-vacant role as the head of their temple. He, too, has a surprise for Ronit in the form of his marriage to Esti (Rachel McAdams), the third in their childhood gang, whom Ronit knew to be a good deal different than she now presents.
If you've seen the film's poster, or the trailer, or really heard anybody talk about it at all, you'll have a sense of what that difference is, but the film takes so long in explicating it that I'm not about to talk about it here for any stray readers who do not. Adapted from a novel by Naomi Alderman by Lelio and British playwright Rebecca Lenkiewicz (better known for filmgoers as the cowriter of Paweł Pawlikowski's 2013 Oscar-winner Ida), the film is cagey in the best way about what information it conveys when. As with all great melodrama, there are secrets, and confessions, and confessions that mask other secrets. We're sometimes lead down one path of a very basic mystery to obscure the more important question at hand, making its unexpected answer all the more stunning.
The film takes very seriously a choice Esti has to make, and presents her with two compelling perspectives in Ronit and Dovid on how to live. For Ronit, who left the Orthodox world the second she was legally able and never looked back, the religion is stifling and unacceptable. Despite being quite well-aligned with Ronit, though, Esti takes comfort in the faith, genuinely believes its teachings, and is not so ready to let it go. Dovid, meanwhile, could have easily been the villain in this scenario, but at every turn Nivola and Lelio texture him sympathetically. He's a man who had every reason to believe his life would turn out a certain way and is very suddenly seeing the world shift around him. How he'll respond to that is a source of genuine tension. We're not lead to expect him to clamp down on Esti; any outbursts feel out of character. Nivola centers around the compassion and patience a rabbi requires. The nuances can build from there.
Weisz has been on a terrific streak of late, abandoning the maternal dream girl roles that won her fame and acclaim in the late-2000s, turning increasingly to socially-engaged melodramas like The Light Between Oceans and Denial or intellectually-driven auteur projects like Complete Unknown and The Lobster. She's built a strong-willed screen persona, and Ronit is the ideal fit for her, so sure of how she and everyone else should live their lives that she barely registers how the life she lived might have been unfulfilling, let alone the many other options that exist for everyone else. There are several turns where she's left off guard by this realization, and Weisz knows how to express the shameful retreat we often do when our pride is confronted with a higher truth. McAdams has the more obvious arc to play, but the way Weisz guides Ronit to a place where she can be genuinely happy for someone else is no small thing either.
I've always been terrifically fond of McAdams, and I was reminded by this year's Game Night just how winning she can be. To say her work in Disobedience may be her best to date is, perhaps, less a reflection of a particularly outstanding career, however, but more a sign of how few films have asked her to do so much. Her role turns around verbalizing questions she's had building for half her life, questions now brought to bear by Ronit's return. She and Weisz play very well the sort of uncomfortable ease with which people wade back into friendships they haven't fully nurtured. Normal small talk is necessary but insufficient, and a stray remark can spark a dozen buried memories and suddenly light up your eyes. Esti seems constantly buried in something – her wig or her clothes or her lame cart she rolls around – but around Ronit, she gains posture and attention.
Lelio made a splash in 2013 with Gloria, and a bigger one last year with the Oscar-winning A Fantastic Woman. Disobedience is more developed than either film would suggest, more intricately written and designed, but the lessons learned on those earlier films were valuable. Both tried to make their way with little dialogue, drawing out emotional beats with actions and images whenever possible. Here, confronted with so much well-written dialogue and exposition to convey, he knows when to insist on drawing out a moment, letting a gesture or pause really land before moving along, and not hurrying the dialogue to compensate. This sort of patience is uncommon in modern drama, and especially modern melodrama, which forget how much of what goes unsaid is said in a great many other ways.
I was complete bowled over by this passionate film that gets so much urgency into every scene yet emerges completely even-handed. May all our freedoms be so rich.