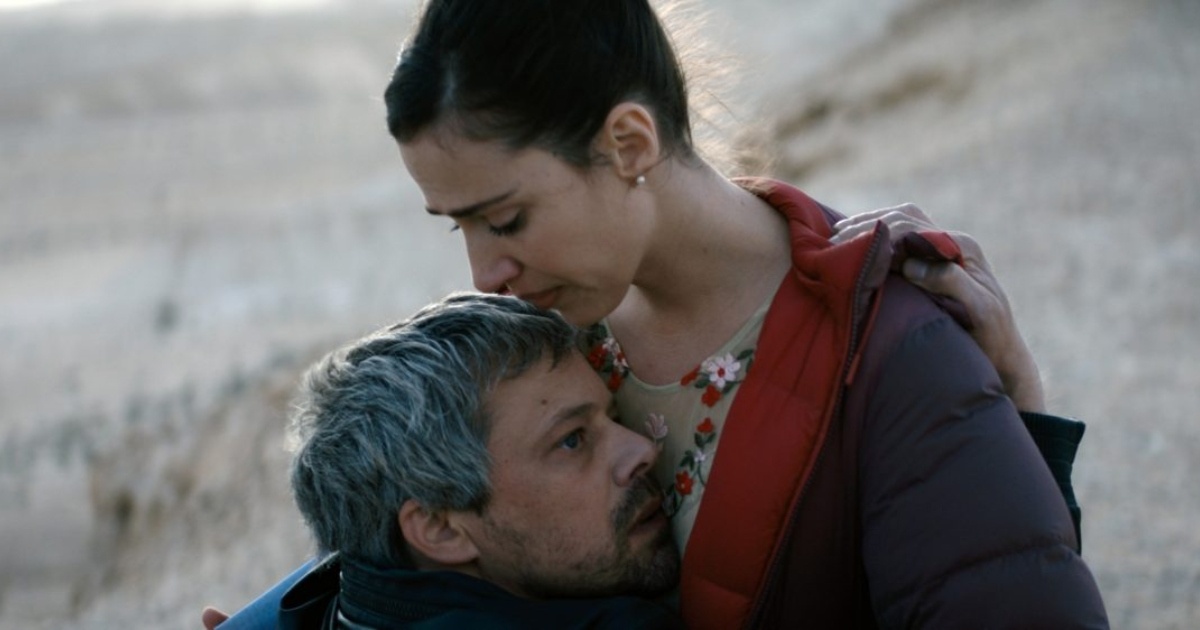 The Toronto International Film Festival runs 9/9-9/18 and features screenings in person and online. The CriterionCast will be covering this year's edition and begins coverage with a preview looking at a handful of hotly talked about films taking a bow at the festival. 
Starting off this preview of TIFF 2021 is the latest work from one of world cinema's most fascinating voices. Directed by Synonyms helmer Nadav Lapid, Ahed's Knee is a marked change of pace for the filmmaker, this time taking a look at both one filmmaker's creative process as well as the grief surrounding the loss of family. The film follows a director played by Avshalom Pollak as he goes to a small desert town to present his latest film, only to meet a member of the local Ministry of Culture (played brilliantly by Nur Fibak) who confronts the filmmaker at almost every turn.
Itself made not long after the death of Lapid's own mother, who herself was an instrumental figure in his work acting as his editor for a large chunk of his career, Ahed's Knee is a searing piece of filmmaking, that feels as personal as it is confrontational. Say what you will about the "Male Filmmaker In Crisis" picture, but the power of the film comes less from one's boxing in by a hypocritical cultural bureaucracy and more from the damage clearly done by one man's selfishness and rage. Equal parts political and personal, no one comes out of the film smelling of roses, even less so Lapid himself. Abrasive in his direction and even more so in its characterization, Ahed's Knee is a volatile experiment in political filmmaking, a deeply felt rumination on one nation's increasing self censorship, and one man's increasing detachment from his homeland both literal and figurative.
Next up are a pair of hotly anticipated music documentaries, both coming out of the increasingly exciting Music Box series released by HBO. Leading the way is Listening To Kenny G, a from-the-horses-mouth style biodoc about the "Smooth Jazz" pioneer. Often the butt of jokes throughout his career, Kenny G gets the chance here to, more or less, set the proverbial record straight and rightly does so, while being set against interviews with fans and critics alike. Directed by the always-exciting Penny Lane, this is arguably the director's most straightforward work aesthetically (particularly compared to films like Our Nixon and Nuts!), but finds its import in its uncanny ability to balance both sides of the always hotly contested debate surrounding the artist's work. There are moments here that are utterly breathtaking, be it Kenny G's revelation that he doesn't really much care for jazz or the history of it, or the socio-political context of things like his controversial "duet" with Louie Armstrong. It's a fascinating, even-handed deconstruction of a legendary artists and a figure whose seemingly innocuous music has enraged entire generations of music fans.
This pairs opposite Jagged at TIFF this year, Alison Klayman's enthralling look at Alanis Morissette and the creation of her iconic 1995 album Jagged Little Pill. Klayman sits down with Morissett herself, as well as various critics and contemporaries, giving incredible context to one of the most popular and influential albums in the history of modern music. Driven by breathtaking archival footage, Jagged is not your typical rock documentary, with interview sequences broken up by heartstopping performance footage and lengthy sections of songs from the album. Less the type of film to ask "who is You Outta Know actually about" and more the type to ask "what does that question actually mean," Klayman's latest is part rock doc and part cultural deep dive, looking into an album made by a performer chewed up and spit out by a culture and that views women as little more than disposable.
From a pair of docs sure to catch fire given their distributor to a film that utterly took yours truly by surprise, Quickening is writer-director Haya Waseem's debut feature, and is maybe the discovery of the festival. The festival stars Aroo Azeem as Sheila, a Pakistani teen living in the Canadian suburbs who happens to be coming to the close of her first year in college. Freshly in love and craving freedom that her strict parents deign to give her. After she loses her virginity only to have her relationship break apart, reality slowly begins to split apart culminating in a film that's part neo-realist portrait of a young woman's coming of age and part surreal exploration of grief and cultural trauma.
Diving head first into the experience of a young woman of color split between a world of modernity and one of strict cultural tradition, Quickening is a breathtaking, impressionistic character study that feels entirely unlike anything else at this year's festival. Owing a debt to filmmakers like Wong Kar-Wai, particularly in its focus on colors, textures and atmosphere, Waseem's debut film is a gorgeously shot film with performances that feel one of a kind. Azeem gives a star-making performance here, a performance that's both assured and startlingly tender, perfectly capturing that moment in life where we want to break free but are so full of doubt that letting go of that connection too much is more terrifying than never letting it go at all. Intensely personal and intensely textured filmmaking. A major film to keep an eye out for.
Finally, to close this preview out, are a pair of films from the ever impressive DOCS lineup. First up is Julie Cohen and Betsy West's impressive, classically told Julia. Diving head first into the life and times of one Julia Child, Julia is a touching, poignant portrait of a brilliant woman breaking through a man's world to become one of cooking's greatest and most influential icons. Sure to make major headway come awards season, this is surely set to be one of the year's most talked about and popular documentaries.
And finally, this preview of TIFF 2021 concludes with a documentary of an entirely different breed. Hold Your Fire comes from director Stefan Forbes, and tells the story of fourb young Black Muslims who, in 1973, attempted to rob a sporting goods store in order to procure guns to protect their families from potential violence being threatened. What followed was the longest hostage siege in the history of New York City and is told with profound texture in this incredible, unshakable new documentary. Taking accounts from robbers, cops and even hostages involved, Hold Your Fire is a nuanced, deeply researched piece of scholarship that attempts to recontextualize this nearly 50 year old event as a portrait of a failed system in need of complete overhaul, even half a century later.