Dance as a subject for cinematic examination has been pressing itself in on me with gathering intensity over the past couple of weeks, it seems. First there was the release of Darren Aronofsky's latest film The Black Swan (be sure to check out our reviews from Catherine Stebbins and Rudie Obias) and the numerous references it generated to Powell & Pressburger's The Red Shoes, one of Criterion's most admired re-releases on Blu-ray and upgraded DVD of the past year.
More recently, I learned via this site of an upcoming film from Wim Wenders titled Pina, which the director created (in 3-D!) to honor the work of the late German choreographer Pina Bausch (who had a bit part in Fellini's And the Ship Sails On.) This discovery immediately brought to mind the most recent entry in my Criterion Reflections blog, A Dancer's World, from the Martha Graham: Dance on Film set. So it only seems inevitable that I should have chosen Carmen, from Eclipse Series 6: Carlos Saura's Flamenco Trilogy, as the selection for this week's review.
---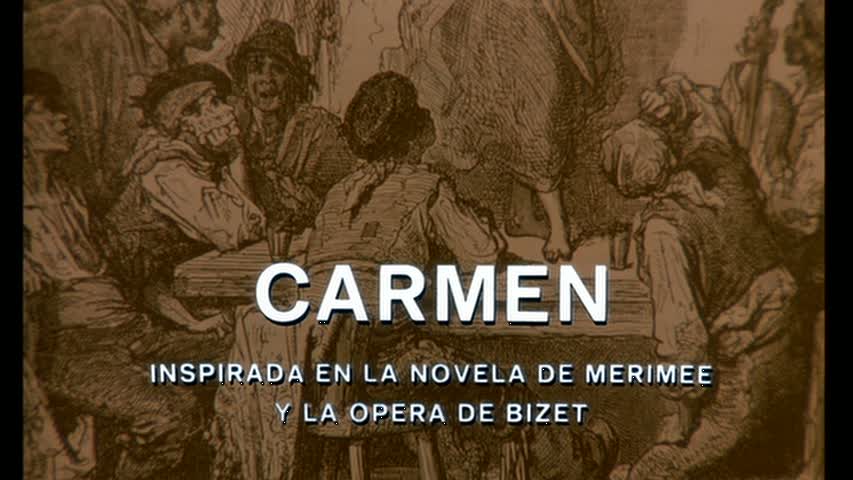 ---
But actually, my original reason for putting Carmen on the calendar was that I was looking for something Christmas-y in the Eclipse Series, just not finding it. So instead, I opted for something traditional and musical, since whether you enjoy them or not, the old familiar melodies of holiday songs are an unavoidable element of the season we're in. Carmen, the famous opera by Georges Bizet, doesn't have anything to do with Christmas, but there are several tunes that I can practically guarantee you've heard, even if you never sat down to listen to the score. These include the Toreador's March, La Habanera and a lovely Intermezzo that's one of the most charming and seductive preludes to romance to be found in the classical repertoire, at least in my experience. ;o)
---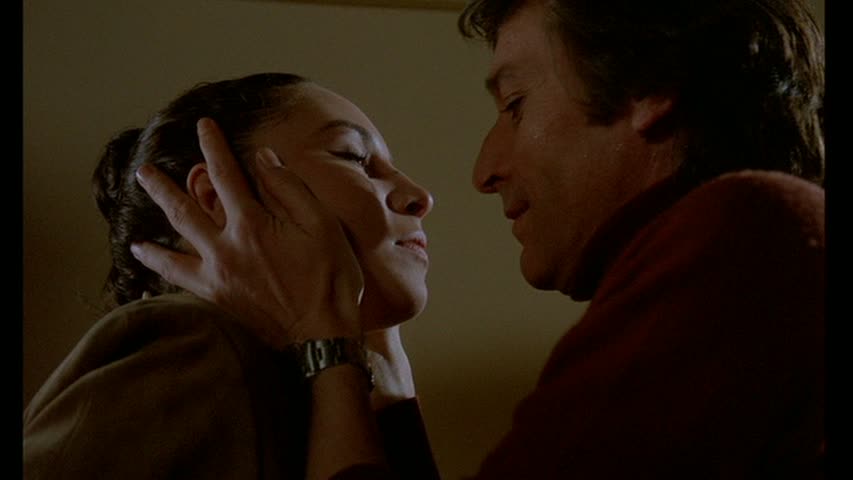 ---
But anyone coming to this film expecting (as I did) that it would mainly consist of an adaptation of the opera is in for a big surprise, and all in all, I think it's a pleasant one. I really should have known better, based on my earlier viewing of the first installment in this trilogy, Blood Wedding, which I reviewed here back in September. Director Carlos Saura and dancer/choreographer Antonio Gades hit upon an impressively striking manner of presenting the flamenco tradition on screen, by downplaying the stagy outfits and theatrical trappings in order to focus on the powerful movements and intense personalities of the dancers themselves.
This refreshing approach proved successful in its artistic merits in the earlier film, and when they collaborated again two years later, it resulted in the highest grossing movie of Saura's career and winning awards from Cannes, BAFTA and elsewhere, as well as an Academy Award nomination as Best Foreign Film of 1983.
---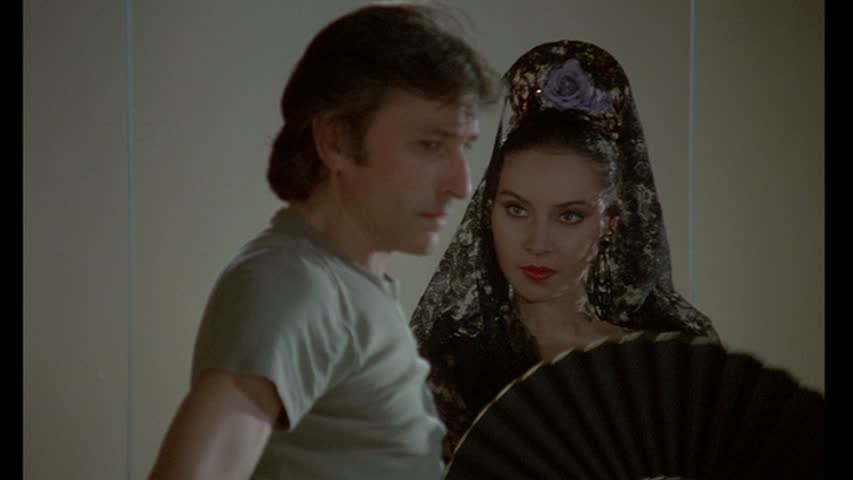 ---
This version of Carmen represents an ingenious effort to reclaim the story of the beautiful hot-tempered gypsy woman who stirs up a fateful and jealous passion in the heart of a naive soldier, Don Jose. As written by the Frenchman Bizet, and thanks to its subsequent popularity, the opera became a repository of numerous Spanish stereotypes and cliches that Gades and Saura found wearisome. The pretext of this film version of Carmen is that Gades, performing as himself, is putting together a more authentic presentation of the story, incorporating the familiar melodies but playing them on guitars rather than orchestra and at tempos more compatible with the spirit of flamenco.
As he and his troupe of dancers and musicians put in the work of transforming the old classic, Gades has one crucial task before him: to find just the right mix of beauty, stage presence, attitude and technical skills needed to make the character of Carmen come alive and make her indelible impression upon the audience.
---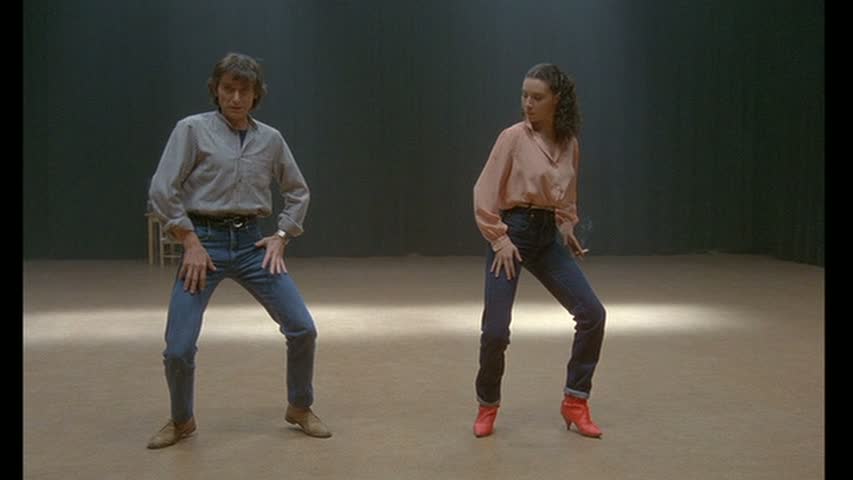 ---
Antonio's search leads him to discover a previously unknown dancer who happens to be named Carmen herself. (Played by the magnetic Laura del Sol, I'm definitely looking forward to seeing her again in Stephen Frear's The Hit, Criterion #469.) Barging in late to a practice session and effortlessly dominating a crowded floor of dancers, casually auditioning in her designer jeans while holding a cigarette, she has the haughty look and commanding personal dynamics he's been seeking, but she needs a bit of help on the technical end. So he enlists the assistance of Cristina, his top female dancer, to help Carmen realize her potential.
But his request carries a heavy cost, because Cristina wants the starring role herself. Antonio has to tell her bluntly that she's just not right for the role, though he tries to soften the blow somewhat by assuring her that she's still his "right hand around here." Such a compliment may smooth things over on the surface, but make no mistake – the two women are rivals for the attentions of one man. A dramatic rehearsal scene in which they both face off against each other goes according to script on the one hand, but the real hostilities that exist between the two (Carmen in orange, Cristina in black) are unmistakable, lending an urgency to their choreographed confrontation well beyond what the director originally had in mind.
---
---
Carmen's beauty and imperious demeanor work their inexorable power over the supposedly mature and seasoned Antonio, who suddenly seems a lot more needy and vulnerable than we typically assume someone in his position would be. Soon enough, he's finding excuses to schedule private rehearsals with his leading lady, practicing moves never intended to be shown on stage.
But just when he thinks he's secured Carmen's lasting love and figures he can claim exclusive access to her charms, he learns that, just as in the opera, this Carmen follows her own lead and submits to no man.
---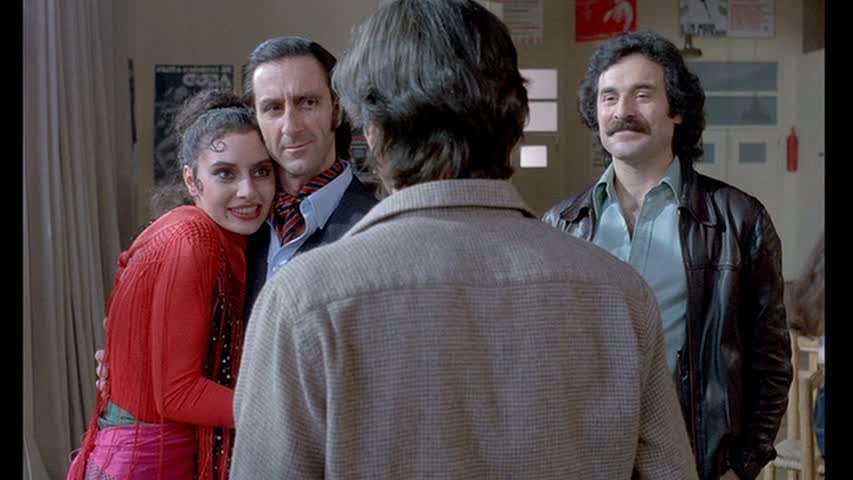 ---
We learn that Carmen (the dancer) is married to a man imprisoned on drug charges, who's just earned his release and has now re-entered her life. Antonio recognizes that the affair has no future after all and angrily dismisses her to return to her husband, but Carmen isn't quite ready to break things off between the two of them. She pledges her love to Antonio, explaining that the complications created by her husband's return are merely temporary and easily resolved.
Antonio retracts his order for her to leave, unable to resist the lust and desire she obviously arouses in him, and even gives her a stack of cash to pay off her husband and get him out of their lives for good. This expedient move doesn't pay off as intended though – in the next scene, two men square off with anticipation that one will not survive the confrontation.
---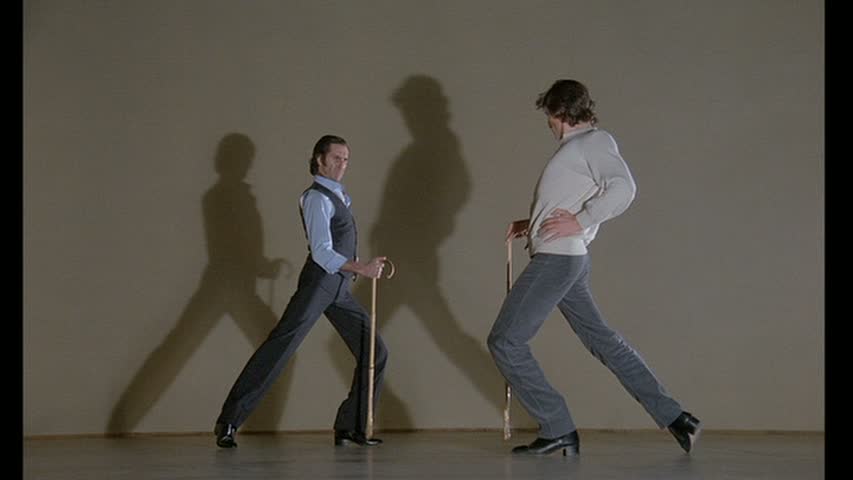 ---
By this point in the movie, Saura has brilliantly managed to so comingle the storylines of the ballet's turbulent production and the familiar narrative of Bizet's Carmen that we become  just about as disoriented as Antonio himself in all his longing and confusion. Are we watching the stage show or the "real life" story of Antonio and his fellow dancers?
Saura's manipulation of the mis en scene keeps us guessing. As Carmen stomps and twirls its way to the fatefully tragic conclusion that we know is coming, the film becomes much more than just an exposition of flashy dance moves and stirring music captured for posterity, as impressive as their work truly is:
---
---
Carmen is a powerfully cinematic, even surreal experience as we find our attention shifting seamlessly between different layers of reality, drawn in by compelling and powerful emotional signals delivered through erotic bodily movement, poignant facial expressions and careful editing that melds sight and sound to great effect.
---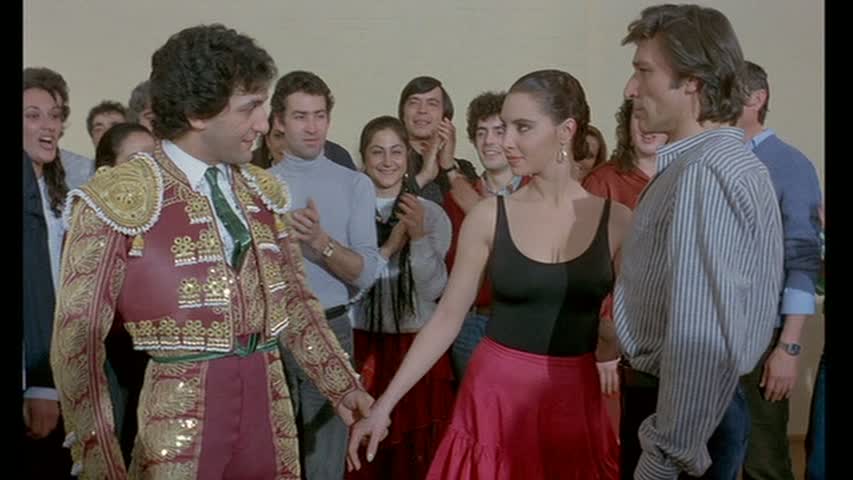 ---
By pulling us into its world of illusion, then effortlessly snapping us back out of it, Carmen offers up the kind of puzzle that makes a film like Inception (though so different in other ways) such a fascinating object to dissect and view multiple times. Sadly, the Flamenco Trilogyis now officially out of print, the only Eclipse set "lost" so far, and there's no word as to when Lions Gate plans to re-release it.
Though the emphasis on dance and Saura's general lack of familiarity to contemporary audiences may have limited the interest of some in this collection of films, I think they're highly worth seeking out. This is artistry of a very high order.
---
---