This column will feature, on a weekly basis, a different film from the Eclipse Series box sets, rotating each week between releases.
You'll get your cross

it might be bronze, or it might be wood

but, you'll get your cross.
Given a free choice to watch any movie I'd like, typically I'm not likely to select one about war, particularly the kind that focus on lurid, glossy battle scenes featuring the latest and greatest in pyrotechnic effects or revel in free-flowing machismo unleashed. Politically speaking, my temperament and values rest squarely in the antiwar camp, and I always advocate for non-violent conflict resolution, not merely as a strategic option but as a way of life. Yet having said that, I've seen films like Blackhawk Down, Saving Private Ryan and 300 early in their theatrical runs, most often due to a sense that these films deliver some important message regarding our society's attitudes toward war and militarism. I generally find something to appreciate about these movies, though I view them through a critical lens, questioning their penchant to sentimentalize and glorify the rigors of combat, the camaraderie of the troops and even the dire hardships and sufferings experienced by all involved. My philosophical qualms with most war movies are based on the effect they have of normalizing and mainstreaming the use of military force in the service of reactionary nationalism to the general public, often presenting war as inevitable, morally justified and absolutely essential to preserve the freedoms we enjoy. I don't believe that's the case, and I'm especially appalled by the way our political, military and economic systems exploit the "patriotic" mindset that such entertainments typically reinforce.
---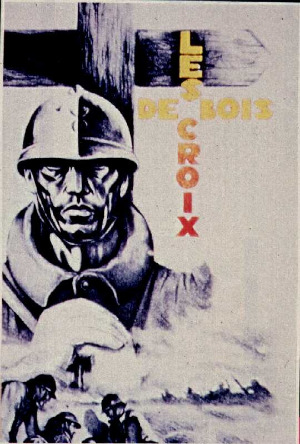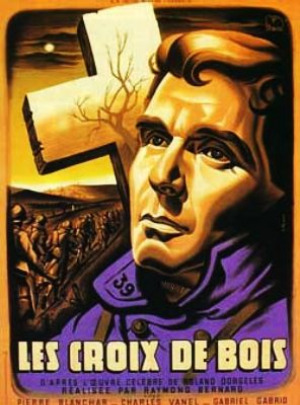 ---
With all that on the table then, let me tell you about a great motion picture I've been watching over the course of this Memorial Day weekend. Wooden Crosses (Les Croix de Bois) is a French film from 1932, directed by Raymond Bernard, found in the Eclipse box set (Series 4) that bears his name. Wooden Crosses is based on a memoir of the same title by a French veteran of "the Great War," or "the War to End All Wars," as it was known throughout the 1920s and 30s, before World War II broke out and the notion of humanity maturing to the point that war was no longer necessary fell quaintly out of fashion. It's a unique specimen from a very short-lived period of French cinema, where big-budget production values were dedicated to creating films that could compete on an equal footing with those coming out of Hollywood. As the liner notes indicate, economic and political conditions in France soon made it impossible for studios to maintain that level of investment, but Wooden Crosses, along with the companion film in the box, the four-hour epic adaptation of Les Miserables, offers a fascinating glimpse into what a "French Hollywood" might have offered if it had developed in the right circumstances and not been forced by necessity to adopt the lower-budget, but still wonderfully effective, techniques of poetic realism. Compare the production values on display here with Rene Clair's A Nous la Liberte (1931) or Jean Renoir's Boudu Saved from Drowning (1932) to see just how polished Wooden Crosses turned out. The visuals are impressive, both in composition and image quality, and the sense of verisimilitude in the set-piece battle scenes is utterly gripping. Either there had to be genuine battlefields that were left practically untouched in the dozen years or so between the end of the war and the start of filming Wooden Crosses, or no expense was spared to create a convincingly blasted and barren landscape. Were it not for the luminous cinematography and skillful editing, mixing breath-taking long shots with heart-rending close-ups, one might wonder if actual documentary footage had been included in the mix.
---

---
This atmosphere of authenticity is enhanced by the fact that all of the actors playing military roles on screen were veterans of the war themselves, although director Raymond Bernard was not. He was the son of a prominent playwright, and his reason for not seeing action in the war is described merely as "illness" in the liner notes. I can't help but wonder how much a conveniently-timed flare-up of some internal condition may have played a part in his slipping through the net of conscription. The prominent and well-connected in society always seem able to find a way to steer clear of combat if they're at all averse to taking up arms and risking the brilliant future that awaits them. But I have no way of knowing if such was the case with Raymond Bernard. What I can say is that he performs admirably here, creating as eloquent and moving of an antiwar statement as one could desire without resorting to cheap manipulations or ponderous didactics to get his point across.
The story of Wooden Crosses involves a single company of soldiers as they go through their paces at an indeterminate point of the multi-year conflict. The film opens with a stunning montage of troops standing at attention. As we admire the formation, we see the image slowly morph into a cemetery filled with, yes, wooden crosses, each soldier's place being taken by a grim grave marker, an image familiar to those who know Metallica's "Master of Puppets" album. The perspectives change a few times until the words "In Memoriam" emerge, superimposed on a large white cross. Wooden Crosses is a tribute to fallen warriors of all generations, not simply those who perished in the war depicted on screen. You can see it in this clip, from the 1:20 – 2:05 mark:
---
[youtube http://www.youtube.com/watch?v=v5x5O-lSL5I&hl=en_US&fs=1&]
---
From there, we see establishing shots intended to rekindle memories of Wooden Crosses' original audience, when the Great War was celebrated as a crusade to restore national honor. Young men were eager to shed their street clothes in exchange for a uniform, take a manly plunge into an infernal smoke-shrouded battlefield, kill a few Krauts and return home in heroic triumph to the acclaim of celebratory parades that would even outdo the euphoric processions that ushered them off to the front lines. These delusions of grandeur were, of course, quickly vanquished by the harsh reality of trench warfare and the deprivations suffered by the troops. We get to know both the veterans soldiers who'd already seen some action, as well as a group of fresh reinforcements sent in to replace those who've been lost. The main protagonist, Gilbert Dimachy, is a law student, one of the more privileged types who enlisted before his number was drawn in the draft. A lot of war movie conventions appear to have been well-established even at this early date, as each of the soldiers takes on the role of a "type." There's the wisecracker, the quiet serious type, the out-of-shape whiner who does what he has to in order to minimize risk and avoid danger. But Wooden Crosses hardly carries this convention as far as it could have – one of the qualities that stands out to me is the anonymity that war imposes on soldiers. When the captain gives the order to advance, death gives no allowance or consideration for individuality or personal worthiness. Bodies spring forth from the trenches, into the hellish chaos of artillery and machine gun fire, leaping over ditches, hurtling their mass into space and hoping to avoid intersecting with projectiles raining down upon them from every direction.
This clip plunges you right into the heat of battle. For an 80 year old movie, it's impressive,even harrowing. I wonder about the precision of the pyrotechnics back then, and just how safe the actors were in filming those scenes. Especially that blowout at 4:10. It's hard for me to see how someone didn't get hurt in that shot:
---
[youtube http://www.youtube.com/watch?v=WcunyAlJ4KI&hl=en_US&fs=1&]
---
The storyline is minimalistic – we follow the company through a cycle of battles, with vignettes of down-time in between. Long set pieces that emphasize the arbitrary absurdity of this particular war include:
a segment where the men are immobilized by orders to occupy a post even as they hear the unmistakable sounds of their German enemies digging a tunnel in order to plant a bomb underneath them.
a raid on the remnant of what was once a village, just one example of the futility that the troops were subject to as they went through maddeningly wasteful skirmishes, retreating and advancing multiple times over the same piece of godforsaken terrain.
a final battle in which Gilbert is assigned duty as a lookout, a task that ultimately leads to his final vision, a realization of what the war has cost him, and so many others who share his fate.
Where Wooden Crosses distinguishes itself, in my view anyway, is in its lack of overt propagandizing and its refusal to fall back on cliches that villainize the enemy, construct cheap heroic theatrics or indulge the audience's appetite for satisfying, vengeance-based money shots. The Germans are never shown as especially heinous or brutal, but instead as simply the poor wretches enlisted by powers on the other side to do the same job as the French troops with whom we sympathize. Wooden Crosses reminds me, on Memorial Day and in my memories going forward, that when it gets right down to it, war is nasty, exploitive and cruel – a stain of failure indicting any society that resorts to using such destructive methods to address its problems, a tragedy to be studied, learned from and never repeated again.
[Note From The Editor: Check out David's blog entry, introducing the column, and his goals and thoughts on this column.]
---
2013 update: The videos I originally embedded have been removed for TOS violations and I couldn't find their equivalent online. Sorry, that's the risk I take when I embed somebody else's YouTube clips. :) But here's a consolation prize – a series of still images and quotes from the film set to an electro-pop soundtrack that generates a vaguely smutty feeling at the end of it all. Enjoy!
---