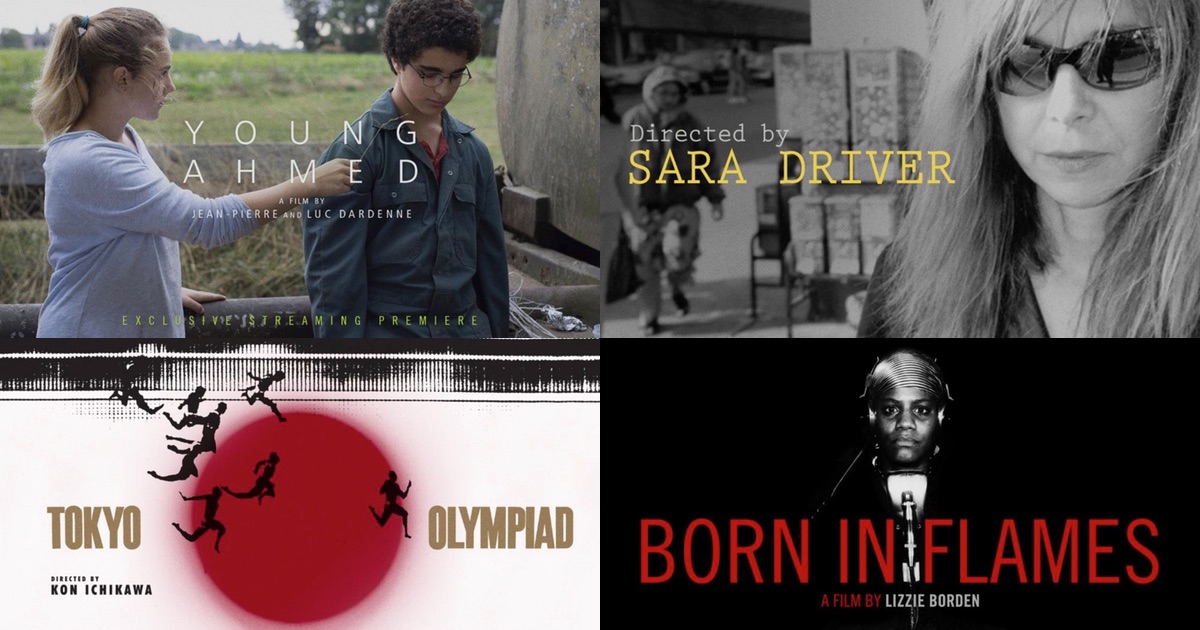 It goes without saying that we're in something of a strange moment in history. With the world upended entirely due to the ongoing COVID-19 pandemic, the last of our worries should be what the world of cinema is doing to cope with the shutting down of theaters and postponing of films both great and small. However, that's exactly what we're going to be doing here in the first of a regular series highlighting the upcoming additions to all your favorite, more niche, streaming services. Hope you all find something here you'll enjoy in these trying times.
Starting off this month's preview is a cult favorite. Directed by Joan Micklin Silver, Between The Lines is the director's riff on her time at The Village Voice, and tells the story of an independent paper in Boston as they manage their day to day issues while trying to balance a forthcoming storm from a publishing company that purchases the newspaper. Led by a star-studded cast including Jeff Goldblum and John Heard, the film is a rich and strangely moving look at a medium in evolution, while also playing as a genuinely funny character-led comedy picture.
The sole "Criterion Collection Edition" on this list, Kelly Reichardt's Certain Women is coming to The Criterion Channel, complete with interviews with Reichardt, producer Todd Haynes and author Maile Meloy, which go into great detail about the production of this film. The film is a tremendous achievement from the beloved American auteur, a film that is ostensibly a collection of vignettes that introduce viewers to a series of women as they go about their day-to-day lives all while battling social expectations and desire. With towering performances from actresses like Laura Dern, Michelle Williams and Kristen Stewart, the true discovery is Lily Gladstone, whose performance as a lonely rancher is one of the great acting performances of the 2010s. Simply a complete masterpiece.
The most exciting addition to this month's slate is a collection of noir westerns, a blending of genres that's truly essential for any cinephile. Starring and directed by iconic names of noir cinema like Ida Lupino and Anthony Mann, these 12 films range from the genuinely ground-breaking like Rancho Notorious to the broodingly haunting like Violent Men, all blending the rustic beauty of Western cinema with the haunted morality found in the noir movement. Bleak and pessimistic, these anti-Westerns make for some of the more singular and esoteric films you'll ever see, and are perfect ways to bring some ice cold atmosphere to your home during these sweltering hot summer days.
Scores By Ryuichi Sakamoto
One of the great things about The Criterion Channel is the service's focus on below the line talent. The latest example of this is their new series highlighting the scores of one Ryuichi Sakamoto. One of cinema's great composers, the avant-garde juggernaut has provided the music for some of film's most beautiful films, 10 of which are included here in this impressively expansive series. Including the documentary Ryuichi Sakamoto: Coda, highlights here include Pedro Almodovar's underrated High Heels and Nagisa Oshima's Gohatto, a picture that appears to be heading to the Criterion Collection proper in the near future.
One of two director-centric collections, Miranda July is highlighted here, with both of her feature films, two shorts, and even a collection of short films that were part of her feminist chain letter film series, Joanie 4 Jackie. These shorts are, in a strange way, the real highlight here, bringing to light some of the most beautiful and singular works of American indie filmmaking. Most of them were previously all but impossible to see, which pairing with the features and shorts of the patron saint of the series, makes for a wonderful recontextualization of Miranda July less as a filmmaker and more a visual artist and curator of feminist video art.
The second director set here is one centered around the films (eight to be exact) of one Atom Egoyan. One of Canada's most famous filmmakers, Egoyan is a name synonymous with a very specific strain of independent filmmaking, a crafter of films about the human psyche and one's attempt to deal with grief and trauma in the wake of life changing tragedies. Masterpieces like The Sweet Hereafter pair brilliantly opposite lesser-known gems like The Adjuster, all giving great depth to the career of one of Canada's great auteurs. Biggest discovery? Exotica. Despite being billed by those in the know as an essential Canadian film, the film remains one of the lesser-talked about films from Egoyan, a real classic just begging to be discovered by a generation of eager cinephiles.
I've written at length about this film so here's a snippet from my review:
Directed by Corneliu Porumboiu, Infinite Football is, like the best films in this series (Art of the Real 2018), a simple premise elevated to true profundity by a filmmaker at the height of their powers. Porumboiu shines his light on Laurentiu Ginghina, a mild-mannered government bureaucrat who instead of visions of grandeur in the world of politics, his greatest dream would be to forever change the world of soccer. Following a childhood injury that would forever change his life, Ginghina's life's work has been to move the sport forward, into a safer, more modern era. Now, that sounds like an admittedly dry and lifeless premise, but thanks to Porumboiu's own deep interest in this man's story, the film becomes a restrained and compelling look at life in modern day Romania. At just 70 minutes, Football is one of Porumboiu's smaller works, but it's also one of his best.
The latest from iconic filmmaker Werner Herzog gets an exclusive premiere on Mubi on July 4. Debuting at last year's Cannes Film Festival, Family Romance, LLC tells the story a real life Japanese company that is in the business of creating connections by, quite literally, making up connections. They hire performers to stand in as one's family and friends, and in keeping with this fictionalized realism Herzog takes a fictionalized approach to the storytelling. I haven't had the pleasure of seeing the film yet, but it sounds very much in keeping with the director's fascination in storytelling and with Herzog shooting the film himself, this screams something more personal from the filmmaking giant.
I don't really know what more to say that I haven't already said. The film will be shown in three parts from July 17-19 and as one of the best films of the 2010s and the very best film of 2019, this mammoth, groundbreaking film remains an essential viewing experience for fans of world cinema. Here's a link to my original review.
Two films from director Bill Gunn get highlighted in July on Mubi. July 5 and 6 see the debut of Ganja and Hess and Personal Problems on the service. Ganja is inarguably the director's best known film, a cult classic horror film that stands as one of the great indpendent horror films ever made. However it's Personal Problems that I'm most excited for. The film is an incredibly low budget melodrama, a film that feels in conversation with various neo-realist films of its era. Another film I've had the pleasure of writing about, here's more on the film if you're interested.
Hulu
From my review:
As The Whistlers nears a conclusion it does in some ways dissolve into more rudimentary film noir trappings, particularly come the final shoot out that feels like Porumboiu's clearest moment of Western influence. The elliptical structure does help subvert this build in many ways, and thankfully the action is incredibly well shot, yet it doesn't quite hold as much power as the rather entrancing build. Porumboiu's direction is absolutely top class, with his juggling of time and space assured and often quite alluring. Porumboiu is a filmmaker who has been interested in genre more or less his entire career but paired opposite his last fiction feature, The Treasure, he's seemingly finding his footing. Whistlers is a brooding and hauntingly frigid noir, a film of shadows that feels endlessly indebted to modern neo-noirs. Obliquely funny as well, the film finds its humor in not just the world these criminals inhabit but the very language they attempt to master. Many moments of humor come from the specificity of the otherwise silly whistling, with specific names and places mentioned with what appear to be haphazardly done whistles. It's this type of dry humor, deadpan in an almost primordial way, that makes this one of 2020's early must-see features.
Netflix
The sole "bad" film on this list, I added this out of sheer sociological interest. When the name James L. Brooks comes up in conversation, things like The Simpsons and Broadcast News instantly leap to mind. However, with films like Spanglish and the utterly insane I'll Do Anything the director has become something of a, well, not "laughing stock" but something far less forgiving than the "luminary" status one would have given him following hits like As Good As It Gets. One of the curios in his filmography? Well his last film, How Do You Know, is heading to Netflix in July, and despite glimmers of the type of briskly witty writing that would make the filmmaker famous, this tone-deaf clunker remains one of the more frustrating, yet utterly fascinating, studio films from an auteur in the 2010s. Truly a fascinating film.