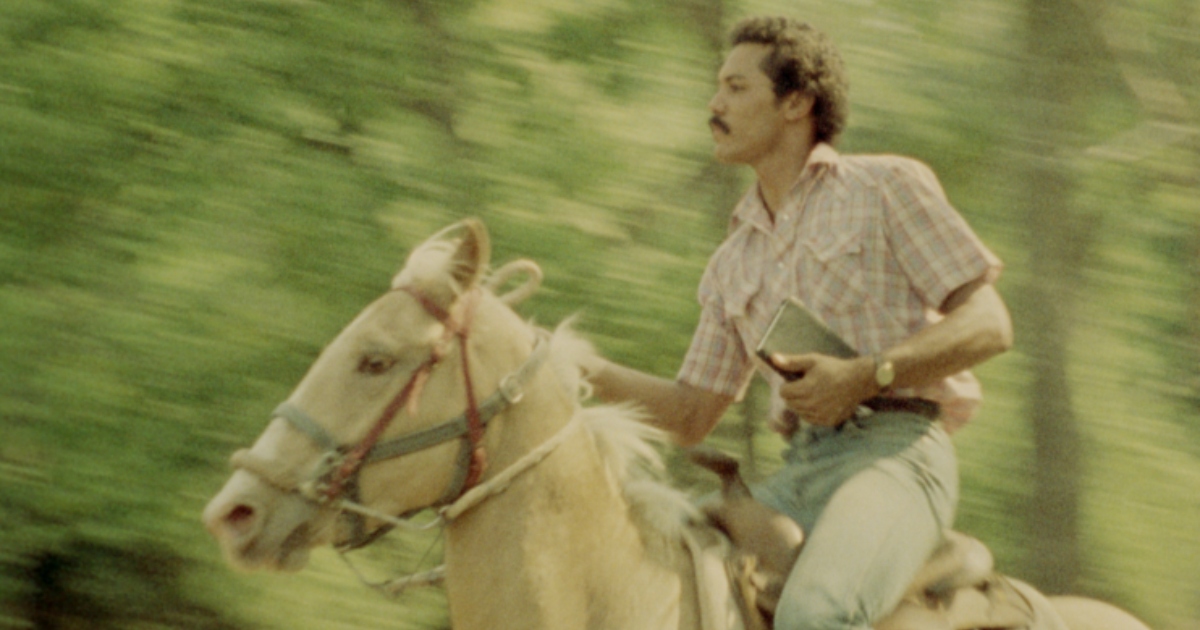 It goes without saying that we're in something of a strange moment in history. With the world upended entirely due to the ongoing COVID-19 pandemic, the last of our worries should be what the world of cinema is doing to cope with the shutting down of theaters and postponing of films both great and small. However, that's exactly what we're going to be doing here in the first of a regular series highlighting the upcoming additions to all your favorite, more niche, streaming services. Hope you all find something here you'll enjoy in these trying times.
I've been tooting the horn with regards to this incredible film since it hit theaters back in February (when those were still a thing), and thankfully I get to do it again here. On May 4 the Horace B. Jenkins-directed romance drama arrives on The Criterion Channel in an exclusive streaming engagement. The film is from 1982 and tells the story of Peter Metoyer (Richard Romain), an almost laughably handsome athlete-turned-poet (with a mustache that will make anyone swoon) who after starting a tour of a local historical estate, encounters Maria Mathis (Tommye Myrick), an equally beautiful and headstrong young woman set to head off to college in the coming weeks, and aspirations of taking in "the world" at every chance she gets. The two spark a conversation that drips with flirtation and genuine intrigue on the behalf of both parties, and ultimately embark on a relationship of sorts. What follows is a story both of family histories as well as larger conversations of race, gender and religion that turns a relatively standard will they/won't they into a thrillingly political work. A masterpiece, this film is.

Down In The Delta (May 6)
Following on May 6 is another massively important film in the history of black cinema, the sole feature directing effort from the iconic Maya Angelou. A film I actually haven't seen in a little over a decade, this is an exciting addition to the channel's lineup, and stars the always brilliant Alfre Woodard as a drug addicted mother sent to live in the Mississippi Delta with an uncle, played beautifully by Al Freeman Jr. Very much in conversation with Cane River (and much of black film of this period), the film is one about reconnecting and recontextualizing one's history both intimate and grand. Angelou proves to be a tender filmmaker, a poet not just of the page but of film language as well, drawing out incredible performances from the entire larger cast.
Three By Tsai Ming-liang (May 7)
Probably the most exciting addition to this lineup comes of May 7, with three films from one of today's greatest filmmakers, Tsai Ming-liang. Rebels of the Neon God, The Wayward Cloud and Stray Dogs are all included here, with the latter being the film he's most well known for, at least here stateside. These are three beautiful motion pictures, particularly the musical The Wayward Cloud. These are films about modern isolation and feature incredible and tender lead performances. Really special films more than worthy of one's time.
The Documentaries Of Louis Malle (May 11)
I'm going to be really quick on the rest of these as I'm clearly not lost for words, but May 11 sees eight Louis Malle-directed documentaries, and while the director's best known for moody noirs or surrealist dramas, this cross section of the director's non-fiction work proves him as one of the more underrated artists of his time period. …And The Pursuit of Happiness is a specific highlight worth checking out.
Short Films By The Quay Brothers (May 14)
I wrote about these films when they were released on Blu-ray in 2015, and they stand as some of the most incredible and singular animated works of all time. Must watch films.
Written By Frances Marion (May 17)
May 17 sees the debut of 15 films written by legendary writer Frances Marion. One of Hollywood's most influential and important female filmmakers, Marion's career spanned silent and sound cinema, with masterpieces ranging from The Wind in 1928 to Frank Borzage's brilliant 1933 film Secrets. This career retrospective, paired with the next two series, makes May one of the most exciting months for those cinephiles looking to expand their knowledge of female-led cinema.
Three By Diane Kurys (May 20)
One of French cinema's most underrated filmmakers, Diane Kurys' career spanned five decades, and this trio of films finds the director in three very different moments in her career. The most exciting addition here is the first one on this list, the beautiful coming of age tale Peppermint Soda. Entre Nous is likely the film here that's most well known to audiences here in the states, and finally Juliette Binoche will surely get people to take in the underrated Children Of The Century.
Tell Me: Women Filmmakers, Women's Stories (May 24)
24 films from female filmmakers all under one banner. What more could one want? I'm actually not super familiar with many of the films listed here, but one that did catch my eye is No Home Movie, one of the best films of the 2010s and a film I'm dying to catch back up with. Here's the full list of films:
Growing Up Female, Julia Reichert and Jim Klein, 1971
Janie's Janie, Geri Ashur, Peter Barton, Marilyn Mulford, and Stephanie Pawleski, 1971
Betty Tells Her Story, Liane Brandon, 1972
It Happens to Us, Amalie R. Rothschild, 1972
Joyce at 34, Joyce Chopra, 1972
Yudie, Mirra Bank, 1974
Chris and Bernie, Bonnie Friedman and Deborah Shaffer, 1976
Guerillère Talks, Vivienne Dick, 1978
Inside Women Inside, Christine Choy and Cynthia Maurizio, 1978
Soft Fiction, Chick Strand, 1979
Dis-moi, Chantal Akerman, 1980
I Am Wanda, Katja Raganelli, 1980
Clotheslines, Roberta Cantow, 1981
Land Makar, Margaret Tait, 1981
Audience, Barbara Hammer, 1982
Suzanne, Suzanne, Camille Billops and James Hatch, 1982
The Ties That Bind, Su Friedrich, 1985
Conversations with Intellectuals About Selena, Lourdes Portillo, 1999
Privilege, Yvonne Rainer, 1990
The Salt Mines, Susana Aiken and Carlos Aparicio, 1990
The Transformation, Susana Aiken and Carlos Aparicio, 1995
Mimi, Claire Simon, 2003
No Home Movie, Chantal Akerman, 2015
Shakedown, Leilah Weinraub, 2018
Beanpole arrives on Mubi on May 2 in an exclusive engagement. From director Kantemir Balagov comes this FIPRESCI-winning sophomore effort that debuted in theaters earlier this year after a long and much-lauded run on the festival circuit throughout 2019. One of the more singular works of world cinema in recent memory, Beanpole is a gorgeously rendered look at life in Leningrad after the War has demolished much of the city. Following two young women, the film attempts to track their search for meaning in a destructive world, culminating in a potent and emotionally textured look at the human spirit. Truly a special little film.
Mubi is teaming with the Museum of the Moving Image for their First Look Festival, beginning on May 4 with Nofinoy. Following that will be Transnistra (May 12), Searching Eva (May 18) and finally Bird Talk (May 25). All four films sound utterly fascinating and MotMI is one of the most consistently well curated venues here in the states.
Straub-Huillet once again sees the spotlight thrown upon their films with two new restorations of their masterpieces Antigone (May 5) and Sicilia! (June 17).
Out 1 will be running in four parts through May 8-11.
Four Takes On Film History (May 8)
The most exciting addition to OVID.tv in May is a collection of films looking at film history from a collection of some of the great filmmakers of all time. 100 Years of Japanese Cinema is the one that jumps out first, as it's a documentary from one of Japanese cinema's great filmmakers Nagisa Oshima. Anne-Marie Mieville looks at French cinema in 2 x 50 Years of French Cinema which is itself produced by Jean-Luc Godard. And finally both George Miller and Stephen Frears hop behind the camera for 40,000 Years of Dreaming: A Century of Australian Cinema and Typically British: A Personal History of British Cinema respectively. These four films make OVID the place to be for those looking to dive head first into film history this spring.
Virtual Cinemas

Hitting virtual theaters on May 1 is Our Mothers, an Audience Award-winner at this year's Sundance Film Festival. The film stars Armando Espitia as Ernesto, an anthropologist working at the Forensic Foundation who, after hearing one woman's story, may have discovered a lead that will put him on the trail of his father. This Cesar Diaz-directed film is a gorgeous and incredibly difficult drama, a haunting look at life in a war-torn nation. Intimately made, Diaz's film is a thrilling and often troubling drama unlike anything you've seen in quite some time.

Next up on this Virtual Theater roundup is the first entry from Oscilloscope, and it's a film entitled Clementine. Arriving on May 8, Clementine is written and directed by Lara Jean Gallagher, and tells the story of Karen (Otmara Marrero) who, after a recent break-up, heads to a lake house in the Pacific Northwest in hopes of breaking free from her ex's spell. What slowly evolves into a psychological thriller, Clementine is a textured and incredibly enthralling coming of age film that features two incredible performances from Marrero and co-star Sydney Sweeney and a captivating script. Truly, it's a top notch thriller that is perfect for a rainy weekend stream.

Blurring the line, quite literally, between fiction and non-fiction, The Infiltrators is a hybrid picture from directors Alex Rivera and Cristina Ibarra. Written by Rivera and Aldo Velasco, The Infiltrators is a form-pushing thriller that tells the story of young immigrants in the grasp of Border Patrol and a for-profit detention center. Viewers are introduced to Marco and Viri, members of the National Immigrant Youth Alliance, a radical group working to end unjust deportations and in their eyes the best way to do that is to do it quite literally from the inside. The film thrillingly blends real footage of the infiltrators with re-enactments that turns this film into literally a genre-bending docu-fiction political thriller that genuinely defies description. It's simply unlike anything you've ever seen before. It opens May 1.

Directed by Christophe Honoré, On A Magical Night is the first great romantic comedy of 2020, and in its own way one of the more fascinating nearly post-modern romantic comedies of the last few years. After having an argument with her husband, Maria heads to a hotel across from their flat, only to enter her room and get a third person view not just of her home but of the life she's lived and those she's loved. Spanning ostensibly one surreal evening, On A Magical Night sends María on a journey through her past and the futures that she could have lived if a few cards fell a different way. Led by charming performances and direction that sees Honoré flexing every muscle he has, On A Magical Night is a winning and strangely moving portrait of love in modern times. It opens May 8.

One of the more charming films arriving in May is the third-life-crisis comedy Saint Frances. Directed by Alex Thompson, this SXSW Award Winner starsKelly O'Sullivan (who also wrote the script) as Bridget, a 34 year old waitress who both sparks a relationship with a younger man while also taking over nannying duties for Frances, the daughter of a wealthy queer couple who have recently had another child. Uproariously funny and endlessly charming, this film wears its emotion, and politics, on its sleeve, led by beautiful and humane performances from the whole cast. O'Sullivan is an absolute discovery here, with her great comedic timing pairing wonderfully with a tenderness and vulnerability. It's one of the better comedies yet this year, and with the world around us crumbling this is just the type of life affirming picture one desperately needs.

The film I'm most excited to point out to readers this month (opening May 1) is Albert Serra's latest masterpiece, and one of the very best films of the last handful of years. Entitled Liberte, you're probably sick of hearing me talk about the film, but here's what I wrote about this brilliantly skewering of 1%-er excess late last year:
The culmination of a years-long project, Liberte is the director's third attempt at bringing to life the story of a band of Libertines who, on the eve of the French Revolution, take to the woods along with German progressive Duc de Walchen to let their inhibitions fly, if you will. Watching as these relationships devolve into primal, grotesque interactions of power and perversion, Serra's film is a head-first dive into the sickened world of the .000001% in the moments leading up to their destruction. Near the end of the film a character utters the line "finally, an image that satisfies me," and it's in this detatchment from human norms where Serra's latest becomes truly provocative. Once a theater production as well as a multi-channel art installation, Liberte is clearly one of Serra's most important works, a film that feels at once unquestionably gorgeous and yet baroquely grotesque.