As wonderful as the photoshop of my face on Aragorn's body is, my hairline would sadly look just like that if i were to attempt to grow it out.   So, envision me over a crystal ball for this one, but wearing one of those sweet wizard hats to hide the systematic retreat of my once-luscious locks.
Travis' Prediction #2:   Lars Von Trier's  Antichrist gets the Criterion treatment
Get the details after the jump…

I had the…er, pleasure…of seeing  Antichrist at an independent theater here in Portland, Oregon.   I've mentioned this in the podcast, but the viewing was accentuated by the duodenal sobbing of a handful of viewers.   No, not like how Katherine, my first girlfriend, sobbed when Leonardo DiCaprio sank into those icy Atlantic waters.   Rather, sobbing as if they had been backed into a corner by a knife-wielding maniac.   Had I taken a lady to this cinematic venture, it most assuredly would've been for the last time.
I digress.   The facts, shall we?
1.    Lars Von Trier's  Antichrist is a particularly  challenging film
– Making its premiere at the 2009 Cannes film festival,  Antichrist's reception was marked by inducing fainting spells in four of its audience members, and being openly booed upon its rolling credits.   The jury awarded an honorary "anti-award" to Von Trier, citing its misogyny and his pompousness.   Apparently, violent sex and ritualistic genital mutilation strikes a chord in some folk.   Go figure.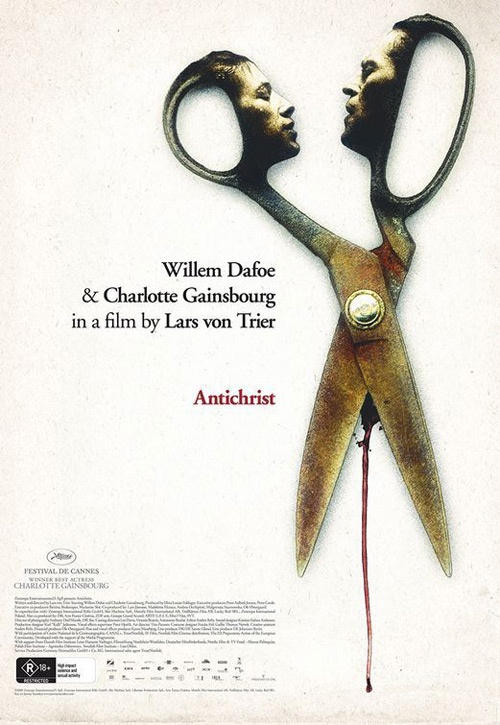 2.    Antichrist was released by IFC Films in America
–   IFC Films acquired the American distribution rights to this film, and were able to release it uncut (its uncut version dubbed the "Catholic" version, and the censored version "Protestant").
3.    The Criterion Collection and IFC Films are a prestigious tag team [see our original post]
– Wonder Twins powers ACTIVATE!   Form of: FOREIGN INDEPENDENT CINEMA!   inarguably the most important Criterion news we've covered since we began the Criterion Cast, IFC Films and The Criterion Collection formed a partnership announced in September called Prestige.   With it, the promise of several new releases throughout 2010, as well as "special edition" re-releases of newer classics under the IFC umbrella.   An article discussing said merger  here on IFC's Web site.
4.    Lars Von Trier is a Criterion alum
–   Both  The Element of Crime and  Europa have been given the treatment.
5.    Von Trier will be shopping for a complimentary market for the DVD release of  Antichrist
–   I mean, we'll never see  Antichrist in the $3 bargain bin at the grocery store nestled between  some Randy Quaid disaster flick and  Spirit Bear: The Simon Jackson Story.   Von Trier is going to have to seek out a fearless distribution company — say, a company what would not only release the likes of Pier Paolo Pasolini's  Salò once, but TWICE.
There you have it.   Von Trier's homework is practically done for him already, and  Antichrist sees its Criterion DVD and Blu-Ray release in the latter half of 2010 (my guess is anywhere from July to October).
My level of certainty: 95%
I suppose, then, that means I'll be watching this film again.   You're welcome to watch it with me, but it's not a date.
[Note from the editor: We are not affiliated in any way with the Criterion Collection, IFC, or Lars Von Triers, and thus have no insider knowledge regarding their releases. Travis just likes spreading rumors.]