For regular readers of this site, and cinephiles in general, the mention of Sweden in relation to cinema draws instant connections to the work of Ingmar Bergman, and understandably so. Though that small nation has made distinguished contributions to the history of film going back to the silent era, Bergman's towering reputation still looms heavily, overshadowing noteworthy directors like Victor Sjostrom, Alf Sjoberg or more recently, Lasse Halstromm. Regrettably, Bergman is no longer with us, but the Swedish film industry lives on, with a new generation of young talent in position to carry on the legacy, even if the prospects for matching Bergman's global impact seem rather slim. We don't even make it past ten minutes into Flicker, a 2012 comedy-drama from Sweden, before Bergman's ghost is given a sly dismissal in favor of… Crazy Frog?!?
---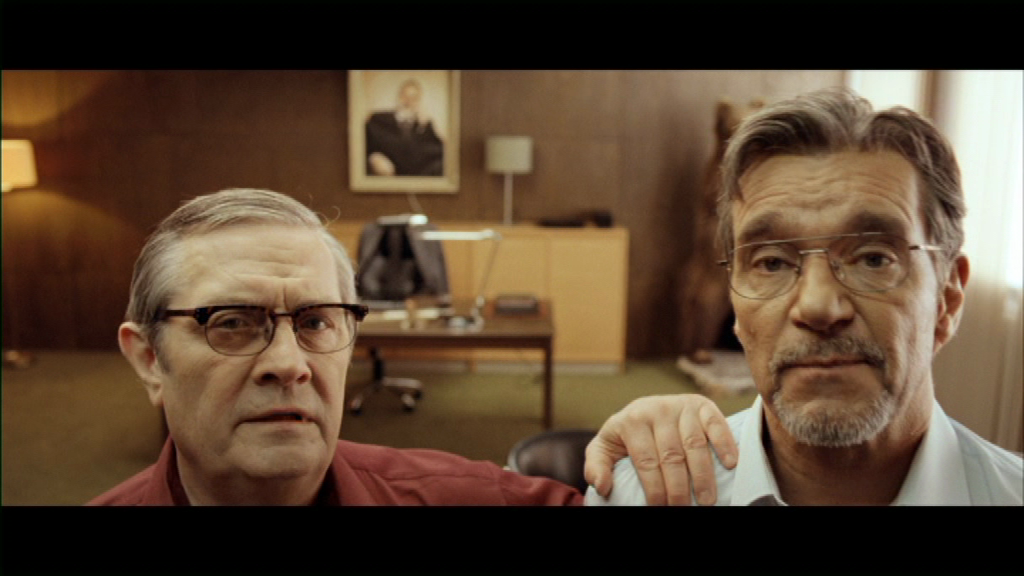 ---
Flicker, a Best Picture winner at last September's Fantastic Fest and a recipient of other film festival honors over the past year, marks the feature debut of Patrik Eklund, whose Instead of Abracadabra earned an Academy Award nomination in 2010 as Sweden's entry for Best Short Film, Live Action. The award recognition clearly gives some indication that Eklund is a talent worth keeping an eye on, and there's no disputing the fact that Flicker is a well-made film. Eklund wrote the screenplay, directed it and shared the editing duties with a more experienced colleague, Stefan Sundlof. So while it may be a bit premature to hail Eklund as Sweden's latest auteur, it looks like the pieces and ambitions are in place for him to take on that role, should he continue to build on the brief trajectory that Instead of Abracadabra and Flicker have already established.
---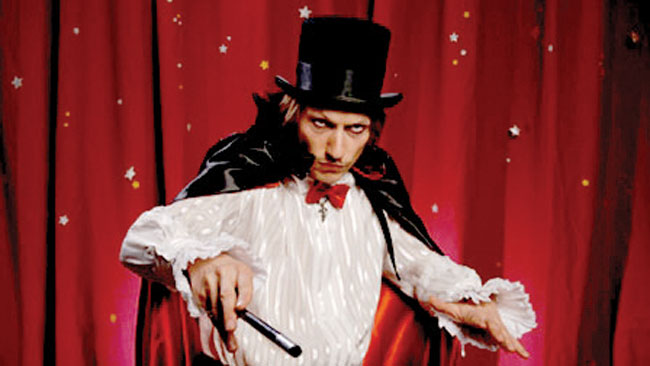 ---
Just going by those two films (he's directed six altogether), Eklund's preferred subgenre looks to be the oddball comedic character study. Instead of Abracadabra (you can watch it on YouTube by clicking the link) focuses on a self-absorbed magic nerd in his late 20s who still lives with his parents. Thomas is an inept but aspiring performer who specializes in illusions along the lines of "Gothic darkness, danger and mayhem." Eklund weaves an engaging and amusing story out of Thomas' delusions of grandeur, and it's pretty clear that the success he achieved in portraying this quirky (there, I said it, now it's out of the way) misfit encouraged him to broaden his scope in making the jump to feature-length movies.
---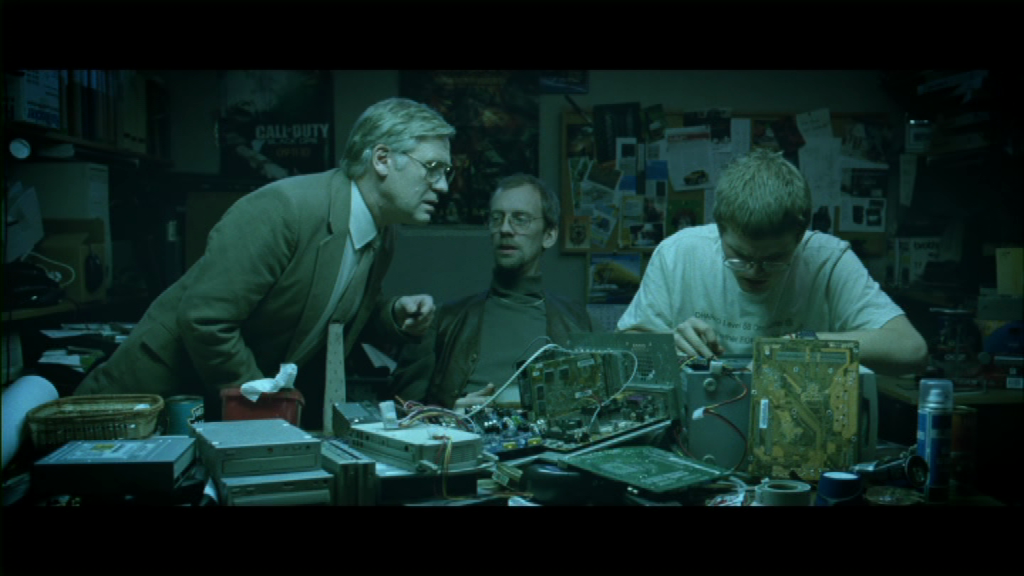 ---
Flicker expands Eklund's narrative range in an ensemble comedy that weaves several story lines together, all of them connected by the characters' involvement with Unicom, a struggling communications company serving small rural communities in the Swedish countryside. Unicom's floundering business model is on the verge of collapse, creating tensions within the corporation's board of directors and among its employees at all levels of the organization. Tord is the weary executive, son of the late founder of the enterprise, trying to boost morale even as he sees the ship sinking beneath them all. Kenneth is the beleaguered manager who's responsible to know the details and produce the facts and figures but is hampered by Unicom's woefully outdated and inadequate IT system. Anyone who's worked for a business trying to function on computer technology of an earlier decade (or two) will find plenty to relate to in Kenneth's torments.
---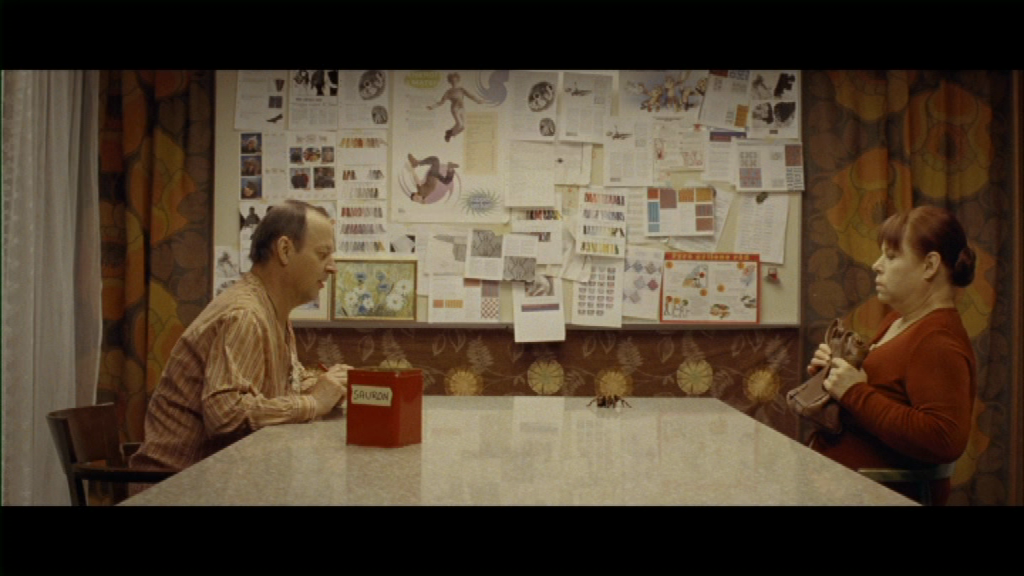 ---
A few other minor characters weave their stories into the arc: Birgitta, the cleaning woman who's in therapy to overcome her paralyzing fear of spiders. Roland and Aron are sad-sack technicians, sent out to repair the damage caused by eco-terrorist vandals who sabotaged one of Unicom's new 4G towers that represent (along with a lame super-hero themed marketing campaign) the last best hope for a new technological boost that will keep the company in business. An electrical mishap puts one of the men in a life-threatening situation that affects his fertility, while the other soon begins to show alarming symptoms of over-exposure to the radiation that constitutes his occupational hazard.
---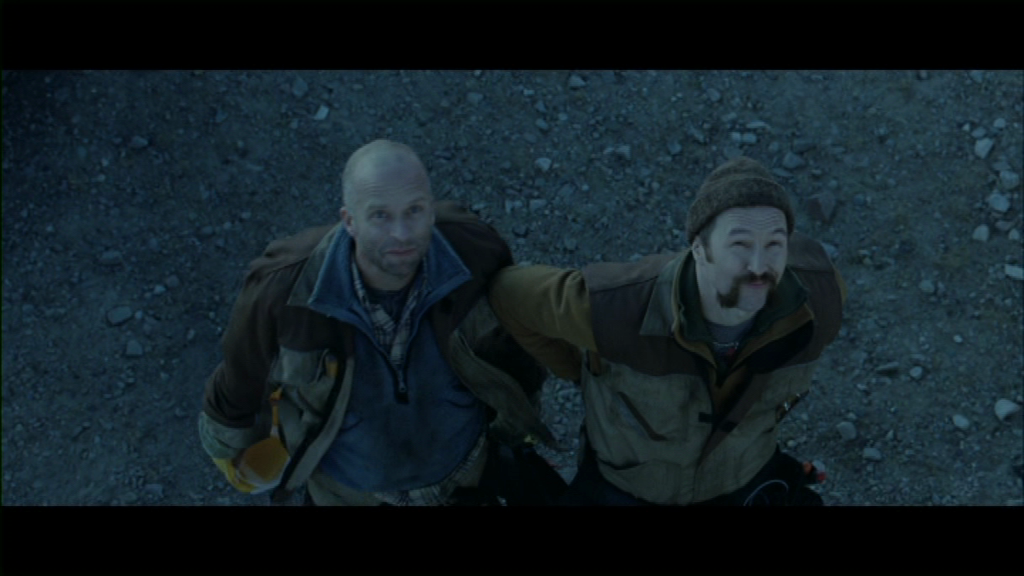 ---
As you can imagine, some of the issues raised in Flicker have more serious and dramatic angles to them, even though for the most part, Eklund's writing and direction aims for the kind of wry laughs that come with a painful recognition of life's shortcomings and our own screw-ups that make a difficult situation even worse. In that sense, the earlier films of Aki Kaurismaki, particularly his Proletariat Trilogy (part of the Eclipse Series that I reviewed here and here and here) quickly came to mind as indicative of where Eklund might go next.
---
 [youtube http://www.youtube.com/watch?v=osSpLnr8ISU?rel=0]
---
While I found plenty of charm, humor and relevance to 21st century corporate and cultural life in Flicker, I think Eklund might have done better to more fully develop a few of his characters and save some of the sideline frivolity, which occasionally lapses into revved up absurdity-for-its-own-sake, for other films. It's a tough call – overall I found Flicker enjoyable and easy to recommend as a Valentine's Night date movie for the discerning art house couple, but a bit diffuse due to some of the more random elements tossed into the story. While it's fun to hear the familiar Swedish accents that I've internalized from watching many hours of Bergman films over the years employed in a more whimsical manner, I guess I still prefer my Nordic cinema to deliver a more lasting impact than what I felt at Flicker's conclusion. As it stands, my main takeaway from watching the film is to mark Patrik Eklund as a director worth following. His technical chops and apparent interest in serving as a cultural commentator from the Scandinavian point of view in these times have earned him a spot on my radar.
---
PIFF 36 Link: Flicker will be shown at the Regal Lloyd Center 10 on Thursday, Feb. 14 (9:15 p.m.) and Monday, Feb. 18 (5:15 p.m.) Details and more information on the film can be found here.
Full Schedule for the 2013 Portland International Film Festival