It's always a sad day when anyone dies. Especially for we, the film fanatics out there, when one of our cinematic heroes passes on. Even more so when it's Ken Russell, who never stepped down and always pushed against what was perceived as normalcy and instead made films that challenged and showed "that British cinema didn't have to be about kitchen-sink realism'"it could be every bit as flamboyant as Fellini." (According to film critic Mark Kermode) Some would call him pretentious, others a visionary (I'm in the latter category) and even when he missed the mark with his films he still made something that would be truly memorable. I know a ton of people, critics, filmmakers and the like will be putting their thoughts up of this man so I wanted to list my 10 favorite films of this man, a few of which I wish would be featured in the Criterion Collection as well. Think of this as my little way to give some notice to a writer/director that everyone should be familiar with in the first place.
---
10. Gothic (1986)
Here's a film that used to creep me out, just by the box art alone, when I'd go to my neighborhood video store as a kid. When I finally got the nerve to rent it at around age 12, I got a film I didn't expect whatsoever. We have dementedly disturbed drug addled stories being told at Lord Byron's (Gabriel Byrne) estate one stormy night, with Mary Shelley (Natasha Richardson) coming up with the idea for her story "Frankenstein" that very night. Think of it as a group of people telling campfire stories, only in this case they are bored rich people who turn the heat up when it comes to their sexual desires. Julian Sands plays Mary's lover, Shelley and we have Timothy Spall in the film as well. It's much more messed up than I had originally thought when first seeing the video cover, but not in the way I thought going into it. Russell loved using real life figures and doing biographical stories. This one takes many liberties, so I'd think of it as an Elseworlds story.
---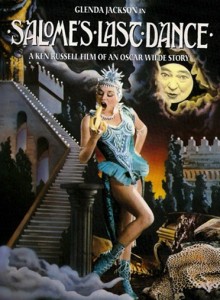 9. Salome's Last Dance (1988)
The year is 1892. It's Guy Fawkes Day and Oscar Wilde arrives at a brothel of high stature, only to discover a performance of his controversial play "Salome", with parts played by prostitutes. Again, Russell plays with history to his perverted means, bouncing back and forth between Wilde's crazy night and the play that is being performed in front of him. As Wilde flirts playfully with a young man he's met that night, his lover Bosey becomes more jealous as the night progresses. It's a film of kink that is hard to manufacture, which Russell had always done with such ease from the 1960's to the 1990's. Wilde being a bit of an obsession of mine when I was in high school, this film was one I caught late night on TV and just could not take my eyes off of. It is a bit more low budget than his earlier works, but if anyone knows Russell, they know he had a hard time raising money the later he got into his career. Check this one out on Instant Watch.
---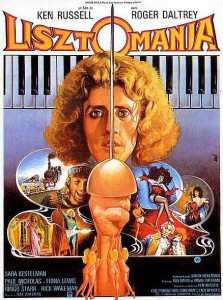 8. Lisztomania (1975)
I'm a big fan of Roger Daltrey as an actor. I just want to get that out of the way first before going on with this little write up of this film. As is the case with Russell's films, this one is hard to just write a quick synopsis about. What other film do you have Ringo Starr as the Pope and where Franz Liszt (Roger Daltrey) gets his blood sucked by a Transylvania vampire version of fellow composer Richard Wagner (Paul Nicholas) in order to gain musical inspiration? It might be a bit too literal but this film throws out the typical narrative structure and decides to throw us the fantasy portion that sometimes would just be half of a film. Using historical figures in a playful manner is Russell's forte, and this is why I can sit down and watch these films in pieces or beginning to end and always see something new and weird that I might have missed before. It almost doubles as a little nod to Daltrey's life of playing to packed crowds of young shrieking fans ans having sex with multiple women. The life of a rock star and according to Russell, there was no 'rock star' more important than composer Franz Liszt.
---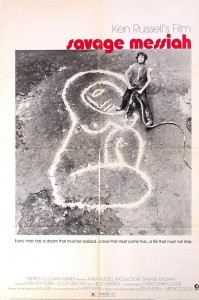 7. Savage Messiah (1972)
This one I didn't catch until about 6 years ago when a friend sent me a copy of the film, knowing I was a Ken Russell fan. Sadly it was one I hadn't seen but took to it like a moth to a flame. This time a film based on the life of French sculptor Henri Gaudier-Brzeska, Russell takes a non-British eccentric genius yet again, this time not a composer or a ballet dancer. On the surface it seems to be a normal A-Z true story of this man, but we see the satirical side looming and that's why I instantly fell in love with this film. It's an unusual love story, with two women being the center of attention. The radiant Helen Mirren as Gosh Boyle (you haven't lived until you've seen Mirren in her youth) and Dorothy Tutin as Sophie Brzeska, two completely different women. One is interested in sexuality, the other doesn't take a bit of clothes off throughout. And this dichotomy makes for a Russell love story and one that you can now buy from the Warner Archive.
---
6. The Music Lovers (1970)
This film focuses on Russian composer Pyotr Ilyich Tchaikovsky (played amazingly by Richard Chamberlain), showcasing his life and career. Based on personal letters, we see Tchaikovsky, a gay man, trying to fight that by marrying a woman who is a nymphomaniac and someone who he can never truly satisfy. With flashbacks of a mother who would put him in scalding hot water to cure his cholera to his feelings of true love for Count Anton Chiluvsky, it's a tragic tale, Shakespearean in a way. What I find interesting is that at the time, Chamberlain was still in the closet about his own homosexuality, which makes this film that much more interesting in its portrayal of someone of high stature in the art/creative world having to hide who he truly is. A wonderful film with an equally wonderful score as well.
---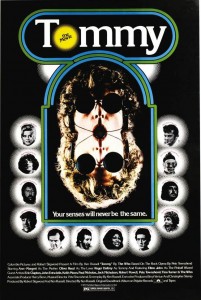 5. The Who's Tommy (1975)
The Who were one of the first bands I remember listening to on a regular basis, my dad always pointing them out when they would play on the radio. Their song, 'Boris the Spider' would play on repeat, being a more rock and roll type of lullaby I was used to. This led to my dad introducing me to The Who's Tommy album at an equally young age, telling me about the times he saw them perform and how creepy the musical itself actually was. Then I caught the movie one faithful night and was blown away. When I listened to the music, I never truly pictured the acid trip that Russell put on screen. And I'm glad, because seeing it for the first time, with Roger Daltrey as grown up Tommy, being so youthful and vibrant as the deaf, dumb and blind kid who could play a mean pinball, made me ecstatic that I had to watch the film right away after finishing it. Tina Turner as The Acid Queen, Ann-Margret as Nora Walker (Tommy's mother), Oliver Reed as Frank Hobbs, appearances by Eric Clapton, Elton John and Jack Nicholson make this film memorable. But when it comes to creeps on film, Keith Moon as Uncle Ernie takes the cake and forever is implanted in my mind as the stereotypical creepy uncle you don't invite to family gatherings. I love this film and hope to one day be able to get a pristine print on Blu-ray (I know there is a Blu, but I want more), possibly from Criterion themselves.. Only time will tell if this will occur sooner rather than later.
---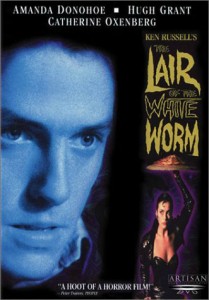 4. Lair of the White Worm (1988)
Here's one that a lot of people know as 'that horror film with Hugh Grant'. But it's so much more than that. One of the later efforts that I really enjoy (came out the same year as Salome's Last Dance), this one is based on a Bram Stoker novel. Dealing with a strange skull found at an excavation site, it leads to an ancient snake that recalls the legend of the d'Ampton "worm" which was supposedly slain in Stonerich Cavern by John d'Ampton, who is an ancestor of James d'Ampton (Hugh Grant). This leads to a watch being found that belongs to the sisters Trent at Lady Sylvia Marsh's (Amanda Donohoe) home, James comes to the conclusion that this mythical snake must still be alive. A funny conclusion to have, but it is true and James is trying to get to the lair of this white worm to destroy it once and for all. It's a bizarre horror film, one that many people pass along when they see it's based on a Stoker story that isn't Dracula. Amanda Donohue is probably, in my opinion, one of the most desirable evil priestess/vampire-like being since the Hammer Horror days. Check this film out if you can and let me know what you think.
---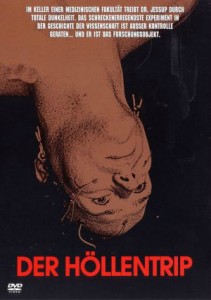 3. Altered States (1980)
A film that, like a few others on this list, the cover enticed me to no end for many years. When finally seeing it, I didn't get what the film was about at all. That's the problem with seeing a film written by the amazing Paddy Chayefsky at the age of 8. Flash forward to college and I was talking about film to a good friend of mine at the radio station I worked at. He told me about this film and I had let him know it kind of went over my head as a kid and I haven't had the itch to go back and watch it. He had the bare bones DVD (which is still the only one I've seen and now own) and we sat down to watch it. Afterward, I got it. I became a fan of William Hurt from that film and wondered why this film wasn't regarded more in the sci-fi world of nerddom. It was the one Russell film that Roger Ebert loved, if I recall correctly, and for good reason. This might be the most mainstream Hollywood film (not counting efforts like The Billion Dollar Brain) he made, yet this is still an ambitious piece of cinema. With mind bending visuals, drug induced visions and a man becoming a caveman of sorts, this film is one that is easier to watch than to explain certain scenes to someone. This film came out the year I was born and growing up with it, I went from not getting it at all to fully embracing it. It tells the story of a man who is trying to push science to the brink and might lose himself in the process. Brilliant film that definitely deserves a Criterion edition. I would buy that in a second.
---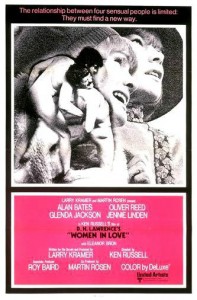 2. Women in Love (1969)
The only film Ken Russell was ever nominated for Best Director at the Academy Awards, this film, based on a D.H. Lawrence novel, is one of his most reserved and passionate films he ever made. Starring Glenda Jackson (also nominated and won for Best Actress), Oliver Reed, Alan Bates and Jennie Linden, it is a film that is a battle of the sexes and is essentially about a pair of friends who fall for two sisters. It's about relationships, commitment and what it means to give oneself to another person. A discussion of love, the meaning of the word and what it can do to people is an amazing display of pain and compassion for these characters. A film that is yearning for a new special edition release and considering it is a MGM release, one hopes and dreams (me) that this film can be snatched up by Criterion before all is said and done. I think it would be a perfect fit and being that it was an Oscar darling that year, will showcase a film that is an award winner as well.
---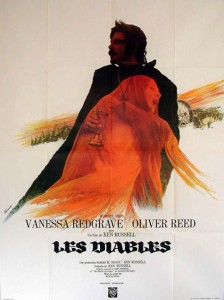 1. The Devils (1971)
A film that is so controversial, so against the Hollywood idea of a proper film, one that took to the Catholic religion and denounced it in every way possible, The Devils is one that I simply adore and wish more people knew about. The sad part is, Warner Brothers has since before its release, never wanted to show it in its uncut glory, thinking the public did not want to see a film so vile. How dare they judge film fans from all over. Inspired by Aldous Huxley's book "The Devils of Loudun", a film that I covered in an article for the magazine Paracinema about the sub-genre known as nunsploitation, it stars Oliver Reed as Urban Grandier, a priest who has just gotten control of the city because the Governor has just died. He is unaware that the deformed Sister Jeanne (Vanessa Redgrave) is sexually obsessed with him, while he has an affair with the relative of a fellow priest. It is violent, sexually charged and does not favor religion very well throughout. It's as if you are watching a car wreck from the beginning of its drive all the way to it's extreme climax, not being able to take your eyes off the screen for a moment. I liken it to Pasolini's Salò, or the 120 Days of Sodom, a film that made people angry, not understanding what was being shown to them on the screen, yet so beautiful and horrific at the same time that they were almost silenced in their own ways. This is an important film, one that should not be censored any longer. It hasn't had any release besides a cut VHS here in the U.S., and this makes no sense whatsoever. Every time one hears about a release of this film, it's quickly hushed up and we wait that much longer, just like Disney has been doing for years with Song of the South. The only difference though is that The Devils is infinitely influential, one that should be on my shelf with a spanking new Blu-ray transfer. A film that I show people who are not faint of heart because of the hallucinatory imagery and use as a litmus test as to what kind of films I can show them. BFI recently announced a UK release of the film, with Ken Russell commentary and introduction, as well as other supplements but sadly with 4 minutes cut from the original 111 minute running time. I will be ordering this, hoping March 2012 comes as soon as possible. But for now, I can keep asking Criterion to put out an edition as well. I can only imagine what kind of box art they could come up with.
And here's a great documentary from the UK about Ken Russell, by Ken Russell. It's bizarre, weird and wonderful.