Look up on that marquee. Whose name do you see? László Löwenstein! Then you shake your head and wonder, "Who is László Löwenstein?" To film audiences around the world and until the day he died, he was known as Peter Lorre, one of my favorite actors and sadly not enough people know him apart from the Looney Tunes caricature that, while pretty brilliant, doesn't show a fraction of his acting ability.
Today is a special day because his birthday is June 26th and he would be a ripe 106 years old. So here at the Criterion Cast, I would like to share with you my top 10 Peter Lorre films that I just absolutely adore. This isn't a definitive list, so if you have any suggestions yourself, please list them down below in the comments section.
---
10. The Raven (1963)/ The Comedy of Terrors (1964)
Are these great films? Not at all, to be honest. But to this horror nerd's upbringing, there was nothing better than waking up early on a Sunday morning, my dad putting on the TV and when our local mad scientist host showed these two films back to back, I was overjoyed. Two films, one of which directed by Roger Corman himself and based on one of my favorite authors (Edgar Allan Poe) and starring three of the greats in my eyes, being Peter Lorre, Boris Karloff and Vincent Price, the kind of the grand guignol in my opinion.
Yes, these films are more along the lines of horror comedies, but there's something about these films that still make me smile ear to ear today. Is it an early appearance by Jack Nicholson in 'The Raven'? Or is it the appearance by Basil Rathbone in 'The Comedy of Terrors'? I think it's a combination of those things and just the whole package of these three greats just having a grand time on screen together. Lorre was past his prime, of course, but you could see the joy in his face with these other two thespians.
---
9. The Boogieman Will Get You (1942)
Ahh, a film I had almost forgotten about until I was writing out this list, it's a great comedic horror film starring Boris Karloff and Peter Lorre (if you notice throughout this list, there's lots of connections with actors, the reason being that they liked to work with one another and they also had contracts with certain studios, so you'd have similar actors working together). Karloff plays a kind scientist, Professor Billings, who has sold his home to Winnie Slade (Jeff Donnell), who wants to make it into a hotel.
Unknown to Slade, Billings has been in his basement creating a race of superbeings to help in the war effort, who wants to use the guests as unwilling parts of his experiments. Lorre is the town sheriff, mayor and hair tonic salesman Dr. Lorentz, who gets involved in the plot when he sees profit in the air. Just a bit of a sidenote, this film was made in the wake of Karloff's successful Broadway run of 'Arsenic and Old Lace', which the feature film version is withing this list.
---
8. Mad Love (1935)
Dr. Gogol. What a wonderfully creepy name. Lorre plays Gogol, who is obsessed with actress Yvonne Orlac. When her husband Stephen's hands are destroyed in a train accident, she brings him to her biggest fan, Dr. Gogol, who says he's able to repair them. Gogol's pure insane obsession makes him do anything to have her, which means even giving Stephen new hands that are able to throw knives expertly. It's a grand horror film, with some amazing set pieces, creepy scenes and Peter Lorre stealing the show in his first American production. And that final scene is heartbreaking every time I watch it.
---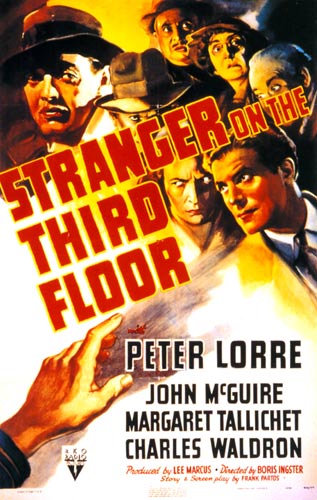 7. Stranger on the Third Floor (1940)
Considered to be the first true piece of film noir in the clasic period of film (which is from 1940 to 1959), the film could have been dismissed as a typical "wrong man accused of a crime and is now trying to clear his name", but it's done so well and with such great pacing and camera work that you won't think about that little detail twice while watching it. John Mcguire plays Mike Ward, a reporter who is a key witness in a murder trial. He saw Joe Briggs (Elisha Cook Jr.) over the body of a man at a diner, which was instrumental in the jury finding Briggs guilty.
Ward's neighbor is then killed in a similar fashion and when he points this out to the police, he is now arrested for the crime. So his fiancee Jane (Margaret Tallichet) is trying to clear John's name by finding the mysterious stranger who was behind both murders. And guess who plays this stranger? Of course, none other than our very own Peter Lorre. It's a wild and sinister portrayl that would have been lost with any other actor, but Lorre chooses wisely and just lights up the screen. Check it out, if you can.
---
6. The Man Who Knew Too Much (1934)
The first pairing of Peter Lorre and Alfred Hitchock himself (who loved him so much in the film 'M' that he needed Lorre to be in this film). What's even more brilliant is that Lorre didn't speak English yet (considering he just fled Nazi Germany) so he learned all of his lines phonetically, which watching it again is not noticeable in the least. Lorre plays a charming and sadistic assassin named Abbott, out to kill Bob and Jill Lawerence (Leslie Banks and Edna Best) and kidnaps their daughter to get the edge on them. It was remade in 1956 with James Stewart, but I always preferred Lorre's killer to Reggie Nalder's portrayl, even though I do believe the latter one is a superior film. Only in a perfect world could we meld the two together.
---
5. 20,000 Leagues Under the Sea (1954)
The first sci-fi film Walt Disney pictures ever produced? The only sci-fi film Walt Disney himself produced before he died? Starring James Mason as Captain Nemo? You've already got me hooked and I've loved this film since I was a kid. Revisiting it a few years ago, how could I have forgotten Peter Lorre's role as Conseil? Kirk Douglas is sizzling on the screen as Ned Land and when the three of them are on screen together, this little film nerd's heart exploded a bit. Those locations are gorgeous and the matte paintings are a dream come true for me. And I hope you as well. And it makes me ask the question: Why haven't I bought this DVD???
---
4. Casablanca (1942)
Is there any way to properly write about Casablanca now? It's been written about, talked about and loved by the vast majority of people who have seen it since it premiered in 1942 and for good reason. It's one of the few 'perfect' films by my opinion, and it just oozes with charm, sex appeal, intriguing characters and that old Hollywood feel that has been lost for decades now. And Peter Lorre playing petty criminal Ugarte is one part of a film that has some of the greatest actors of all time within its celluloid walls. Want me to list them? Will do: Humphrey Bogart, Ingrid Bergman, Sydney Greenstreet, Conrad Veidt, Claude Rains and Paul Henreid round out a superstar cast. If you've never watched this film… how could you call yourself a film fan?
---
3. Maltese Falcon (1941)
One of the finest pieces of film noir ever produced, with Bogart commanding the screen (because he was that damn good), The Maltese Falcon is one of those films forever ingrained in our collective minds, even though most of us don't know what a 'maltese' is. Hint: it's from Malta. Sam Spade is iconic, the interactions between Spade and Peter Lorre's Joel Cairo are priceless (lots of smacking around that is hysterical) and when we finally meet the 'Fat Man', we see it's none other than Sydney Greenstreet, which we'll be seeing a bit of his and Lorre's pairing up (they did pair up in nine films). Just a wonderful film that I know ages gracefully.
---
2. M (1931)
The film that put him on the map, this film is all about Peter Lorre's acting. A Fritz Lang film to boot, we've shown our love for it here at The Criterion Cast, and why wouldn't we? It's the first Lang sound film which he considered his finest achievement and if only he knew how people have fallen in love with it since it premiered almost 80 years ago. Lorre plays Hans Beckert, a child murderer, and he's on the run from not only the police but other criminals as well, because they don't want some murderer of children making their lives a living hell.
So it's almost a team up of justice and crime, who are both sickened by this monster. The title 'M' comes from one of the criminals marking a large letter M on his own hand with chalk and then clapping Beckert on the shoulder, with the letter M now on his coat. M stands for "Mörder", German for murder. A fine example of film making. Just watch it for the way sound and silence is used throughout the film. It's breathtaking, to say the least.
[
Check out James' review of the recent Criterion M Blu-ray
.]
---
1. Arsenic and Old Lace (1944)
A film that holds a special place in my heart, this is my favorite film that has Peter Lorre in it. Based on the wonderful play by Joseph Kesselring, 'Arsenic and Old Lace' stars a pratfalling Cary Grant, in one of my favorite roles of his. It's sad to know that he did not like himself in this role of Mortimer Brewster, confirmed bachelor. Simple synopsis is as follows: Mortimer who has secretly gotten married to the love of his life, Elaine Harper (played by the versatile and beautiful Priscilla Lane). He visits his kooky aunts and his brother Teddy (who thinks he is Teddy Roosevelt in an amazing running gag, to put it lightly).
His aunts take boarders and murder them with a bit of arsenic in tea that they serve them. And mayhem ensues, primarily when his other brother Jonathan (Raymond Massey, doing his best Boris Karloff impression) returns with his alcoholic plastic surgeon, Dr. Herman Einstein (played by Peter Lorre). The way this film moves is amazing, and it's Frank Capra at his madcap best. It's one of my favorite films ever, and is definitely my favorite film that has Mr. Lorre in it. And I still say "I'm not a Brewster, I'm a son of a sea cook!" and everyone still doesn't know what I'm talking about.
---