It's always sad to write about anybody who dies in the film business, but today's loss is a big one. Claude Chabrol, a fellow critic and one of the founders of the French New Wave, which is a very big part of the Criterion Collection, has died at the age of 80. And like most filmmakers, he was working right until the end which is what all artists do when they love the medium as much as they do. So I wanted to take a few minutes out of your time to showcase a top 10 of his films. Sadly he isn't featured within the Collection, but he is one of many directors that deserves a place within its walls. So without further adieu, let's get into the wonders of Claude Chabrol.
---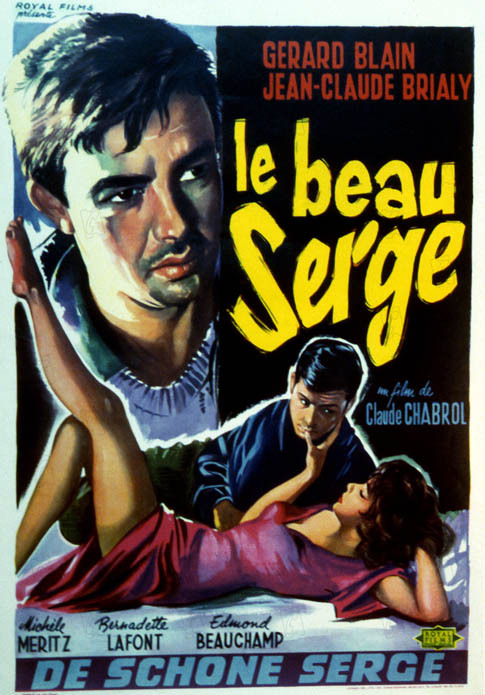 10. Le Beau Serge (1958)
Why not start this list with Chabrol's first film? It was an astonishing debut and some consider it the first film in the French New Wave. It tells the story of Francois Jean-Claude Brialy), who returns to his old town to find his best friend Serge (Gérard Blain) is married and has become an alcoholic due to the death of their stillborn child. Serge is very James Dean-like, which was the norm in that era, and Francois must try to bring him back to reality. A fine film that is worthy of an updated edition on DVD.
---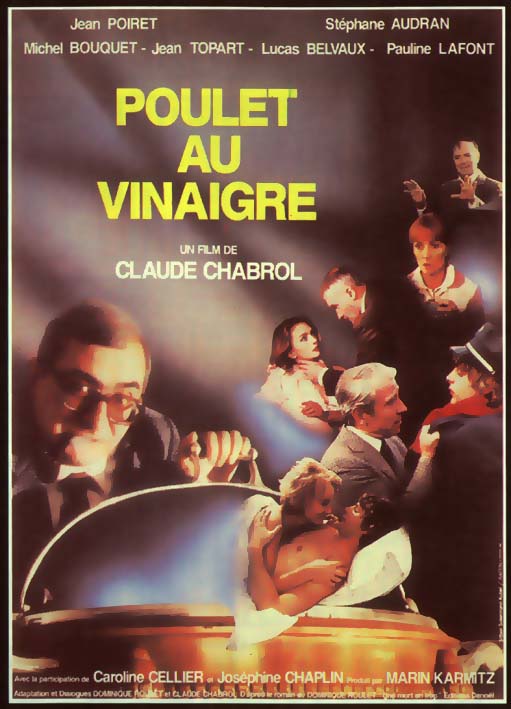 9. Poulet au vinaigre (1985)
There's nothing better than seeing Jean Poiret interrogating slimeballs, especially that lawyer he takes to town in a sink. Poiret wrote La Cage Aux Folles but I love him as Inspecteur Lavardin, who appeared in a few films and a TV series as well. Absolutely amazing thriller here, that I wish more people knew about. I think I need to buy one of Chabrol's box sets to get this on DVD again.
---
8. À double tour (1959)
Jean Paul Belmondo. Someone who I absolutely adore, so why wouldn't I love this film? It sadly took me way too long to check this film out and about a year and a half ago I fell in love with this tight thriller, which would be Chabrol's genre of choice for the rest of his career. A great murder mystery with Belmondo attempting to find out who really did it. A great little tidbit: Belmondo's character's name is Lazlo Kovacs, which was the alias of his character Michel Poiccard in Breathless.
---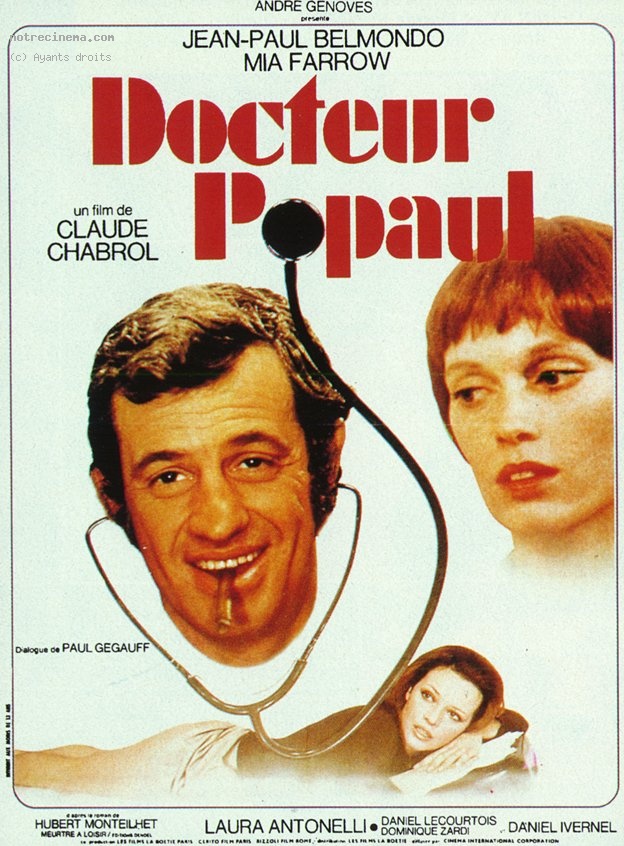 7. Dr. Popaul (1972)
Belmondo appears again in this Chabrol list, but when speaking of the majority of French films, Mr. Belmondo will pop on most lists. And this one is a doozy. A black comedy about a former womanizer Paul (Belmondo) who marries Christine, who is the daughter of the head of the medical department. Why is this? Because he believes attractive women are untrustworthy and make poor wives. But that's only the beginning of the twisted nature of this film. Paul gets into a car accident and is bedridden and wishes he was still a playboy womanizer and Christine's beautiful sister Martine comes to visit, he decides he must get her in bed. So he drugs Christine every night so he can go out and kill Martine's male suitors. When I saw this film, I couldn't believe what I was seeing. But if you enjoy dark comedies, this is definitely one to see to believe.
---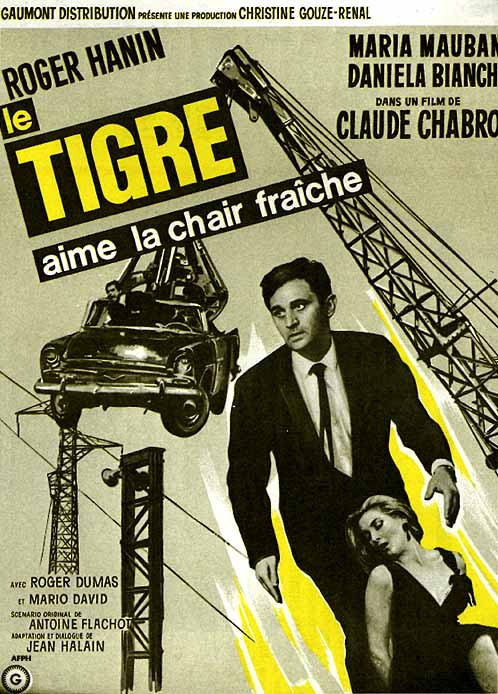 6. Le Tigre aime la chair fraiche (1964)
If you know me, you'd know I love spy thrillers. Anything spy film makes me happy, especially from the 1960's. There's nothing better than double agents, fighting evil organizations and always getting the woman in the end. Of course James Bond is the first people think of, but there's a plethora of others the public should check out. The Tiger (Roger Hanin) is such a great character and was also written by Hanin. It was the French answer to James Bond and even co-starred Daniela Bianchi, who was the female lead in From Russia With Love. Definitely check out the sequel Le Tigre se parfume a la dynamite (1965).
---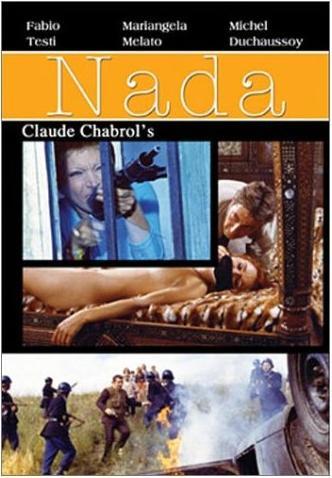 5. The Nada Gang (1974)
A darkly comedic thriller that I sometimes forget how wonderfully insane it is. The basic premise of the film is that a group of young terrorists have kidnapped the United States Ambassador to France in Paris, and the French government goes a little too crazy with trying to get him back. It is brutally violent and has some absurd scenes throughout. That scene when one of the kidnappers knocks out a naked hooker and then comes back to cover her pubic hair sounds as strange as it is to read typed out. Fabio Testi is all about his intense glances in this film and I'm all for it. A greatly unappreciated film that is a wonder to behold.
---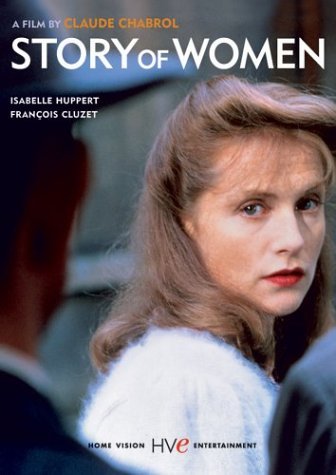 4. Story of Women (1988)
Such a powerful film starring the amazing Isabelle Hubbert. It tells the story of Marie-Louise Giraud, a simple houswife and one of the last women to be guillotined in France. This is because she had performed 27 abortions in Nazi occupied France and that was a big no-no at that time. A powerful tale about one person trying to do what she thought was right in a world that only fought back against her. And when it comes to most powerful films, a bunch of Catholic fanatics threw a tear gas grenade in a Paris cinema, causing a viewer to have a heart attack. I guess they had heard about the powerful recital of the Hail Mary prayer performed by Marie in the film. Seek this film out ASAP.
---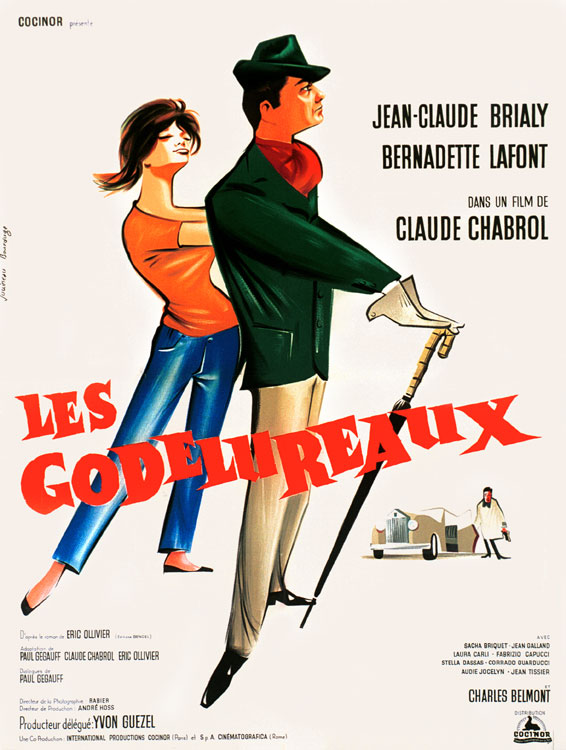 3. Les godelureaux (1961)
A film that Jean-Luc Godard himself named it one of the "The Top Six French Films made since the Liberation", why isn't this film more well known? Jean-Claude Brialy plays Ronald, a man slighted by Arthur (Chalres Belmont) and plans on ruining his life. So he employs Ambroisine (played by sexual dynamo Bernadette Lafont) to get back at him. Throughout the film, you feel for Arthur and knowing his whole world is going to implode if Ronald tells him it's all been a scam. We see the love that Arthur has for Ambroisine and we cringe at the impending doom of it all. Darkly comedic, which was a trademark of Chabrol, is pitch perfect and if you love early 60's French films, this is one to have in your collection.
---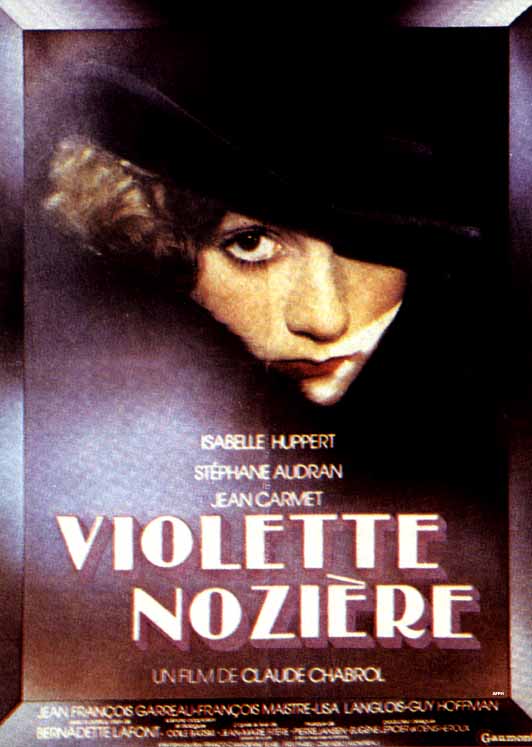 2. Violette Nozière (1978)
Two words: Isabelle Hubbert. Plain and simple, she is absolutely magnificent in this film. Based on a true story, it tells the story of Violette, a teen in the 1930's, who works as a prostitute to rebel against her bourgeois parents and falls in love with a young man. She supports him with her earnings and stuff she's stolen from her parents. Her parents find out she has syphillis but she convinces them she inherited it from them and tells them to take medicine for it. The medicine is in fact poison, killing her father but her mother survives and she gets arrested and charged with murder. But Chabrol's use of flashbacks and Violette's story of her father molesting her makes the viewer question what is true and what's a lie. A fine film that hopefully people will find now with his passing.
---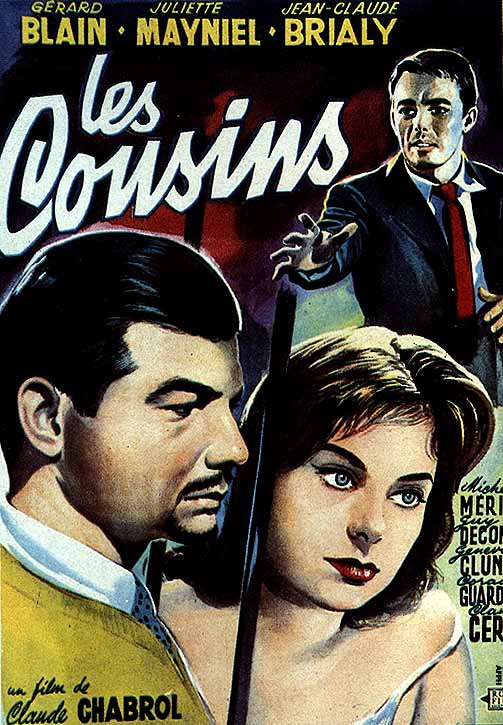 1. Les Cousins (1959) –
The story of Charles and Paul. Paul is a decadent man, who just consumes anything and everything around him. Charles, his cousin, is an honest man who just is too naive to believe. Charles falls in love with the beautiful Florence, an acquaintance of Paul's. Paul doesn't take too lightly to this and we see the corruption and the death of innocence within he big city's walls. One of the greats within the French New Wave, it is a breath of fresh air, even over 50 years later. We have two of Chabrol's favorite actors, Gerard Blain and Jean-Claude Brialy, just being amazing in it. We also have future Eyes Without a Face actress Juliette Mayniel as Florence, doe-eyed and we understand how you can fall in love with her. A tragic film, Chabrol flourishes here and considering this is his second film is amazing to realize.
---