One of the the most prolific directors in Hong Kong, let alone the world, Johnnie To is a filmmaker who I'm surprised has never been asked to join the Criterion Collection with any number of his films. Until now, perhaps. Not only did IFC Films pick up his critically acclaimed film Vengeance (which was put out by MPI Home Video) but they also recently asked him what his 10 favorite Criterion films were, which you can see right here. He's very short and sweet as to why he loves these films, but while perusing the list, one can see his influence and how he crafts his films.
So we here at the Criterion Cast like to play guessing games and are wishful thinkers, so here's a top 10 Johnnie To films that we wish could enter the Criterion Collection. Remember, a lot of hands are on these films, in some cases even the Weinstein's own the rights here for a few, so sadly those ones will probably never see the light of day. This is a wis list in a perfect world. If we even get one of these films, we'll be winners.
---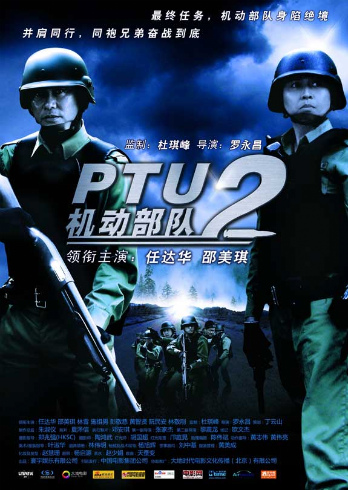 10. The Tactical Unit film series (2008-2009)
Yes, I know To just produced these films which are branched out from his widely popular PTU: Police Tactical Unit film from 2003 (a fantastic film that is distributed by the Weinstein's Dragon Dynasty line). But the series has a lot going for it and would make for a wonderful box set, be it in the Criterion Collection or their Eclipse line.
The films focus on two divisions of the PTU, Kowloon West Police Station and its CID officers. Simon Yam, Maggie Siu and Suet Lam are mainstays throughout the films since Johnnie To's very own directorial effort and it showcases their love, hatred and life within these units. A great series that sadly doesn't get much notice here so maybe Criterion could do something about that.
---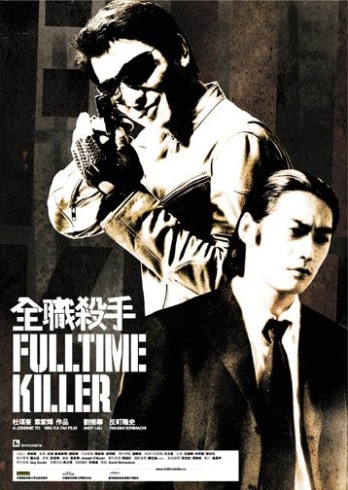 9. Fulltime Killer (2001)
A great film To co-directed with Wai Ka-Fai, the film deals with a hitman named O (Takashi Sorimachi) being challenged by a new hotshot named Tok (Andy Lau). O has lived a life of seclusion and being the number one assassin in Asia has afforded him this. But a double cross brings him back to the forefront, all while a Interpol agent is writing the story of both hitmen.
What's funny is when I saw this film originally, I thought, "This is a better version of Assassins." which is actually referenced in the film when Tok mentions the film and the similarities to their lives and battle. Actually Tok is a movie enthusiast in general and mentions many films, such as a particular Alain Delon film that he doesn't know by name. A film that matches action and a love triangle makes for one fantastic film that I wish had a great edition.
---
---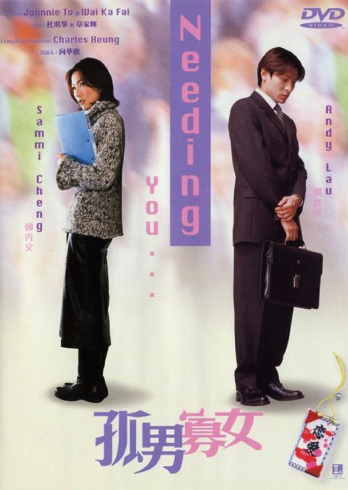 8. Needing You (2000)
Another film co-directed with Wai Ka-Fai, this is a bit different than most To films as it is a romantic comedy. Kinki Kwok (Sammi Cheng) is an office worker with no luck at all in the world of love, her boyfriend cheats on her and treats her like garbage so in order to battle the sadness she starts to clean non-stop, especially at her job. Her boss, played by Andy Lau, is a womanizer who is always battling urges at work and after Kinki stops a messy situation at work from blowing up, Andy agrees to help her with her love life and to get back at her boyfriend.
Through it all, feelings start to blossom between the two… yes, it is a romantic comedy with a lot of the same tried and true formula that tends to work within them. What makes this film one of the better ones is the relationships between the characters and the fact this film was proof that the Hong Kong film industry wasn't dead, becoming the highest grossing film that year. Very impressive, considering John Woo had his Misson Impossible II there at the same time.
---
7. The Mad Monk (1993)
This is a film when I show people it, they don't believe it's a Johnnie To film. Why's that? Because it stars Stephen Chow, is an action comedy and deals with Heaven. Chow plays an angel of sorts who bets others in Heaven that he can take 3 misguided souls and bring them to a better path.
Resurrected as a monk, he must better the lives of a prostitute, a beggar and a villainous person all in the span of 3 Heaven days. An underrated film that deserves a reintroduction to the masses, especially fans of old school kung fu.
---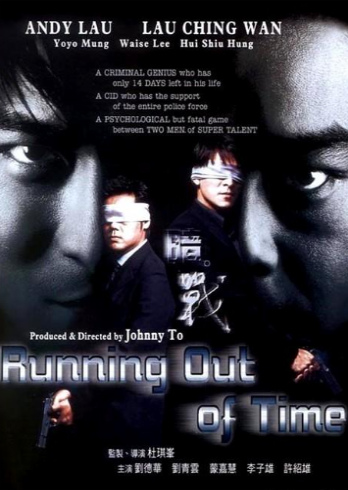 6. Running Out of Time (1999)
If you had four weeks to live, what would you do? Wah (Andy Lau) finds this out from his doctor and decides to put his criminal mastery to use and plans an elaborate heist. While this is being planned, he's also playing a game of cat and mouse with supercop Sang (Lau Ching Wan) for 72 hours.
Like most of To's films dealing with crime and the underworld, we have brotherhood but this time it's a respect between cop and robber, like Woo was famous for doing earlier in his career. A fantastic film that has action, suspense, sadness and humor sprinkled throughout. One that deserves more recognition.
---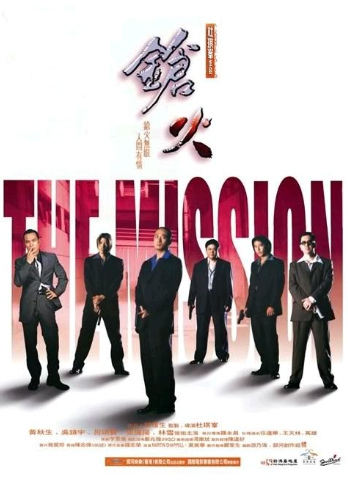 5. The Mission (1999)
Considered by some to be To's masterpiece and one of Hong Kong's finest examples of a crime film to come along at that time, The Mission is the type of film you can't help but feel like To is flexing his muscles for all to see and we're in awe of them. He's in top form here, showing us a story about a triad boss named Lung (Eddy Ko) who almost dies in an assassination attempt and decides to hire five men from different walks of life for his protection.
These men are professionals and we see them start out as strangers and grow to share a bond. Until ultimately one is to be punished and we see what occurs between them all. This film reminds me of a Melville film if he was still alive today that he would make. The dialogue is minimal and the gun play is part of the story. A film that grows every time I sit down to watch it.
---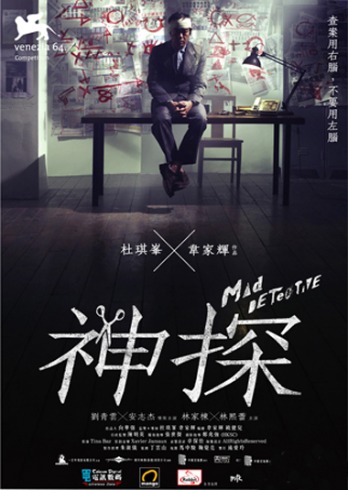 4. Mad Detective (2007)
Another Johnnie To and Wai Ka-Fai production. A reinvention of sorts of the basic detective story, but this time about a former ace detective who got into the mind's of the criminals and would reenact the crimes and always know who the perpetrator was until he cuts his own ear off and got an early discharge notice for doing so.
Now disgraced, a rookie cop contacts him to help him out with a case involving a missing cop, a gun and a series of crimes, which all point to that missing cop's partner, but it's never that simple. Twists and turns are plenty in this film with an ending that still keeps people scratching their heads, it was a return to the directorial team and they hit it out of the park again.
---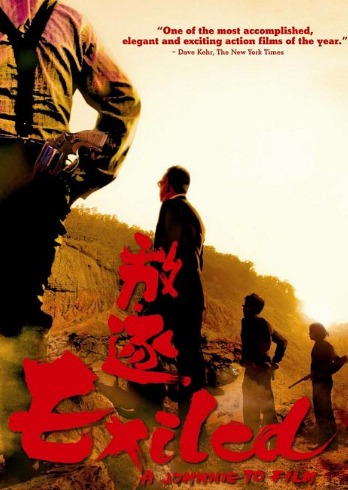 3. Exiled (2006)
One of the more interesting crime films to come from Hong Kong, To gave us another look at brotherhood and respect amongst men in this film. Wo (Nick Cheung) is a retired mobster, who lives with his wife and young child and live a quiet life, turning over a new leaf. Simon Yam plays Fay, a vengeful mob boss who wants Wo dead for an assassination attempt years ago and sends two hitmen to do the job. When they get there, they see two other hitmen from their past, who are protecting Wo.
Instead of a huge firefight, they reminisce with one another over dinner and plan on gold heist together while Fay, being enraged over his order being ignored, wants vengeance. A great film that just has so many amazing quiet moments between the gun play, it's one that I feel gets looked over for some reason.
---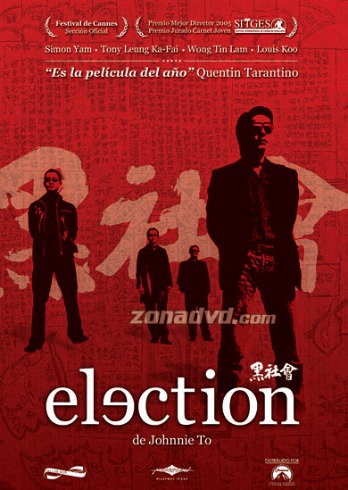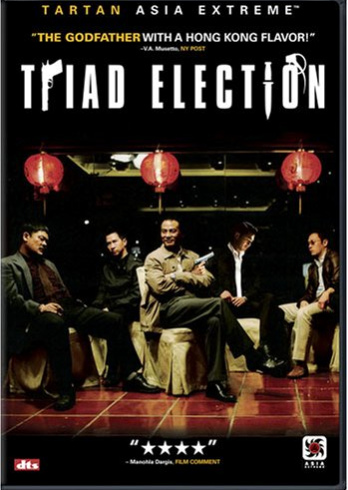 2. Election and Triad Election (2005 and 2006)
In a perfect world, these two films would come out as a beautiful box set, with a commissioned cover by a renowned artist and a ton of extras detailing the making of, the connecting tissue between the films and various other goodies. And no, this isn't the Reese Witherspoon/Matthew Broderick film. A Category III rated film (which means 18 or older, no exceptions), Election has a simple premise: two gang leaders (played by To mainstay Simon Yam and Tony Leung Ka-fai) are battling for supremacy to become the leader of the Hong Kong Triad society. And taking the place of the usual non-stop gunfights that populate many of these types of film (even To's films sometimes), this one has the shifting of alliances throughout to see who will ultimately rule the underworld.
Somehow To and company top this fantastic film with Triad Election (or simply Election 2 in Hong Kong) where one of these men is preparing for the re-election process for triad boss (don't want to spoil it for you) while another man tries to retire as a triad to become a legitimate businessman. Regarded by most as a better film than the first, I liken it to The Godfather and The Godfather II, where the first brought a new look at organized crime and the second expanded and topped it in every way possible. Dealing with family in a whole different way, you never know who to trust and where the next double cross is going to come from.
---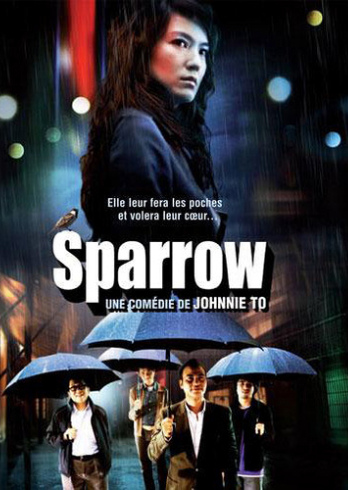 1. Sparrow (2008)
While trying to come up with films that were most likely to have a spot within the Criterion Collection, my friend and colleague Rufus reminded me of this film from 2008, a film Johnnie To was filming over 3 years in between a ton of other projects he was working on. He would get the actors involved together every 3 to 4 months to continue the process and thankfully he got to finish a pet project of his, for all the world to see, when we got Sparrow in 2008. A true passion project, To did everything he had to in order to make this film and seeing the actors and crew return over a 3 year period shows how beloved he is with them and that they're willing to make art any way possible.
The title comes from the Cantonese slang for pickpockets that are quite good at what they do, which is essentially what this film is about. Simon Yam, Lam Ka-Tung, Law Wing-Cheong and Kenneth Cheung are all part of a small crew of pickpockets who are each individually approached by a mysterious woman who has an agenda all her own. It isn't To's best, but because of the lengths he went to make this personal love letter to the French New Wave he loves so much, it's one to watch and analyze.