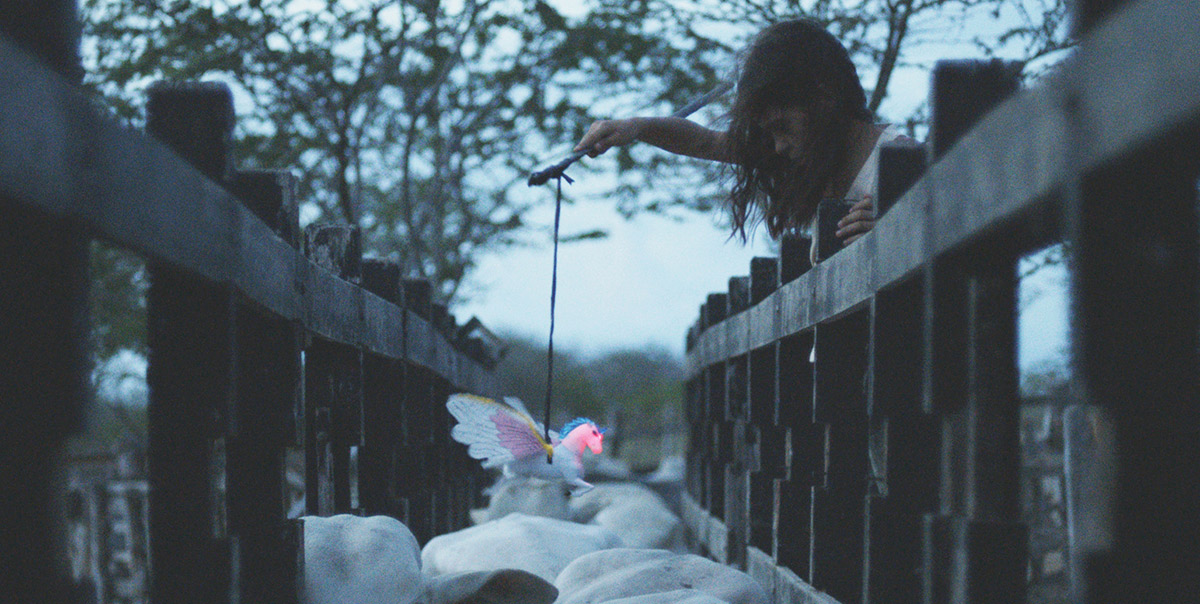 2016 wasn't a banner year. Say what you will, even outside the realm of politics, 2016 was a profoundly troubling year that will go down in the history books as a turning point on a global scale. We lost many a legend, and nations are growing more and more divisively divided. However, despite this seemingly ever-expanding divide between not only cultures but sub-cultures therein, the world of film saw numerous films that will forever alter the language with which filmmakers speak to one another and their audiences. Be it profound documentaries about forgotten sub-societies or nuanced and empathetic dramas offering glimpses into underrepresented groups in today's world, 2016 is one of the great film years of this decade, and these are the top ten films that I can't stop myself from talking or thinking about.
---
10. I Am Not Your Negro
Starting off this list is one of the truly great documentaries, or maybe better described as essay film, of this year. From filmmaker Raoul Peck comes I Am Not Your Negro, a supremely made look at one of the most undeniable voices in the civil rights movement. Before his death, author James Baldwin began work on a book focusing on three of the civil rights movements true martyrs: Martin Luther King Jr., Malcolm X and Medgar Evers. Peck's film takes those unfinished documents, clear examples of Baldwin's specific and singular voice, and breathes life into them with a mixture of archival footage and the powerful and assured voice of one Samuel L. Jackson.
Very much similar to the recent spat of documentaries which offer a glimpse into the life of an artist or political figure squarely through their own voice, Negro adds an undeniably poetry and creative flourish through its use of music, archival materials (including poignant footage ranging from early talkie motion pictures to footage of police abuse like the now legendary footage of Rodney King being beaten by police) and Jackson's stern, yet oddly musical, voice. It's an essay picture in the purest sense, taking various bits of Baldwin's work (including but not limited to the above mentioned text) and weaving together a tale of systemic racism that spans decades and generations. Culturally as dense as a film like Ava DuVernay's startling 13th is politically, Negro is a documentary film going experience unlike any you'll ever see.
---
9. Certain Women
In a world where empathy appears to be disappearing by the day, seeing a film like Kelly Reichardt's Certain Women is a breathtaking discovery. One of the world's great filmmakers, Reichardt has made a career of telling tales of "average" people and the struggles they face day to day. Women is that distilled down to its purest form. A trio of stories, Women is Reichardt's novella storytelling style in its most raw state, a film of Bressonian glances and missed connections that tells the story of four women and the lives they lead.
Oozing empathy and understanding out of every pore, Reichardt's latest film is arguably the director's most moving effort to date, a gorgeously composed meditation on the beauty of everyday life. Structurally built like a sweeping epic, the intimate details given and the beautiful performances given by names like Laura Dern and newcomer Lilly Gladstone help turn this multi-character drama a deep seeded power and emotional resonance. Where as a different director would take this triptych and make grand statements about broad themes in life, Reichardt's focus is much smaller, much more ground level, making the smallest of moments all the more shattering emotionally.
---
8. Neither Heaven Nor Earth
As you'll see throughout this list, 2016 is as much a year focused on the new voices in the film world as it is legends like Martin Scorsese. Much of this list will focus squarely on newcomers, few of which are lesser known than director Clement Cogitore. Hopefully, however, with his brilliant Neither Heaven Nor Earth, that will change. Billed as a "metaphysical war film," Neither Heaven… tells the story of French Army Captain Antares Bonasseiu as he and his team take stock of a nearby village known as Wakhan. Near the Pakistan border, power is shifting out of the army's favor, and just as the situation appears to be at its worst, Bonassieu's men slowly begin disappearing. Starting off as a low-key look at modern warfare, the film evolves into a neo-experimental horror film, a film about the existential terror found deep within war, where safety is threatened by enemies both seen and, as beautifully rendered in a terrifying final act, unseen.
Cogitore's feature filmmaking debut, the filmmaker comes from the art world, where he's spent much of his career crafting breathtaking experimental visual pieces. This owes a great debt to that time spent as an experimental artist. Throughout the film, Cogitore's camera shifts its perspective, particularly in the final act, an act that evolves into a haunting, horror film-like meditation on modern warfare. Shot on digital video, few films from 2016 look as gorgeous as this, and few have the same type of intellectual impact as this haunting, unshakable distillation of the modern war picture.
---
7. Right Now, Wrong Then
Hitting smack dab in the middle of the 2016 summer film season (after a lengthy festival run), Hong Sang-soo's latest, and arguably greatest, film arrived with little fanfare outside of the world/arthouse cinema world. A formally inventive, emotionally moving look at the power of the small moments in human interaction, Right Now, Wrong Then is a soju-soaked comedy/drama that sees the beloved auteur at the very height of his powers. Beginning simply enough, the film introduces the viewer to a filmmaker (played by Jung Jae-young), who just so happens to be in town one day in advance of a pending screening/lecture at a local school. Commencing on the proverbial steps of a centuries old palace, we meet our protagonist as he sparks a conversation with a beautiful but unassuming artist who has little to no knowledge of his work much less who he actually even is.
However, things seem to be going smoothly as they go from small talk to him going to her workshop and ultimately finding the pair getting lost in conversations over sushi and (a Hong staple) soju. Culminating in a breathtaking sequence set at a small gathering of friends, the film hits a conclusion, only to double back on itself, once again introducing us to the same artist, at the same temple, running into the same artist. As this series of events progress, small details are altered, making the back half of this picture even more stimulating both intellectually and emotionally.Seemingly drawing comparisons to Woody Allen with regards to his yearly output, his focus on the artist and their relationship to the world around them is compelling, as is his Allen-esque handle of that balance between romantic drama and human comedy. A film so skillfully split between the two scenarios that the viewer seems to find their memory of the previous sequence becoming more hazy, Sang-soo is a force to be reckoned with, and this film is exhibit A when trying to prove that.
---
6. Cameraperson
The second of three documentaries on this list, director Kirsten Johnson's debut feature takes us through not only her decades-spanning career as a documentary cinematographer but also through the various lives she's come in contact with. Entitled Cameraperson, the film is billed as a memoir, and it very much is. Using footage from various films Johnson shot, Cameraperson takes us from a rural Bosnian village, to footage of lauded French philosopher Jacques Derrida, to a football game at Penn State following their infamous sex abuse scandal all through the eyes of Johnson. Things then get deeply personal as, throughout the film, we see scenes of Johnson's late mother as she battles Alzheimers, turning what could seem like a simplistic meditation on the world we live in into something not only greater but also far more intimate and enlightening. Yet another film from 2016 that carries with it an unquenchable appetite for human empathy, Johnson's film is a beautifully made meditation on the art of non-fiction filmmaking, and why we as people watch and make these films.
---
5. The Other Side
After Election 2016, a wave of think pieces flooded the internet, particularly Hashtag Film Twitter, proclaiming *insert film name* is "of the now." However, not enough time was spent discussing what is truly the film to encapsulate the America that stunned the world on November 8, 2016, The Other Side. Focusing his latest film on two stories about the America that believes they've been forgotten by politics and the broader society as a whole, director Roberto Minervini introduces us to a couple trying to break their addiction through their lives together and then shifts its focus in what is ostensibly an epilogue focusing on an antigovernment militia. Set in the Deep South, Minervini, an Italian filmmaker, finds a kinship with these men who are born out of the type of rural, small community that he was born into himself. It's a film is starling nuance and deep empathy, that blurs the line between fact and fiction and the relationship between art, artist and muse. A thought-provoking look at a dangerous side of America, the film never condescends instead offering up deep understanding about the type of environment compounds negativity towards power structures.
---
4. Paterson
I literally reviewed this film last week, so I'll keep this blurb mercifully short, as my review speaks to why this is not only one of the best films of the year but also one of director Jim Jarmusch's greatest achievements. In many ways the cinematic manifestation of Jarmusch's creative endeavor, this meditation on the beauty in the mundanity of life is driven by a definitive performance from Adam Driver. Paterson is a film of deep empathy and a portrait of love and its battle with one's art and creativity that's a breath of fresh air in the world of La La Land and the insipid cliche that art and love can't compromise. It's a masterpiece and will hopefully find an audience as it continues its roll out. Anyways, here's my review and it's not as good as the film but few things are.
---
3. Moonlight
There are few films with more hype surrounding them than Barry Jenkins' latest masterpiece, Moonlight. Arguably the year's most critically-beloved picture, Moonlight tells the story of a young man through three stages of his life. Split up into three chapters named after the what the world around the lead character calls him, Moonlight is a moving, nuanced, textured look at youth and young love. Drawing great influence from the works of Wong Kar-Wai, Jenkins crafts an expressionistic journey through the life of Chiron as we glimpse briefly into his life as a child, a teenager and a young man. Finishing with a third act that plays like a modern-day In The Mood For Love, Moonlight is as much a tale about the gay, black male experience as it is a broadly universal story of unrequited love that's deeply personal and deeply profound. The type of mature drama film has been craving, Barry Jenkins gets gorgeous photography from James Laxton and a trio of lead performances to drive what is easily one of this year's most emotionally thrilling and visually ambitious dramas. It's also the exact type of nuanced, thought-provoking and heartbreaking romance drama that the year desperately needed.
---
2. The Fits
Few debut films are quite like The Fits. The first film from artist Anna Rose Holmer, The Fits is an absolute achievement. Starring Royalty Hightower, the film tells the story of Toni, a young girl who spends most of her day sparring with her brother at a local gym, where they also do some janitorial duties. A talented athlete, she slowly starts spending less time in the ring and more with a local troupe of dancers who practice at the same gym. With brief moments of impressionistic poetic realism, Anna Rose Holmer's film is absolutely captivating. Watching as Toni slowly finds more power and confidence in the women she becomes close to, The Fits is a shockingly moving take on the coming-of-age drama, a breathlessly singular vision from a filmmaker far beyond her years. Taking cues from modern independent dramas as much as art horror films, the central story takes a thriller turn when girls start suffering "the fits," a mysterious disease that causes violent seizures. It ultimately concludes in a startling and nuanced meditation on the female coming of age experience and female maturity. Deeply strange aesthetically, The Fits is simply gorgeous composition, with superb editing and a final act that concludes with a sequence that is as surreal as it is emotionally true and powerful. This is the debut of the year, by a country mile.
---
1. Neon Bull
From director Gabriel Mascaro comes Neon Bull, the epitome of a great, modern drama. Not only is it quiet in its execution and nuanced in its performances, but also uncanny in its ability to turn a singular tale of bending gender roles in rural into something unbelievably personal and powerful. Be it's startlingly intimate portrayal of sexuality or its enthralling story of a handsome and strong cowboy with dreams of clothing design, Neon Bull is a defining film for its moment. Largely unseen in a crowded 2016, Mascaro proves to be a profound cinematic voice, and a master of intimate realism. Gorgeous compositions abound here, with cinematographer Diego Garcia shooting this as though he was working with an early-career Terence Malick, all in the body of one of 2016's great dramas. Concluding with a stunning sex scene that bends what we viewers expect from a sex scene in some truly powerful ways, Neon Bull is a neo-experimental art film that uses everything from neo-realist techniques to brief bursts of dream-like impressionism. The story is relatively fluid, with little of actual narrative import occuring. The viewer floats through the day-to-day activities of the lead cowboy, Iremar, with the action coming from brief moments like his attempt to bang out a new dress design over a torn page out of an adult magazine. These seemingly minor subversions of gender norms is at the very center of this film, which is easily the year's most visually beautiful film, but also one of its most emotionally and intellectually stimulating. It's simply the one film from 2016 I can't shake and can't stop turning the conversation towards.