DATELINE HOLLYWOOD, CALIFORNIA:   THE FABULOUS SUNSET STRIP —
Your humble correspondent lined up in front of the Amoeba Records stage shortly before 3PM on August 14, when filmmaker Terry Zwigoff, new to the Criterion Collection with the past week's release of his documentaries Crumb and Louie Bluie (the former available on DVD and Blu-Ray, the latter DVD only), was scheduled to appear to sign copies of these works.
His signing table was off to the side of the stage, but said stage was soon occupied by a quartet of red-hot musicians, led by Blind Boy Paxton and Frank Fairfield, young practitioners (both appear to be in their early twenties) of old-school music:   the hot jazz, rollicking Dixieland rhythms and vintage blues of the 1920's.
Paxton (on guitar) and Fairfield (on a mandolin-banjo'¦ look it up — I did) were joined by two more musicians, introduced by Zwigoff himself as his sister on what appeared to be a bass fiddle, and another guitarist (whose name I didn't catch) who played with Zwigoff in the Cheap Suit Serenaders back in the day.
By the time Zwigoff took the stage to make his introductions at 3:15 (SPOILER ALERT: artists ain't punctual'¦ or, as Tommy Chong once said, "No thanks, man, I'm not into time"), there were probably thirty or so people in line waiting for autographs, and more folks lining the aisles of CDs and vinyl to listen to the musicians.   It is safe to assume that none were disappointed.
The band launched right into a bouncy tune that had me enthralled; Fairfield soloed with such gusto, stamping his foot and gradually picking up the tempo, that at one point he snapped a string with a pronounced POP!   The rest of the quartet kept a-rollin' while he fixed the string in time to finish the tune to enthusiastic applause.
---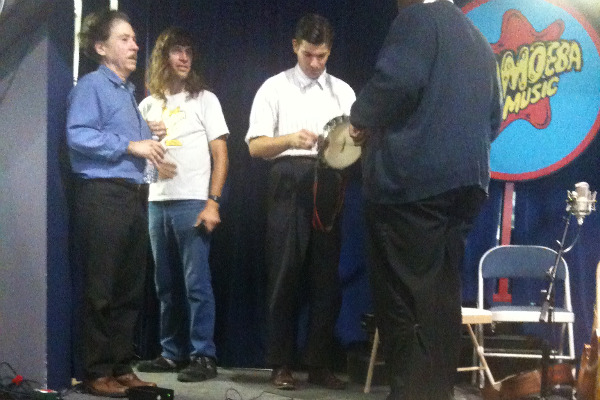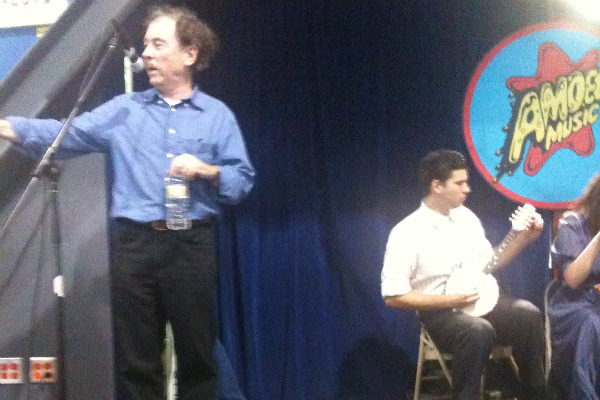 ---
Terry Zwigoff stated in his introductions that he wished to listen to the first number before he began signing, and with that out of the way, he promptly broke out a Sharpie and the signing commenced.   When my turn came, I asked him if he knew of any plans afoot to bring any of his other films to the Criterion Collection; I was prepared to prompt him on the most obvious choice, Ghost World, a film currently controlled by MGM (who appear to be cozy with Criterion once more now that the release of such films as Stanley Kubrick's Paths Of Glory and Charles Laughton's Night Of The Hunter are imminent), but his response was immediate:
"I was talking to them about doing Ghost World next year, maybe'¦ I think they'd be agreeable to it.   I just, you know, I put a lot of work into these [Crumb & Louie Bluie], and got so sick of doing commentaries and digging through all the footage, I said just give me some time, and maybe in a year or so, or six months or something, I'd try to do it'¦."   Zwigoff also had praise for the Criterion Collection personnel, stating that they've done "a terrific job on these — the films have never looked or sounded better'¦ I loved working with them, I thought they were great."
---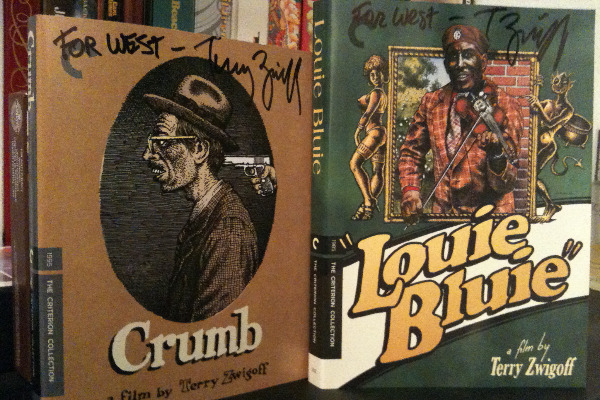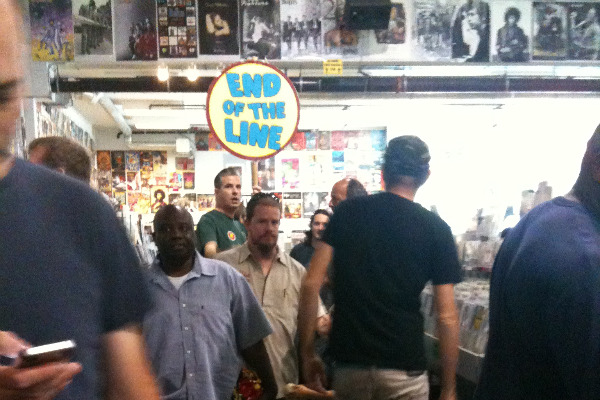 ---
So there you have it.   As long as the MGM catalogue doesn't slip into a black hole of bankruptcy and legal paperwork — fingers crossed — we could eventually see Zwigoff's outstanding Ghost World become a part of the Criterion Collection before the scheduled global annihilation of 2012.
Keep watching the skies!
[Note from the editor: This is West's first post for CriterionCast.com, hopefully we can convince him to write more for us!]