It seems like only yesterday that I was writing about the amazing line-up that we're getting from Criterion in March of 2011, and here we are with April's announcements. This month is absolutely packed to the gills with goodies, and for the most part, we've written about almost all of them in one form or another. No matter how much we cover rumors or the various wacky drawings which tease at upcoming releases, I'm always surprised, and hopeful when the 15th of the month rolls around, knowing that whatever is announced, I'll have something to write about.
This April, we'll be getting three Blu-ray upgrades, and three new titles into the Collection. Jean-Pierre Melville's Le Cercle Rouge was possibly hinted at couple weeks back in Criterion's Wacky New Years Drawing (the red circle around the Sunday), will be getting the Blu-ray overhaul. Criterion's best selling DVD, Fear And Loathing In Las Vegas will be getting the Blu-ray upgrade treatment. This was hinted at previously as the blue lizard man in a Criterion e-mail newsletter announcement. I know I sound like a broken record when it comes to talking about all of the stores that manage to stock the Criterion version of Fear And Loathing, but it is worth pointing out. I have to imagine that this Blu-ray is going to sell incredibly well, especially with a new Pirates Of The Caribbean film due in May. Finally, in the upgrade area, we're getting Jane Campion's Sweetie, as a Blu-ray.
In terms of new titles, all three have been previously hinted at in illustrations from Jason Polan. Last year we had the image of the falcon, which we took to represent Ken Loach's Kes. This will be getting a DVD and Blu-ray treatment on April 19th. In another e-mail newsletter, we had the owl, which everyone agreed on it representing Brian De Palma's Blow-Out. This marks the second appearance of John Travolta in the Criterion Collection, now that Terrance Malick's The Thin Red Line has found its place here. Lastly, we have our IFC entry for April, in the form of White Material. This was one that we were unsure of in the New Years Drawing, but the consensus was that the coffee can with the machete represented this film from Claire Denis.
If the physical media industry is dying, then someone forgot to send Criterion the memo. With these six new releases due in April, they are chugging along at an incredible rate, and show no signs of letting the streaming media market overpower them.
What do you think of these additions to the Criterion Collection? What will you be running out to pre-order? Any thoughts on the cover art? Leave your comments below.

---
Jean-Pierre Melville
Criterion # 218 on Blu-ray April 12th

After master thief Corey (Alain Delon), fresh out of prison, crosses paths with a notorious escapee (Gian Maria Volonté) and an alcoholic ex-cop (Yves Montand), the unlikely trio plot a heist, against impossible odds. A relentless inspector (André Bourvil) and their own pasts seal their fates. Le cercle rouge, from Jean-Pierre Melville, combines honorable antiheroes, coolly atmospheric cinematography, and breathtaking set pieces to create a masterpiece of crime cinema.
Disc Features
SPECIAL EDITION:
Restored, complete, uncut version, with uncompressed monaural soundtrack
Excerpts from Cinéastes de notre temps: 'Jean-Pierre Melville'
Video interviews with assistant director Bernard Stora and Rui Nogueria, the author of Melville
on Melville
Thirty minutes of rare on-set and archival footage, featuring interviews with director Jean-Pierre Melville and stars Alain Delon, Yves Montand, and André Bourvil
Original theatrical trailer and 2003 Rialto Pictures rerelease trailer
PLUS: A booklet featuring essays by film critics Michael Sragow and Chris Fujiwara, excerpts from Melville on Melville, a reprinted interview with composer Eric Demarsan, and an appreciation from director John Woo
---
---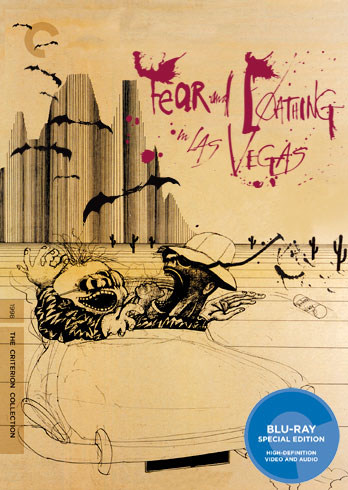 Terry Gilliam
Criterion # 175, Blu-ray available on April 26th

'We were somewhere around Barstow when the drugs began to take hold.' It is 1971, and journalist Raoul Duke barrels towards Las Vegas to cover a motorcycle race, accompanied by a trunkful of contraband and his slightly unhinged Samoan attorney, Dr. Gonzo. But what is ostensibly a cut-and-dried journalistic endeavor quickly descends into a feverish psychedelic odyssey and an excoriating dissection of the American way of life. Director Terry Gilliam and an all-star cast (headlined by Johnny Depp and Benicio Del Toro) show no mercy in bringing Dr. Hunter S. Thompson's legendary Fear and Loathing in Las Vegas to the screen, creating a film both hilarious and savage.
Disc Features
DIRECTOR-APPROVED BLU-RAY SPECIAL EDITION FEATURES:
Digital transfer, approved by director Terry Gilliam (with a DTS-HD Master Audio soundtrack and an optional 5.1 mix)
Three audio commentaries: one with Gilliam, one with stars Johnny Depp and Benicio Del Toro and producer Laila Nabulsi, and one with author Hunter S. Thompson
Deleted scenes, with optional commentary by Gilliam
Selection of Thompson correspondence, read on camera by Depp
Hunter Goes to Hollywood, a short documentary by filmmaker Wayne Ewing
A look at the controversy over the screenwriting credit
Profile of Oscar Zeta Acosta, the inspiration for Dr. Gonzo
Collection of artwork by illustrator Ralph Steadman
Audio excerpt from the 1996 spoken-word CD Fear and Loathing in Las Vegas, featuring filmmaker Jim Jarmusch and actor Maury Chaykin
Fear and Loathing on the Road to Hollywood, a 1978 BBC documentary with Thompson and Steadman
Storyboards, production designs, stills gallery, theatrical trailer, and TV spots
PLUS: A booklet featuring an essay by critic J. Hoberman and two pieces by Thompson
---
---
Jane Campion
Criterion # 356, Blu-ray available on April 19th
Though she went on to create a string of brilliant films, Jane Campion will always be remembered for her stunning debut feature, Sweetie, which focuses on the hazardous relationship between the buttoned-down, superstitious Kay and her rampaging, devil-may-care sister, "Sweetie"'"and by extension, their entire family's profoundly rotten roots. A feast of colorful photography and captivating, idiosyncratic characters, Sweetie heralded the emergence of this gifted director as well as the breakthrough of Australian cinema, which would take international film by storm in the nineties.
Disc Features
DIRECTOR-APPROVED SPECIAL EDITION:
Restored digital transfer, supervised by director of photography Sally Bongers and approved by director Jane Campion, with DTS-HD Master Audio soundtrack
Audio commentary featuring Campion, Bongers, and screenwriter Gerard Lee
Making 'Sweetie,' a video conversation between stars Genevieve Lemon and Karen Colston
Campion's early short films An Exercise in Discipline: Peel, Passionless Moments, and A Girl's Own Story
Jane Campion: The Film School Years, a 1989 video conversation between Campion and critic Peter Thompson
Gallery of behind-the-scenes photos and production stills
Original theatrical trailer
PLUS: A booklet featuring an essay by film scholar Dana Polan
---
---
Ken Loach
Criterion # 561, DVD & Blu-ray available on April 19th
Named by the British Film Institute as one of the ten best British films of the century, Ken Loach's Kes, is cinema's quintessential portrait of working-class Northern England. Billy (an astonishingly naturalistic David Bradley) is a fifteen-year-old miner's son whose close bond with a wild kestrel provides him with a spiritual escape from his dead-end life. Kes established the sociopolitical engagement and artistic brilliance of its filmmaker, and pushed the British 'angry young man' film of the sixties into a new realm of authenticity, using real locations and nonprofessional actors. Loach's poignant coming-of-age drama remains its now legendary director's most beloved and influential film.
Disc Features
DIRECTOR-APPROVED SPECIAL EDITION:
New, restored digital transfer, approved by director Ken Loach and director of photography Chris Menges (with uncompressed monaural soundtrack on the Blu-ray edition)
Making 'Kes,' a new documentary featuring Loach, Menges, producer Tony Garnett, and actor David Bradley
The Southbank Show: 'Ken Loach' (1993), a profile of the filmmaker, featuring Loach, Garnett, directors Stephen Frears and Alan Parker, and other Loach collaborators
Cathy Come Home (1967), a feature directed by Loach and produced by Garnett, with an introduction by film writer Graham Fuller
Original theatrical trailer
PLUS: A booklet featuring an essay by Fuller
---
---
Brian De Palma
Criterion # 562, DVD & Blu-ray available on April 26th
In the enthralling Blow Out, brilliantly crafted by Brian De Palma, John Travolta gives one of his greatest performances as Jack, a movie sound-effects man who believes he has accidentally recorded a political assassination. He enlists the help of Sally (Nancy Allen), a possible eyewitness to the crime who may be in danger herself, to uncover the truth. With its jolting stylistic flourishes, intricate plot, profoundly felt characterizations, and gritty evocation of early-1980s Philadelphia, Blow Out is an American paranoia thriller unlike any other, as well as a devilish reflection on the act of moviemaking.
Disc Features
DIRECTOR-APPROVED SPECIAL EDITION FEATURES:
New, restored digital transfer, supervised by director Brian De Palma (with DTS-HD Master Audio soundtrack on the Blu-ray edition)
New hour-long interview with De Palma, conducted by filmmaker Noah Baumbach
New interview with star Nancy Allen
Cameraman Garrett Brown on the Steadicam shots featured in the film within the film
Select on-set photos from photographer Louis Goldman
Original theatrical trailer
More!
PLUS: A booklet featuring an essay by critic Michael Sragow and Pauline Kael's original New Yorker review
---
---
Claire Denis
Criterion # 560, DVD & Blu-ray available on April

From Claire Denis, the incomparable director of BEAU TRAVAIL, L'INTRUS and 35 SHOTS OF RHUM, comes WHITE MATERIAL: a rich and thrilling account of a woman driven to the edge. An official selection of the Venice, Toronto and New York Film Festivals, the film is a riveting exploration of the complexities of racial conflict and the limits of human will. The legendary Isabelle Huppert (LA CEREMONIE, THE PIANO TEACHER, 8 WOMEN), is Maria Vial, a fearless French woman attempting to run her family's coffee plantation in an unnamed African country. Torn violently apart by hate-fueled civil conflict, this unforgiving setting soon turns against the foreign family, declaring them outlaws in their new home. In a brash effort to save her family and livelihood, Maria risks everything, fighting with every shred of her will to buck the rebel forces wrestling for control of local power.
Disc Features
DIRECTOR-APPROVED SPECIAL EDITION:
New digital transfer, supervised and approved by director Claire Denis and cinematographer Yves Cape (with DTS-HD Master Audio soundtrack on the Blu-ray edition)
New interviews with Denis and actors Isabelle Huppert and Isaach de Bankolé
Short documentary by Denis on the film's premiere at the Écrans Noirs Film Festival 2010 in Cameroon
Deleted scene
Theatrical trailer
New and improved English subtitle translation
PLUS: A booklet featuring a new essay by film writer Amy Taubin
---
---