Well here we are, another mid-month Criterion Collection New Release announcement extravaganza. A few titles that we suspected, due to rumors and various clues, and new addition to Maurice Pilat's section of the Criterion Collection.
First off, we're getting a re-release of a Criterion classic, Marcel Camus' Black Orpheus. This is Criterion #48, so they are keeping in line with their re-releasing older titles, with new features, transfers, and absolutely gorgeous cover art. This Black Orpheus painting is one that I would certainly buy a print of, to hang on my wall. Black Orpheus will be released on August 17th on DVD and Blu-ray
A few weeks back, we told you about how the New York Times, in their Summer DVD column, let loose the idea that Criterion was working on a collection of Josef Von Sternberg titles, and we now have a complete list of the films, along with supplemental materials and artwork. I had originally thought this might be an Eclipse release, but it is getting branded with the C, and each film with the set, along with the box itself, has a spine number (528, 529, 530, 531). This Von Sternberg set will hit stores on August 24th, on DVD only.
Next up are two titles that were teased at back in February, with Criterion's Monthly E-mail newsletter, in the form of a Fritz The Cat drawing. Terry Zwigoff's films Louie Bluie and Crumb will both be receiving the Criterion DVD treatment on August 10th, with Crumb getting a Blu-ray release as well. You can hear Travis' theories on this release way back on this February episode of the podcast. If you aren't signed up for Criterion's newsletter, you won't be privy to cryptic images like this: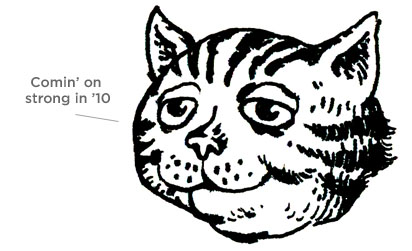 Finally, for the Criterion titles, we are getting a new release from Maurice Pilat, L'enfance nue. Yet another coming of age French film, that I'm sure Travis will love. L'enfance nue will be released on DVD, August 17th with spine number 534.
As usual, Criterion is unveiling another fantastic Eclipse Box Set, for all of those completists who were unable to purchase the recent Akira Kurosawa Box Set (AK25). The First Films of Akira Kurosawa set will feature Sashiro Sugata, The Most Beautiful, Sanshiro Sugata Part 2, and The Men Who Tread On The Tiger's Tail, and will be available for purchase on August 3rd. As one of those not quite well off enough to afford the $300 mega-set, I will definitely be picking up this Eclipse set to round off my Kurosawa collection.
Which of these August titles are you most excited about? Were there titles that you were expecting but didn't get? Leave your comments below.
---
---
---
---
---
---
---
---
---
---
---