It's so strange, writing this so long after the announcement yesterday. In today's internet world of instant information, and twenty four second news cycles, yesterday's August 2011 Criterion Collection new releases may as well have happened last week, or last month. I'm sure that the page views for this post will be markedly smaller than the usual, as I have tried consistently to have the new release post up within minutes of the pages going live on Criterion's website. I know this all sounds like inside baseball stuff, but it's on my mind, and darn it, this is my website.
I had a whole, several paragraph long, write up of the August titles, but since I'm finding myself writing this at 10pm on Tuesday evening, I think it's better if I just scrap that whole thing and start over. I was going on and on about the August titles being somewhat pre-announced by the New York Times, much as they had been teased at last year, with the Von Sternberg set. If you follow either @CriterionCast or @RyanGallagher on Twitter, then you'll know that I was busy tweeting out cryptic links to trailers for the various August titles all morning, building up to the actual announcement. I like doing that, and I don't feel that it spoils the fun of the pages finally going live on Criterion.com (I know some of you do think I'm spoiling the fun, but honestly, just stop following me on the morning of the announcements, and we can all live in peace).
As many of you know, my wife just gave birth to our beautiful daughter, and so my time and priorities have shifted greatly over the past few weeks. I've had to take a break from most of my podcasting duties, and the website has clearly seen a drop in posts going up on a daily / weekly basis. I take full responsibility for the current state of things, but again, we're all doing this in our spare time. Anyway, enough excuses and build-up, let's get to the August titles.
As I mentioned earlier, the New York Times took some of the wind out of yesterday's announcement, when they not-so-subtly revealed that Criterion was working on Roman Polanski's Cul-de-sac, a Blu-ray upgrade of Jean Cocteau's Orpheus, and a set of the films of Jean Vigo. And so, in a move that surprised no one here at the CriterionCast, Criterion announced all of those titles. I was surprised to follow along some of the message boards in the past few weeks, and see how many people out there doubted whether the Times was correct in their assertions. Since they proved legitimate last year, I had no problem with what they were predicting. Especially since two of the Vigo films were teased at earlier this year in the Wacky New Years drawing. Cul-de-sac was also teased at in that drawing, but was also written about by me last year, in a post about MGM titles that Criterion would likely end up bringing to DVD and Blu-ray. When the Times piece ran, I was initially shocked that Orpheus would be returning to the Collection, as it had gone out of print last year when the Cocteau box set was taken away by Studio Canal. Many quickly pointed out that Orpheus was not owned by Studio Canal, and that was why it would return when the others would not.
Let's start out by going through the Cul-de-sac release. Last week on their Facebook page, Criterion uploaded what we would later know to be the actual art for the release (similar to what they had done earlier this year with the Black Moon cover art). The supplements on this disc aren't very extensive, but I am very interested to see this documentary on the making of the film, as well as the interview with Polanski. It is interesting that they list the digital restoration as "approved by director Roman Polanski." I wonder what that process is like, when the filmmaker isn't exactly the easiest guy to have travel to New York. I'm sure though, that in this digital age we live in, where four random film fans can conference on Skype every week, the folks at Criterion can arrange to show off their restoration work to Polanski without requiring his physical presence. I'm not too crazy about the artwork, although you would think I'd be all over it. It's original art, it's minimal, I should love it, right? Well, for some reason it feels a little cheap to me. Anyway, I don't need to go on about it, it's a perfectly fine cover for a release that I'm moderately interested in checking out at this point. I was a big fan of Repulsion, and I can't wait to explore more of Polanski's early films. The nice thing about writing this post the day after, is that I can actually link to the Amazon pre-order pages (which are never up when I write the post usually). A funny thing about the Cul-de-sac pre-order page on Amazon: earlier this morning, a lovely reader tipped me off to the fact that Amazon was taking Cul-de-sac DVD pre-orders for $1! Now, Amazon has been known to have pricing glitches like this, and they usually will cancel any orders with the pricing error, and once in a while offer you some kind of compensation for your troubles. I tweeted out a link to the $1 pre-orders, so I guess if your order got through, let me know. Both the DVD and Blu-ray (spine # 577) will be available on August 16th. For all of the details and cover art, head down the post past all of my ramblings.
Next up let's talk more about this Orpheus DVD and Blu-ray. Once a part of Cocteaus' Orphic Trilogy box set, Orpheus was taken away from us over the past year, thanks in large part to Studio Canal taking away the distribution rights of it's titles from Criterion (and handing them over to Lionsgate). As I mentioned above, I thought this was a sign of good things, that perhaps Criterion could bring titles back from their Studio Canal graves. It looks like Criterion is re-using a few of the supplements from the box set in this release, but I cannot wait to see all of this in high definition. With Beauty and the Beast coming to Blu-ray in July, and Orpheus in August, Criterion fans are in for a real treat with this title. I'm a little torn as to whether I think this new cover is an improvement. I love the ripple effect, but I think the initial cover, from within the box set, was perfect. The DVDs and Blu-rays (spine # 68) for Orpheus will be available on August 30th, and I will most definitely be ordering the Blu-ray.
The Complete Jean Vigo. Sounds impressive, right? Well you are right, because this release is impressive for a number of reasons, and if you buy nothing else in August, you must buy this set. Jean Vigo died from tuberculosis at 29, yet managed to produce a series of short and feature films, all of which are contained in this box set. Actually, I should probably qualify that this isn't a box set in the traditional sense. Criterion managed to fit all of Vigo's works into one Blu-ray disc, and 2 DVDs. There is an amazing amount of supplements included with these films, including a tribute to Vigo from Michel Gondry. I have a feeling that this box set is going to certainly make our end of the year episode, in which we reflect on the best releases from Criterion in 2011.
Amazingly, we still so many more things to talk about, for August.
Last year at All Tomorrow's Parties, we learned that Criterion did in fact manage to get the rights for Stanley Kubrick's early film, The Killing, and was planning on showing the film off. They also commissioned an excellent piece of art for the poster series for the festival, which as chance would have it, is the cover art for the DVD and Blu-ray available August 16th. This release was teased at a couple months back, in the shape of the little dog which runs after the money towards the end of the film. Last year when I wrote about this film eventually finding it's way into the Collection, I also mentioned Killer's Kiss, another early Kubrick film. In a somewhat surprising move, and one that not too many have picked up on over the past day, is the fact that Criterion is including a restored transfer of Killer's Kiss as a supplement to the Killing. We had speculated that perhaps these two films might constitute an Eclipse set, but given the fact that Kubrick is Kubrick, Criterion had to release this with a spine number. While there isn't a commentary track to go alongside The Killing, there are a number of interviews to fill your brain with all sorts of information about this very early work in Kubrick's career. With the new Warner Bros box set due to be released soon, it's nice to know that you'll be able to get all of Kubrick's films on Blu-ray in 2011 (except of course Fear and Desire which we aren't counting).
One more new title, and then we can start talking about the incredible Blu-ray upgrades!
So yesterday as I was teasing out the new releases before Criterion had put them up, Twitter had a nice little freak out session over the possibility that Lee Chang-dong's Secret Sunshine (2007) would finally get a DVD and Blu-ray thanks to Criterion. This is an IFC / Sundance Selects title, and you can see the trailer below. Amazingly enough, it is the first South Korean film to find it's way into the Collection. Hopefully this will be the first of many to come, as South Korean cinema certainly deserves it. The DVD and Blu-ray (spine # 576, available August 23rd) feature a few small supplements, but no commentary track (as seems par for the course when it comes to the IFC releases). Given the enthusiastic response that this film got on Twitter, I am really looking forward to seeing it. Hopefully this will end up on Netflix Watch Instantly (as many of the IFC titles have), or on Hulu soon.
Now onto the Blu-ray upgrades (or Blu-grades, as Moises calls them). I can honestly say that I was pulling for a Blu-ray of Rashomon this August, and was a little disappointed when it didn't materialize. However the two Blu-ray titles that Criterion is upgrading this August are just as important, and will be worthy of your hard earned dollars. A few weeks ago, Amazon held a small Criterion Collection sale, in which about 70 films (DVD and Blu-ray) were on sale at or above 50% off. Among the DVDs that I don't currently own, but am always tempted to purchase was Gilo Pontecorvo's The Battle Of Algiers. The packaging for that DVD release is among the best that Criterion has produced, for a film that everyone needs to see (especially in today's politically charged climate). I actually sent out a tweet, saying that I hope Criterion isn't working on a Blu-ray of the Battle Of Algiers, since I was probably going to buy the DVD during the sale. Now, of course I was joking around, as I honestly hope that Criterion manages to upgrade their entire collection before the format passes into obscurity. I don't mind owning two copies of my Criterion films (on two different formats), as there are things to love about both. The Battle Of Algiers will hit Blu-ray on August 9th, and again (I sound like a broken record, I know), it is a must own title in your Collection. The Battle Of Algiers was actually among the titles that we listed in our "Blu-ray Upgrades We Want In 2011″ episode, with David, West, James, and myself. I like to think that Criterion heard that episode and threw us (and everyone else) a nice little Blu-ray bone.
Another Blu-ray upgrade that we'll get in August is Lindsay Anderson's "If…". I only used quotation marks in that one, due to the ellipses at the end of the title, and I wasn't quite sure the proper way to end a sentence like that. This is a film that I've never seen, but I love Malcolm McDowell. It seems to be one of the titles that Criterion is just upgrading the audio and visual side of things, but not really doing much with the supplements. This is perfectly fine, as there are a number of films in the Collection that are perfectly loaded, but would look gorgeous in high definition. I didn't see much in the way of people clamoring for this upgrade before it was announced, but I'm sure that there are die hard fans out there that have been waiting for this day. What day, you say? Why August 30th.
Quite an impressive line-up for August, no? Well just wait. In grand Criterion fashion, we're also getting an Eclipse box set of films that look to be truly special. On August 23rd we're getting The Warped World Of Koreyoshi Kurahara, and this five film set looks really intriguing. His film, Intimidation (included in the set) is credited as the first Japanese film noir (according to Wikipedia), and that alone makes this release something special. In the various writings online, many address the use of music and his visual style as being particularly influential and important. As with many of the Eclipse releases, I'm not terribly familiar with the director off the bat, but I hope to be as soon as this set is out. Hopefully Criterion will put these up on their Hulu page soon, so we can all learn what terrible cinephiles we are, for not having had Kurahara in our vocabulary until now (I am of course only speaking for myself, I'm sure you, reading this, knew all about him before this announcement).
Phew, I think that was the most I've written in one of these announcement posts, but it feels good to really go through them all, in this superficial way that I do, not having any of these discs in my hands to give you any real information about. Criterion tweeted that they felt the August line-up was their strongest yet, and I'd have to agree with them somewhat. While we've seen some of the best Criterion releases of the year so far (Blow Out comes to mind), there are still some amazing things due in the second half of 2011. Hopefully you've enjoyed this more casual tone I've taken with this post, as I've enjoyed writing this.
What do you think of the August 2011 Criterion line-up? Any titles that you plan on pre-ordering today? Leave your thoughts in the comments below.
---
Stanley Kubrick
Criterion Collection # 575, Available on DVD and Blu-ray on August 16th
Stanley Kubrick's account of an ambitious racetrack robbery is one of Hollywood's tautest, twistiest noirs. Aided by a radically time-shuffling narrative, razor-sharp dialogue from pulp novelist Jim Thompson, and a phenomenal cast of character actors, including Sterling Hayden, Coleen Gray, Timothy Carey, and Elisha Cook Jr., The Killing is both a jaunty thriller and a cold-blooded punch to the gut. And with its precise tracking shots and gratifying sense of irony, it's Kubrick to the core.
Disc Features
New high-definition digital restoration (with uncompressed monaural soundtrack on the Blu-ray edition)
New video interview with producer James B. Harris
Excerpts of interviews with actor Sterling Hayden from the French television series Cinéma cinémas
New video interview with film scholar Robert Polito about writer Jim Thompson and his work on The Killing
Restored transfer of Stanley Kubrick's 1955 noir feature Killer's Kiss
New video appreciation of Killer's Kiss with film critic Geoffrey O'Brien
Theatrical trailers
PLUS: A booklet featuring an essay by film historian Haden Guest and a reprinted interview with Marie Windsor on The Killing
---
---
Lee Chang-Dong
Criterion Collection # 576, Available on DVD and Blu-ray on August 23rd
A master of intensely emotional human dramas, director Lee Chang-dong is a leading light of contemporary Korean cinema, and his place on the international stage was cemented by this stirring and unpredictable work examining grief and deliverance. An effortless mix of light and uncompromising darkness, Secret Sunshine (Miryang) stars Cannes best actress winner Jeon Do-yeon as a widowed piano teacher who moves with her young son from Seoul to her late husband's provincial hometown for a fresh start. Quietly expressive, supple filmmaking and sublime, subtle performances distinguish this remarkable portrayal of the search for grace amid tragedy.
Disc Features
DIRECTOR-APPROVED SPECIAL EDITION:
New digital transfer, supervised and approved by director Lee Chang-dong and cinematographer Cho Yong-kyu (with DTS-HD Master Audio on the Blu-ray edition)
New interview with Lee
On the Set of 'Secret Sunshine,' a video piece featuring interviews with actors Jeon Do-yeon and Song Kang-ho, as well as behind-the-scenes footage
U.S. theatrical trailer
New and improved English subtitle translation
PLUS: A booklet featuring an essay by film critic Dennis Lim
---
---
Roman Polanski
Criterion Collection # 577, Available on DVD and Blu-ray on August 16th
Roman Polanski orchestrates a mental ménage à  trois in this slyly absurd tale of paranoia from the director's golden 1960s period. Donald Pleasance and Françoise Dorléac star as a withdrawn couple whose isolated house is infiltrated by a rude, burly American gangster on the run, played by Lionel Stander. The three engage in a game of shifting identities and sexual and emotional humiliations. Cul-de-sac is an evocative, claustrophobic, and morbidly funny tale of the modern world in chaos.
Disc Features
DIRECTOR-APPROVED SPECIAL EDITION:
New digital restoration, approved by director Roman Polanski (with uncompressed monaural soundtrack on the Blu-ray edition)
Two Gangsters and an Island, a 2003 short documentary about the making of Cul-de-sac, featuring interviews with Polanski, producer Gene Gutowski, and cinematographer Gil Taylor
Interview with Polanski from 1967
Theatrical trailers
PLUS: A booklet featuring an essay by film critic David Thompson
---
---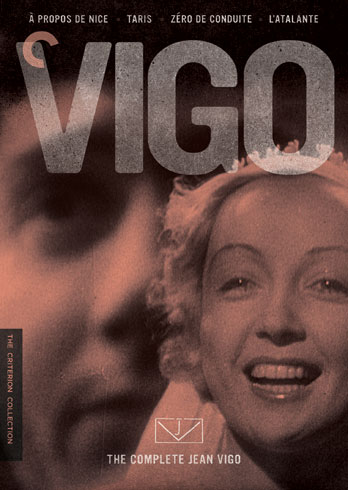 Director
Criterion Collection # xxx, Available on DVD and Blu-ray on August xxx
Even among cinema's greatest legends, Jean Vigo stands alone. The son of a notorious anarchist, Vigo had a brief but brilliant career making poetic, lightly surrealist films before his life was cut tragically short by tuberculosis at age twenty-nine. Like the daring early works of his contemporaries Jean Cocteau and Luis Buñuel, Vigo's films refused to play by the rules. This set includes all of Vigo's titles: À propos de Nice, an absurdist, rhythmic slice of life from the bustling coastal city of the title; Taris, an inventive short portrait of a swimming champion; Zéro de conduite, a radical, delightful tale of boarding-school rebellion that has influenced countless filmmakers; and, of course, L'Atalante, widely regarded as one of cinema's finest achievements, about newlyweds beginning their life together on a canal barge. These are the endlessly witty, visually adventurous works of a pivotal film artist.
Jean Vigo was twenty-five when he made this, his debut film, a silent cinematic poem that reveals, through a thrilling and ironic use of montage, the economic reality hidden behind the facade of the Mediterranean resort town of Nice. The first of Vigo's several collaborations with cinematographer Boris Kaufman (Dziga Vertov's brother and a future Oscar winner), À propos de Nice is both a scathing and invigorating look at 1930 French culture.
So effervescent and charming that one can easily forget its importance in film history, Jean Vigo's enormously influential portrait of prankish boarding-school students is one of cinema's great acts of rebellion. Based on the director's own experiences as a youth, Zéro de conduite presents childhood as a time of unfettered imagination and brazen rule-flouting. It's a sweet-natured vision of sabotage made vivid by dynamic visual experiments'"including the famous, blissful slow-motion pillow fight.
In Jean Vigo's hands, an unassuming tale of conjugal love becomes an achingly romantic reverie of desire and hope. Jean (Jean Dasté), a barge captain, marries Juliette (Dita Parlo), an innocent country girl, and the two climb aboard Jean's boat, the L'Atalante'"otherwise populated by an earthy first mate (Michel Simon) and a multitude of mangy cats'"and embark on their new life together. Both a surprisingly erotic idyll and a clear-eyed meditation on love, L'Atalante, Vigo's only feature-length work, is a film like no other.
Disc Features
New high-definition digital restorations of all of Jean Vigo's films: À propos de Nice, Taris, Zéro de conduite, and L'Atalante (with uncompressed monaural soundtracks on the Blu-ray edition)
Audio commentaries featuring Michael Temple, author of Jean Vigo
Alternate shots from À propos de Nice, featuring footage Vigo cut from the film
Animated tribute to Vigo by filmmaker Michel Gondry
Ninety-minute 1964 episode of the French television series Cinéastes de notre temps on Vigo, directed by Jacques Rozier
Conversation from 1968 between filmmakers François Truffaut and Eric Rohmer on L'Atalante
Les voyages de 'L'Atalante,' Bernard Eisenschitz's 2001 documentary tracking the history of the film
Video interview from 2007 with director Otar Iosseliani on Vigo
New and improved English subtitle translations
PLUS: A booklet featuring essays by film writers Michael Almereyda, Robert Polito, B. Kite, and Luc Sante
---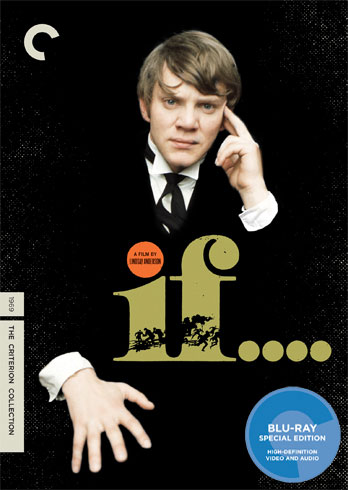 Lindsay Anderson
Criterion Collection # 391, Available on DVD and Blu-ray on August 30th
Lindsay Anderson's If'¦. is a daringly chaotic vision of British society, set in a boarding school in late-sixties England. Before Kubrick made his mischief iconic in A Clockwork Orange, Malcolm McDowell made a hell of an impression as the insouciant Mick Travis, who, along with his school chums, trumps authority at every turn, finally emerging as a violent savior against the vicious games of one-upmanship played by both students and masters. Mixing color and black and white as audaciously as it mixes fantasy and reality, If'¦. remains one of cinema's most unforgettable rebel yells.
Disc Features
Restored high-definition digital transfer, approved by cinematographer Miroslav Ond?í?ek and assistant editor Ian Rakoff (with uncompressed monaural soundtrack on the Blu-ray edition)
Audio commentary featuring film critic and historian David Robinson and actor Malcolm McDowell
Episode of the Scottish TV series Cast and Crew from 2003, featuring interviews with McDowell, Ond?í?ek, Rakoff, director's assistant Stephen Frears, producer Michael Medwin, and screenwriter David Sherwin
Video interview with actor Graham Crowden
Thursday's Children (1954), an Academy Award'"winning documentary about a school for deaf children, by director Lindsay Anderson and Guy Brenton and narrated by actor Richard Burton
PLUS: A booklet featuring an essay by critic David Ehrenstein as well as reprinted pieces by Sherwin and Anderson
---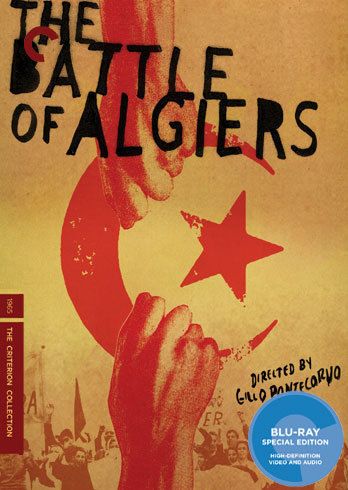 The Battle Of Algiers
Director
Criterion Collection # 249, Available on DVD and Blu-ray on August 9th

One of the most influential political films in history, The Battle of Algiers, by Gillo Pontecorvo, vividly re-creates a key year in the tumultuous Algerian struggle for independence from the occupying French in the 1950s. As violence escalates on both sides, children shoot soldiers at point-blank range, women plant bombs in cafés, and French soldiers resort to torture to break the will of the insurgents. Shot on the streets of Algiers in documentary style, the film is a case study in modern warfare, with its terrorist attacks and the brutal techniques used to combat them. Pontecorvo's tour de force has astonishing relevance today.
Disc Features
High-definition digital transfer, supervised by director of photography Marcello Gatti (with uncompressed monaural soundtrack on the Blu-ray edition)
Gillo Pontecorvo: The Dictatorship of Truth, a documentary narrated by literary critic Edward Said
Marxist Poetry: The Making of 'The Battle of Algiers,' a documentary featuring interviews with Pontecorvo, Gatti, composer Ennio Morricone, and others
Interviews with Spike Lee, Mira Nair, Julian Schnabel, Steven Soderbergh, and Oliver Stone on the film's influence, style, and importance
Remembering History, a documentary reconstructing the Algerian experience of the battle for independence
'États d'armes,' a documentary excerpt featuring senior French military officers recalling the use of torture and execution to combat the Algerian rebellion
'The Battle of Algiers': A Case Study, a video piece featuring U.S. counterterrorism experts
Gillo Pontecorvo's Return to Algiers, a documentary in which the filmmaker revisits the country after three decades of independence
Production gallery
Theatrical and rerelease trailers
PLUS: A booklet featuring an essay by film scholar Peter Matthews, excerpts from Algeria's National Liberation Front leader Saadi Yacef's original account of his arrest, excerpts from the film's screenplay, a reprinted interview with cowriter Franco Solinas, and biographical sketches of key figures in the French-Algerian War
---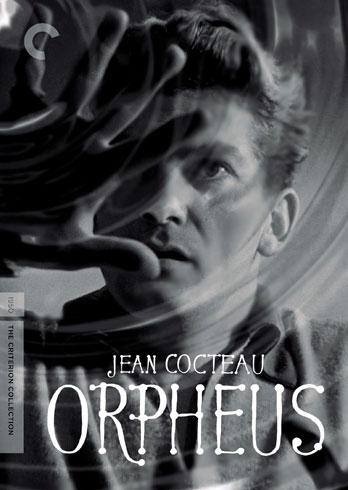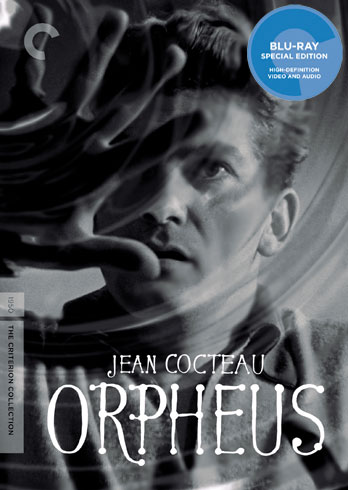 Jean Cocteau
Criterion Collection # 68, Available on DVD and Blu-ray on August 30th

This 1950 update of the Orphic myth by Jean Cocteau depicts a famous poet (Jean Marais) scorned by the Left Bank youth, and his love for both his wife Eurydice (Marie Déa) and a mysterious princess (Maria Casarès). Seeking inspiration, the poet follows the princess from the world of the living to the land of the dead through Cocteau's famous mirrored portal. Orpheus represents the legendary Cocteau at the height of his abilities for peerless visual poetry and dreamlike storytelling.
Disc Features
New high-definition digital restoration (with uncompressed monaural soundtrack on the Blu-ray edition)
Audio commentary by French film scholar James Williams
Jean Cocteau: Autobiography of an Unknown, a 1984 feature-length documentary
Video piece from 2008 featuring assistant director Claude Pinoteau on the special effects in the film
40 Minutes with Jean Cocteau, an interview with the director from 1957
In Search of Jazz, a 1956 interview with Cocteau on the use of jazz in the film
La villa Santo-Sospir, a 16 mm color Cocteau film from 1951
Gallery of images by French film portrait photographer Roger Corbeau
Raw newsreel footage
Theatrical trailer
PLUS: A booklet featuring an essay by author Mark Polizzotti, selected Cocteau writings on the film, and an essay on La villa Santo-Sospir by Williams
---
The Warped World of Koreyoshi Kurahara
Over the course of his varied career, Koreyoshi Kurahara made exacting noirs, jazzy juvenile delinquency pictures, and even nature films. His free-form approach to moviemaking was perfectly suited to the spirit of the 1960s; he was one of the biggest hit makers working at the razzle-dazzle, youth-oriented Nikkatsu studio during the radical Japanese New Wave. The five films collected here hail from that era, and encompass breathless teen escapades, cruel crime stories, a Mishima adaptation, and even a Hollywood-inspired romantic comedy.
---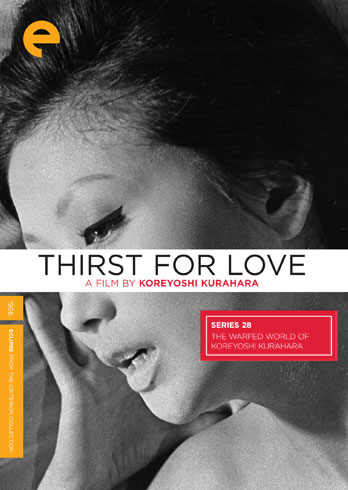 Thirst For Love
Kurahara adapted a novel by Yukio Mishima for Thirst for Love (Ai no kawaki), a tense psychological drama about a young woman who is widowed after marrying into a wealthy family, and becomes sexually involved with her father-in-law while harboring a destructive obsession with the family gardener. Kurahara's atmospheric style is a perfect match for Mishima's brooding sensuality.
---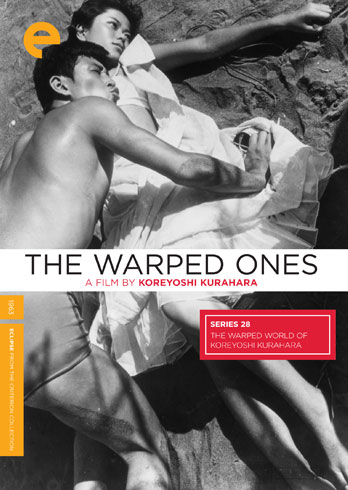 Warped Ones
A juvenile delinquent gets out of the pen and immediately embarks on a rampage of misdirected anger, most of it unleashed on an unsuspecting young woman. Shot through with the same kind of bebop bravado that Godard was experimenting with half a world away, the anarchic descent into amoral madness that is The Warped Ones (Kyonetsu no kisetsu) sounded a lost generation's cry for help and kicked off Japan's cinematic sixties with a bang.
---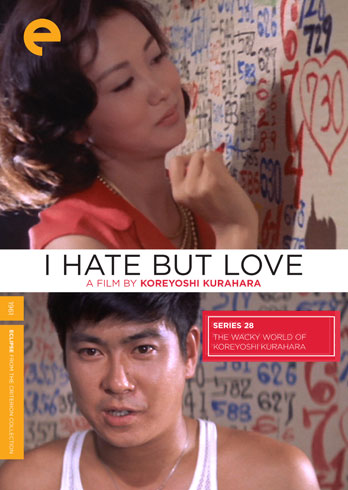 I Hate But Love
Inspired by Preston Sturges's Sullivan's Travels, I Hate But Love (Nikui anchikusho) is a high-octane romantic comedy and road movie that follows a celebrity dissatisfied with his personal and professional life who impulsively leaves Tokyo to deliver a much-needed Jeep to a remote village. When his controlling girlfriend (also his career manager) follows, the two must reconcile while dodging reporters.
---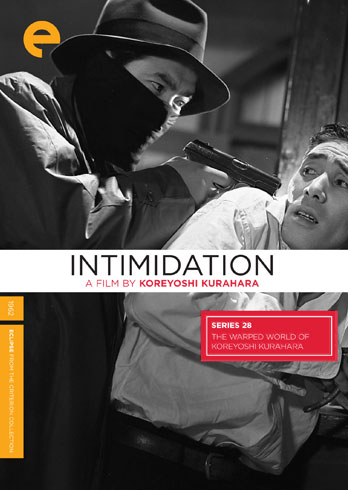 Intimidation
Koreyoshi Kurahara's ingeniously plotted, pocket-sized noir concerns the intertwining fates of a desperate bank manager, blackmailed for book-cooking, and his resentful but timid underling, passed over for a promotion. Elegantly stripped-down and carefully paced, Intimidation (Aru kyouhaku) is a moody early film from one of the Japanese New Wave's preeminent stylists.
---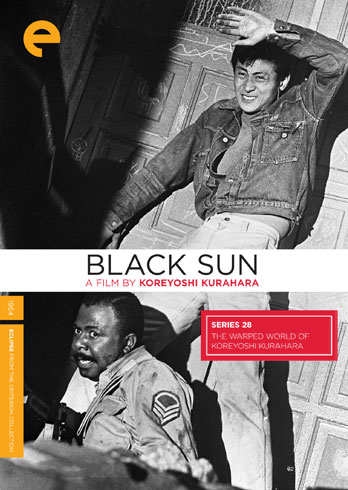 Black Sun
You've probably never seen anything quite like this manic, oddball, anti'"buddy picture about a young, jazz-obsessed Japanese drifter and a black American GI on the lam in Tokyo. The two outsiders become outlaws, and Kurahara depicts their growing bond as an increasingly absurd culture clash. Black Sun (Kuroi taiyo) features original music by American jazz drummer Max Roach.
---