Well I'll be damned.   Apparently Blockbuster just lost its only trump card.
With millions pumped into their new advertisements, promoting their slogan of 'Why wait 28 days for new releases?', NCR (the operators behind Blockbuster's kiosk system) have announced that they have agreed to a deal with WB, to impose that very same 28 day window with regards to DVD releases.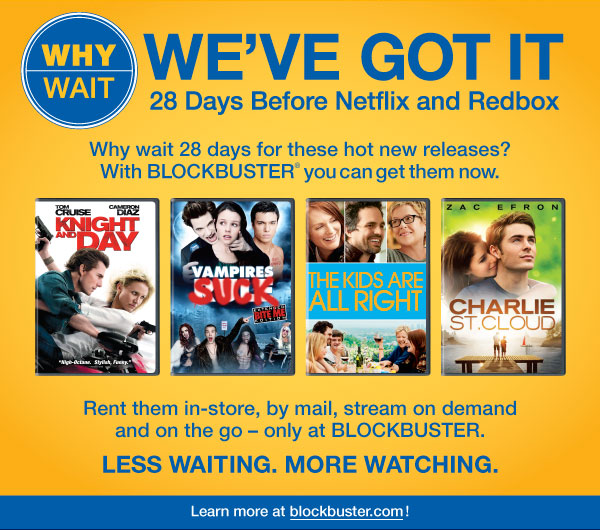 This in turn means that films that would have previously been available at Blockbuster kiosks on street date, truthfully the one major trump card held by the company, will now hit with the same 28 day window as Redbox and Netflix.   This move with WB follows similar deals between NCR and Fox, and Universal, meaning that over half of the DVD market share is now within the 28 day window for Blockbuster and their kiosks.
Simply put, this is a really poor move by the company.   Losing their one up on both Netflix and Redbox, this is far from the best move possible for Blockbuster, who just filed for Chapter 11 earlier this year.    It remains to be seen what this window exactly means for the company, but it can't mean anything good.
What do you think?
Source: Fast Company