Yesterday I put up a post on what I was expecting to see today, and Criterion didn't disappoint! While I was off on a few guesses, I am incredibly excited about what we're going to be getting this February of 2011.
First up are the two Blu-ray upgrades. We're getting Krzysztof Kieslowski's incredible piece, Double Life Of Veronique on the first. The following Tuesday, on the 8th, we're getting Amarcord, which I had predicted yesterday!
For our new titles we're getting a whole list of movies that we've written about previously on the site. Still Walking is hitting stores the same day as the Amarcord Blu-ray. The week after, we're getting three new DVD and Blu-ray releases: Fish Tank, The Sweet Smell Of Success, and Senso!
As I wrote yesterday, we've been talking about Fish Tank and Still Walking entering into the Collection ever since the IFC deal went down, and now we have an end date in sight. The Sweet Smell Of Success was teased at earlier this year via Twitter, and we chatted about it on our one-year anniversary episode with Scott Weinberg.
Senso is also one that we've written about, as it was teased at this year in a post on Criterion's Current blog. This is a title that Studio Canal has released on Blu-ray in Europe, but Criterion managed to keep Lionsgate's hands off of.
What do you think of these February releases? Which are you pre-ordering today?
---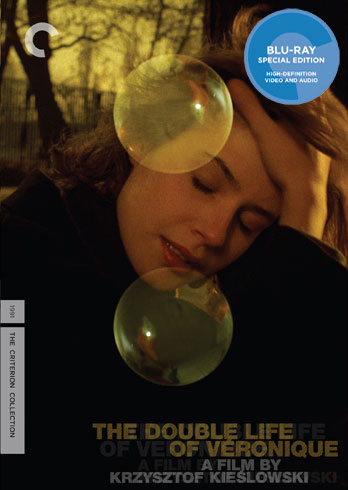 Krzysztof Kie?lowski
Criterion #359, Blu-ray on 2/1/2011
Krzysztof Kie?lowski's international breakthrough remains one of his most beloved films, a ravishing, mysterious rumination on identity, love, and human intuition. Irène Jacob is incandescent as both Weronika, a Polish choir soprano, and her double, Véronique, a French music teacher. Though unknown to each other, the two women share an enigmatic, emotional bond, which Kie?lowski details in gorgeous reflections, colors, and movements. Aided by Slawomir Idziak's shimmering cinematography and Zbigniew Preisner's haunting, operatic score, Kie?lowski creates one of cinema's most purely metaphysical works. The Double Life of Véronique is an unforgettable symphony of feeling.
http://www.criterion.com/films/214-the-double-life-of-veronique
---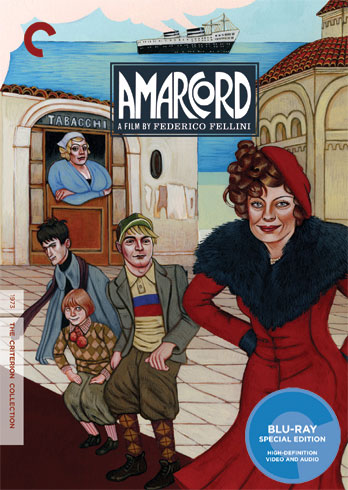 Federico Fellini
Criterion #4, Blu-ray on 2/8/2011
In this carnivalesque portrait of provincial Italy during the Fascist period, Federico Fellini's most personal film satirizes his youth and turns daily life into a circus of social rituals, adolescent desires, male fantasies, and political subterfuge, all set to Nina Rota's classic, nostalgia-tinged score. The Academy Award'"winning Amarcord remains one of cinema's enduring treasures.
Disc Features
SPECIAL EDITION DOUBLE-DISC SET FEATURES:
All-new, restored high-definition digital transfer
Audio commentary by film scholars Peter Brunette and Frank Burke
American release trailer
Deleted scene
Optional English-dubbed soundtrack
New and improved English subtitle translation
New 45-minute documentary, Fellini's Homecoming, on the complicated relationship between the celebrated director, his hometown, and his past
Video interview with star Magali Noël
Fellini's drawings of characters in the film
'Felliniana,' a presentation of ephemera devoted to Amarcord from the collection of Don Young
Audio interviews with Fellini, his friends, and family by Gideon Bachmann
New restoration demonstration
PLUS: A book featuring a new essay by scholar Sam Rohdie, author of Fellini Lexicon, and the full text of Fellini's 1967 essay, 'My Rimini"
---
Kore-Eda Hirokazu
Criterion # , DVD and Blu-ray on 2/8/2011
Beloved director Kore-Eda Hirokazu (AFTER LIFE, NOBODY KNOWS) returns to the forefront of world cinema with STILL WALKING – an exquisitely detailed family drama that shines with warmth and understanding. The film was one of the most critically acclaimed works at the Toronto, Tribeca, and San Francisco International Film Festivals. Lushly photographed, and with an expert script that incorporates elements of director Kore-Eda's personal experience, STILL WALKING is a quiet pleasure unlike anything else you will see this year.
Fifteen years ago, Junpei, the youngest son of the Yokoyama family died while rescuing a boy from drowning. On the anniversary of his death, the remaining siblings visit the quaint home of their parents with their families in tow. Over the course of a beautiful day, new relatives become acquainted telling stories and squabbling over sizzling tempura and an elegant graveside ritual is performed for Junpei. Recalling the delicate splendor of Yasujiro Ozu's TOKYO STORY, Kore-Eda shows complete mastery of his characters while revealing the complex dynamics of an ultimately loving family with humor and warmth.
Disc Features
DIRECTOR-APPROVED SPECIAL EDITION:
New high-definition digital transfer, approved by director Hirokazu Kore-eda and director of photography Yutaka Yamazaki (with DTS-HD Master Audio soundtrack on the Blu-ray edition)
New video interviews with Kore-eda and Yamazaki
Making 'Still Walking'
Trailer
New and improved English subtitle translation
PLUS: A booklet featuring a new essay by film critic Dennis Lim and recipes for the food prepared in the film
---
Andrea Arnold
DVD and Blu-ray on 2/22/2011
Fifteen-year-old Mia (Katie Jarvis) is in a constant state of war with her family and the world around her, without any creative outlet for her considerable energies save a secret love of hip-hop dance. When she meets her party-girl mother's charming new boyfriend Connor (Michael Fassbender), she is amazed to find he returns her attention, and believes he might help her start to make sense of her life. A clear-eyed, potent portrait of teenage sexuality and vulnerability, FISH TANK confirms writer/director Arnold's status as one of the leading figures of new British cinema.
Disc Features
New high-definition digital transfer, approved by director Andrea Arnold, director of photography Robbie Ryan, and editor Nicolas Chaudeurge (with DTS-HD Master Audio soundtrack on the Blu-ray edition)
All three of Arnold's short films: Milk (1998), Dog (2001), and the Oscar-winning Wasp (2003)
New video interview with actor Kierston Wareing
Interview with actor Michael Fassbender from 2009
Audition footage
Stills gallery by on-set photographer Holly Horner
Original theatrical trailer
PLUS: A booklet featuring an essay by film scholar Ian Christie
---
DVD and Blu-ray on 2/22/2011
J.J. Hunsecker, a powerful New York newspaper columnist, is dead set against his sister's marrying a jazz musician. Sidney Falco, a sleazy PR man, will do anything to get publicity for his clients, and he sees Hunsecker's situation as an opportunity to win the writer's favor. So, he sets out to break up the affair anyway he can.
Disc Features
New, restored high-definition digital transfer (with uncompressed monaural soundtrack on the Blu-ray edition)
New audio commentary by film scholar James Naremore
Mackendrick: The Man Who Walked Away, a 1986 documentary featuring interviews with director Alexander Mackendrick, actor Burt Lancaster, producer James Hill, and more
James Wong Howe: Cinematographer, a 1973 documentary about the Oscar-winning director of photography, featuring lighting tutorials with Howe
New video interview with film critic and historian Neil Gabler (Winchell: Gossip, Power and the Culture of Celebrity) about legendary columnist Walter Winchell, inspiration for the character J. J. Hunsecker
New video interview with filmmaker James Mangold about Mackendrick, his instructor and mentor
Original theatrical trailer
PLUS: A booklet featuring an essay by critic Gary Giddins, two short stories by Ernest Lehman featuring the characters from the film, notes about the film by Lehman, and an excerpt from Mackendrick's book On Film-making
---
Luchino Visconti
DVD and Blu-ray on 2/22/2011
1866. Venice is the target of Italian patriots who want to liberate the city from the Austrians. Lieutenant Ussoni challenges an Austrian officer, Mahler, to a duel but then Countess de Serpieri enters the picture. She becomes Mahler's mistress and helps him to desert.
Disc Features
New, restored high-definition digital transfer, created in collaboration with the Cineteca di Bologna and Martin Scorsese's Film Foundation, supervised by director of photography Giuseppe Rotunno (with uncompressed monaural soundtrack on the Blu-ray edition)
The Making of 'Senso,' a new documentary featuring Rotunno, assistant director Francesco Rosi, costume designer Piero Tosi, and Caterina D'Amico, daughter of screenwriter Suso Cecchi D'Amico and author of Life and Work of Luchino Visconti
Viva VERDI, a new documentary on Visconti, Senso, and opera featuring Italian film scholar Peter Brunette, Italian historian Stefano Albertini, and author Wayne Koestenbaum
The Wanton Countess, the rarely seen English-language version of the film
Visual essay by film scholar Peter Cowie
Man of Three Worlds: Luchino Visconti, a 1966 BBC special exploring Visconti's parallel masteries of cinema, theater, and opera direction
New and improved English subtitle translation
PLUS: A booklet featuring an essay by filmmaker and author Mark Rappaport and an excerpt from actor Farley Granger's autobiography, Include Me Out
---