While the rest of the internet film community is busy worrying themselves with who will take over the Hobbit now that Guillermo has stepped down from the reigns, we here at the Criterion Cast have a more important question for Señor Del Toro: When will we see the Cronos Criterion edition?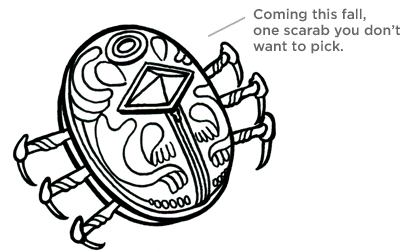 Last March, of 2009, Criterion sent out their usual monthly newsletter, complete with a mysterious, cryptic, "wacky" drawing. That month they included what was described as a "wacky scarab" which led all to assume that a new, possibly restored, possibly extensively supplemented, edition of Guillermo Del Toro's 1993 horror film, Cronos.
A few weeks back, I took it upon myself to go through the various "wacky" drawings and see what had been teased at without anything further coming of it, and Cronos definitely stood out as an anomaly. I tweeted about it, and this was the response from the Criterion twitter feed: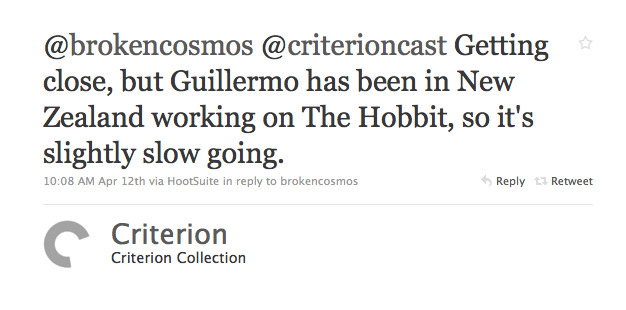 Cronos tells the story of Jesús Gris, an antique dealer in Mexico, who finds a mysterious scarab hidden within a statue he acquires. The scarab holds a terrifying secret within, and forever changes Jesús.
As I (and James) have stated on the podcast many times, there are clearly not enough science fiction, or horror films represented in the Criterion Collection, and we have both been waiting with bated breath for Cronos to finally receive it's official announcment. So now that Guillermo will have a little free time between now and when he decides to start production on one of his many rumored projects (At The Mountains of Madness, Frankenstein, Slaughterhouse Five, etc.) to take a few days, fly to New York, and crank out what will most certainly be an incredible addition to an already amazing Collection of films.