Well here we are, the 15th of October, and finally able to talk about what the Criterion Collection will be releasing in 2011. It has been a incredible year of releases from Criterion in 2010, and 2011 is starting out with a collection of films that will be setting a high standard for the year to follow. We're getting two new Blu-rays from catalog titles, two early Criterion spine numbers completely reworked, a previously hinted at title from the newsletter, and an incredible new addition to the Eclipse Series.
First off we're getting two of Samuel Fuller's films in the Criterion Collection re-released with brand new transfers and supplements, Shock Corridor and Naked Kiss. These two titles have been rumored as potential re-releases for YEARS. Seriously, go search over on the CriterionForum, and you'll find that Criterion has been working on these for several years, and people have been talking about their possible release for as long.
Next up, Criterion is releasing new Blu-ray editions for two of their previously DVD-only titles: Army of Shadows and Robinson Crusoe On Mars. I can't tell you how excited I am for the Robinson Crusoe Blu-ray, as earlier this summer I was seriously contemplating picking up this title during the Barnes and Noble 50% off sale. I've rented the DVD several times, and now I can experience this incredible piece of science fiction in high definition. Jean Pierre Melville's Army Of Shadows is one that I'm less familiar with, but I can't wait to pick this one up as well, based on what I've read and the screenshots available.
Finally, from Criterion proper, we're getting Broadcast News, which was previously hinted at this year in the form of the "wacky drawing" from the Criterion Newsletter. James L Brooks' 1987 romantic comedy / drama can still be seen over on Netflix Watch Instantly, but I'd imagine you'll be waiting for this release, as the transfer and special features are going to be killer.
Now onto the first of the Eclipse box sets from 2011: Basil Dearden's London Underground. The director of Khartoum, Basil Dearden was an incredibly prolific British director who died tragically in 1971. While I'm only really familiar with the previously mentioned Khartoum, I can't wait to dig into this box set, and experience what Criterion will be making available. Hopefully this is a signal that perhaps we'll get a Criterion release of one of Dearden's films in 2011 as well.
Criterion is certainly sprinting out of the gate for 2011, and I am as excited as ever to be working here at CriterionCast. A few weeks back I put together a collage of all of the cover art that was put out for 2010, and it was a fun adventure in re-living the past twelve months of new releases. With the sheer amount of releases in 2010, I'd say that it's a safe bet we'll see spine # 600 in 2011, unless Criterion continues to re-release older titles in remastered DVDs and Blu-rays, and only releases one "new" title each month.
What do you think of these new releases? Which are you already planning on pre-ordering? Any predictions for the months to follow? Let us know in the comments below.
---
DVD & Blu-ray # 18 / January 18th, 2011

The setup is pure pulp: A former prostitute relocates to a buttoned-down suburb, determined to fit into mainstream society. But in the strange, hallucinatory territory of writer/director/producer Sam Fuller, perverse secrets simmer beneath a seemingly wholesome facade. Criterion is proud to present The Naked Kiss.
Disc Features
New, restored high-definition digital transfer (with uncompressed monaural soundtrack on
the Blu-ray edition)
New video interview with star Constance Towers by film historian and filmmaker Charles Dennis
Excerpts from a 1983 episode of the BBC's The South Bank Show dedicated to director
Samuel Fuller
Interview with Fuller from a 1967 episode of the French television series Cinéastes de notre temps
Interview with Fuller from a 1987 episode of the French television series Cinéma cinémas
Original theatrical trailer
PLUS: Illustrations by cartoonist Daniel Clowes (Eightball, Ghost World) and a booklet featuring an essay by critic and poet Robert Polito and excerpts from Fuller's autobiography, A Third Face: My Tale of Writing, Fighting, and Filmmaking
---
---
DVD & Blu-ray # 19 / January 18th, 2011

Seeking a Pulitzer Prize, a reporter has himself committed to a mental hospital to investigate a murder. As he closes in on the killer, madness closes in on him. Writer, director, and producer Samuel Fuller masterfully charts the uneasy terrain between sanity and dementia. Criterion is proud to present Shock Corridor in a gorgeous, black and white widescreen transfer with its rarely seen color sequences.
Disc Features
New, restored high-definition digital transfer (with uncompressed monaural soundtrack on the Blu-ray edition)
New video interview with star Constance Towers by film historian and filmmaker
Charles Dennis
The Typewriter, the Rifle and the Movie Camera, Adam Simon's 1996 documentary on director Samuel Fuller
Original theatrical trailer
PLUS: Illustrations by cartoonist Daniel Clowes (Eightball, Ghost World) and a booklet featuring an essay by critic and poet Robert Polito and excerpts from Fuller's autobiography, A Third Face: My Tale of Writing, Fighting, and Filmmaking
---
---
Blu-ray # 385 / January 11th, 2011

Jean-Pierre Melville's masterpiece about the French Resistance against the Nazi occupation went unreleased in the United States for thirty-seven years, before its triumphant theatrical debut in 2006. Atmospheric and gripping, Army of Shadows is Melville's most personal film, featuring Lino Ventura, Paul Meurisse, Jean-Pierre Cassel, and the incomparable Simone Signoret as intrepid underground fighters who must grapple with their own brand of honor in their battle against Hitler's regime.
Disc Features
SPECIAL EDITION FEATURES:
High-definition digital transfer of the 2004 restoration, supervised by director of photography Pierre Lhomme (with uncompressed monaural soundtrack on the Blu-ray edition)
Optional DTS-HD Master Audio soundtrack
Audio commentary featuring film historian Ginette Vincendeau
Interviews with Lhomme and editor Françoise Bonnot
On-set footage and excerpts from archival interviews with director Jean-Pierre Melville, cast members, writer Joseph Kessel, and real-life Resistance fighters
Jean-Pierre Melville et 'L'armée des ombres' (2002), a short program on the director and his film
Le journal de la Résistance (1944), a rare short documentary shot on the front lines during the final days of German-occupied France
Film restoration demonstration by Lhomme
Theatrical trailers
PLUS: A booklet featuring essays by critic Amy Taubin and historian Robert O. Paxton, as well as excerpts from Rui Nogueira's Melville on Melville
---
---
Blu-ray #404 / January 11th, 2011

Special-effects wunderkind and genre master Byron Haskin (The War of the Worlds, The Outer Limits) won a place in the hearts of fantasy-film lovers everywhere with this gorgeously designed journey into the unknown. When his spaceship crash-lands on the barren wastelands of Mars, U.S. astronaut Commander 'Kit' Draper (Paul Mantee) must fight for survival, with a pet monkey seemingly his only companion. But is he alone? Shot in vast Techniscope and blazing Technicolor, Robinson Crusoe on Mars is an imaginative and beloved techni-marvel of classic science fiction.
Disc Features
Restored high-definition digital transfer (with uncompressed monaural soundtrack on the Blu-ray edition)
Audio commentary featuring screenwriter Ib Melchior, actors Paul Mantee and Victor Lundin, production designer Al Nozaki, Oscar-winning special effects designer and Robinson Crusoe on Mars historian Robert Skotak, and excerpts from a 1979 audio interview with director Byron Haskin
Destination Mars, a video featurette by filmmaker and space historian Michael Lennick detailing the science behind the film
Music video for Lundin's song 'Robinson Crusoe on Mars'
Stills gallery
Theatrical trailer
PLUS: A booklet featuring an essay by Lennick as well as Melchior's 'Brief Yargorian Vocabulary' (a glossary of original alien dialect) and a list of facts about Mars, both from his original screenplay
---
---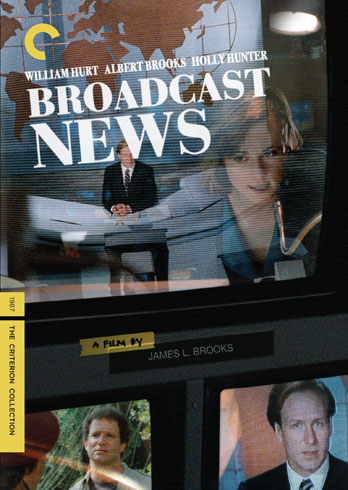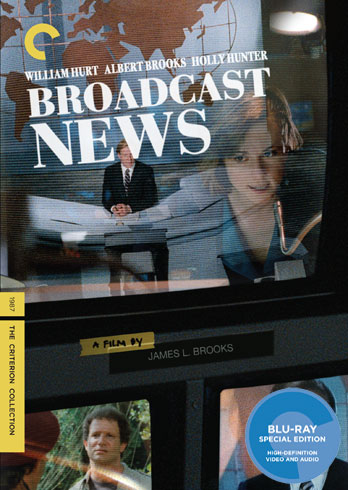 Broadcast News
DVD & Blu-ray Criterion # 552 / January 25th, 2011

In the 1970s, the name James L. Brooks was synonymous with intelligent television comedy'"his shows were insightful about work and love and always tapped into the zeitgeist. With his transition to film in the 1980s, he became a master Hollywood storyteller, and none of his films was more quintessentially Brooks than Broadcast News. This caustic inside look at the Washington news media stars Holly Hunter, in her breakout role, as a feisty television producer torn between an ambitious yet dim anchorman (William Hurt) and her closest confidant, a cynical veteran reporter (Albert Brooks). Brooks's witty, gently prophetic entertain ­ment is a captivating transmission from an era in which ideas on love and media were rapidly changing.
Disc Features
DIRECTOR-APPROVED SPECIAL EDITION
New, restored high-definition digital transfer, supervised by director James L. Brooks and editor Richard Marks (with DTS-HD Master Audio soundtrack on the Blu-ray edition)
New audio commentary featuring Brooks and Marks
New documentary on Brooks's career in television and film, featuring actors Marilu Henner (Taxi) and Julie Kavner (Rhoda, The Simpsons) and several other of Brooks's collaborators
Deleted scenes and an alternate ending, with commentary by Brooks
New video interview with veteran CBS news producer Susan Zirinsky, one of the models for actress Holly Hunter's character and an associate producer on the film
Featurette containing on-set footage and interviews with Brooks, Hunter, and actor Albert Brooks
Original theatrical trailer
PLUS: A booklet featuring an essay by film critic Carrie Rickey
---
---
Eclipse Set 25: Basil Dearden's London Underground
DVD / January 25th, 2011

After mastering the mix of comedy, suspense, and horror that helped define the golden age of British cinema, Basil Dearden (along with his producing partner Michael Relph) left the legendary Ealing Studios and, in the late fifties and early sixties, created a series of gripping, groundbreaking, even controversial films. In dealing with racism, homophobia, and the lingering effects of World War II, these noir-tinged dramas burrowed into corners of London rarely seen on-screen. This set of elegantly crafted films'"Sapphire, a dissection of a hate crime; The League of Gentlemen, a deft heist adventure suffused with postwar melancholy; Victim, a landmark gay character study, starring Dirk Bogarde; and All Night Long, a provocative transposition of Othello to the swinging London jazz scene'"brings this quintessential figure of British cinema out of the shadows.
Basil Dearden was born Basil Dear in Westcliff-on-Sea, Essex on 1 January 1911. He left school early to work as an office boy in a London underwriting and insurance company. Experience in amateur dramatics led to work with the Ben Greet Company and to his appointment as assistant stage manager at the Grand Theatre, Fulham. In 1931 he became a general stage manager for the theatrical enterprises of the impresario Basil Dean. By the mid-30s, Dearden had shifted from theatre to film, working at the Ealing studios of Associated Talking Pictures, where Dean was Head of Production, as writer, script editor, dialogue director, and assistant director. In an attempt to avoid the confusions that resulted from the similarity between their names, Dear changed his surname to Dearden.

When Dean was superseded by Michael Balcon, Dearden stayed on at Ealing, progressing to associate producer on three George Formby films, and co-directing three films with the studio's other top comedy star, Will Hay. He made his solo directorial debut with The Bells Go Down (1943), which – like Humphrey Jennings' Fires Were Started (1943) – celebrates the heroism of those who worked in the Auxiliary Fire Service during the blitz. The art director on the film was Michael Relph, who was to form a fruitful creative partnership with Dearden which was to last nearly thirty years. Relph shared a background in the theatre, but in set and production design. By the end of the war, with Dearden directing and Relph as associate producer, script collaborator and sometimes production designer, they had completed The Halfway House (1944) and They Came to a City (1944) and were preparing Ealing's first post-war feature, The Captive Heart (1946).

Jeffrey Richards has argued that Dearden "conformed absolutely to both the structure and ethos of Ealing". As a team, Dearden and Relph became the studio's most prolific filmmakers and, unlike most of their contemporaries at Ealing, seemed to thrive on a rapid turnover of production projects requiring flexibility and planning, which they delivered to budget and on schedule. Their films made a distinctive contribution to Ealing's search for a new direction as it sought to negotiate and adjust to the changed realities of postwar Britain. In particular, they carried forward and extended the mix of social purpose, fictional realism and preoccupation with a nation of united communities and public service that had become the wartime hallmark of Ealing. But they also began to probe into the social issues that now confronted social stability and the establishment of the promised peacetime consensus. Dearden and Relph made several social problem films that confronted audiences with ethical and moral dilemmas relating to the interplay between communities and institutions adjusting to changing social circumstances. Sometimes condemned for their middle-class, liberal point of view, with its touching faith in national institutions and public service, the films often seek to link, within the conventions of the crime/melodrama genre, private problems with public issues.

Their first social problem film, Frieda (1947), explores issues of prejudice and reconciliation in the aftermath of the war, as a young German woman marries into the heart of an English community. Less obvious outsiders or enemies were taken up to provide the thematic focus for The Blue Lamp (1950), I Believe in You (1952), and Violent Playground (1958), which all deal with problems associated with youth, criminality and delinquency. In a similar fashion, Sapphire (1959) takes a timely look at Britain's black community and confronts racism, while Victim (1961), made in the wake of the Wolfenden Report, focuses on the persecution of homosexuals.

These six feature films constitute the core of Dearden's explicit and self-conscious engagement with the social problem film. More tangential but also deserving serious consideration are The Gentle Gunman (1952), dealing with Irish nationalism, Life for Ruth (1962), which explores the conflict between modern medicine and fundamentalist religious belief, The Mindbenders (1963), with its themes of brainwashing and scientific responsibility, and the youth drama, A Place to Go (1963). Outside this area, Dearden and Relph's films include tragic melodramas of masculine adjustment, thrillers, comedies and the gloomy costume drama Saraband for Dead Lovers (1948), Ealing's first Technicolor film. Cage of Gold (1950), Pool of London (1951), The Square Ring (1953) and The Rainbow Jacket (1954) are varied in tone and theme but they all deal with damaged, unsettled and insecure characters. Like a number of their films from the mid-50s onwards, they also focus on themes of masculine adjustment – in particular, how the experience and memories of wartime action resonate within the postwar present. In Out of the Clouds (1955), a former RAF pilot has to come to terms with a peacetime ground job. The Ship that Died of Shame (1955) unravels and juxtaposes the past and present of three sailors who have had a 'good' war but slip into sordid illegality in their attempt to recapture wartime thrills. The League of Gentlemen (1960), made after Dearden and Relph left Ealing, is more light-hearted in its treatment of a group of disillusioned ex-servicemen who reunite for robbery, but here too the contrast between the excitement of war and the dull disillusions of peace dominate.

Dearden returned to comedy to direct Benny Hill in Who Done It? (1956), the last comedy made at Ealing before the studio was sold to the BBC. It was much less memorable than his first independent feature, The Smallest Show on Earth (1957), which takes in familiar Ealing themes as bright young couple Bill Travers and Virginia McKenna mobilise aged eccentrics Peter Sellers, Bernard Miles and Margaret Rutherford in their battle to preserve a pre-war flea-pit against the might of a shiny, modern corporate cinema. Dearden also acted as producer on the three comedies directed by Michael Relph: Davy (1957), Rockets Galore (1958) and Desert Mice (1959). In 1959 Dearden and Relph joined Richard Attenborough, Bryan Forbes, Jack Hawkins and Guy Green to form Allied Film Makers, a production consortium with financial and distribution links with the Rank Organisation, under whose aegis they made The League of Gentlemen (1960) and Man in the Moon (1960), which were box-office successes, and the bold, location-shot Life for Ruth, which was not.

From the mid-60s, Dearden and Relph worked on a number of large-scale international productions: Woman of Straw (1964), Masquerade (1965), Khartoum (1966), all for United Artists, Only When I Larf (1968) for Columbia, and The Assassination Bureau (1969) for Paramount. The Man Who Haunted Himself (1970), Dearden's final film, was a return to tragic melodrama, with its story of a quiet family man (played by Roger Moore) who dies in a car crash, only to unleash his charismatic alter ego. By a bizarre coincidence, Dearden himself died as a result of injuries sustained in a car accident on the M4, while returning home from Pinewood Studios on 23 March 1971. He was 60 years old and was survived by his wife, the actress Melissa Stribling, who had appeared in a number of his films, and their two children, Torquil and (the director) James Dearden.

Critical assessments of Dearden's work have generally been less than positive. The breadth, volume and variability of his work has counted against him, and while some critics have grudgingly acknowledged his technical, 'workhorse' professionalism, he has rarely been singled out for critical praise in stylistic, aesthetic or political terms. The critical agenda regarding his work was set in the early 1960s by writers for whom Dearden and Relph's films epitomised the stiltedness of British cinema. More recently, their achievements have been reassessed, their contribution to the Ealing ethos recognised, and their social problem films – particularly Victim and Sapphire – valued more highly. As film studies grope beyond auteurism towards a greater recognition of the importance of collaboration and versatility, the contribution of Basil Dearden and his collaborator Michael Relph might be more generously acknowledged.
(Plot descriptions courtesy of BFI's ScreenOnline)
---
Sapphire
Sapphire (d. Basil Dearden, 1959) is a graphic portrayal of ethnic tensions in 1950s London, much more widespread and malign than was represented in Dearden's Pool of London (1951), eight years earlier. The film presents a multifaceted and frequently surprising portrait that involves not just "the usual suspects", but is able to reveal underlying insecurities and fears of ordinary people. Sapphire is also notable for showing a successful, middle-class black community – unusual even in today's British films.
---
---
The League Of Gentlemen
Something of an update on the Ealing tradition, The League of Gentlemen marked the debut release of the consortium Allied Film Makers (AFM), combining the former Ealing producer/director partnership Michael Relph and Basil Dearden, as well as Richard Attenborough, Bryan Forbes, Jack Hawkins and his brother. Almost all the AFM partners had a hand in the film, with Relph producing and Dearden directing, while Forbes wrote the script and acted alongside Hawkins and Attenborough. The National Provincial Bank, along with the Rank Organisation, provided much of the group's backing, which is rewarded in the film with an in-joke: contemplating his leader ex-Colonel Hyde's bank-robbing plan, ex-Major Race worries, "I do hope he hasn't the National Provincial in mind. They're being awfully decent to me at the moment."
---
---
Victim
Victim was one of the series of postwar 'social problem' films credited to the director/producer partnership of Dearden and Relph, tackling such subjects as delinquency (The Violent Playground, 1958), racism (Sapphire, 1959) and East End slums (A Place to Go, 1963). The problem here is not homosexuality as such, but the 'blackmailer's charter' presented by the law as it then stood. The first British film to deal explicitly with homosexuality, Victim arrived in the wake of the public debate following the publication of 1957's Wolfenden report. Despite the Wolfenden recommendations, homosexuality remained an imprisonable offence until 1967.
---
---
All Night Long
Much disparaged by the Monthly Film Bulletin in 1962, from today's perspective All Night Long is an enjoyable curio: a not entirely successful but nonetheless entertaining attempt at restaging Shakespeare's Othello in the context of a fashionable London jazz party hosted by wealthy proto-yuppie Richard Attenborough, who appears to have anticipated the fashion for converting Docklands warehouses into loft apartments by a good two or three decades.
---
---