Well all you lucky tax-payers, you have all new Criterion Collection releases to spend that hard earned tax return on. It feels like only yesterday we were posting the June 2010 new releases from Criterion, and here we are with July's!
First up, we're getting two Powell and Pressburger films that have been long rumored: The Red Shoes and Black Narcissus. The Red Shoes restored print that has been making it's way around the country has been of much talk on our podcast over the last several months, and has even found it's way onto Netflix's Watch Instantly feature. Soon to be available on DVD and Blu-ray, these are two titles that are clearly worth a revisiting. The restored print of The Red Shoes screened last December in Austin at Butt-Numb-A-Thon, and our own James McCormick joined us on this early bonus episode, to discuss his thoughts on the screening.
Next we have Abdellatif Kechiche's 2007 film The Secret of the Grain. This will be one of the few films in the Criterion Collection to feature spoken Arabic, while maintaining Criterion's love of the family drama.
Finally, we are getting a real treat, with two brand new Yasujiro Ozu films joining the collection, The Only Son and There Was A Father. The Only Son just so happens to be the first "talkie" that Ozu directed, finally getting the treatment it deserves. These two films were previously made available in 2005 by Panorama, as Region 3 DVD's, with less than spectacular transfers according to Gary Tooze over on DVDBeaver (you can find their reviews of those releases here and here). Also, I'd like to point out how in love I am with the cover art they've decided to go with. If I'm not mistaken, it's Optic Nerve's own Adrian Tomine illustrating these releases. If you've never picked up his books, then you've surely seen his art adorning a book cover, or within the New Yorker. While searching through some of his illustrations, I came across this drawing of Faye Wong from Chungking Express, which I found absolutely perfect: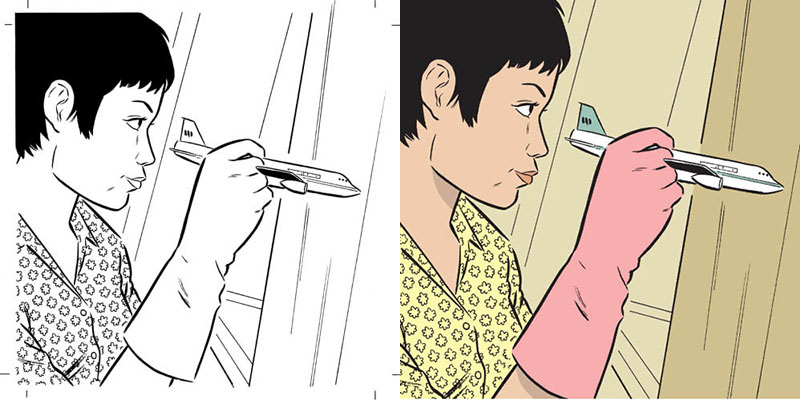 While I'm at it, look at this piece of work that Chris Ware created, for the Cinefamily Nov/Dec 2008 programming calendar. I can't to see his artwork on a few upcoming titles: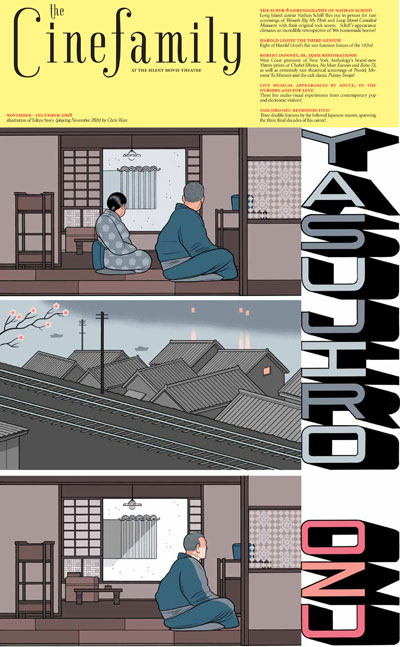 We're also getting a new Eclipse Box Set, featuring some early films of Sacha Guitry: The Story Of A Cheat, Desire, The Pearls Of The Crown, and Quadrille. I can't wait to sink my teeth into this set of films from 1936/1937/1938, just before the Nazis Occupied France.
[Edit 2:31 pm 4/15/10 – It looks like Criterion has done some shifting around regarding the Ozu Box Set (both films) is # 524 which makes The Only Son # 525, There Was A Father #526, and The Secret of the Grain #527. Perhaps all of the complaining from people like Travis and David was heard?]
---
Michael Powell and Emeric Pressburger
Criterion Collection # 44
The Red Shoes, the singular fantasia from Michael Powell and Emeric Pressburger, is cinema's quintessential backstage drama, as well as one of the most glorious Technicolor visual feasts ever concocted for the screen. Moira Shearer is a rising star ballerina romantically torn between an idealistic composer and a ruthless impresario intent on perfection. Featuring outstanding performances, blazingly beautiful cinematography by Jack Cardiff, Oscar-winning sets and music, and an unforgettable, hallucinatory central dance sequence, this beloved classic, now dazzlingly restored, stands as an enthralling tribute to the life of the artist.
Disc Features
New, restored high-definition digital transfer (with uncompressed monaural soundtrack on the Blu-ray edition)
Audio commentary by film historian Ian Christie, featuring interviews with stars Marius Goring and Moira Shearer, cinematographer Jack Cardiff, composer Brian Easdale, and filmmaker Martin Scorsese
Introductory restoration demonstration with Scorsese
Profile of 'The Red Shoes' (2000), a twenty-five-minute documentary
Video interview with Thelma Schoonmaker Powell, Michael Powell's widow
Gallery from Scorsese's collection of The Red Shoes memorabilia
The 'Red Shoes' Sketches, an animated film made from Hein Heckroth's painted storyboards
Readings by actor Jeremy Irons of excerpts from Powell and Pressburger's novelization of The Red Shoes and the original Hans Christian Andersen fairy tale
Theatrical trailer
PLUS: A booklet featuring an essay by Christie
---
This explosive work about the conflict between the spirit and the flesh is the epitome of the sensuous style of filmmakers Michael Powell and Emeric Pressburger. A group of nuns'"played by some of Britain's best actresses, including Deborah Kerr, Flora Robson, and Jean Simmons'"struggles to establish a convent in the snowcapped Himalayas; isolation, extreme weather, altitude, and culture clashes all conspire to drive the well-intentioned missionaries mad. A darkly grand film that won Oscars for its set design and for its cinematography by Jack Cardiff, Black Narcissus is one of the greatest achievements by two of cinema's true visionaries.
Disc Features
New, restored high-definition digital transfer (with uncompressed monaural soundtrack on the Blu-ray edition)
Video introduction by French filmmaker Bertrand Tavernier
Audio commentary featuring the late director Michael Powell and filmmaker Martin Scorsese
The Audacious Adventurer, a 2006 video piece in which Tavernier discusses Black Narcissus and Powell
Profile of 'Black Narcissus' (2000), a twenty-five-minute documentary
Painting with Light, a twenty-seven-minute documentary about Jack Cardiff's Oscar-winning cinematography on Black Narcissus
Original theatrical trailer
PLUS: A booklet featuring an essay by film critic Kent Jones
---
The Only Son
Yasujiro Ozu
Criterion Collection # 524
In 1923, in the province of Shinshu, the widow and simple worker of a silk factory Tsune Nonomiya (O-Tsune) decides to send her only son to Tokyo for having a better education. Thirteen years later, she visits her son Ryosuke Nonomiya (Shinichi Himori), and finds that he is a poor and frustrated night-school teacher with a wife, Sugiko (Yoshiko Tsubouchi), and a baby boy. '"IMDb
There Was A Father
Yasujiro Ozu
Criterion Collection # 525
A widowed high school teacher named Horikawa (Chishu Ryu) experiences a traumatic episode during a school field trip and consequently, decides to abandon his profession and move to a small town where his son, Ryohei may obtain a good education. However, unable to earn enough money to pay for Ryohei's boarding school, Horikawa decides to return to Tokyo to find a better paying job. The separation between father and son would prove to be permanent and irreversible, as Ryohei completes his studies and becomes a schoolteacher in a rural province while his father continues to work in Tokyo. The film is a more sentimentally subdued '" but nevertheless, affecting '" quintessential Ozu home drama on parental obligation and the inevitable dissolution of family. At this juncture, Ozu's camera is more static and understated (similar to Brothers and Sisters of the Toda Family), such as the repeated extended sequence of father and son fishing in synchrony at a lake: first, when Ryohei was a young boy, then later, as a grown man vacationing with his father at a resort. '"Acquarello
Disc Features
SPECIAL EDITION DOUBLE-DVD SET
New high-definition digital transfers
New video interviews with Japanese film scholar Tadao Sato and film scholars David Bordwell and Kristin Thompson
New and improved English subtitle translations
PLUS: Booklets featuring essays by film scholar Tony Rayns and reprints of pieces by actor Chishu Ryu and scholar Donald Richie
---
Abdellatif Kechiche
Criterion Collection #526

Winner of four César awards, including best picture and director, Abdellatif Kechiche's The Secret of the Grain is a stirring drama about the daily joys and struggles of a bustling French-Arab family. It has the texture of a documentary but a classic, almost Shakespearean structure: when patriarch Slimane acts on his wish to open a port-side restaurant specializing in his ex-wife's fish couscous, the extended clan's passions and problems explode in riveting drama, leading to an engrossing, suspenseful climax. With sensitivity and grit, The Secret of the Grain celebrates the role food plays in family life and gets to the core of contemporary immigrant experience.
Disc Features
DIRECTOR-APPROVED SPECIAL EDITION
New high-definition digital transfer, approved by director Abdellatif Kechiche (with DTS-HD Master Audio soundtrack on the Blu-ray edition)
New video interview with Kechiche
Sueur, Kechiche's captivating extended version of the film's climactic belly dancing sequence, featuring a new introduction by the director
New video interview with film scholar Ludovic Cortade
Excerpt from a 20 heures television interview with Kechiche and actress Hafsia Herzi
Video interviews with Herzi, actress Bouraouïa Marzouk, and the film's musicians
Theatrical trailer
New and improved English subtitle translation
PLUS: A booklet featuring a new essay by film critic Wesley Morris
---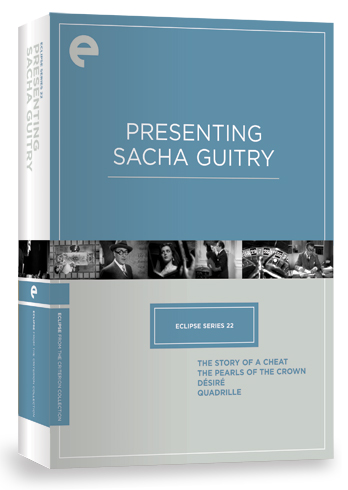 Presenting Sacha Guitry
Sacha Guitry was once a household name. Something of a Gallic counterpart to Nöel Coward, this disarming, multitalented artist served up some of 1930s French cinema's tastiest dishes. The son of a beloved theater actor, Guitry was devoted to the footlights, first turning to the silver screen as a way of bringing his plays to a wider audience. His films were anything but stage-bound, however: often the director, writer, and star of his popular movies, Guitry brought a witty inventiveness to the cinema and deployed radical tactics with such aplomb and control that he's considered one of the medium's first 'complete auteurs.' With these four films, American audiences can finally sample Guitry's creative, comic confections.
Story of a Cheat
Considered Sacha Guitry's masterpiece, this fleet, witty picaresque about a gambler and petty thief is a whimsical delight. Guitry himself stars as the 'tricheur' looking back fondly on a life of crime, which he narrates with an effervescence matched by his clever editing and cinematography.
Desire
Sacha Guitry exchanges his usual top hat for a uniform in Désiré, in which he plays a cavalier valet embroiled in an awkward flirtation with his new employer, played by the actor-director's real-life wife, Jacqueline Delubac.
The Pearls of the Crown
Sacha Guitry plays four roles in this multilingual whirlwind of pageantry that investigates the fate of three pearls missing from the royal crown of England. Pearls rockets through four centuries of European history with imaginative, winking irreverence.
Quadrille
A sparkling four-way affair overflowing with dialogue that showcases writer-director Sacha Guitry's wit, Quadrille stars Guitry as a magazine editor whose longtime girlfriend (whom he hopes to make his fiancée) is uncontrollably drawn to a handsome American movie star.