Note: I'll be updating this page as Criterion makes the release dates and final art available. – Ryan 4/15/2011
Well here we are, another mid-month Criterion new release announcement. This time last year, we were treated to the incredible one-two punch announcement of Black Narcissus and the Red Shoes as upgraded DVD/Blu-ray editions. This time around we have even more to be excited about.
First up, a couple of films that we've actually already covered on the podcast will finally be getting Blu-ray upgrades. One of our very first episodes was on Mike Leigh's Naked (a film that I wasn't too hot on, but I loved Leigh's Topsy Turvy). Now you'll finally be able to see this incredibly daring and raw look at England in the early 90s, with David Thewlis as the immortal Johnny. I found the dialogue to be a little too rapid and not very naturalistic, although I can certainly see why something like this has such a cult following. This Blu-ray will be released on July 12th. Next up we're finally going to be able to see Jean Cocteau's incredibly gorgeous Beauty And The Beast in high definition. We'll also be getting upgraded audio tracks, including Philip Glass' opera track in 5.1 DTS-HD Master Audio, which is an absolutely delightful way to watch the film. We covered this film last year with Laremy Legel from Film.com, and I think we all found it to be an incredible film experience. Beauty and the Beast will be available on Blu-ray on July 19th.
Next up we're getting several new films, some of which have been teased at in one form or another, and one which was a pleasant surprise. Last month we saw Michael K Williams appear at the Criterion Collection offices, which led to much speculation on the notion that Todd Solondz' Life During Wartime, an IFC release, would make it's way into the Criterion Collection. Criterion later went on to confirm the release when they announced their "Ask Todd" supplement, where readers and viewers could write to Solondz, and have their questions potentially answered on the final DVD/Blu-ray. We chatted briefly about this announcement a few weeks back on the podcast. This release will hit shelves on July 26th. Earlier this month, Criterion teased at the fact that they'd be finally releasing a Satyajit Ray film, in the form of an image on their Facebook wall. Well our prayers were heard and we'll now get to see Ray's The Music Room (Jalsaghar) on Blu-ray and DVD on July 19th. If you'd like to learn more about Ray and his immense body of work, I'd head over to SatyajitRay.org for more information. You can actually rent The Music Room right now on YouTube for $1.99, but I'm sure Criterion's transfer will be lightyears ahead, in quality.
Finally, hot off the heels of Criterion's incredible Blu-ray release of Le Cercle Rouge, they've announced that they'll be releasing Jean-Pierre Melville's Leon Morin, Priest, a film that made James' Top Ten Jean Paul Belmondo Films list last year. This DVD and Blu-ray will hit stores on July 26th. I don't remember if we brought this film up during our discussion of Melville when we covered Le Samourai, but I know we brought up a lot of his work that would be worth bringing into the Collection.
It looks like we're also getting a Blu-ray upgrade for Akira Kurosawa's High And Low on July 26th! While I cannot wait to get Rashomon on Blu-ray, it's nice that they're continuing to bring us more Kurosawa in HD.
What do you think of these July titles? Which ones will you be picking up on the first day? Leave your thoughts in the comments below.
---
Jean Cocteau
Criterion Collection # 6, available on DVD and Blu-ray on July 19th, 2011
The sublime adaptation by Jean Cocteau of Mme. Leprince de Beaumont's fairy-tale masterpiece'"in which the true love of a beautiful girl melts the heart of a feral but gentle beast'"is a landmark feat of motion picture fantasy, with unforgettably romantic performances by Jean Marais and Josette Day. The spectacular visions of enchantment, desire, and death in Beauty and the Beast (La Belle et la Bête) have become timeless icons of cinematic wonder.
Disc Features
High-definition digital transfer from restored film elements, with uncompressed monaural soundtrack
Composer Philip Glass's opera La Belle et la Bête, presented in 5.1 DTS-HD Master Audio as an alternate soundtrack
Two commentaries: one by film historian Arthur Knight and one by writer and cultural historian Sir Christopher Frayling
Screening at the Majestic, a 1995 documentary featuring interviews with cast and crew
Interview with cinematographer Henri Alekan
Rare behind-the-scenes photos and publicity stills
Film restoration demonstration
Original trailer, directed and narrated by director Jean Cocteau, plus restoration trailer from 1995
PLUS: A booklet featuring an essay by film critic Geoffrey O'Brien, a piece on the film by Cocteau, excerpts from Francis Steegmuller's 1970 book Cocteau: A Biography, and an introduction to Glass's opera by the composer
---
trailer
---
Akira Kurosawa

Criterion Collection # 24, available on Blu-ray on July 26th, 2011
Toshiro Mifune is unforgettable as Kingo Gondo, a wealthy industrialist whose family becomes the target of a cold-blooded kidnapper in Akira Kurosawa's highly influential High and Low (Tengoku to jigoku). Adapting Ed McBain's detective novel King's Ransom, Kurosawa moves effortlessly from compelling race-against-time thriller to exacting social commentary, creating a penetrating portrait of contemporary Japanese society. Criterion is proud to present High and Low in an all-new high-definition digital transfer.
Disc Features
SPECIAL EDITION DOUBLE-DISC SET:
New, restored high-definition digital transfer with original four-track surround sound
Audio commentary featuring Akira Kurosawa scholar Stephen Prince
A 37-minute documentary on the making of High and Low, created as part of the Toho Masterworks series Akira Kurosawa: It Is Wonderful to Create
Rare video interview with actor Toshiro Mifune, conducted by TV talk-show host Tetsuko Kuroyanagi
New video interview with actor Tsutomu Yamazaki, who plays the kidnapper
Theatrical trailers from Japan and the U.S.
New and improved English subtitle translation
PLUS: A booklet featuring a new essay by critic Geoffrey O'Brien and an on-set account by Japanese film scholar Donald Richie
---
trailer
---
Mike Leigh
Criterion Collection # 307, available on Blu-ray on July 12th, 2011
The brilliant and controversial Naked, from director Mike Leigh, stars David Thewlis as Johnny, a charming and eloquent but relentlessly vicious drifter. Rejecting anyone who might care for him, the volcanic Johnny hurls himself through a nocturnal odyssey around London, colliding with a succession of other desperate and dispossessed people, and scorching everyone in his path. With a virtuoso script and raw performances from Thewlis and costars Katrin Cartlidge and Lesley Sharp, Leigh's picture of England's underbelly is an amalgam of black comedy and doomsday prophecy that took the best director and best actor prizes at the 1993 Cannes International Film Festival.
Disc Features
Restored high-definition digital transfer, supervised and approved by director Mike Leigh, with DTS-HD Master Audio soundtrack on the Blu-ray edition
Audio commentary by Leigh and actors David Thewlis and Katrin Cartlidge
Exclusive video interview with director Neil LaBute
An episode of the BBC program The Art Zone in which author Will Self interviews Leigh
The Short and Curlies, a short comedy from 1982 directed by Leigh and starring Thewlis, with audio commentary by Leigh
Original theatrical trailer
PLUS: A booklet featuring essays by film critics Derek Malcolm and Amy Taubin
---
trailer
---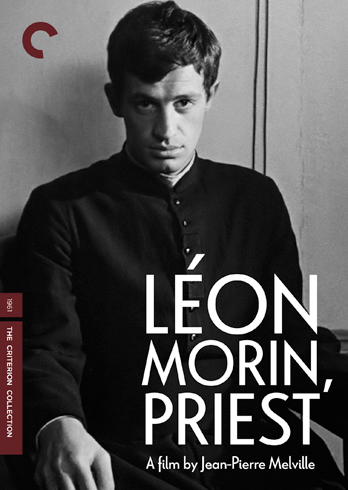 Léon Morin, Priest
Jean-Pierre Melville
Criterion Collection # 572, available on DVD and Blu-ray on July 26th, 2011
Jean-Paul Belmondo dons clerical robes and delivers a subtly sensual performance for the hot-under-the-collar Léon Morin, Priest, directed by Jean-Pierre Melville. The French superstar plays a devoted man of the cloth who is the crush object of all the women of a small village in Nazi-occupied France. He finds himself most drawn to a sexually frustrated widow'"played by Emmanuelle Riva'"a borderline heretic whose relationship with her confessor is a confrontation with both God and her own repressed desire. A triumph of mood, setting, and innuendo, Léon Morin, Priest is an irreverent pleasure from one of French cinema's towering virtuosos.
Disc Features
New high-definition digital restoration (with uncompressed monaural soundtrack on the Blu-ray edition)
Archival interview with director Jean-Pierre Melville and actor Jean-Paul Belmondo
Visual essay by French film scholar Ginette Vincendeau
Original theatrical trailer
PLUS: A booklet featuring an essay by critic and novelist Gary Indiana
---
trailer
---
Music Room
Satyajit Ray
Criterion Collection # 573, available on DVD and Blu-ray on July _, 2011
With The Music Room (Jalsaghar), Satyajit Ray brilliantly evokes the crumbling opulence of the world of a fallen aristocrat (the beloved actor Chhabi Biswas) desperately clinging to his way of life. His greatest joy is the music room in which he has hosted lavish concerts over the years'"now a shadow of its former vivid self. An incandescent depiction of the clash between tradition and modernity, and a showcase for some of India's most popular musicians of the day, The Music Room is a defining work by the great Bengali filmmaker.
Disc Features
New digital restoration, with uncompressed monaural soundtrack on the Blu-ray edition
Satyajit Ray (1984), a feature documentary by Shyam Benegal that chronicles Ray's career and includes interviews with the filmmaker, family photographs, and extensive clips from his films
New interview with filmmaker Mira Nair
New interview in which Ray biographer Andrew Robinson discusses the making of The Music Room and the film's cultural significance
Excerpt from a 1981 French roundtable discussion with Ray, film critic Michel Ciment, and filmmaker Claude Sautet
New and improved English subtitle translation
PLUS: A booklet featuring an essay by critic Philip Kemp as well as reprints of a 1963 essay by Ray and a 1986 interview with the director about the film's music
---
trailer
---
Todd Solondz
Criterion Collection # 574, available on DVD and Blu-ray on July 26th, 2011
In Life During Wartime, independent filmmaker Todd Solondz explores contemporary American existence and the nature of forgiveness with his customary dry humor and queasy precision. The film functions as a distorted mirror image of Solondz's acclaimed 1998 dark comedy Happiness, its emotionally stunted characters now groping for the possibility of change in a post-9/11 world. Happiness's grim New Jersey setting is transposed to sunny Florida, but the biggest twist is that new actors fill the roles originated in the earlier film'"including Shirley Henderson, Allison Janney, and Ally Sheedy as alarmingly dissimilar sisters, and Ciarán Hinds hauntingly embodying a reformed pedophile. Shot in expressionistic tones by cinematographer extraordinaire Ed Lachman, Solondz's film finds the humor in the tragic and the tragic in the everyday.
Disc Features
New digital transfer, supervised and approved by director of photography Ed Lachman (with DTS-HD Master Audio soundtrack on the Blu-ray edition)
Ask Todd, an audio Q&A with director Todd Solondz in which he responds to viewers' questions
Making 'Life During Wartime,' a new documentary featuring interviews with actors Shirley Henderson, Allison Janney, Michael Lerner, Paul Reubens, Ally Sheedy, and Michael Kenneth Williams, and on-set footage of the actors and crew
New video piece in which Lachman discusses his work on the film
Original theatrical trailer
PLUS: A booklet featuring an essay by film critic David Sterritt
---
trailer
---