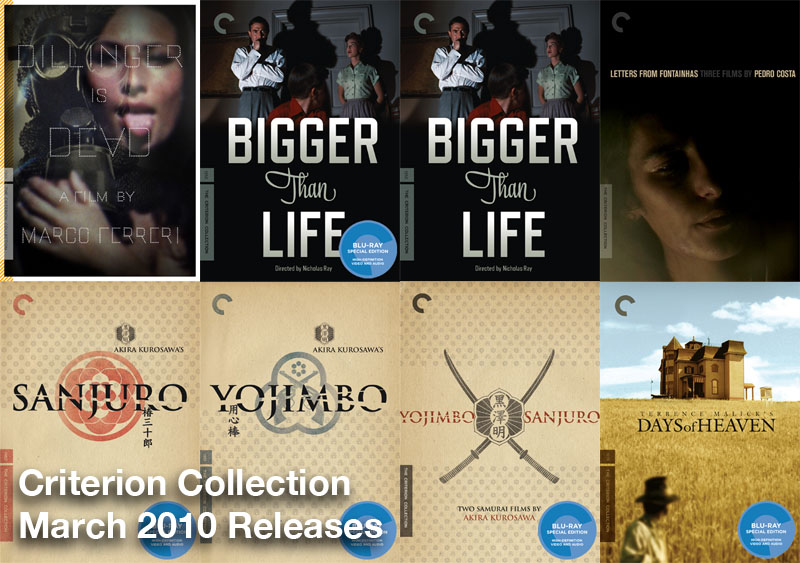 Well, this is embarrassing.   It seems that when I typed up
my prediction
for March 23rd releases, I accidentally typed "
Rashomon
35mm print with Sidney Lumet supplement" instead of "
Yojimbo
and
Sanjuro
on Blu-ray."   It was a typo, and I apologize if I filled anyone with false hopes.
Anyway, let's not dwell on the mistakes that I may or may not have made.   There are more important matters at hand.   It's the fifteenth, which means it's time once to journey with me into the future.   TO THREE MONTHS FROM NOW!
---
I saw an article or two about this film float by in
The Current
earlier this year, but regrettably let it leave my mind.   I am to understand that Marco Ferreri is a real jerk (
check out this short interview
).   I do so love the image of a surly, take-no-prisoners director who demands the universe of his actors, only to receive their utmost appreciation after they've been taken to their limits.   Here, we have a late-sixties clash of all things mod and anarchic, supplemented with the usual interviews, documentaries, and insightful booklets.
This film stars James Mason.   If you didn't stop there and pre-order it, this film stars James Mason as a drug-addled, wife-terrorizing, child-abusing maniac.   If you still haven't pre-ordered it, the director wears an eye patch.   Special features include audio commentary, interviews with the director, and interviews with film historians.
508-511.   Letters From Fontainhas:   Three Films By Pedro Costa (1997,2000,2006) — March 30th, DVD
Criterion is so pleased with premiere Portugese auteur Pedro Costa that our introduction to him comes in the form of a delicious three-film box set.   Ossos, In Vanda's Room, and Colossal Youth combine to create for us a type of malformed fairy tale, where our kingdom is the slums of Fontainhas, and our people, its battled and downtrodden youth.   The supplements are so plentiful in this set that they've been delegated to an entire fourth disc stuffed to overflowing with bonus materials.
052-053.   Yojimbo & Sanjuro (Akira Kurosawa, 1961 & 1962) — March 23rd, Blu-ray
Happy 100th birthday, Kurosawa!   While I had my eyes on a different present for you, I hope you aren't displeased with the Blu-ray release of two of your finer films, Yojimbo and Sanjuro.   Your fans will celebrate with you by enjoying the hi-definition transfer of perhaps your most unforgettable character, Toshiro Mifune's Sanjuro, as he dabbles in some comedic misadventure and then violently kills Tatsuya Nakadai.   Twice. I mean, I know they don't have any new supplements, so I hope you don't think I'm re-gifting.
409.   Days of Heaven (Terrence Malick, 1978) — March 23rd, Blu-ray
Follow that link, watch that trailer, and tell me this isn't one of the best choices for a Blu-ray release in the entire Criterion catalogue.   Funny story:   The day this came out on DVD, I rented it on my lunch break, decided I couldn't wait to watch it, so I feigned a sickness to my supervisor and went home a few hours early.   With Days of Heaven, Terrence Malick has basically put The Hudson River School to film.   Its viewers will hang their jaws ever-so-slightly lower while watching in hi-def.
---
Hey, would you look at that!   Criterion's March release dates are actually congruent with the spine number!   That rarely happens.   With the exception of the re-releases, they certainly aren't promising to uplift us this month, huh?   March will come in like a new-wave nihilist and go out like a heroin-addicted, suicidal slumdog.   Sheesh!
If you'll excuse me, I have to take my crystal ball to the magic shop for repairs.   Until next mid-month!