[I'll be updating this post with cover art and release dates, as Criterion makes them available on the site.]
While today's announcement was slightly spoiled by last Fridays e-mail, regarding the Solaris news, the rest of the titles announced today more than makes up for it.
First up let's talk about these new additions to the collection. All three have been written about here on the site, so shouldn't come as a shock by anyone. We first wrote about Masahiro Shinoda's Pale Flower potentially getting a release last year when the director was spotted visiting the Criterion vault, and then Criterion sent out it's wacky newsletter image in the form of a bag of flour, in a pail. Pale Flower will be getting a DVD and Blu-ray release on May 17th. I am a huge fan of this cover art, and expect that they have spent many hours restoring this film. Next up is Jonathan Demme's Something Wild, which I first wrote about last Summer when the All Tomorrow's Parties line-up was announced. Last week we spotted Demme on Criterion's Twitterfeed, signing his "director approved" signature. Something Wild will get it's release on May 10th. Finally on May 24th we're also getting the next Charlie Chaplin film in Criterion's release schedule. The Great Dictator was teased at back in January, when it posted it's Wacky New Years drawing, in the form of the globe. I love this Olly Moss (of Mondo Tees fame) image for the film.
[update: It looks like they're also releasing Henri Georges Clouzot's Diabolique finally!]
In addition to the three new films which have been teased at in different forms over the past few months, we're also getting three upgrades from the catalog. As we just wrote about, Criterion will be releasing an updated version of Andrei Tarkovsky's Solaris on DVD and Blu-ray on May . Then we're getting two Blu-ray upgrades in the forms of Ingmar Bergman's Smiles Of A Summer Night and Catherine Breillat's Fat Girl, due May 3rd.
I am certainly most excited about getting the new Solaris Blu-ray, and I cannot wait to check out what the Great Dictator looks like. The Modern Times release was absolutely gorgeous, and packed with supplements, and I'm sure their next installment in the Chaplin line will live up to it
---
Henri Georges Clouzot
Criterion 35, on DVD and Blu-ray May 17th.
Before Psycho, Peeping Tom, and Repulsion, there was Diabolique. This thriller from Henri?Georges Clouzot, which shocked audiences in Europe and the U.S., is the story of two women'"the fragile wife and the willful mistress of a sadistic school headmaster'"who hatch a daring revenge plot. With its unprecedented narrative twists and unforgettably scary images, Diabolique is a heart-grabbing benchmark in horror filmmaking, featuring outstanding performances by Simone Signoret, Vera Clouzot, and Paul Meurisse.
Disc Features
New digital restoration (with uncompressed monaural soundtrack on the Blu-ray edition)
Selected-scene commentary by French-film scholar Kelley Conway
New video interview with Serge Bromberg, codirector of Henri-Georges Clouzot's Inferno
New video interview with horror film expert Kim Newman
New and improved English subtitle translation
PLUS: A booklet featuring a new essay by film critic Terrence Rafferty
---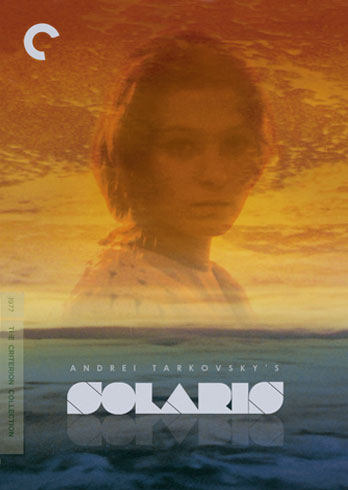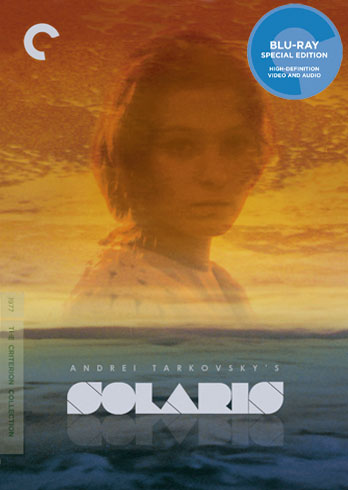 Andrei Tarkovsky
Criterion 164, on DVD and Blu-ray May
Ground control has been receiving strange transmissions from the three remaining residents of the Solaris space station. When cosmonaut and psychologist Kris Kelvin is sent to investigate, he experiences the strange phenomena that afflict the Solaris crew, sending him on a voyage into the darkest recesses of his own consciousness. In Solaris, legendary Russian filmmaker Andrei Tarkovsky creates a brilliantly original science-fiction epic that challenges our preconceived notions of love, truth, and humanity itself.
Disc Features
High-definition digital restoration (with uncompressed monaural soundtrack on the Blu-ray edition)
Audio essay by Andrei Tarkovsky scholars Vida Johnson and Graham Petrie, coauthors of The Films of Andrei Tarkovsky: A Visual Fugue
Nine deleted and alternate scenes
Video interviews with actress Natalya Bondarchuk, cinematographer Vadim Yusov, art director Mikhail Romadin, and composer Eduard Artemyev
Excerpt from a documentary about Stanislaw Lem, the author of the film's source novel
PLUS: A booklet featuring an essay by critic Phillip Lopate and an appreciation by director Akira Kurosawa
http://www.criterion.com/films/553-solaris
---
---
Ingmar Bergman
Criterion 237, on Blu-ray May 3rd.
After fifteen films of mostly local acclaim, the 1956 prize-winning comedy Smiles of a Summer Night at last ushered in an international audience for director Ingmar Bergman. Set in turn-of-the-century Sweden, four women and four men attempt to juggle the laws of attraction amidst their daily bourgeois life. When a weekend in the country brings them all face to face, the women ally to force the men's hands in their matters of the heart, exposing their pretensions and insecurities along the way. Chock full of flirtatious propositions and sharp-witted wisdom delivered by such legends of the Swedish screen as Gunnar Björnstrand, Eva Dahlbeck, Harriet Andersson, and Ulla Jacobsson, Smiles of a Summer Night is one of film history's great tragicomedies, a bittersweet view of the transience of human carnality.
Disc Features
Digital restoration (with uncompressed monaural soundtrack on the Blu-ray edition)
Video introduction to the film by director Ingmar Bergman
Video conversation between Bergman scholar Peter Cowie and writer Jörn Donner, executive producer of Fanny and Alexander
Original theatrical trailer
PLUS: A booklet featuring an essay by theater and film critic John Simon and a 1961 review by film critic Pauline Kael
---
---
Catherine Breillat
Criterion 259, on Blu-ray May 3rd
Twelve-year-old Anaïs is fat. Her sister, Elena, is a teenage beauty. While on vacation with their parents, Anaïs tags along with Elena as she explores the dreary seaside town. Elena meets Fernando, an Italian law student, who seduces her with promises of love, and the ever-watchful Anaïs bears witness to the corruption of her sister's innocence. Precise and uncompromising, Catherine Breillat's Fat Girl is a bold dissection of sibling rivalry and female adolescent sexuality from one of contemporary cinema'˜s most controversial directors.
Disc Features
High-definition digital restoration (with DTS-HD Master Audio soundtrack on the Blu-ray edition)
Behind-the-scenes footage from the making of Fat Girl
Two interviews with director Catherine Breillat, one conducted the night after the film's world premiere at the 2001 Berlin Film Festival, the other a look back at the film's production and alternate ending
French and U.S. theatrical trailers
Plus: A booklet featuring an essay by film scholar Ginette Vincendeau, a 2001 interview with Breillat, and a piece by Breillat on the title
---
---
Charlie Chaplin
Criterion 565, on DVD and Blu-ray May 24th
In his notorious masterpiece The Great Dictator, Charlie Chaplin offers both a cutting caricature of Adolf Hitler and a sly tweaking of his own comic persona. Chaplin (in his first pure talkie) brings his sublime physicality to two roles: the cruel yet clownish 'Tomanian' dictator and the kindly Jewish barber who is mistaken for him. Featuring Jack Oakie and Paulette Goddard in stellar supporting turns, The Great Dictator, boldly going after the fascist leader before the U.S.'s official entry into World War II, is an audacious amalgam of politics and slapstick that culminates in Chaplin's famously impassioned speech.
Disc Features
New high-definition digital restoration (with uncompressed monaural soundtrack on the Blu-ray edition)
New audio commentary by Charlie Chaplin historians Dan Kamin and Hooman Mehran
The Tramp and the Dictator (2001), a documentary narrated by filmmaker Kenneth Branagh and featuring interviews with author Ray Bradbury, director Sidney Lumet, historian Arthur Schlesinger Jr., screenwriter Budd Schulberg, and a host of others
Two new visual essays, by Chaplin archivist Cecilia Cenciarelli and Chaplin biographer Jeffrey Vance
On-set, color production footage shot by Chaplin's half-brother, Sydney
Deleted scene from Chaplin's 1919 film Sunnyside
Theatrical trailer
PLUS: A booklet featuring an essay by film critic Michael Wood and a 1940 article by Chaplin on the film
http://www.criterion.com/films/27605-great-dictator
http://www.criterion.com/people/117426-charlie-chaplin
---
---
Something Wild
Jonathan Demme
Criterion 563, on DVD and Blu-ray May 10th

A straitlaced businessman meets a quirky, free-spirited woman at a downtown New York greasy spoon. Her offer of a ride back to his office results in a lunchtime motel rendezvous'"just the beginning of a capricious interstate road trip that brings the two face-to-face with their hidden selves. Featuring a killer soundtrack and electric performances from Jeff Daniels, Melanie Griffith, and Ray Liotta, Something Wild, directed by oddball American auteur Jonathan Demme, is both a kinky comic thriller and a radiantly off-kilter love story.
DIRECTOR-APPROVED SPECIAL EDITION:
New, restored digital transfer, supervised by director of photography Tak Fujimoto and approved by director Jonathan Demme, with DTS-HD Master Audio soundtrack on the Blu-ray edition
New video interviews with Demme and writer E. Max Frye
Original theatrical trailer
PLUS: A booklet featuring a new essay by film critic David Thompson
---
---
Pale Flower
Masahiro Shinoda
Criterion 564, on DVD and Blu-ray May 17th
In this cool, seductive jewel of the Japanese New Wave, a yakuza, fresh out of prison, becomes entangled with a beautiful yet enigmatic gambling addict; what at first seems a redemptive relationship ends up leading him further down the criminal path. Bewitchingly shot and edited and laced with a fever-dream-like score by Toru Takemitsu, Masahiro Shinoda's breakthrough gangster romance announced an idiosyncratic major filmmaking talent. The pitch-black Pale Flower (Kawaita hana) is an unforgettable excursion into the underworld.
Disc Features
New high-definition digital restoration (with uncompressed monaural soundtrack on the Blu-ray edition)
New video interview with director Masahiro Shinoda
Selected-scene audio commentary by film scholar Peter Grilli, coproducer of Music for the Movies: Toru Takemitsu
Original theatrical trailer
New and improved English subtitle translation
PLUS: A new essay by film critic Chuck Stephens
---
---