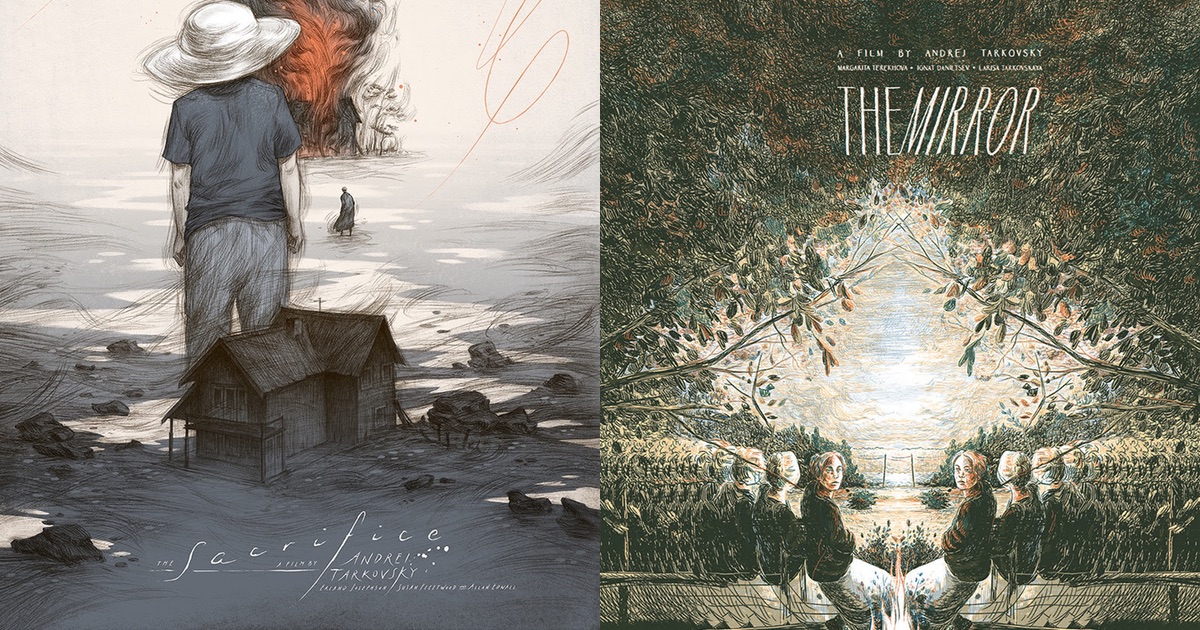 Announced earlier today from the folks at Mondo:
Tomorrow we will release the next posters in partnership with our friends over at Black Dragon Press. We will have two beautiful posters for Andrei Tarkovsky's THE MIRROR and THE SACRIFICE!

Following the posters for SOLARIS, IVAN'S CHILDHOOD, ANDREI RUBLEV and STALKER, we're delighted to release two new entries in our series celebrating the work of director Andrei Tarkovsky in a project art directed by Nicolas Delort and produced in collaboration with Mosfilm in Moscow. THE MIRROR by Wesley Allsbrook and THE SACRIFICE by Rovina Cai are inspired takes on two further sublime examples of film-making.

Both regular and variant versions of THE MIRROR and THE SACRIFICE will go on sale tomorrow Tuesday (10/2). Pick it up at 5PM (UK time) via Black Dragon Press, and at random time via mondotees.com.
Previously: Last Year at Marienbad, Wings of Desire
See other Tarkovsky prints from Black Dragon.
The Mirror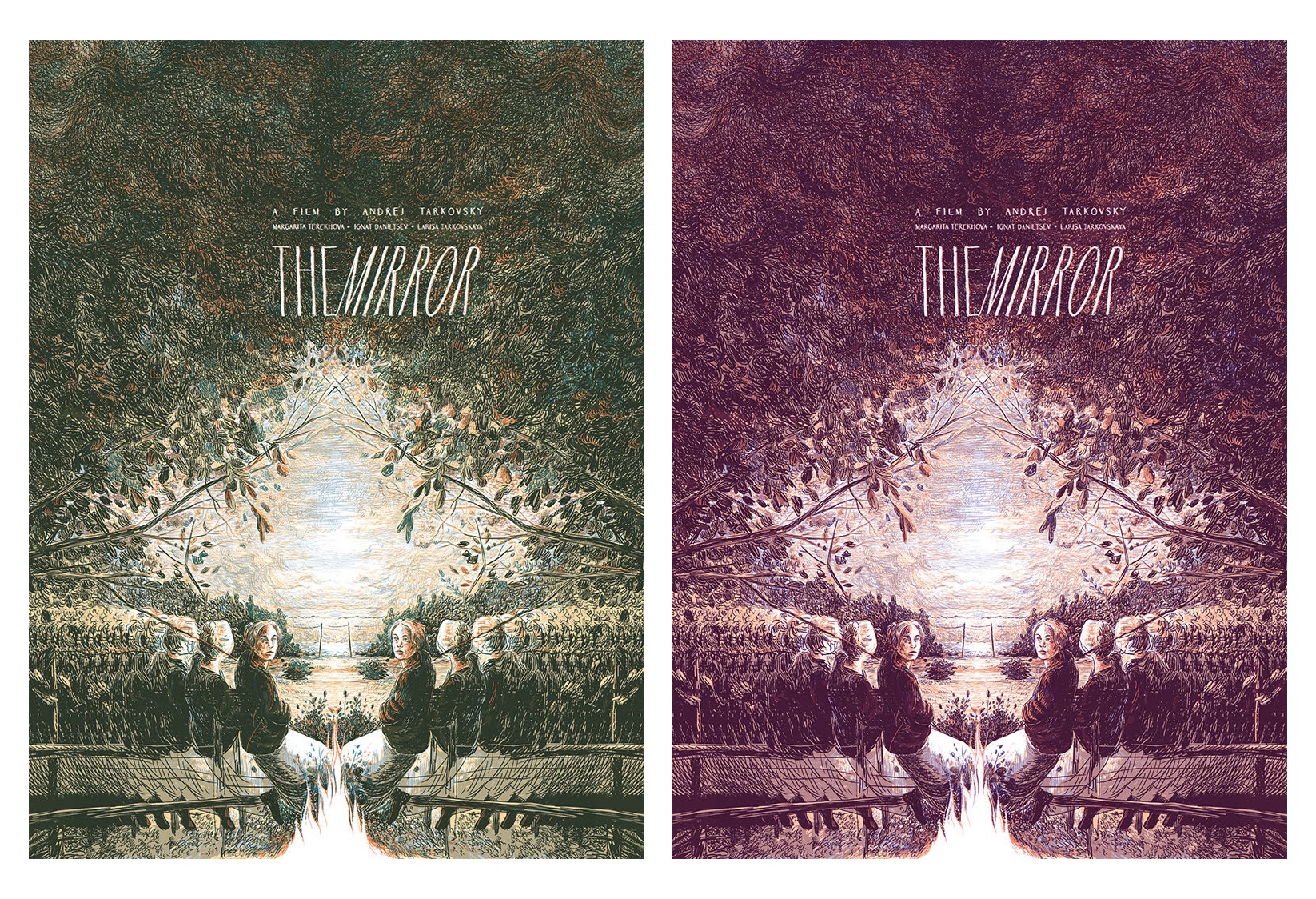 Black Dragon Press x Mondo #11: THE MIRROR by Wesley Allsbrook. 18″x24″ screen print. hand numbered. Edition of 175. Printed by White Duck Editions. Expected to Ship in October 2018. Available at a random time on October 2nd via mondotees.com. Available at 5 PM (UK) on October 2nd via Black Dragon Press. £40/$55
Black Dragon Press x Mondo #12: THE MIRROR (Dream Variant) by Wesley Allsbrook. 18″x24″ screen print. hand numbered. Edition of 75. Printed by White Duck Editions. Expected to Ship in October 2018. Available at a random time on October 2nd via mondotees.com. Available at 5 PM (UK) on October 2nd via Black Dragon Press. £60/$80
The Sacrifice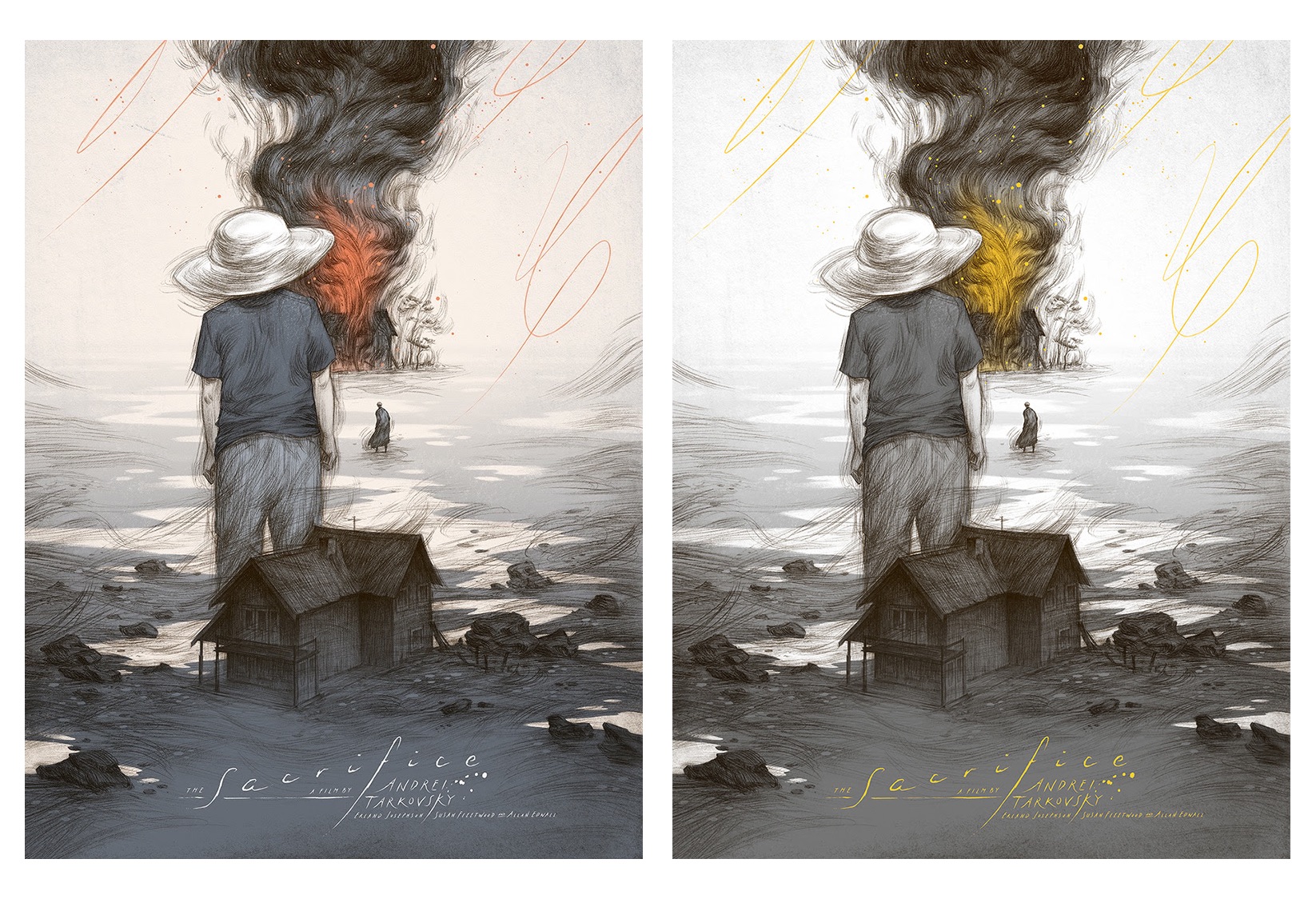 Black Dragon Press x Mondo #13: THE SACRIFICE by Rovina Cai. 18″x24″ screen print. Hand numbered. Edition of 175. Printed by White Duck Editions. Available at a random time on October 2nd via mondotees.com. Available at 5 PM (UK) on October 2nd via Black Dragon Press. £40/$55
Black Dragon Press x Mondo #14: THE SACRIFICE (Variant) by Rovina Cai. 18″x24″ screen print. Hand numbered. Edition of 75. Printed by White Duck Editions. Available at a random time on October 2nd via mondotees.com. Available at 5 PM (UK) on October 2nd via Black Dragon Press. £60/$80
$29.98
$39.95
in stock
6 new from $29.98
4 used from $29.99
as of June 25, 2022 4:29 pm
£10.00
in stock
10 new from £8.00
3 used from £9.73
as of June 25, 2022 4:29 pm
Last updated on June 25, 2022 4:29 pm