Last year we wrote about the adaptation of Ingmar Bergman's Through A Glass Darkly (Criterion # 209, a part of the Ingmar Bergman Trilogy) which was being performed on the Almeida Theater in London. This past January it was announced that an American adaptation was in the works, and that Carey Mulligan would be taking on the role of Karin.
The play has just opened today off Broadway, and the first few reviews are in. From the sound of things, Carey Mulligan is as heartbreaking as the role demands. While I won't be able to make it back to New York anytime soon, it sounds like this is not something you'll want to miss, if you have the means to see it.
Carey Mulligan was recently in Never Let Me Go, and was certainly the best part of the film. While I wasn't crazy about the story overall, it was beautifully performed, and the art direction and camerawork was excellent. Mulligan is also starring in Nicolas Winding Refn's latest, Drive, which debuted recently at Cannes (read Chase Whale's review over at Gordon and the Whale). Carey Mulligan is currently working on Steve McQueen's (Hunger) latest film, Shame, alongside Michael Fassbender.
I'm including a few quotes from the various reviews that have gone up today. Images courtesty of PlayBill.com
From Ben Brantley's New York Times Review:
'Glass' makes evocative use of the notion that while family vacations are 'supposed to be relaxing,' as Karin observes, 'in fact they're just lumps of time without any distractions.' (It is typical of the overkill in the script that Karin goes on to say, 'We spend our whole lives turning our faces away and then we have all this time and we … I find myself staring into the abyss.') The play is savvy about the ways alliances and erotic affinities shift and bend when you throw a small group '" especially a family group '" into isolation.

…

The deep, gnawing tension that ripples through this 'Glass' exists less between Karin and the others than between the two realities she inhabits (and between which she feels she must choose). Ms. Mulligan makes us believe equally and unconditionally in both those worlds. There's an early moment in which Karin, lying outside with Max, hears the cry of a petrel and instinctively grabs her brother's leg, as if otherwise she might be swept away.
From David Rooney's review from the Hollywood Reporter:
… But the play belongs to Mulligan's Karin. Rarely still for long, she goes from bursts of manic activity to violent mood swings to catatonic spells and moments of exalted serenity. The performance is volatile yet restrained, poignantly underscored by a hopeless yearning to recreate the perfect family that exists only in her head. She weighs the damage she is causing to the people who love her against the spiritual release she intuits beyond the attic wall, and when her choice fails her, a crushing look of defeat clouds Mulligan's face. …
From Marilyn Stasio's review on Variety:
… Unlike the film, the stage version distilled by Worton (an associate artist with the Almeida Theater in London, where the play preemed) doesn't delve deeply enough into the guilt felt by the father, a definitively dour Bergman-like character. Lacking the film's often silent but unbearably intense closeups, the play doesn't actually penetrate the depths of any character but Karin. But given the power and passion of Mulligan's perf, who could complain about that? …
---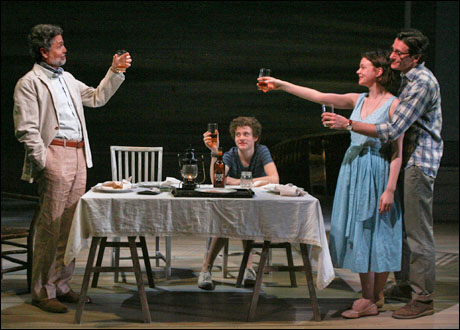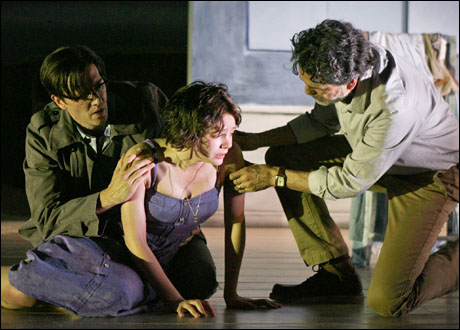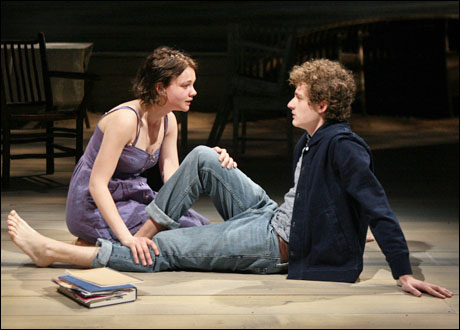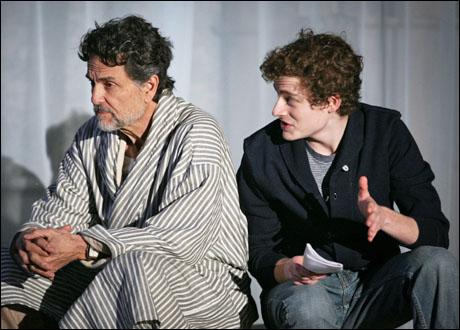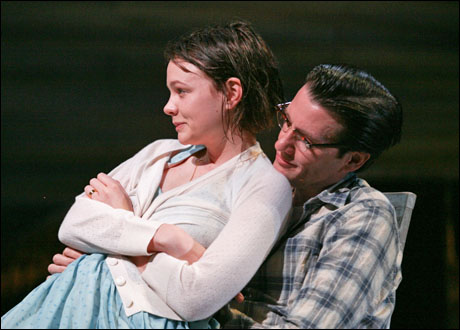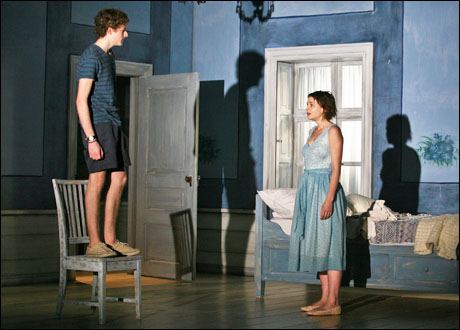 ---
While you can't currently purchase Through A Glass Darkly individually, you can purchase the box set over on Amazon.com (a small portion of the sale will go to help CriterionCast.com)