There is a trend these days amongst some film goers, in which they actively avoid trailers, as well as any kind of plot spoilers regarding upcoming films. I won't go so far as to say that this is a recent trend, but it has certainly appeared on my radar a lot over the past few years. People want to keep that magic of the surprise, when it comes to upcoming media. At the same time, there is an abundance of information about everything media related thanks to the internet.
One aspect of the Criterion Collection that we all have come to accept, and learn to love in a holiday package opening sense, is their secrecy regarding upcoming releases. We have joked about how they are almost at Apple-like levels of secrecy, and when something gets out, Criterion fans jump on it.
I think we all want to know what Criterion has up it's sleeves, but we don't want to take away the magic that comes along with their mid-month new release announcements. Producing this podcast and blog over the past year has definitely reshaped how I think of the Collection, and the company as a whole. I feel like while I may not necessarily have theoretical x-ray glasses when it comes to looking into my packages under the tree, I certainly have found ways of seeing what's on the shopping list.
Criterion does however, tease us each month in their e-mail newsletters with their Jason Polan illustrated "wacky" drawings. These allow us to learn what sort of sense of humor Criterion wants to exhibit to their customers, and let us go back and forth, deciphering their meaning.
This brings me to the latest set of announcements from Criterion, revealing their November 2010 New Release slate of titles. As far as I can tell, all of these titles have been previously discussed in depth on our podcast, having been teased in one way or another through their e-mail newsletter.
First up, I'm so happy to officially announce that we're finally getting Lars von Trier's Antichrist. This is a title that we have literally been talking about since last December, when our own Travis George predicted this, to much discussion on the show. Travis was clearly onto something, as a few months later we received a big confirmation in the form of a "wacky" fox, eating it's entrails. If that wasn't a sure enough sign that this controversial film would make it's way into the Collection, we later announced that Criterion had mysteriously added several Blu-rays to their Amazon listings, which were later confirmed to be accurate. As the months went by, we all thought that Antichrist would surely be a November release, to tie in with Halloween. Antichrist will be released on November 9th, on DVD and Blu-ray. Certainly a title to consider adding to your holiday wish lists, or at the very least, adding to your Netflix queue.
---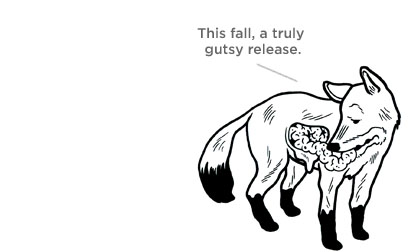 ---
Criterion also dropped a rather large bomb In another e-mail newsletter this year, announcing that Janus Films had acquired the rights to theatrically distribute the Charlie Chaplin catalog of films. We all celebrated in the fact that not only would be able to see these incredible pieces of cinematic history, lovingly restored and displayed on the big screen for us, but that we would also presumably be getting DVDs and Blu-rays of the Chaplin films in the Criterion Collection. We've long speculated on how Criterion would undertake this project: Would each title get it's own individual release? Would be get Kurosawa-sized box sets with every title? Eclipse sets? The options were appealing for various reasons. Criterion has now announced that their first journey into the Chaplin library will be the hugely influential film, Modern Times. This film will be touring theatrically, and Janus has gone and created a beautiful website where you can view images, and read all about the Chaplin films they are handling. Along with this website, they have also unveiled a poster, available for purchase, illustrated by the talented, and hilarious Kate Beaton. Modern Times will be available on November 16th, on DVD and Blu-ray. Of all the titles announced for November, this one is the highest on my list (and my favorite cover).
In yet another e-mail newsletter recently, we saw a "wacky" image of a cute little bunny, who mysteriously had "wuv" and "ate" tattooed on it's knuckles. I can clearly remembering waking up that morning, to dozens of tweets, exclaiming that Criterion would finally be releasing Charles Laughton's Night of the Hunter (hear us discuss this possibility with Laremy Legel). The "love" and "hate" knuckles have been portrayed elsewhere, but it was clearly a reference to the Laughton film, as Criterion even tweeted out images of them hard at work on the upcoming release. It's hard to gauge how long of a window it will be between when the tease is released, and when we should expect the final disc in our hands. As we have seen with many past titles, years can go by before we get a Criterion edition of something teased at in a newsletter (see Cronos). Night of the Hunter will be available on November 16th, on DVD and Blu-ray.
---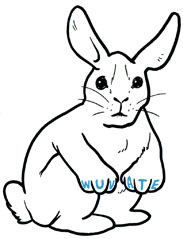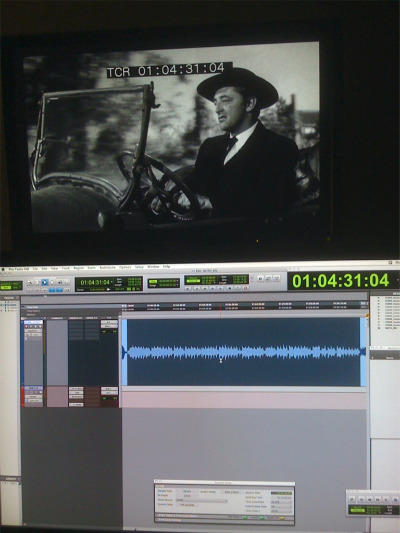 ---
Finally we get to a box set that we first told you about in June, with something of an exclusive, despite it technically being a rumor. The infamous "New Hollywood" box set has been finally unveiled, and it is quite the sight to behold. Labeled as "America Lost and Found: The BBS Story" the set will feature 7 titles, including: Head, Easy Rider, Five Easy Pieces, The Last Picture Show, A Safe Place, Drive He Said, and The King Of Marvin Gardens. The set will be available on DVD and Blu-ray, on November 23rd for the Blu-ray and Decebmer 14th for the DVD (weird?).
---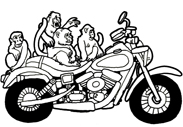 ---
As we move closer towards the end of the year, we are slowly ticking off the various rumored titles that Criterion has teased out over the past few months. For a list of titles that we're still waiting for, check out this list I posted recently. While all of these titles that were announced today were on my list, there are still several significant releases that are still due.
So what do you think? Which of these titles will you be picking up this November? Any artwork complaints or praises? Let us know in the comments below.
---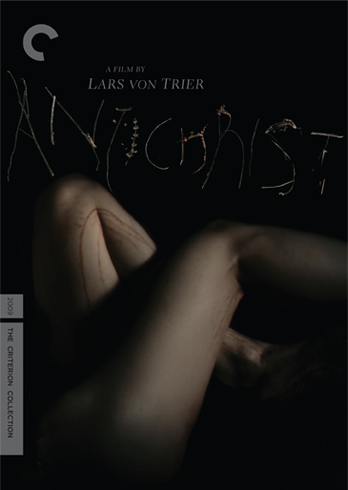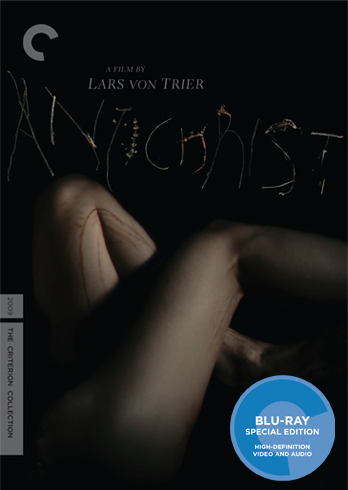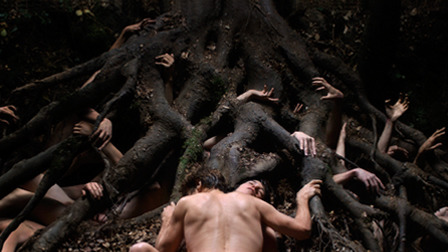 Lars Von Trier, 2009, Criterion # 542, Available on November 9th on DVD & Blu-ray
Lars von Trier shook up the film world when he premiered Antichrist at the 2009 Cannes Film Festival. In this graphic psychodrama, a grief-stricken man and woman'"a searing Willem Dafoe and Cannes best actress Charlotte Gainsbourg'"retreat to a cabin deep in the woods after the accidental death of their infant son, only to find terror and violence at the hands of nature and, ultimately, each other. But this most confrontational work yet from one of contemporary cinema's most controversial artists is no mere provocation. It is a visually sublime, emotionally ravaging journey to the darkest corners of the possessed human mind; a disturbing battle of the sexes that pits rational psychology against age-old superstition; and a profoundly effective horror film.
Disc Features
New, restored high-definition digital transfer, approved by director Lars von Trier and supervised by director of photography Anthony Dod Mantle (with DTS-HD Master Audio soundtrack on the Blu-ray edition)
Audio commentary by von Trier and professor Murray Smith
Video interviews with von Trier and actors Willem Dafoe and Charlotte Gainsbourg
A collection of video pieces delving into the production of Antichrist, including interviews with von Trier and key members of his filmmaking team as well as behind-the-scenes footage
Chaos Reigns at the Cannes Film Festival 2009, a documentary on the film's world premiere, plus press interviews with Dafoe and Gainsbourg
Three theatrical trailers
PLUS: A booklet featuring an essay by film scholar Ian Christie
Trailer:
---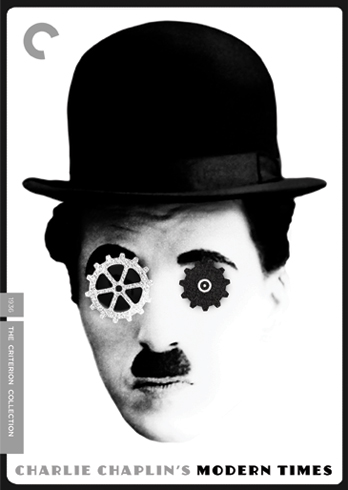 Criterion # 543 November 16th DVD and Blu-ray
Modern Times, Charlie Chaplin's last outing as the Little Tramp, puts the iconic character to work as a giddily inept factory employee who becomes smitten with a gorgeous gamine (Paulette Goddard). With its barrage of unforgettable gags and sly commentary on class struggle during the Great Depression, Modern Times'"though made almost a decade into the talkie era and containing moments of sound (even song!)'"is a timeless showcase of Chaplin's untouchable genius as a director of silent comedy.
Disc Features
New, restored high-definition digital transfer, with uncompressed monaural soundtrack on the Blu-ray edition
New audio commentary by Chaplin biographer David Robinson
Two new visual essays, by Chaplin historians John Bengtson and Jeffrey Vance
New program on the film's visual and sound effects, with experts Craig Barron and Ben Burtt
Interview from 1992 with Modern Times music arranger David Raksin
Chaplin Today: 'Modern Times' (2004), a half-hour program with filmmakers Luc and Jean-Pierre Dardenne
Two segments removed from the film
Three theatrical trailers
All at Sea (1933), a home movie by Alistair Cooke featuring Charlie Chaplin, Paulette Goddard, and Cooke, plus a new score by Donald Sosin and a new interview with Cooke's daughter, Susan Cooke Kittredge
The Rink (1916), a Chaplin two-reeler highlighting his skill on wheels
For the First Time (1967), a Cuban documentary short about a projectionist who shows Modern Times to first-time moviegoers
More!
PLUS: A booklet featuring an essay by film critic Saul Austerlitz and a piece by film scholar Lisa Stein that includes excerpts from Chaplin's writing about his travels in 1931 and 1932
---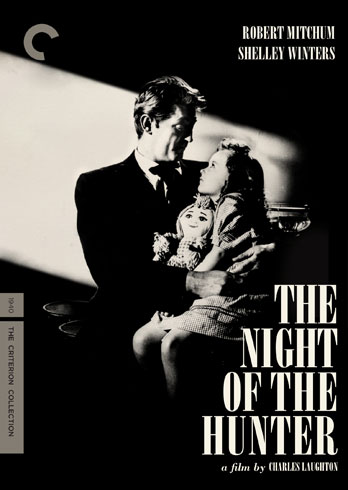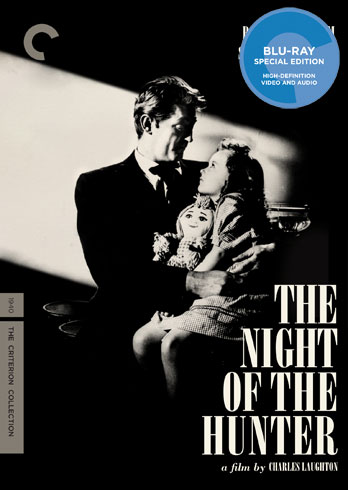 Criterion # 541 on November 16th on DVD and Blu-ray.
The Night of the Hunter'"incredibly, the only film the great actor Charles Laughton ever directed'"is truly a standalone masterwork. A horror movie with qualities of a Grimm fairy tale, it stars a sublimely sinister Robert Mitchum as a traveling preacher named Harry Powell (he of the tattooed knuckles), whose nefarious motives for marrying a fragile widow, played by Shelley Winters are uncovered by her terrified young children. Graced by images of eerie beauty and a sneaky sense of humor, this ethereal, expressionistic American classic'"also featuring the contributions of actress Lillian Gish and writer James Agee'"is cinema's quirkiest rendering of the battle between good and evil.
Disc Features
New, restored high-definition digital transfer (with uncompressed monaural soundtrack on the Blu-ray edition)
Audio commentary featuring assistant director Terry Sanders, film critic F. X. Feeney, archivist Robert Gitt, and author Preston Neal Jones
Charles Laughton Directs 'The Night of the Hunter,' a two-and-a-half-hour archival treasure trove of outtakes from the film
New documentary featuring interviews with producer Paul Gregory, Sanders, Jones, and author Jeffrey Couchman
New video interview with Simon Callow, author of Charles Laughton: A Difficult Actor
Clip from the The Ed Sullivan Show, in which cast members perform live a scene that was deleted from the film
Fifteen-minute episode of the BBC show Moving Pictures about the film
Archival interview with cinematographer Stanley Cortez
Gallery of sketches by author Davis Grubb
New video conversation between Gitt and film critic Leonard Maltin about Charles Laughton Directs 'The Night of the Hunter'
Original theatrical trailer
PLUS: A booklet featuring essays by critics Terrence Rafferty and Michael Sragow
---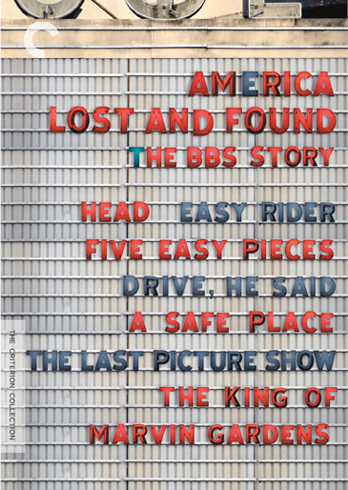 America Lost and Found: The BBS Story
November 23rd / December 14th DVD & Blu-ray
Like the rest of America, Hollywood was ripe for revolution in the late sixties. Cinema attendance was down; what had once worked seemed broken. Enter Bob Rafelson, Bert Schneider, and Steve Blauner, who knew that what Hollywood needed was new audiences'"namely, young people'"and that meant cultivating new talent and new ideas. Fueled by money made from their invention of the superstar TV pop group the Monkees, they set off on a film-industry journey that would lead them to form BBS Productions, a company that was also a community. The innovative films produced by this team between 1968 and 1972 are collected in this box set'"works created within the studio system but lifted right out of the countercultural id, and that now range from the iconic (Easy Rider, Five Easy Pieces, The Last Picture Show) to the acclaimed (The King of Marvin Gardens) to the obscure (Head; Drive, He Said; A Safe Place).
Head
Hey, hey, it's the Monkees . . . being catapulted through one of American cinema's most surreal sixties odysseys.
New, restored high-definition digital transfer (with DTS-HD Master Audio 5.1 and uncompressed monaural soundtracks on the Blu-ray edition)
Audio commentary featuring Monkees Micky Dolenz, Davy Jones, and Peter Tork
New video interview with director Bob Rafelson
New documentary about BBS, featuring critic David Thomson and historian Douglas Brinkley
More!
---
---
Easy Rider Cover Not Available
Easy Rider
As Billy and 'Captain America,' Dennis Hopper and Peter Fonda motored down the highway on their Harley Davidsons to the roaring strains of Steppenwolf's 'Born to Be Wild,' the definitive counterculture blockbuster was born.
New, restored high-definition digital transfer (with DTS-HD Master Audio 5.1 soundtrack on the Blu-ray edition)
Audio commentary featuring director Dennis Hopper
Easy Rider: Shaking the Cage, a 1999 documentary featuring behind-the-scenes footage
Footage of Hopper and star Peter Fonda at Cannes in 1969
New video interview with BBS's Steve Blauner
More!
Five Easy Pieces Cover Art Not Available
Five Easy Pieces
Nicholson plays the now iconic cad Bobby Dupea, a shiftless thirtysomething oil rigger and former piano prodigy immune to any sense of romantic or familial responsibility, who returns to his childhood home to see his ailing, estranged father'"his blue-collar girlfriend (Karen Black) in tow.
New, restored high-definition digital transfer (with uncompressed monaural soundtrack on the Blu-ray edition)
Audio commentary featuring director Bob Rafelson and interior designer Toby Rafelson
Soul Searching in Five Easy Pieces, a 2009 video piece in which Rafelson discusses the film
BBStory, a 2009 documentary
Excerpts from an audio recording of Rafelson at the American Film Institute in 1976
---
---
Last Picture Show Artwork Not Available
The Last Picture Show
Featuring evocative black-and-white imagery and profoundly felt performances, this hushed depiction of crumbling American values remains the pivotal film in the career of the invaluable director and film historian Peter Bogdanovich.
New, restored high-definition digital transfer (with uncompressed monaural soundtrack on the Blu-ray edition)
Two audio commentaries, one featuring director Peter Bogdanovich and the other featuring Bogdanovich and actors Cybill Shepherd, Randy Quaid, Cloris Leachman, and Frank Marshall
Picture This, a 1990 documentary by George Hickenlooper
'The Last Picture Show': A Look Back, an hour-long 1999 documentary
2009 interview with Bogdanovich
Screen tests and location footage
Theatrical trailers and more!
---
---
A Safe Place Artwork Not Available
A Safe Place
In this delicate, introspective drama, laced with fantasy elements, Tuesday Weld stars as a fragile young woman in New York, unable to reconcile her ambiguous past with her unmoored present.
New, restored high-definition digital transfer (with uncompressed monaural soundtrack on the Blu-ray edition)
Audio commentary featuring director Henry Jaglom
Henry Jaglom Finds 'A Safe Place,' a 2009 video piece in which the director discusses the film
Notes on the New York Film Festival, a 1971 video piece featuring an interview conducted by critic Molly Haskell with directors Peter Bogdanovich and Jaglom about their films The Last Picture Show and A Safe Place
Deleted scene and screen tests
Theatrical trailer
---
---
Drive, He Said Artwork Not Available
Drive, He Said
Jack Nicholson's enormously irreverent directorial debut, Drive, He Said, free-spirited and sobering by turns, is a sketch of the exploits of a disaffected college basketball player and his increasingly radical roommate.
New, restored high-definition digital transfer (with uncompressed monaural soundtrack on the Blu-ray edition)
A Cautionary Tale of Campus Revolution and Sexual Freedom, a 2009 video piece in which director Jack Nicholson discusses the experience of making this film
Theatrical trailer
More!
King Of Marvin Gardens Artwork Not Available
King Of Marvin Gardens
Jack Nicholson and Bruce Dern play estranged siblings David and Jason, the former a depressive late-night-radio talk show host, the latter an extroverted con man; when Jason drags his younger brother to a dreary Atlantic City and into a real-estate scam, events spiral into tragedy.
New, restored high-definition digital transfer (with uncompressed monaural soundtrack on the Blu-ray edition)
Selected-scene audio commentary featuring director Bob Rafelson
Reflections of a Philosopher King, a 2009 documentary about the making of the film
Afterthoughts, a short 2002 documentary about the film, produced by Rafelson
Theatrical trailer
---