Here we are again: another mid-month Criterion Collection new release announcement, with some incredible titles to talk about. Many of today's announced titles have been teased at in one way or another, over the past few months.
First up we are finally going to see Akira Kurosawa's masterpiece, Criterion Collection #2, Seven Samurai finally making its high definition debut in the states. This release was something that Criterion mentioned back in December, as the AK 100: 25 Films of Akira Kurosawa was released, and the Yojimbo / Sanjuro films were about to be announced on Blu-ray. In the post, Jonathan Turell mentioned that they wanted to have Seven Samurai ready on Blu-ray for Kurosawa's birth month as well, but that it wouldn't be ready until later in the year. The Seven Samurai Blu-ray was also teased at earlier this year when Amazon suddenly added a pre-order page for it, as well as other previously unannounced titles. One of the happiest DVD buying experiences in the past five years has to be my acquisition of the three disc Seven Samurai DVD, which is an achievement in visual restoration, supplemental materials, and incredible packaging design (courtesy of one of my favorite Criterion cover artists: Neil Kellerhouse). While the artwork isn't a reworking of the DVD release, we got an early look at it in all of it's Blu-ray sticker goodness last month.
---
---
Next up, just as his birthday celebration on Faro island, is Ingmar Bergman's The Magician. Once available on Criterion laserdisc, this film seems to only be available as a region 2 import at the moment. From the images and trailers and descriptions that I've found, this looks like an incredible addition to Bergman's massive presence within the Collection. The Magician will be available on DVD and Blu-ray this October, and you better believe that it will be on my birthday wish list.
---
---
Another previous Criterion Collection Laserdisc alum, Paths of Glory, from Stanley Kubrick, will see a new release this fall. A powerful and harrowing look at World War I, Paths of Glory stars Kirk Douglas before his incredible performance in Spartacus. Also available on DVD and Blu-ray, this is a title that many Criterion fans have been clamoring for since the laserdiscs were discontinued. Check out the essay from the laserdisc here.
---
---
Over the past year that we've been recording our podcast, one rumored title has been mentioned probably more than any others. This October, we will finally get to watch Nobuhiko Obayashi's incredible camp-horror film, Hausu (House) on DVD and Blu-ray. We first saw rumblings of this making it's way into the Collection last year as it was making a theatrical run courtesy of Janus Films. It wowed audiences at Fantastic Fest last year, and has been been stirring up buzz at every theater it makes its way to. The UK cousin to Criterion, The Masters of Cinema, released their DVD of Hausu earlier this year, leading many to eagerly anticipate the release here in the states, as well as in high definition. This film was also one of Criterion's many cryptic Twitter images this year, and we wrote up a post, connecting the various dots. Back in May, the New York Times claimed that this would be a September release, but it looks like Criterion decided to go and give us some horror for Halloween, can't say I blame them.
---
---
Finally, another title of much speculation on the podcast over the course of our first year, has been Wes Anderson's only live action film to not be a part of the Collection, The Darjeeling Limited. We got a chance to talk with Scott Weinberg, of Cinematical fame, a couple weeks back for our discussion of the Rock, and all chatted about this film's inevitable release. Now that we finally have a date, and cover art, you can all put your previous DVD up on Craigslist or eBay, since this will certainly be the version you'll want to own.
---
---
[Note from the editor, this post will be updated as Criterion makes the artwork available.]
---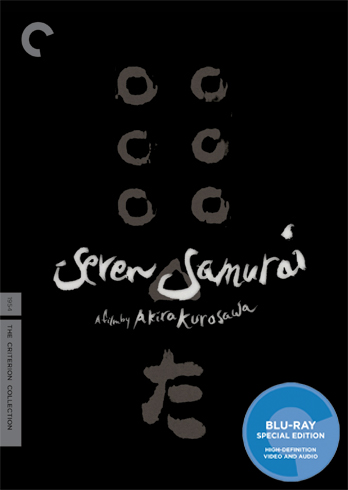 Seven Samurai
Akira Kurosawa
Criterion Collection # 2 / Blu-ray on October 19th
One of the most beloved movie epics of all time, Akira Kurosawa's Seven Samurai (Shichinin no samurai) tells the story of a sixteenth-century village whose desperate inhabitants hire the eponymous warriors to protect them from invading bandits. This three-hour ride'"featuring legendary actors Toshiro Mifune and Takashi Shimura'"seamlessly weaves philosophy and entertainment, delicate human emotions and relentless action into a rich, evocative, and unforgettable tale of courage and hope.
Special Features:
All-new, restored high-definition digital transfer
Two audio commentaries: one by film scholars David Desser, Joan Mellen, Stephen Prince, Tony Rayns, and Donald Richie; the other by Japanese-film expert Michael Jeck
A 50-minute documentary on the making of Seven Samurai, part of the Toho Masterworks series Akira Kurosawa: It Is Wonderful to Create
My Life in Cinema, a two-hour video conversation between Akira Kurosawa and Nagisa Oshima produced by the Directors Guild of Japan
Seven Samurai: Origins and Influences, a new documentary looking at the samurai traditions and films that impacted Kurosawa's masterpiece
Theatrical trailers and teaser
Gallery of rare posters and behind-the scenes and production stills
New and improved English subtitle translation
PLUS: A booklet featuring essays by Peter Cowie, Philip Kemp, Peggy Chiao, Alain Silver, Kenneth Turan, Stuart Galbraith, Arthur Penn, and Sidney Lumet and an interview with Toshiro Mifune
---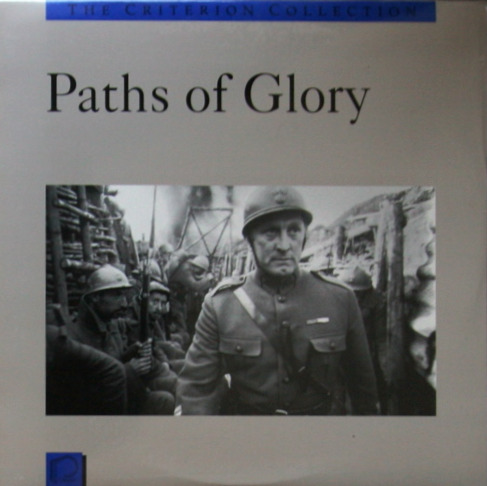 Final Criterion DVD / Blu-ray Cover Art Not Available Yet
Stanley Kubrick
Criterion Collection # 538   / DVD and Blu-ray on October 26th
A pivotal work by Stanley Kubrick, Paths of Glory is among the most powerful antiwar films ever made. A fiery Kirk Douglas stars as a French colonel serving in World War I who goes head-to-head with the army's ruthless top brass when his men are accused of cowardice after being unable to carry out an impossible mission. This haunting, exquisitely photographed dissection of the military machine in all its absurdity and capacity for dehumanization (a theme Kubrick would continue to explore throughout his career) is assembled with its legendary director's customary precision, from its tense trench warfare sequences to its gripping courtroom climax to its ravaging final scene.
Special Features:
New, restored high-definition digital transfer (with uncompressed monaural soundtrack on the Blu-ray edition)
New audio commentary by critic Gary Giddins
Television interview from 1979 with star Kirk Douglas
New video interviews with Kubrick's longtime executive producer Jan Harlan, Paths of Glory producer James B. Harris, and actress Christiane Kubrick
Excerpt from a French television program about real-life World War I executions similar to the events dramatized in Paths of Glory
Theatrical trailer
PLUS: An essay by Kubrick scholar James Naremore
---
Ingmar Bergman
Criterion Collection # 537 / DVD and Blu-ray on October 12th
Ingmar Bergman's The Magician (Ansiktet) is an engaging, brilliantly conceived tale of deceit from one of cinema's premier illusionists. Max von Sydow stars as Dr. Vogler, a mid-nineteenth-century traveling mesmerist and peddler of potions whose magic is put to the test by a small town's cruel, eminently rational minister of health, Dr. Vergerus. The result is a diabolically clever battle of wits that's both frightening and funny, shot in rich, gorgeously gothic black and white.
Special Features:
New, restored high-definition digital transfer (with uncompressed monaural soundtrack on the Blu-ray edition)
New visual essay by Bergman scholar Peter Cowie
Brief 1967 video interview with director Ingmar Bergman about the film
Rare English-language audio interview with Bergman, conducted by filmmakers Olivier Assayas and Stig Björkman
New and improved English subtitle translation
PLUS: A booklet featuring an essay by critic Geoff Andrew, a reprinted essay by Assayas, and an excerpt from Bergman's autobiography Images: My Life in Film
---
Nobuhiko Obayashi
Criterion Collection # 539 / DVD and Blu-ray on October 26th
How to describe Nobuhiko Obayashi's indescribable 1977 movie House (Hausu)? As a psychedelic ghost tale? A stream-of-consciousness bedtime story? An episode of Scooby-Doo as directed by Mario Bava? Any of the above will do for this hallucinatory head trip about a schoolgirl who travels with six classmates to her ailing aunt's creaky country home and comes face-to-face with evil spirits, a demonic house cat, a bloodthirsty piano, and other ghoulish visions, all realized by Obayashi via a series of mattes, animation, and collage effects. Equal parts absurd and nightmarish, House might have been beamed to Earth from some other planet. Never before available on home video in the United States, it's one of the most exciting cult discoveries in years.
Special Features:
New, restored high-definition digital transfer (with uncompressed monaural soundtrack on the Blu-ray edition)
Constructing a House, a new video piece featuring interviews with director Nobuhiko Obayashi, story scenarist and daughter of the director Chigumi Obayashi, and screenwriter Chiho Katsura
Emotion, a 1966 experimental film by Obayashi
New video appreciation by director Ti West (House of the Devil)
Theatrical trailer
New and improved English subtitle translation
PLUS: An essay by Chuck Stephens
---
Cover Art Not Available Yet
Wes Anderson
Criterion Collection # 540 / DVD and Blu-ray on October 12th
In The Darjeeling Limited, from director Wes Anderson, three estranged American brothers reunite for a meticulously planned, soul-searching train voyage across India, one year after the death of their father. For reasons involving over-the-counter painkillers, Indian cough syrup, and pepper spray, the brothers eventually find themselves stranded alone in the middle of the desert'"where a new, unplanned chapter of their journey begins. Featuring a sensational cast, including Owen Wilson, Adrien Brody, Jason Schwartzman, and Anjelica Huston, The Darjeeling Limited is a visually dazzling and hilarious film that takes Anderson's work to richer, deeper places than ever before.
DIRECTOR-APPROVED SPECIAL EDITION:
New high-definition digital transfer, supervised and approved by director Wes Anderson (with DTS-HD Master Audio on the Blu-ray edition)
Anderson's short film Hotel Chevalier (part one of The Darjeeling Limited), starring Natalie Portman, with commentary by Anderson
Audio commentary featuring Anderson and cowriters Jason Schwartzman and Roman Coppola
Behind-the-scenes documentary by Barry Braverman
Anderson and filmmaker James Ivory discussing the film's music
Anderson's American Express commercial
On-set footage shot by Coppola and actor Waris Ahluwalia
Audition footage, deleted and alternate scenes, and stills galleries
Original theatrical trailer
PLUS: A booklet featuring an essay by critic Richard Brody and original illustrations by Eric Anderson
---