As many Criterion fans are surely aware, the cult film Head, starring The Monkees, will soon be released as part of the box set America Lost And Found: The BBS Story. Preceding this cinematic bonanza by a month, Rhino Handmade will be releasing an expanded 3-CD edition of the film's soundtrack on October 26, chock-full of previously unreleased goodies and rarities.
While this will certainly appeal more to hardcore Monkees fans than the average Criterion collector, it is worth noting that The Monkees' music is not without merit, and the Head soundtrack in particular was one of their more adventurous albums.
---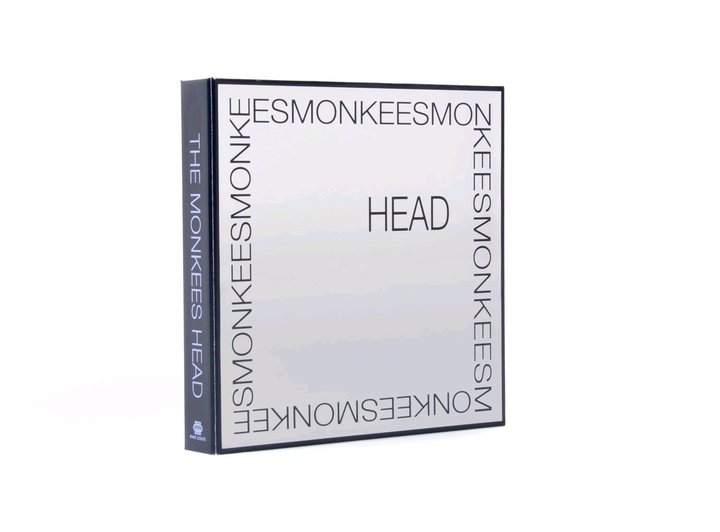 ---
From the get-go as a pop band manufactured for television in 1966 by Bert Schneider and Bob Rafelson, The Monkees chafed under the control of music coordinator Don Kirshner, who commissioned songs to be written (by professional songwriters such as Neil Diamond, Tommy Boyce & Bobby Hart, and Harry Nilsson) and recorded the instrumental tracks largely without the participation of the band members who, although not lacking in musical ability, were dismissed by Kirshner as mere actors. (Their second album, 1967's More Of The Monkees, was released without the band's knowledge of its very existence; legend has it they had to go out and buy copies for themselves like everybody else since the record company didn't even bother to give them one.)
Tired of being dismissed by the rock cognoscenti as the 'Prefab Four', they eventually wrested control of their music away from Kirshner, and promptly set about recording an album written and performed largely on their own; the result, Headquarters, shot straight to number one on the charts… and was knocked off its perch just one week later by an obscure cult album of dubious renown, Sgt. Pepper's Lonely Hearts Club Band. (Kirshner, meanwhile, moved on to a more cooperative group: The Archies. Cartoons can't argue.)
By 1968, The Monkees' TV series had been canceled, and Head was conceived by Rafelson and co-writer/co-producer Jack Nicholson to explode the band's clean-cut, safe-for-all-ages image (guitarist Mike Nesmith — the one whose mother invented Liquid Paper and thus had enough money to skip every Monkees reunion of the last thirty years — has stated that Rafelson and NIcholson intended to 'kill' the band for good and all). The movie pretty much did the trick: after its November 1968 release, The Monkees had been largely written off, and indeed began disintegrating as a band shortly thereafter. Regardless of what one may think of the film, however — and the opinions may soon be flying hither and yon on THAT topic — the soundtrack album is pretty catchy.
Assembled by Nicholson, the Head album is a somewhat unique collage of songs and dialogue snippets from the film spoken by band members ('I'd like a glass of cold gravy with a hair in it, please'), several performers who made cameo appearances such as Victor Mature and Frank Zappa, and seemingly random citizens of the world ('Are you telling me that you don't see the connection between government and laughing at people?'). I say 'somewhat' unique because the album is clearly influenced by Zappa's mindbending 1967 album Lumpy Gravy, which was even more daring in its avant-garde, seemingly haphazard collage of rock, orchestral music, strange sounds, and improvised dialogue from a group of people who live in a piano. You heard me.
---
---
The songs are a solid lot, from Peter Tork's psychedelic 'Can You Dig It?' to Harry Nilsson's rollicking 'Daddy's Song', from Nesmith's burning rocker 'Circle Sky' to the absolutely sublime 'Porpoise Song (Theme From Head)' — written by Gerry Goffin and Carole King, authors of such pop classics as 'Will You Love Me Tomorrow' and 'The Loco-Motion' — which is arguably one of the loveliest songs The Monkees ever recorded. And, in spite of the band's desire for more control over their music, these songs were recorded with the assistance of some of the finest musicians lurking round Los Angeles studios at the time, including Jerry Scheff (bass player for Elvis Presley's TCB band), Dewey Martin (drummer for the Buffalo Springfield), guitarist Ry Cooder (composer for another Criterion title, Wim Wenders' Paris, Texas) and Neil Young (not to be confused with Young Neil).
The deluxe edition of the Head soundtrack has been compiled with the participation of Andrew Sandoval, mastermind of many previous Monkees reissues for Rhino Records, as well as producer of several wonderful Rhino collections such as the recent Big Star box set Keep An Eye On The Sky and the deluxe reissue of Love's immortal album Forever Changes.
Pre-orders commence on September 20 at Rhino's website (www.rhino.com), and everyone who pre-orders from their website will also get a bonus 7' single (hey kids, remember 7' singles? You don't? Crap, I'm old). For those who still enjoy physical media, it would be a nice way to support Rhino Records, a label that has produced innumerable outstanding collections of classic rock and pop, but nevertheless were forced to lay off many of their employees last year… and, rumor has it, are expected to lay off more very soon due to the increasingly precarious condition of the major label music industry.
Again, for the casual Monkees fan and even for many a die-hard Criterion fan, it may be a bit much — especially at $60 a pop — but for the devoted Head-heads out there, it's a must. So you better get ready — they will be coming to your town….
---
From the Press Release:
Rhino Handmade Expands The Cult Classic's Soundtrack Into A Three-Disc Boxed Set With 21 Unreleased Tracks, Outtakes, Rarities, And Live Performances

Pre-Order Beginning September 20 Exclusively At Rhino.com

And Receive A Bonus 7″ With Two Previously Unreleased Instrumentals

Boxed Set Arrives October 26

LOS ANGELES '" Ahead of its time when it was released in 1968, Head has emerged over the years as a cult classic from the psychedelic era. Produced by Bob Rafelson and Jack Nicholson, the surreal odyssey stars The Monkees'"Micky Dolenz, Davy Jones, Michael Nesmith, and Peter Tork. While the film did not achieve commercial success, its soundtrack contains some of the quartet's finest and most daring work.

Rhino Handmade expands the superbly strange soundtrack, originally compiled by Jack Nicholson, as a three-disc boxed set that features 21 previously unreleased tracks, outtakes, rarities, and live performances, plus an entire disc containing a rare interview with Jones recorded in 1968 for radio broadcast. All those who pre-order, will receive a bonus 7″ that includes unreleased instrumental versions of 'Porpoise Song' and 'As We Go Along.' The collection comes in a 7″ x 7″ deluxe box with a mirrored finish like the original vinyl release. Due out October 26, HEAD (DELUXE EDITION) will be available for pre-order beginning September 20 exclusively at Rhino for a suggested list price of $59.98.

Later this year, the Criterion Collection will release Head as part of America Lost And Found: The BBS Story, a compilation of innovative films produced between 1968 and 1972 by Rafelson and Bert Schneider (cocreators of The Monkees) and Steve Blauner. The BBS Story boxed set will be available on Blu-ray November 23 and DVD December 14. Head features a new, restored high-definition digital transfer (with DTS-HD Master Audio 5.1 and uncompressed monaural soundtracks on the Blu-ray edition). The extras include new audio commentaries by Dolenz, Tork, and Jones, and an interview with Rafelson.

HEAD (DELUXE EDITION) begins with the original soundtrack remastered, including 'Porpoise Song' the film's theme written by Gerry Goffin and Carole King, Nesmith's rocker 'Circle Sky,' Tork's 'Can You Dig It,' Jones singing Harry Nilsson's 'Daddy's Song,' and Dolenz singing 'As We Go Along,' a track penned by Carole King and Toni Stern (who later composed the chart topper 'You've Got A Friend'). Also included from the original soundtrack are bits of dialogue from the film and incidental music conducted by Ken Thorne, who composed music for The Beatles' film Help!

The first disc's bonus tracks present alternate stereo mixes for nearly every song, except 'Can You Dig It' which is featured as a rough stereo mix with Tork singing instead of Dolenz, and 'Daddy's Song' which is remixed with a section that was never originally used in the film or soundtrack album. The disc also features an unreleased stereo mix of the album's closing audio collage: 'Swami '" Plus Strings.'

Disc two is dedicated to outtakes and rarities, including mono mixes for every track along with unreleased mono movie mixes for 'Can You Dig It' and 'Daddy's Song.' The unreleased gems include an alternate version of 'Ditty Diego '" War Chant,' a satirical send-up of the theme to The Monkees television series written by Nicholson and Rafelson, plus 'California, Here It Comes,' a song heard briefly in 1969 playing over the credits of The Monkees' television special 33? Revolutions Per Monkee. The disc also includes a rare live set from the Valley Music Hall in Salt Lake City from the spring of 1968. The performances were recorded for the film, but ultimately only one track ('Circle Sky') was used. The unreleased live tracks from this set include the Headquarters-era gems 'You Just May Be The One,' 'Sunny Girlfriend,' and 'You Told Me.'

The final disc contains a radio interview with Jones about the album that was issued in 1968 by Colgems as a promotional LP. The disc also includes full tracks and excerpts from the Head soundtrack that were interspersed throughout the interview. Deluxe booklet features new liner notes by Andrew Sandoval and Rachel Lichtman highlighted by brand-new interviews with Michael Nesmith and director Bob Rafelson about Head, in addition to dozens of unpublished color photos.

HEAD (DELUXE EDITION)

Track Listing

Disc 1 '" Original LP…Plus

1. Opening Ceremony

2. 'Porpoise Song' (Theme From Head) '" The Monkees

3. 'Ditty Diego '" War Chant' '" The Monkees

4. 'Circle Sky' '" The Monkees

5. 'Supplicio'

6. 'Can You Dig It' '" The Monkees

7. 'Gravy'

8. 'Superstitious'

9. 'As We Go Along' '" The Monkees

10. 'Dandruff?'

11. 'Daddy's Song' '" The Monkees

12. 'Poll'

13. 'Long Title: Do I Have To Do This All Over Again' '" The Monkees

14. 'Swami '" Plus Strings (Ken Thorne), Etc.'

Bonus Material

15. 'Porpoise Song' (Theme From Head) (Alternate Stereo Mix) '" The Monkees

16. 'Ditty Diego '"War Chant' (Alternate Stereo Mix) '" The Monkees

17. 'Circle Sky' (Alternate Stereo Mix) '" The Monkees

18. 'Can You Dig It' (Peter's Vocal '" Stereo Rough Mix) '" The Monkees *

19. 'As We Go Along' (Alternate Stereo Mix) '" The Monkees

20. 'Daddy's Song' (Remix with slow verse) '" The Monkees *

21. 'Long Title: Do I Have To Do This All Over Again' (Alternate Stereo Mix) '" The Monkees

22. 'Swami '" Plus Strings (Ken Thorne), Etc.' (Alternate Stereo Mix) *

23. 'Happy Birthday To You' (Alternate Stereo Mix) '" The Monkees *

24. 'Ditty Diego' (Session) '" The Monkees *

Disc 2 '" Outtakes And Rarities

1. Head Promo 'Coming Soon'

2. 'Porpoise Song' (Theme From Head) (Mono Single Mix) '" The Monkees

3. 'Ditty Diego '" War Chant' (Mono Mix) '" The Monkees *

4. 'Circle Sky' (Mono Mix) '" The Monkees *

5. 'Can You Dig It' (Mono Mix) '" The Monkees *

6. 'As We Go Along' (Mono Single Mix) '" The Monkees

7. 'Daddy's Song' (Mono Mix) '" The Monkees *

8. 'Long Title: Do I Have To Do This All Over Again' (Mono Mix) '" The Monkees *

9. 'Porpoise Song' (Theme From Head) (Rough Mono Mix) '" The Monkees *

10. 'Ditty Diego' (Alternate Version) '" The Monkees *

11. 'Circle Sky' (Alternate Mono Mix) '" The Monkees *

12. 'Can You Dig It' (Peter's Vocal) '" The Monkees

13. 'Daddy's Song' (Mike's Vocal) '" The Monkees

14. 'Long Title: Do I Have To Do This All Over Again' (Rough Mix Acetate) '" The Monkees *

15. 'Can You Dig It' (Mono Movie Mix) '" The Monkees *

16. 'Daddy's Song' (Mono Movie Mix) '" The Monkees *

17. Head Promo 'Now Playing'

18. Introduction To Live Show '" The Monkees *

19. 'You Just May Be The One' (Live) '" The Monkees *

20. 'Sunny Girlfriend' (Live) '" The Monkees *

21. 'You Told Me' (Live) '" The Monkees *

22. 'Circle Sky' (Live) '" The Monkees

23. 'California, Here It Comes' '" The Monkees *

Disc 3 '" Head Open-End Radio Special Interview Platter With Davy Jones

1. 'Circle Sky' (Excerpt) '" The Monkees

2. Davy Jones Interview, Pt. 1

3. 'Can You Dig It' (Excerpt) '" The Monkees

4. Davy Jones Interview, Pt. 2

5. 'Daddy's Song' '" The Monkees

6. Davy Jones Interview, Pt. 3

7. 'Long Title: Do I Have To Do This All Over Again' '" The Monkees

8. Davy Jones Interview, Pt. 4

9. 'Porpoise Song' (Theme From Head) '" The Monkees

10. Davy Jones Interview, Pt. 5

11. 'Can You Dig It' (Excerpt) '" The Monkees

* Previously Unissued
---
---