As we begin to get more and more IFC releases thrust into the Criterion Collection, the latest being Claire Denis' White Material, any newly picked up IFC project has become fodder for discussions on its Criterion Collection chances.
The latest feature film to get nabbed up by the ever popular indie distributor is Rowan Joffe's debut feature, Brighton Rock.
Based on Graham Greene's 1939 novel of the same name, the film stars Sam Riley, Andrea Riseborough, John Hurt (who also happens to have a role in Lars Von Trier's upcoming Melancholia), and the ever amazing, Helen Mirren.
---
---
Rock follows Pinkie, '  a desperate youth who is hell bent on clawing his way up through the ranks of organized crime. When a young and very innocent waitress, Rose (Riseborough), stumbles on evidence linking him to a revenge killing, he sets out to seduce her to secure her silence.'

Personally, while I'm not quite sure of the film's chances to get into the collection, nor the film's actual quality, I do love everything, and everyone, involved here.   Riley is a great young actor, and you truly cannot go wrong with Mirren.   The film is a Studio Canal financed film, so that very well marks the end of its Criterion discussions, but it's no less compelling of a feature.   Hopefully the middling buzz that the film has retained since it started playing the festival circuit, just missed the point.

Source: Deadline
---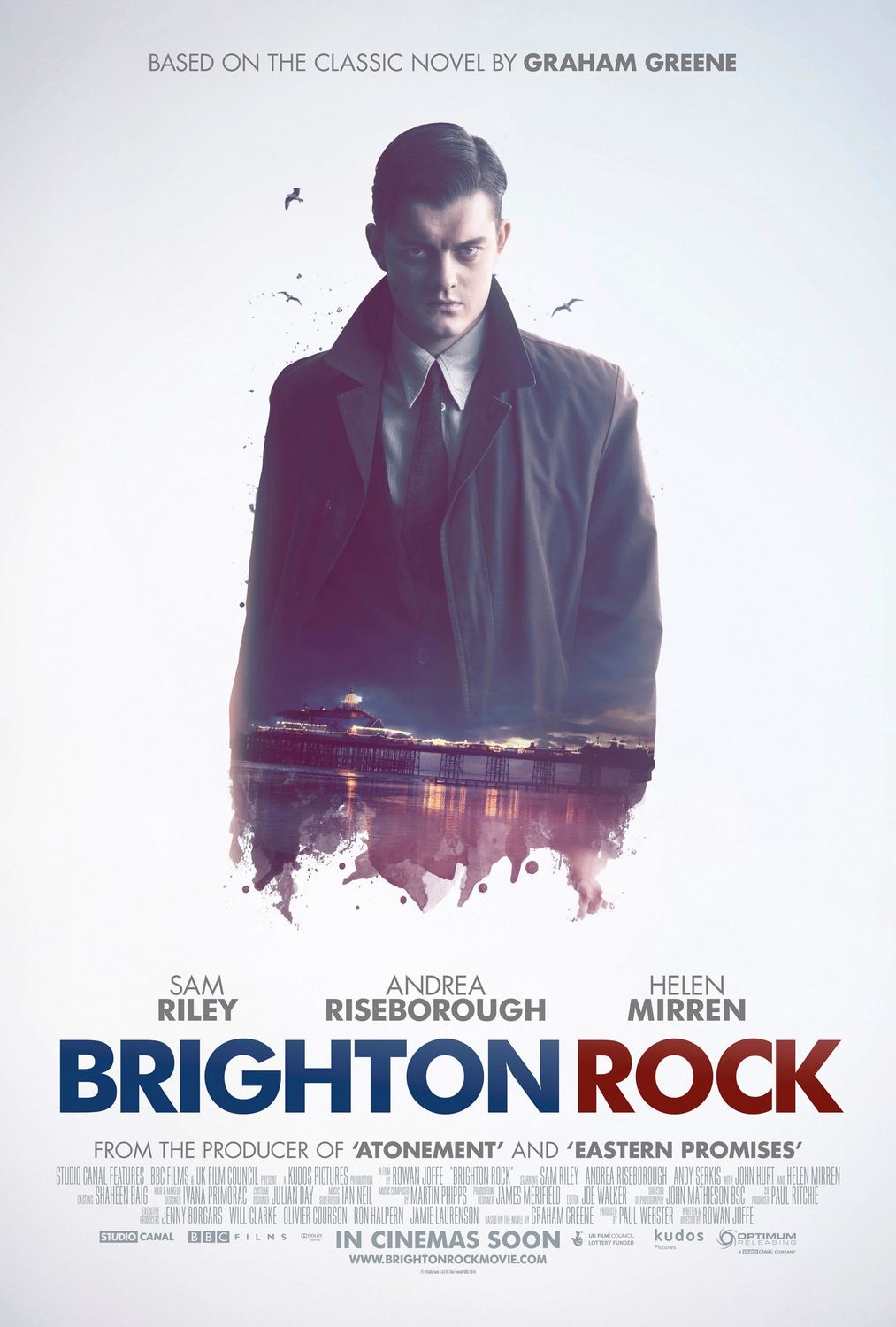 ---
From the IFC Press Release:

IFC FILMS ACQUIRES U.S. RIGHTS TO NOIR THRILLER BRIGHTON ROCK

New York, NY (January 14, 2011) – IFC Films, the leading American distributor of independent and foreign films, announced today that the company is acquiring the U.S. rights to director Rowan Joffe's debut feature BRIGHTON ROCK. Joffe, whose previous writing credits include 28 WEEKS LATER and THE AMERICAN, adapted the script from Graham Greene's 1939 iconic crime novel of the same name. Produced by Paul Webster (ATONEMENT, EASTERN PROMISES) and co-produced by Paul Ritchie (NOWHERE BOY, SLUMDOG MILLIONAIRE), the film stars Sam Riley (CONTROL), Andrea Riseborough (NEVER LET ME GO), John Hurt (IMMORTALS), and Helen Mirren (THE LAST STATION) and will be released by IFC Films in the summer of 2011.

The deal was negotiated by Arianna Bocco, Senior Vice President, Acquisitions & Productions, and by Anna Marsh at Studio Canal on behalf of the filmmaker. Jenny Borgars, Will Clarke, and Lamie Laurenson executive produced the project. Produced in association with the BBC and UKFC, BRIGHTON ROCK is the first of an ambitious slate of high-level British productions financed by Studio Canal to be released in the UK by its company Optimum.

BRIGHTON ROCK embraces the classic elements of film noir and the British gangster film to tell the story of Pinkie (Riley), a desperate youth who is hell bent on clawing his way up through the ranks of organized crime. When a young and very innocent waitress, Rose (Riseborough), stumbles on evidence linking him to a revenge killing, he sets out to seduce her to secure her silence.

President of IFC Films Jonathan Sehring said, 'BRIGHTON ROCK is a brilliant update of a noir classic that manages to be thrilling and beautiful. Sam Riley carries the film with his charismatic performance, and Andrea Riseborough and Helen Mirren round out the cast exquisitely. We look forward to getting it out to a wide audience.'