This morning, Criterion sent out their usual e-mail newsletter, complete with another "wacky" illustration to make the Criterion fanbase collectively scratch their heads. Luckily, today's cryptic drawing hints at a release that I wrote about back in June, and as soon as I got an instant message about "monkees?" I knew exactly what it was hinting at.
We previously reported that Criterion was busy working on an upcoming New Hollywood box set, featuring the works of producers Bob Rafelson and Bert Schneider. There hasn't been much else to report on the story since then, as Criterion has been their usual quiet selves on the matter. The story has been confirmed by various folks on the CriterionForum.org, as well as recently over on Hollywood Elsewhere, almost unintentionally by documentary filmmaker George Hickenlooper.
The illustration in question, featured below, is of four monkeys sitting on a motorcycle. Pretty cryptic eh? Well it certainly doesn't call to mind anything obvious, unless of course you've been reading Bob Rafelson's wikipedia and IMDB pages a lot over the past two months. Bob's first film, 1968's Head, is a surreal film produced and starring Jack Nicholson, and those icons of the 60s and 70s, The Monkees. The motorcycle? Clearly a hint at Easy Rider also being included in the set, as previously reported.
---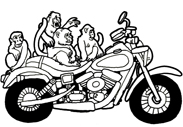 ---
The initial rumors were that the upcoming box set will contain 5-7 films, with two of them definitely being Easy Rider and The Last Picture Show. This DVD / Blu-ray set is being positioned as "the box set for film fans this holiday season" and so I'd imagine the magical Criterion elves are working their hardest at being able to announce this on the 15th, as a November release, giving everyone plenty of time to add it to their holiday wish lists.
As we've spoken about on the podcast, and on the blog, this set is probably going to be pricey, especially if we're talking about 7 Blu-ray films, complete with supplemental discs. Will it be as pricey as last years Kurosawa box set? Probably not. This release was the top of my list of "Ten Criterion Releases We're Still Waiting For" that I wrote a few weeks ago, and today's e-mail newsletter has me even more excited.
I'm including the trailer for Head below, to give you an idea of what sort of tone the film takes.
---
---
Finally, after I posted my initial rumor report on the box set, Criterion mega-fan and friend of the show, Moises Chiullan, wrote up an excellent post, working out his thoughts on which films would be included in the set. I'd highly recommend checking it out.