It seems like only yesterday that we got a Wacky New Years Drawing on January 1st, 2010, laying out (rather cryptically) what Criterion had in store for us throughout the year. While there is one clue that has yet to be released (The Four Feathers, if that is the correct reading of the drawing), we got everything on the drawing, and more.
Here we are again, standing on the precipice of 2011, and Criterion has dropped another drawing courtesy of Jason Polan, teasing at several releases. Here is the drawing that was released (we'll annotate the image and give our thoughts below).
---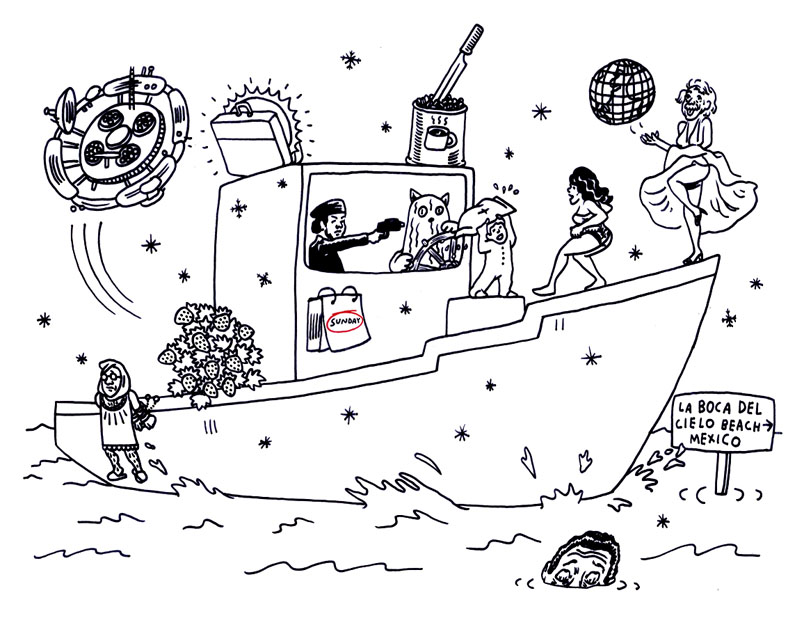 ---
Pretty interesting, right? I think the first thing we all noticed right off the bat, is the lack of color, save the red circle around "sunday" on the calendar. I have to imagine that the lack of blue, means that going forward, we'll be getting Blu-ray releases for all of the new titles (as we've seen with the January – March titles that have already been announced).
Now, as with most of the cryptic, or wacky drawings that Criterion sends out with their e-mail newsletters, the clues are often pretty straightforward, but I am certainly aware that we could have mis-read one of these. Below I've marked up the drawing, assigning letters to each part of the image, and giving some sort of explanation, for our thought process. I can't thank my co-hosts and writers, James McCormick and Travis George enough, for helping me decipher this image, and remind me that we are some pretty big geeks, over here at the Criterion Cast.
We recently recorded a bonus episode, discussing what Blu-ray upgrades we wanted to see in 2011, and a couple of the films on our list made it into this drawing! I'm not sure if the episode will be going up before this post, but know that we recorded that episode far in advance to us seeing this New Years illustration.
If you want to figure out the image for yourself, then by all means stop reading, and then you can come back and see if you agree with us. If you disagree with our predictions, feel free to leave your thoughts in the comments below.
---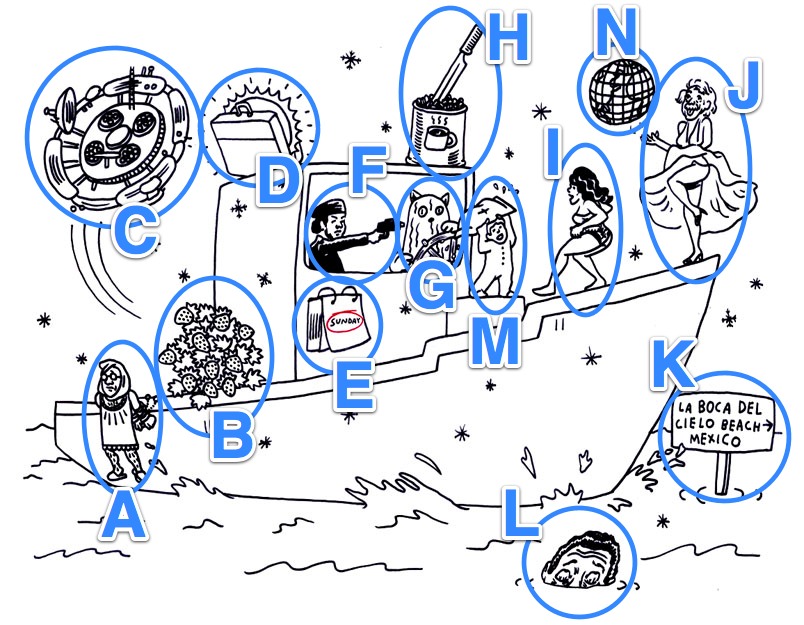 ---
Here we go!
---
A. person tied to boat = Some Like It Hot? [Edit: Probably Cul-De-Sac]
We're predicting that the old man, in the ladies' nightgown in handcuffs, is a nod towards Billy Wilder's Some Like It Hot. Once a part of the Criterion Collection on laserdisc, Some Like It Hot has seen a couple of releases on DVD through MGM, but I'll bet that we're going to get a fancy new DVD / Blu-ray in 2011 from Criterion.
[Edit 9:32 am: After checking the Criterion Forum, user "Doctor Sunshine" thinks that this drawing is actually Roman Polanski's Cul-De-Sac, which we first wrote about joining the Criterion Collection here. After checking out this image below, I have to agree.]
---
B. strawberries = Wild Strawberries
A little patch of strawberries? What else could it be but a clue leading us to a Blu-ray upgrade for Ingmar Bergman's Wild Strawberries. You can also hear our discussion of the film with our friend Angie Han, which we recorded back in November.
---
C. space station = Solaris
We were a little unsure if we ever got to see the exterior of the space station in Andrei Tarkovsky's Solaris, but thanks to this spanish poster for the film, it's pretty clear that this is what is being represented. This was on my list of films that I wanted to see on Blu-ray in 2011, and I'm really excited that it's going to happen! Now I'll keep my fingers crossed that Criterion will talk with Dmitry Trakovsky, and get Meeting Andrei Tarkovsky as a supplement on this new upgrade. Check out our early episode on the film, here (warning, it's one of our early ones, and is probably not very good).
---
D. briefcase = Kiss Me Deadly (screened at all tomorrows parties)
I'll be honest, when I first looked at this drawing, I immediately went to Pulp Fiction. After a few moments of clarity, and some helpful folks on twitter, I realized that Kiss Me Deadly originated the golden briefcase, that Tarantino was paying homage to in Pulp Fiction. Kiss Me Deadly was one of the films that Criterion snuck into All Tomorrow's Parties this past fall, leading us all to believe that it was only a matter of time before we got it on DVD and Blu-ray. It is another of the MGM titles that Criterion has gotten the rights to, and while I still haven't watched the whole thing, I did get a chance to watch the insane ending of the film, with the briefcase.
---
E. calendar = Sunday Bloody Sunday
Another of the MGM titles that has been rumored (by us), Sunday Bloody Sunday features the incredible Peter Finch in this psychological 1970s drama. The DVD has been out of print, and as with all of the MGM releases that Criterion has taken on, I'll bet this new restored print is going to look fantastic.
---
F. man with gun = Carlos
Sometimes Jason Polan really goes out on a limb, and gives us a really obscure drawing that we spend hours staring at, until it hits us. The Carlos drawing, however, was easily the first to be solved, without much thought. The Playlist recently spoke with IFC, and announced that Criterion had decided to bring this 5 hour epic from Olivier Assayas to the Collection. We've been following this film since Cannes 2010, and I cannot wait to see what sort of presentation Criterion comes up with. The Che Blu-ray release from earlier in 2010 is one of my favorites of the year. They've cut the film down in some markets, to make it more accessible, and I honestly hope they include it on the Blu-ray. I have to imagine this is going to be a 2 or maybe 3 disc Blu-ray, with lots of extras. Hopefully, since he helped design the poster for IFC, Sam's Myth will be asked to design the artwork for this one as well.
---
G. cat ghost? = Kuroneko
I really had no idea what that part of the drawing was, until I typed "cat ghost" and it hit me: Kuroneko. Earlier this year at Fantasia Fest, Janus began touring their new print of this Kaneto Shindo's Kuroneko, and from the beginning, we've predicted that Criterion would get their hands on it. There is currently a Masters of Cinema DVD of the film, but I'd wait to see the Criterion edition, before importing the previous release. The new print of the film is absolutely gorgeous, and well worth checking out if it's still playing in your film. When I first heard about it, I immediately connected it with House, just based on the cat connection. After watching the film, I can safely say that this film is much darker, and more accessible than the insanely fun, House. This is a more traditional narrative, but with some really spooky, and heartbreaking twists. This is another film that Sam's Myth has produced poster art for, and will likely create the disc and cover art for the home release.
---
H. knife in coffee beans = The Jack-Knife Man ?
This is one of the handful of drawings, that we aren't really sure on at this point. I have a feeling that once the various forums, twitterers, and Facebook fans get their hands on this drawing, the answer will be clear.
Could it be Claire Denis' White Material?
After talking with a close friend, it could very well be two films, Jim Jarmusch's Ghost Dog, and Coffee and Cigarettes.
I've been scouring the internet to a reference of a knife in a coffee tin / cup, but couldn't come up with anything compelling. I'm including a list of possibilities that I rounded up, when searching for "coffee" and "knife" on IMDB:
Two Gun Caballero
Rocco & His Brothers (Visconti)
Viridiana (one of the few Bunuel titles still in print)
Elevator To The Gallows
Casque D'Or
Spellbound
Rian Johnson's Brick?
Bucket of Blood
Equus (Sidney Lumet)
---
I. woman dancing =
This is another that I haven't quite figured out yet. The woman looks really familiar, but I can't put my finger on it yet. I have a feeling it's from a Fellini film, but I can't quite match up the drawing with an image. Amarcord maybe?
---
J. Einstein / Monroe = Insignificance
This was one of the weirder drawings in the image, and I have to credit James for solving this one quickly. Nicholas Roeg made this strange film back in 1985, and if you watch this clip of Marilyn Monroe and Einstein, you'll get a small taste of the film you're in store for. What with The Man Who Fell To Earth recently taken out of the Collection due to rights issues, it's nice to have another Roeg film to keep him represented. The quality of the clip below is pretty bad, so I'd have to imagine that Criterion will be presenting this film like most people have never seen it before.
---
K. sign in spanish = Y Tu Mama Tambien
I had a feeling the sign in spanish was Y Tu Mama Tambien, before I even checked the text to make sure that it was in fact a reference to the Alfonso Cuaron film. This was among the group of IFC titles that were announced when Criterion made their deal with them. It's also been one of two that haven't been announced yet, (the other being Christopher Nolan's Following). This movie may not be for everyone, but I have yet to find a Cuaron film that I don't enjoy on some level.
---
L. head in water = maybe a Diabolique Blu-ray?
This is another that I'm not exactly sure about, but with a new Blu-ray hitting the UK in March of 2011, I have a feeling that Criterion is also planning to release Clouzot's Les Diaboliques at some point in 2011.
An acknowledged influence on Psycho, Henri-Georges Clouzot's horror classic is the story of a sadistic headmaster who brutalizes his fragile wife and his headstrong mistress. The two women murder him and dump his body in a swimming pool; when the pool is drained, no corpse is found. Criterion presents Diabolique in a digital transfer.
---
M. kid with pillow = Zero For Conduct
All of the credit for discovering what this kid with the pillow means, has to go to Travis George. He was on top of this one really quickly. This is a film that in part, influenced Truffaut's The 400 Blows, and has been rumored to be a release over on the Criterion Forums. We're including the clip of the pillow fight below, enjoy!
Zéro de conduite (English: Zero for Conduct) is a 1933 film by French film director Jean Vigo. It was first shown on April 7, 1933, and was subsequently banned in France until February 15, 1946.

The film draws extensively on Vigo's boarding school experiences to depict a repressive and bureaucratised educational establishment in which surreal acts of rebellion occur, reflecting Vigo's anarchist view of childhood. The title refers to a mark the boys would get which prevented from going out on Sundays. It also shows the influence of Alfred Jarry's play Ubu Roi.

Though the film was not immediately popular, it has proven to be enduringly influential. François Truffaut paid homage to Zéro de conduite in his 1959 film The 400 Blows. The anarchic classroom and recess scenes in Truffaut's film borrow heavily from Vigo's film, as does a classic scene in which a mischievous group of schoolboys are led through the streets by one of their schoolmasters. Lindsay Anderson's film If…. in its whole is a less whimsical reimagining of Zéro de conduite.
---
N. globe = Charlie Chaplin's Great Dictator
This was another drawing that, as soon as I circled it on the image, I knew what it was. The classic scene of Charlie Chaplin as "the dictator" (Hitler) playing with a balloon globe.   As we all know, Criterion has the rights to many of Chaplin's films (thanks to Janus Films), and after releasing Modern Times this past November, we've all been waiting to see what their next choice was. The Great Dictator is another classic Chaplin film, that is instantly recognizable. After watching the Blu-ray for Modern Times, I'd gladly pre-order this disc, sight unseen, to help expedite the process of getting it to my home more quickly.
The Great Dictator is a comedy film released in October 1940. It was written, directed, produced by, and starred Charlie Chaplin. Having been the only Hollywood film maker to continue to make silent films well into the period of sound films, this was Chaplin's first true talking picture as well as his most commercially successful film. More importantly, it was the first major feature film of its period to bitterly satirize Nazism and Adolf Hitler.

At the time of its first release, the United States was still formally at peace with Nazi Germany. Chaplin's film advanced a stirring, controversial condemnation of Hitler, fascism, antisemitism, and the Nazis, the latter of whom he excoriates in the film as "machine men, with machine minds and machine hearts".
---
Now, there are a couple of final aspects I wanted to touch on before finishing this post. The boat and the snowflakes / stars. Hopefully these will also be revealed by cinephiles smarter than I in the hours after this image is released.
boat = unknown
[edit 7:48 am: The boat could represent
L'Atalante
, another film from Jean Vigo (who directed Zero For Conduct). Travis had brought this up in our discussion, but thanks to Dante in the comments for pointing this out!
snowflakes / stars = unknown
What do you think of this year's Cryptic New Years drawing? Are we totally off our rockers on some of these picks? What do you think of the missing blue pieces? Leave your thoughts in the comments below.