Here we go again, another first of the year, another Wacky Drawing from Criterion to decipher. Like we did last year, we have broken down the image that Criterion put up today on their Current Blog, to help all of the eager fans figure out what they have in store for 2012.
Now the titles that we've come up with are just guesses. I'm sure there are a handful that we are wrong about, but it was a lot of fun to dig around, and try to connect the drawing with a scene from a potential Criterion release. I could not have done this without the help of James,  Travis, and David.
I'll be updating this post over the course of the day, as we continue to figure out the drawings. If you have any thoughts on what each drawing might mean, leave a comment below.
Here is last year's drawing. Here is the drawing from 2010.
---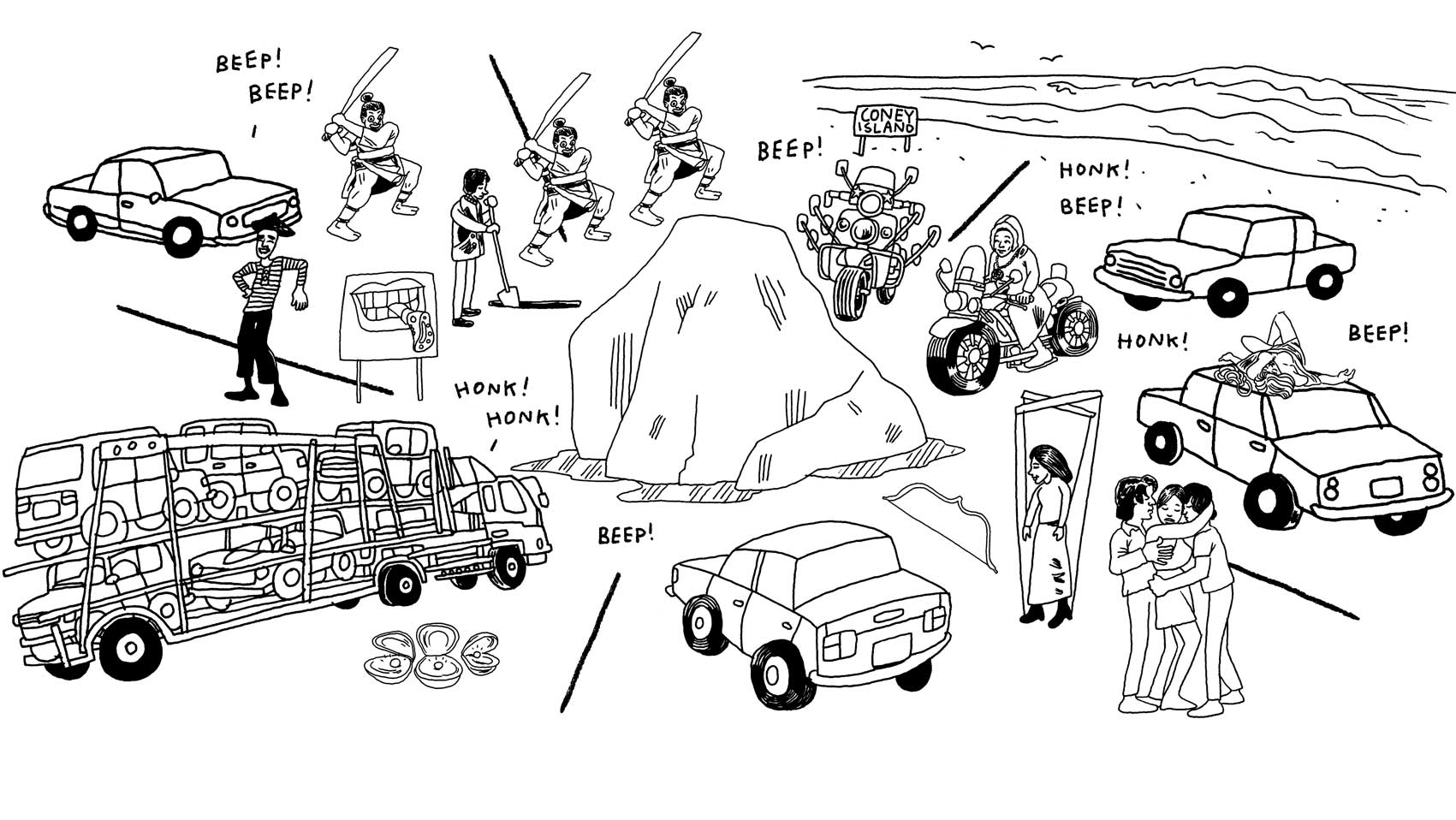 ---
And here is a version where we've gone and circled all of the items that could be clues, and assigned letters to them, to help with laying them all out.
---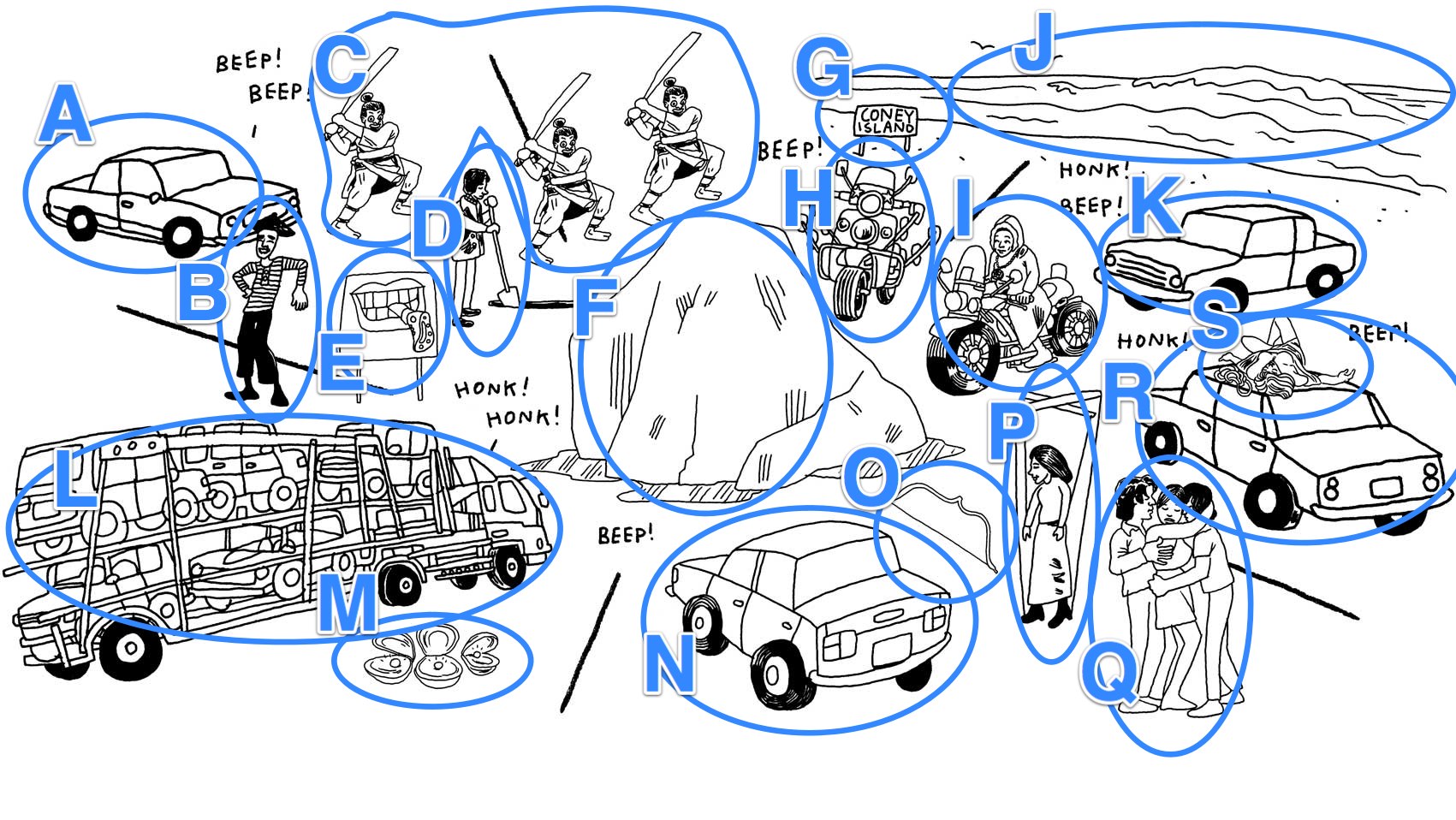 ---
Our guesses:
---
A – Cars
Lots of cars in the image overall. Could they refer to specific films? It seems like they would be more distinct if we were meant to read into each one. It seems as though there is a lot of "traffic" going on (Traffic is coming to Blu-ray this month).
This is also presumably a reference to Godard's Weekend, which Janus is currently touring, and Criterion has the poster up in their store now.
---
B – French mime?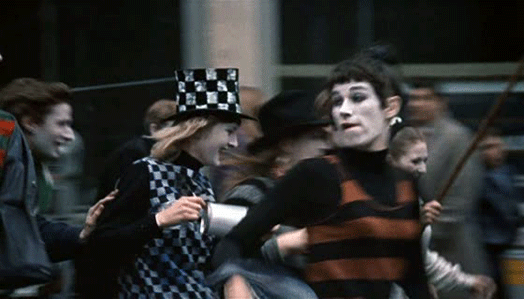 Pierre Etaix? or Antonioni's Blow Up?
---
C – Three Samurai
Three Outlaw Samurai Coming to DVD and Blu-ray this Valentines Day
Criterion brought this to Fantastic Fest this year, and you can watch it now on Hulu Plus.
---
D – Man at grave (burying)
Danny Boyle's Shallow Grave (confirmed at the Wexner talk, I totally forgot about this. Thanks to Ryan Nichols on Twitter.)
Could be a reference to Harold And Maude, although we have another possible reference elsewhere in the drawing.
---
E – Mouth eating a leg
Eating Raoul
This made it to the Hulu Channel just a few weeks after I posted some pictures on our Tumblr. Convenient, eh?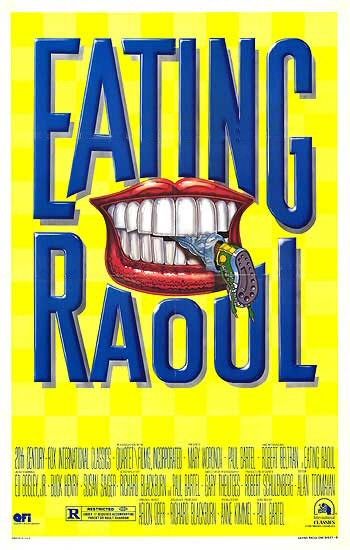 ---
F – Iceberg
A Night To Remember
Coming to DVD and Blu-ray on March 27th
---
G – Coney Island sign
---
H – Motorcycle
Quadrophenia
This made its way to the Hulu Channel last year, and played recently at All Tomorrow's Parties
---
I – Woman on motorcycle
Harold And Maude? Girl On A Motorcycle? Nanook Of The North Blu-ray?
---
J – Oceans / waves
Breaking The Waves?
---
K – Car
---
L – Car transport
---
M – Three pearls / oysters
---
N – Car
---
O – Bow
Kim Ki Duk's The Bow?
---
P – Marionette woman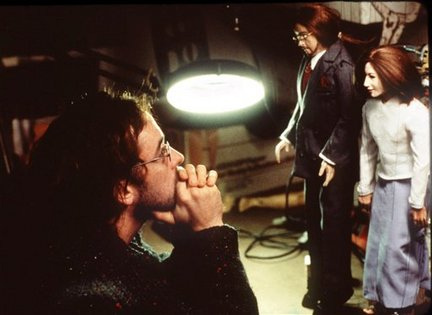 Being John Malkovich
We recently got a wacky drawing in the email newsletter, and it played at All Tomorrow's Parties
There is a great clip here, but an embed is unavailable.
---
Q – Three people, embracing
Y Tu Mama Tambien
Let's hope it actually happens in 2012. It was teased at last year as well.
---
R – Car with woman on top
---
S – Woman on the car
Summer With Monika (thanks to Scott Nye on Twitter)
---
Misc: