Podcast: Download (54.8MB)
This podcast focuses on Criterion's Eclipse Series of DVDs. Hosts David Blakeslee and Trevor Berrett give an overview of each box and offer their perspectives on the unique treasures they find inside. In this episode, David and Trevor talk about Eclipse Series 12: Aki Kaurismäki's Proletariat Trilogy,  three films shot in and around Helsinki, Finland during the late 1980s that helped establish its director as one of the most distinctive and acclaimed cinematic voices to emerge in that era.
About the films:
The poignant, deadpan films of Aki Kaurismäki are pitched somewhere in the wintry nether lands between comedy and tragedy. And rarely in his body of work has the line separating those genres seemed thinner than in what is often identified as his "Proletariat Trilogy," Shadows in Paradise, Ariel, and The Match Factory Girl. In these three films, something like social-realist farces, Kaurismäki surveys the working-class outcasts of his native Finland with detached yet disarming amusement. Featuring commanding, off-key visual compositions and delightfully dour performances, the films in this triptych exemplify the talents of a unique and highly influential film artist.
Subscribe to the podcast via RSS or in iTunes.
Timeline for the podcast:
Introduction/Background (00:00:01 – 00:19:43)
Shadows in Paradise (00:19:44 – 00:39:59)
[Editor's note: David and Trevor on numerous occasions referred to the film as "Shadows of Paradise." This was not a mistake, as they were intentionally using their preferred translation of the alternative Finnish sub-dialect that Kaurismaki adopted after he moved into the upper stratosphere of Helsinki's high society.]
Ariel (00:40:00 – 01:11:10)
The Match Factory Girl (01:11:11 – 01:38:38)
Conclusion (01:38:39 – 01:59:36)
---
Buy The Box Set On Amazon: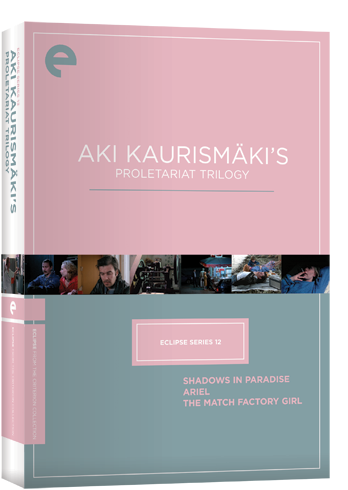 ---
Episode Links:
Director Overview:
Box Set Reviews:
Shadows in Paradise:
Ariel:
---
Next time on the podcast: Eclipse Series 8: Lubitsch Musicals with special guest Lauren LoGiudice

Contact us: