Podcast: Download (Duration: 2:07:35 — 58.5MB)
This podcast focuses on Criterion's Eclipse Series of DVDs. Hosts David Blakeslee and Trevor Berrett give an overview of each box and offer their perspectives on the unique treasures they find inside. In this episode, David and Trevor discuss Eclipse Series 25: Basil Dearden's London Underground, four films that portray various aspects of English life in a period of cultural transition.
About the films:
After mastering the mix of comedy, suspense, and horror that helped define the golden age of British cinema, Basil Dearden (along with his producing partner Michael Relph) left the legendary Ealing Studios and struck out on his own. In the late fifties and early sixties, he created a series of gripping, groundbreaking, even controversial films that dealt with racism, homophobia, and the lingering effects of World War II, noir-tinged dramas that burrowed into corners of London rarely seen on-screen. This set of elegantly crafted films brings this quintessential figure of British cinema out of the shadows.normal
Subscribe to the podcast via RSS or in iTunes.
Timeline for the podcast:
Introduction/Background (00:00:01 – 00:12:27)
Sapphire (00:12:28 – 00:30:17)
The League of Gentlemen (00:30:18 – 01:00:15)
Victim (01:00:16 – 01:31:08)
All Night Long (01:31:09 – 01:58:29)
Conclusion (01:58:30 – 02:07:35)
Buy The Box Set On Amazon: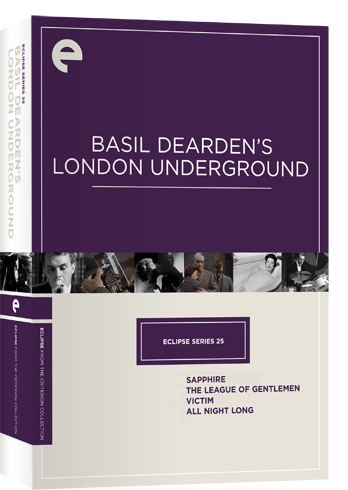 Episode Links:
Director Overview:
Box Set Reviews:
Sapphire:
The League of Gentlemen:
Victim:
All Night Long:
Next time on the podcast: Eclipse Series 15: Travels with Hiroshi Shimizu
Contact us:
Twitter
Email: theeclipseviewer (at) gmail.com
David Blakeslee ( Twitter / Website )
Trevor Berrett ( Twitter / Website )